Sponsored Tweets are both new and rare, but there are a handful of sites and individuals who have started to monetize their social media followings by effectively advertising products and services on the platform. Twitter users who have a large number of engaged followers may be able to deliver advertisers by discussing their products on this platform.
Examples of Sponsored Tweets
Below is a tweet from The Onion linking to a sponsored article from Burger King on their site. Note that the tweet is clearly identified as sponsored (more on this below).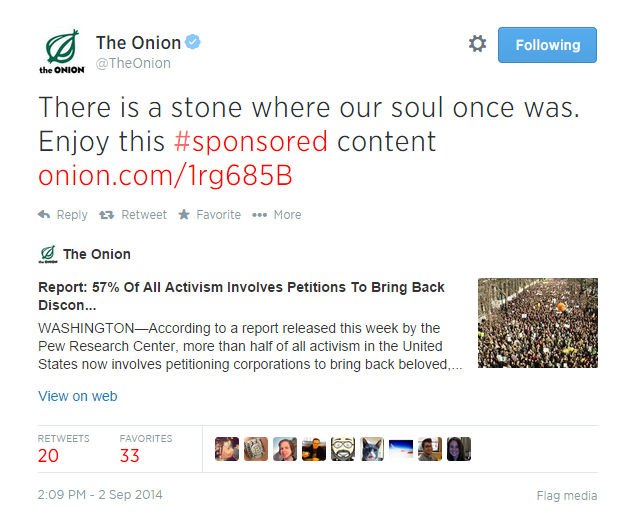 In this example above, the sponsored tweet is likely part of a larger package that includes the advertiser's creative on the page to which this tweet links.
There are a number of other examples of sponsored tweets available through a quick Twitter search of the #sponsored hashtag:
Laws and Regulations
The Federal Communications Commission (FCC) has in recent years come up with a set of guidelines for disclosures required from sponsored tweets. Links to more detailed discussions of these rules are included below, but in essence the law requires that tweets be identified as sponsored when they are made. The most common way of doing this (as shown in the example above) is with the #sponsored hashtag.
Twitter has said that sponsored tweets like those shown above are acceptable as long as they are "manually posted or approved" and "as long as it's not spammy. "
How to Sell Sponsored Tweets
Similar to ad sales, the ideal approach for selling sponsored tweets involves a direct relationship with a relevant advertiser. More common, however, is the use of networks that match up buyers and sellers. There are a number of networks focusing specifically on selling sponsored tweets:
Below is a table highlighting a few of the price points at which SponsoredTweets.com offers advertisers an opportunity to "rent" out the followers of a few celebrities:
| User | Followers | Cost | Per 1000 Followers |
| --- | --- | --- | --- |
| @khloekardashian | 8.7M | $13,000 | $1.47 |
| @snooki | 6.8M | $7,800 | $1.16 |
| @daddy_yankee | 6.5M | $3,250 | $0.50 |
| @MikeTyson | 4.3M | $6,500 | $1.52 |
| @Zendaya | 4.0M | $1,950 | $0.49 |
If you're thinking about monetizing your Twitter account by offering sponsored posts, there are a few things to keep in mind.
The most important item to consider is the limited revenue opportunity. As shown in many of the sponsored tweet marketplaces, the payment per follower is minimal. That means that you really need to have a massive following in order to generate a meaningful amount of revenue from sponsored tweets. In many cases, it won't be worth the hassle of setting up–especially if you start losing followers as a result.
As shown above, even celebrities command in the range of $0.50 to $1.50 per 1,000 followers for making sponsored tweets. That represents the gross payment, before the network takes a piece. So if you have a few thousand followers, your revenue potential is extremely limited.
A better strategy for monetizing Twitter followers is an indirect one. Use your feed to promote more relevant pieces of content that can make money for you. If you monetize via display ads, focus on a strategy that will increase referrals from Twitter. If you have a paid membership product, look into running sales or coupons via Twitter.
Ways to generate more income from the sponsored tweets
The important thing that advertiser looks from sponsored tweets is how you tweet and how much impactful your tweets on your followers.
So here are the ways to improve your income from sponsored tweets.
Select The Right Keywords
By selecting the right keywords in your sponsored tweets profile, it will make it easy for the advertiser to identify you as the one for whom they are searching for.
Complete your Twitter Profile
Along with completing your sponsored tweets profile, you have to complete your twitter profile as well. It will help the advertiser to know well about you, so they can consider if your background and followers is suitable for their products and services
Enhance your Klout Score
Klout score can range between 1 to 100 depending on how influential you are towards your audiences and how your audiences react towards your tweet. It's based on your engagement, reach, velocity, demand, network strength, and activity.
Improve Your Follower Activation Rate
Follower Activation Rate also known as FAR is one of the ways sponsored tweets to qualify a twitter user by measuring the percentage of people who click through when twitter posts links. The scale is 0-10, the higher number is better.
---
FAQ
What are sponsored tweets?
In the simple words, sponsored tweets are the tweets or posts on your Twitter account for advertising the products and services of a third party in front of your followers
How do sponsored tweets works?
Sponsored tweets allows brands to tap into Twitter's followers to reach new customers. By giving companies access to your twitter stream, tweeters are compensated for each advertisement they accept
How do publishers get paid for sponsored tweets?
After you set your price per tweet as you want to charge, you just have to write what advertiser wants you to write and embed the link. Once your tweet gets approved by the advertiser, you get the amount for that tweet in your sponsored tweet account