Mobile video advertising has been a big demand in the recent years. According to statistics from multiple sources, it is predicted is going to surpass desktop video in the near future, and by near future we mean 2 – 3 years from now. It is inevitable fact that the users and consumers and moving from the use of their desktop to their mobile devices. Hence triggered the birth of mobile ad networks focused on mobile videos with innovative formats such as Viewdeos. As the ad network pros, we are going to present to you MonetizePros' Viewdeos review for publishers.
According to the recent charts, it was shown that users spend up to 39 minutes per day watching videos on their mobile devices and tablets compared to only 24 minutes watching videos from their laptops or desktops. For app developers or anyone who is interested in earning money from mobile advertising or an advertiser then mobile video advertising could be a sly choice to invest in.
IAB survey has already suggested that programmatic buying for digital video is going to continue to rise despite the amazing numbers it has already risen in the past years. This presents huge opportunities for app developers. Programmatic buying for mobile video has already risen up to 41% as of 2016 alone and up to 26% way back in 2014. This has triggered multiple mobile ad networks and platforms to increase their capabilities in serving mobile video ads rather than spend time developing online ads. Some are already surging ahead. Startups are already using programmatic advertising, and a full range of mobile video ad formats to deliver data-driven video advertising into the industry.
In order for video advertising to fully succeed in the app economy and start to dominate the demand, it needs to induce better user engagements through the use of sophisticated targeting and non-obtrusive ad formats. An ideal mobile video ad platform which you can rely on will definitely need to have flexible revenue models, detailed analytics, reporting interface and very engaging ad formats on its arsenal just to name a few. We have stumbled on a fairly new mobile video advertising format which has been low-key but has considerably great features and runs with decent performance. As our moral obligation to continually educate our readers about the best ad networks, on this week, we present to you Viewdeos.

Introduction to Viewdeos
Viewdeos is an Online & Mobile Video Advertising Solutions offering in-article video ads to their publisher partners. If you do not have video content but want to try and serve video ads into your content then you might be knocking at the right door. Viewdeos promises to help digital publishers generate substantial revenues with premium video ads.
It was founded in 2015 then they have been recruiting people from all around the world to join their team. They have bolstered their ranks with professionals who are dedicated to providing their advertisers and publisher partners with the best potential service that they can get.
Viewdeos Review for Publishers
Now that you have already gotten introduced to the platform that we will be reviewing and how things are doing great for mobile & desktop video advertising; let us now commence and begin the official review.
What we liked most about Viewdeos
If you are a publisher looking for an alternative or a second option to monetize your content without disrupting your other ad inventory then Viewdeos is definitely for you. Their easy integration makes it perfect for you to start using their model without conflicting with your other tools giving you more monetization opportunities.
Despite being labeled mostly by most as mainly a mobile video advertising network they actually run on all screens and devices (Desktop, Mobile, and Tablets)
You do not have to worry with their ads ever looking spammy because they only show non-intrusive and Coalition for Better Ads complying ad formats while offering good CPM.
What we liked least about Viewdeos
Performance wise we were actually impressed. But, we did not like the fact that their publisher's share of revenues is at a fixed rate. Aside from that, they pay at Net60, they have very limited payment methods and there are no payment options from the user interface or dashboard.
They have 24/7 customer support but you cannot access it from within the dashboard through a ticketing system, and they do have live chat only during working hours. However, you can give them a call at any time you want through their phone number provided. Also, you need to know that a personal account manager is assigned to you.
Publisher requirements:
Viewdeos is focused on getting mid-tier publishers to partner with them. They are mostly trying to be an alternative or second option monetization for those pubs who are interested to get that extra buck to their pockets. They have no language requirement and are completely against content that abuse race and gender. However, the 2M page-views requirement might be an obstacle for smaller publishers. 
Here is a complete list of their publisher requirements:
Policy: https://www.viewdeos.com/privacy-policy
Publisher Traffic Minimum: 2M Page views monthly.
Publisher Language Requirement: None
Prohibited Publisher Content: The site must be in compliance with Google's policies. This includes, but is not limited to:
Not falsely encouraging clicks
No invalid clicks/impressions
Not offering copyrighted material/downloads
Not offering counterfeit goods
The site should have reliable traffic sources
Sites shouldn't redirect users to undesirable pages/ sites/pop-ups or pop-unders
Gambling content
Not using automatically generated content
Not creating empty pages with no original content
Not using content that is copied from other web pages
Not keyword stuffing
Not using adult / dangerous / derogatory content
Not offering alcohol/tobacco/healthcare related content
Not using aggressive/threatening content
Not using illegal content
Company Stats
Legal Registered Company Name: Viewdeos 2015 Ltd
Head Office: Hamasger 56, Tel Aviv
Founders: Sebastien Rozen and Jeremy Ohana
Year Founded: 2015
Company Type: Private
Company Size: 10-20
Advertising Types: Video instream and out stream
Offer Types: CPM
Verticals: All.
Network Size: 200 publishers
Notable Publishers Partnered: Trinity Mirror, Haaretz, Arcamax
 Support & Contact Information
Website: https://www.viewdeos.com/
Linkedin: https://www.linkedin.com/company/viewdeos/
Phone Number: +972.3.65.65.020
Email:

[email protected]
Tech Implementation 4 of 5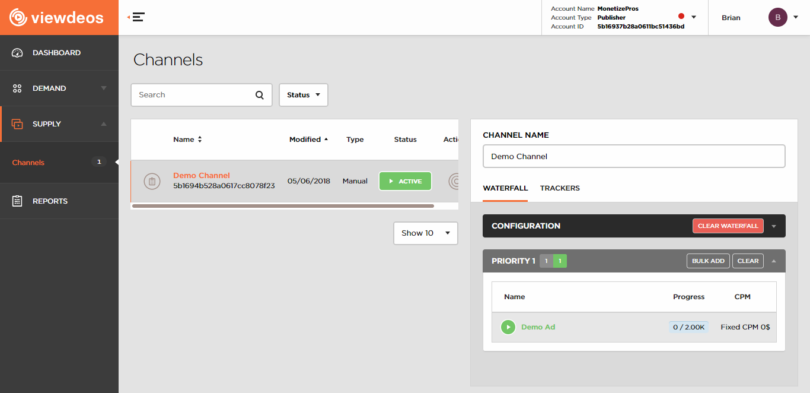 Viewdeos serves video instream and outstream on CPM. Their implementation technology consists of DFP and hardcoding. You can add them as an ad network in DFP or copy a piece of code and insert it into your existing line of code so you can use them independently, what makes it better is that Viewdeos runs with your other platforms without problems.
• Creating an Ad Unit: Yes
• Display Ad Unit Sizes Available: Could be an option
• Implementation Technology: DFP, Hardcoding
• Compatible with Google AdSense: Yes
• Mobile Ad Units Available: Yes
• WordPress Plugin Available: No
Reporting Interface: 4 of 5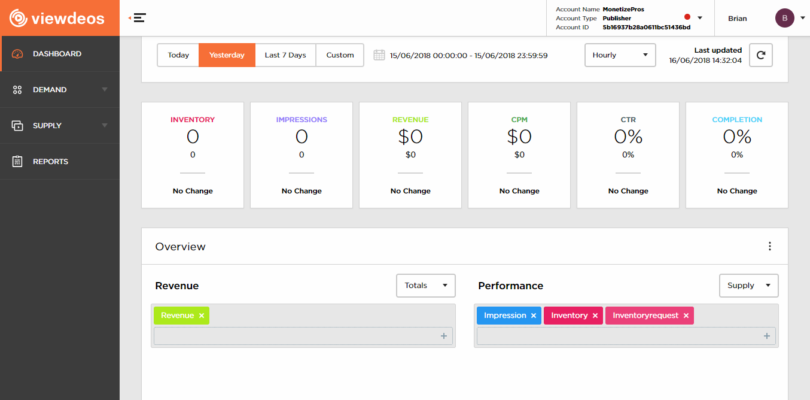 Viewdeos provides their publishers with a user interface capable of showing them metrics and statistics including revenue, inventory, impressions, CPM, and more. Viewdeos UI contains reporting and some metrics with all abilities of sorting, filters, and functions in the "dashboard at a glance". In addition, Viewdeos' team can build custom reports with endless combinations of metrics.
They have also confirmed upon a quick talk with the Co-CEO Jeremy Ohana that they are currently making ways to improve their interface as we speak to give their partnered publishers a better experience.
Control Panel: Yes
Reporting: Yes
Control Panel URL: platform.viewdeos.com
Payment Rating: 3 of 5
They have limited payment methods and they pay at Net60 with a minimum payout of $100. However, the CPM's are good also, they also pay you according to some reviews we got from other publishers, so you are assured that you will be getting your hard earned revs.
Payment Methods Available: Paypal and Bank Wires.
Payment Terms: Net60
Minimum Payout Threshold: $100
Account Help: 4 of 5
They have great customer support that is available 24/7. You can contact them easily through email or through the phone number they have provided. However, they do lack a ticketing system, and the ability to contact an account manager and a support staff member from within the dashboard.
Pros of using Viewdeos
Runs with your existing ad inventory
Runs on all screens and devices
Non-intrusive ad formats
Easy integration
Good CPM
Cons of using Viewdeos
Lack of functions in the dashboard
There is no option to contact support from within the interface
You can't decide when you will get paid
Limited payment methods
Net60 payments
Overall Rating: 4 out of 5
Conclusion
If you are looking for an Ad network which you can rely on and consider your cash cow then Viewdeos might not be it. It cannot compete with Adsense, or other display ad networks in that manner. However, if you are looking for an online and mobile ad network to serve instream and out stream ads to become your alternative source of income then you are in good shape with Viewdeos.
Even if it only barely 3 years of existence, Viewdeos has proven that they are here to stay. They have already partnered with more than 200 publishers including bigger pubs such as Trinity Mirror, Haaretz, Inquisitr etc…. Even at a fixed rate and without an option of RevShare, Viewdeos generate additional and substantial revenues for Publishers.
In conclusion, if you are looking for an online and mobile video advertising network then Viewdeos is for you! You can also go ahead and try them out to test and get an additional way to get monetized with their non-intrusive ads which are compatible with any other monetization platform including Adsense.
If you want to try them out, check them at -> https://www.viewdeos.com/