Video ads are a relatively new concept for many publishers used to monetizing their properties through traditional banner ads. While the overall spend on video ads remains relatively small, it's growing significantly each year and is expected to continue to climb into the foreseeable future.
For publishers who have their own video inventory, there are a number of potential strategies to monetization. Ideally you'd find an advertiser to whom you can sell directly, and keep the entire proceeds for yourself. More realistically, publishers with monetizable ad inventory will turn to a video ad network to handle the sales for them. In this article, we'll profile some of the largest video ad networks out there.
This article won't touch on the YouTube Partner Program, which is one of the largest servers of video ads in the world. We have an entire guide dedicated to making money on YouTube that covers that site in great detail; the networks below are highlighted as options for publishers who are hosting their video on their site and looking for a way to monetize directly.
AOL Networks / Adap.TV
No, that's not a typo: AOL is one of the biggest video ad networks in the world. This comes primarily through the Adap.TV ad exchange that AOL acquired in September 2013. That firm accounted for about 85% of AOL's total video ads at the time of acquisition. Other big providers of video ads for AOL include Advertising.com and properties owned by the company, such as TechCrunch and HuffingtonPost.
Adap.TV offers a number of different solutions for publishers, depending on their level of sophistication and volume of video ad inventory:
Marketplace for Publishers
Demand Path for Publishers
Private Marketplace for Publishers
To Apply: If you're interested in selling your video through Adap.TV, send an email to [email protected]
BrightRoll
Chicago-based BrightRoll is another large video network. The company claims "access to" 10 billion monthly impressions on more than 15,000 apps and websites.
BrightRoll requires that publishers have at least 5 million U.S. video views per month or 3 million mobile site / app views. That means that it's well beyond the reach of smaller publishers looking to monetize their video traffic.
To Apply: BrightRoll has an online application form for interested publishers who meet their requirements.
SpotXchange
SpotXchange serves more than 2.5 billion video ads each month, and has a network of 1,000+ publishers.
SpotXchange also posts monthly updates from their Marketplace to shed some light on the volume of ads being served and the revenues being generated. Here's part of the latest snapshot available, for February 2014: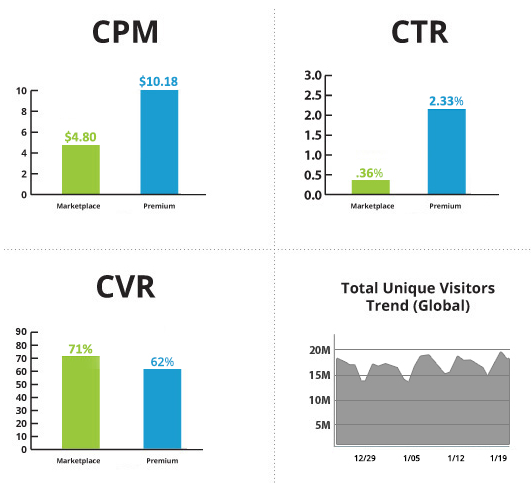 To Apply: To get information on becoming a publisher with this platform, send an email to [email protected]

Auditude
Auditude, which was acquired by Adobe for $120 million in late 2011, is a video advertising platform that can be used to manage direct sales while also filling any unsold inventory with ads from their network. This platform gives media companies significant control over when and where ads appear as well as the types of ads that are appearing within video.
To Apply: For information on becoming part of this network, send an email to [email protected]
AdoTube / Exponential Interactive
AdoTube is a smaller video platform that may be attractive to publishers looking to simultaneously grow direct sales and boost fill rates. Their PUMA technology can be used to integrate and serve ads sold directly into video content, while the network associated with this platform can be used to monetize any remnant inventory.
To Apply: AdoTube has an online form to get information, or publishers can send an email to [email protected]
This company is part of Exponential Interactive, which also includes Tribal Fusion. Publishers can apply online to become an Exponential publisher if they have at least 500,000 monthly unique users. This platform offers ads in a number of different formats, including video and traditional display.
Videology
New York-based Videology was founded by Scott Ferber, who previously founded Advertising.com. Though the company focuses on providing services to marketers, they also have solutions designed to help publishers maximize their yield on video ads.
To Apply: U.S.-based publishers can email [email protected] to get more information about the network.
YuMe
YuMe features two options for publishers, including a QuickStart product that simplifies the video monetization process and a Pro product that offers increased flexibility for implementing more advanced strategies.
To Apply: YuMe has an online form that interested publishers can complete.
Bottom Line
Many of the video networks highlighted above won't work with publishers looking to monetize just a few thousand video views a month. If your video traffic is still on the low end, the YouTube approach might be the best for now.
For larger publishers, the networks above become more viable as a way to boost video ad revenue. The best option will vary depending on the specifics of your site's content and the audience.