Edit: MonetizePros.com is now COMPLETELY FREE! Check out our guides section for all of the premium content.
Over the course of the last year, we have worked tirelessly to make MonetizePros a valuable resource for Web publishers seeking to gain an edge in monetization. Now today, I (along with my fellow MonetizePros co-founders Andy, Justin, and Michael) am happy to announce that we are officially launching our Premium and Professional memberships for Web publishers looking for more advanced monetization tips, in-depth reviews, e-books, video tutorials, and more. Below is a summary of all of the benefits included when you join MonetizePros Premium or Professional.
Benefits of MonetizePros Premium Membership
MonetizePros Premium membership is priced at $29 per month and includes access to the following features: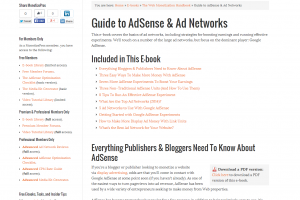 Our full e-book library, available only to Premium and Professional members, is an in-depth resource covering every Web monetization topic under the sun, including display advertising, affiliate marketing, ad sales, email monetization, lead generation, video monetization, and much more. E-books available include: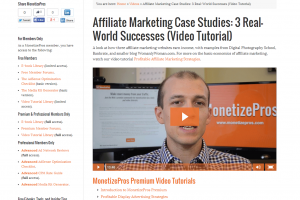 Access advanced video tutorials, covering the topics of display advertising, affiliate marketing, and video monetization, with more tutorials being added regularly.
Premium Member Forums
Discontinued in 2015 – join our free mastermind group instead.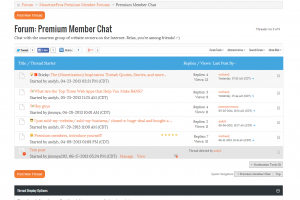 MonetizePros Premium and Professional members have access to our Premium member forums, with the option of receiving a one-on-one site review from a MonetizePros founder. Or chat with fellow Premium members and share your experiences with Web monetization.
Site Reviews
Premium Member Chat
Benefits of MonetizePros Professional Membership
MonetizePros Professional membership is priced at $49 per month. It includes all of the Premium features listed above, as well as access to the following: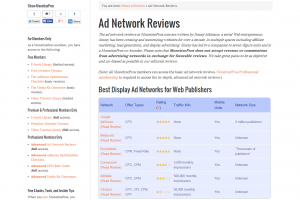 Receive access to reviews of several of the largest ad networks in display, text, affiliate marketing, mobile, video, co-reg, and more. To date, we have reviewed the following ad networks. More reviews will be added regularly.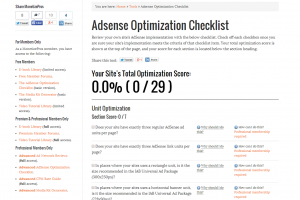 These advanced tools, available only to MonetizePros Professional members (limited versions for Premium members) will help with your Web monetization efforts on your website.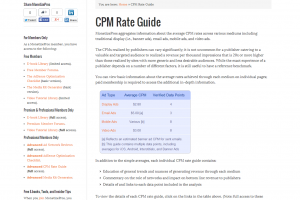 Our CPM Rate Guide breaks out average CPM rates for various media, including display advertising, email advertising, mobile advertising, and video advertising.
As you can see, we have put a lot of effort into making our paid membership a valuable resource for Web publishers looking to earn more revenue. We are certain that you will find membership to be a great value; that's why we offer a two-week free trial for new members. So if you want to become a Web monetization expert and make more money with your Web properties. We look forward to welcoming new members and adding to our featured resources regularly over time.
Edit: We don't have a paid membership anymore – everything is free!