UPDATE 12/5/2013: Our Media Kit Generator tool is now available. Use it to create a custom media kit for your website.
Being a website owner is hard work. There generally aren't any shortcuts. Except, when there are!
For certain types of tasks, there's no need to reinvent the wheel. For instance, if you're writing up a privacy policy, you probably will want to start from a privacy policy template rather than from scratch.
Similarly, if your site sells advertising, you need to create a kick-butt media kit to convince digital ad buyers that your site's ad inventory is worth buying. Unfortunately, creating a media kit is hard work–and there's no "template" to work from.
Until now.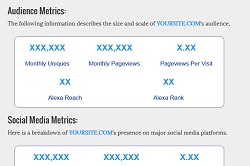 Michael, Jimmy, and I have used our extensive digital ad sales experience to create this easily customizable, 100% free example media kit template.
The media kit template is downloadable as an HTML file (or you can copy-paste the easily-editable HTML code). The content of the media kit template contains the following sections:
Introduction
Site Overview
Audience & Demographics

Audience Metrics
Social Media Metrics
Demographics

Rates & Opportunities

Standard Advertising Opportunities (IAB standard creatives)
Other Opportunities (video, mobile, etc.)

Contact
Normally, creating a document like this would take hours (or possibly even days).  But with this template, you can add your own site's info in minutes, and the finished product will be professional and 100% customized. And I promise, ad agencies will never know you began with a template. 😉
If you have any questions, comments, or ideas about this new tool, please feel free to drop us a line.