Here's the good news: if you're looking to make money off of a website you own, there are a lot of different ways you can go about effectively monetizing your traffic. The exact approach you should take to maximize your cash flow will depend on a lot of different factors, such as the nature of your audience, the subject matter you cover, and the presence of third parties willing to cut you a check. Below is a brief outline of several different avenues you can go down in your monetization quest; in our next post, we'll discuss which types of monetization techniques generally work for specific types of sites.
Note that these revenue streams are NOT mutually exclusive; many websites employ multiple monetization strategies to maximize overall revenue. (For more monetization tips, sign up for the free MonetizePros newsletter.)
Method #1: Display Advertising
Display advertising is the monetization technique with which most webmasters are probably most familiar; this is the banners and text ads that you see when you visit most websites. Display advertising is bought and sold in several different ways. Some ad inventory is sold on a cost per thousand (CPM) basis, meaning that you will receive a predetermined amount for every 1,000 ads you display.
For many websites, display advertising is the largest single source of revenue. There are countless examples of display advertising out there; below is a view of BleacherReport.com implementing a "skinned" Blackberry ad on its homepage.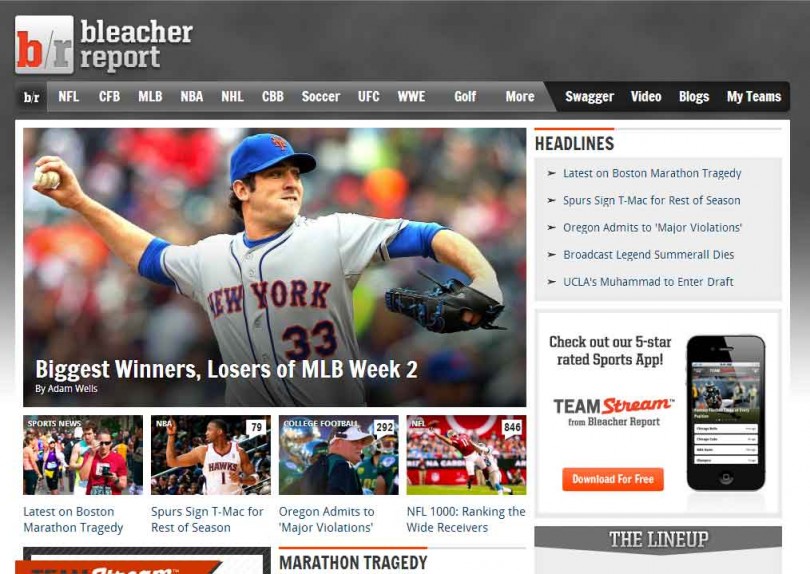 Though the concept of display advertising is generally straightforward, there are several ways to tweak and optimize this revenue stream. Perhaps the biggest distinction is between selling directly to advertisers (or their agencies) and using a middleman network to sell your ads. Within each of those streams lie countless further decisions and opportunities to optimize. On ad networks such as AdSense there are a number of experiments you can run to improve cash flow; similarly, the direct sales process can be optimized in several ways to boost your overall revenue.
If you want more on this topic, John Chow has a post with some good insights on the benefits of direct ad sales.
Method #2: Affiliate Marketing
Another popular source of revenue for websites is affiliate marketing, which effectively involves partnering with a third party to help them sell their products or services to your audience. In exchange for sending your visitors in their direction, these third parties will offer you a cut of any sales they ultimately make. Perhaps the most common affiliate marketing arrangement involves Amazon.com, who places buttons on partner sites that take visitors to their own website (i.e., Amazon.com). Amazon then pays a portion of any sale proceeds generated from that visitor to the referring site. So if someone goes from your site to Amazon.com and buys a DVD, t-shirt, whatever, you get a portion of the revenue generated from that sale.
Here's an example of a blog post with an affiliate marketing link from a mommy blog: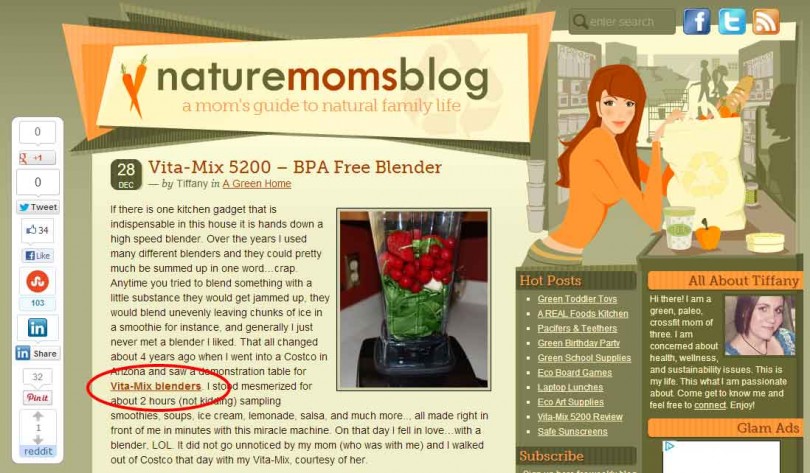 Similar to display advertising, affiliate marketing relationships can be established either directly with partners or through networks that match up "buyers" and "sellers."
Method #3: Lead Generation
Lead generation is exactly what is sounds like: using your website to generate information on qualified leads (i.e., people) to whom third parties may be interested in marketing their products and services or otherwise communicating. Lead generation may be completed by asking visitors to supply certain information about themselves–generally including a way to reach them such as phone number or email address–and passing that information to a third party that wants to market their product or service to them.
There are lots of niches where lead generation can be a substantial source of revenue; if you run a website about wine, you may be able to sell information about your audience (e.g., their email addresses and wine preferences) to a wine of the month club.
Here's a screenshot from CoverHound.com, an insurance blog that monetizes through a lead generation model: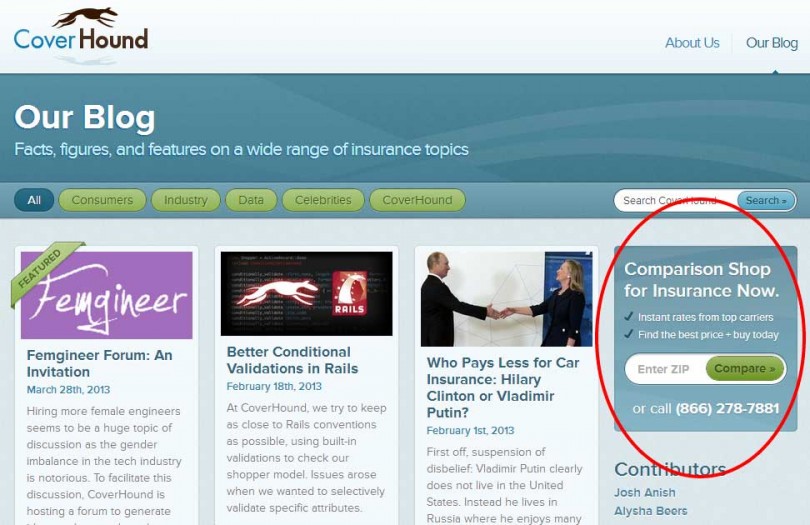 Ryan Erisman has some more detailed thoughts on monetizing sites through lead generation, and CDFnetworks has a good list of proven lead gen niches.
Method #3b: Co-Registration
Co-registration, or co-reg, effectively involves getting your audience to sign up for a newsletter or other offering from a third party. Most commonly, this is done when your users are signing up for a similar product on your site; for example, you may present them with offers to sign up for third party newsletters as soon as they've registered for your newsletter.
Under co-reg agreements, which can be entered into either through a network or directly with a partner, the publisher will generally receive a fixed amount for each registration credited to them. For example, you might be be able to generate $2 for each newsletter subscriber you add to a partner's list.
Method #4: Sponsored Email
Sponsored email, or third party email, represents a way to generate revenue from a list of emails that you've already captured. This strategy generally involves "renting" out your email list to a third party who is interested in communicating with your audience. So you may allow a third party to send an email to your audience highlighting their products, and charge them for every 1,000 subscribers to whom the message is sent.
With direct email, you will generally maintain complete control of your list; you won't have to reveal the identity or contact information of any of your visitors to the third party behind the email. You may also be able to control which portion of your audience gets the third party contact by only "renting" out part of your list.
Here's an example of a sponsored email that might be sent out to the distribution list of an investing website: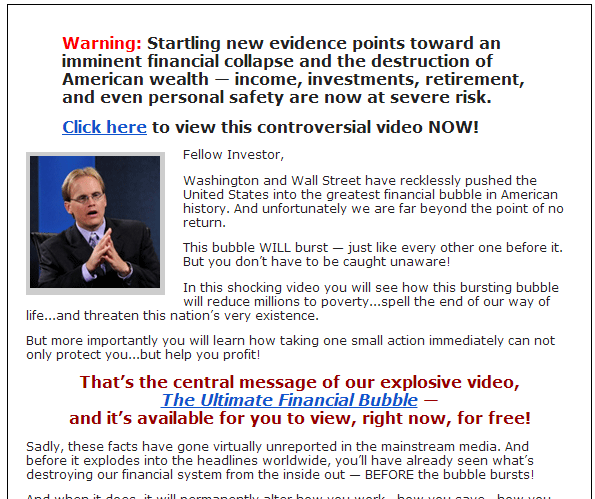 Method #5: Subscriptions / Premium
There are two general sources of revenue if you're a website owner: third parties and your audience. If you have or can build content that you think your audience would be willing to pay for, a premium package might be worth exploring. This source of monetization can take a lot of forms, but generally involves charging users of your site for access to certain features. Many websites operate on a "freemium" model, making a significant portion of their total content available at no cost while charging a fee (which can be one-time, weekly, monthly, or annual) to access certain "premium" content.
There are a lot of decisions that go into launching a premium site, from what content to include to how to price appropriately to how to improve your conversion rate. The exact mix, of course, will depend on the niche and specific site.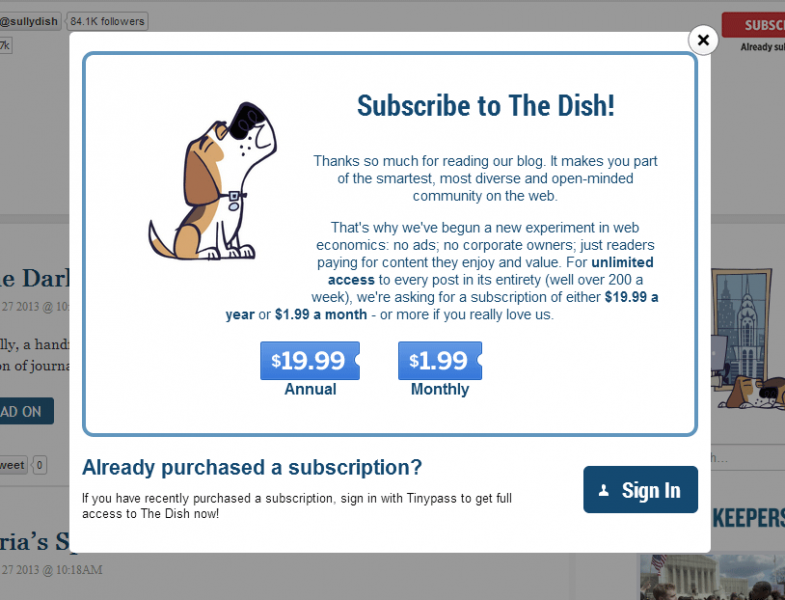 Eric Holmund has a good video on creating a members-only area of your website, and Sean Nogle has a great article at Location180 highlighting some of the benefits and challenges.
Method #6: Online Store
A significant percentage of websites out there function as online stores, selling goods and services just as a brick-and-mortar establishment would. Ecommerce sites run the gamut from extremely broad-based (think Amazon) to highly specialized (most sites focus on a specific niche, such as t-shirts, pet accessories, or sports memorabilia).
Of course, you don't have to be a dedicated ecommerce site to set up a store and sell merchandise. A number of publishers with popular and established brands have set up "shop" sections of their websites where visitors can purchase branded goods.
Annoying Orange, one of the most popular channels on YouTube, is a great example of a (video) publisher that is making money through the sale of merchandise online: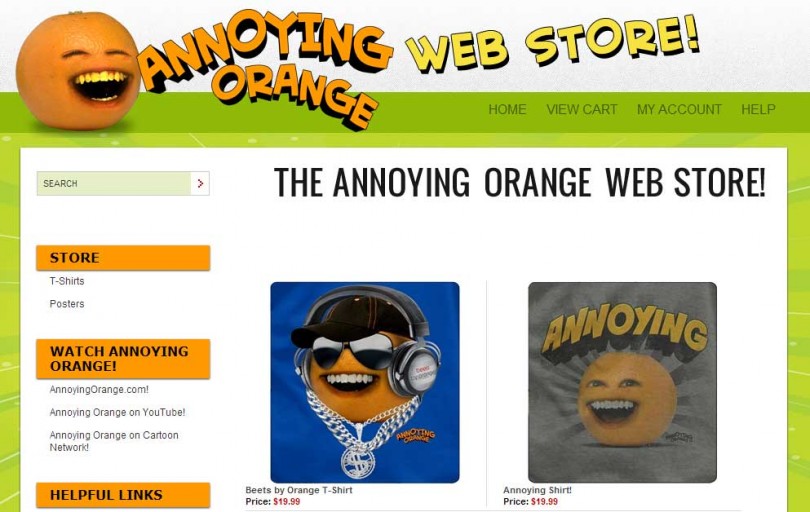 Here's another example from a popular cooking blog, promoting their hardcover cookbook (including the option to buy a signed version):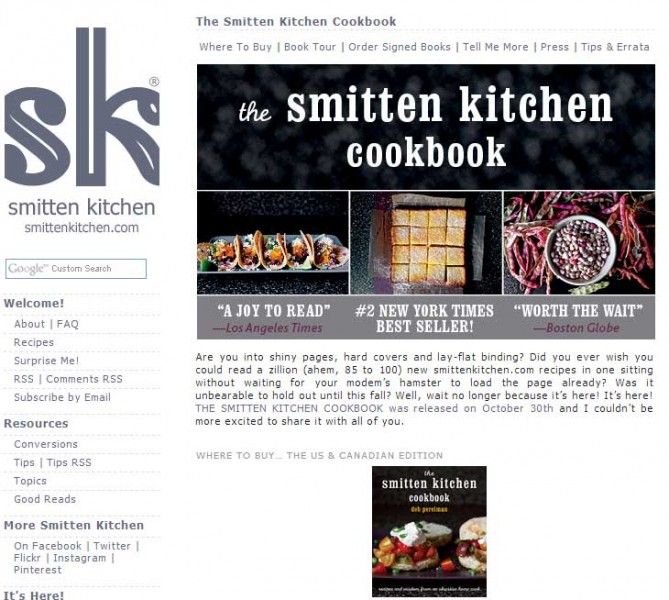 Method #7: Events
If you have a sophisticated audience that is willing to attend an in-person or online event, it might make sense to start marketing webinars and other events to them. If you have a big audience (both in recurring traffic and email addresses), this method can work well in the form of a partnership–meaning you bring the audience and someone else brings the content.
This can work particularly well if your audience needs continuing education credits to maintain their professional certification and you're capable of putting on such an event. In that instance, you may be able to monetize a webinar or online conference in multiple ways, including charging attendees and finding a sponsor looking to reach the audience in question.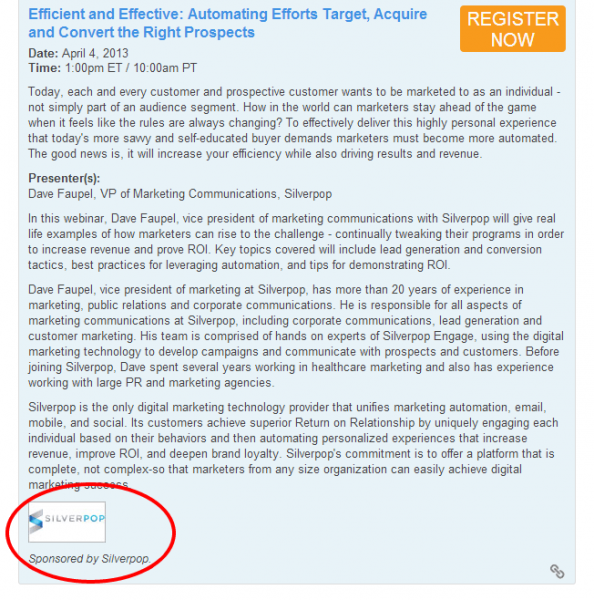 Bottom Line
Websites are like snowflakes in that no two are unique. Similarly, the ideal monetization strategy for a website will vary depending on the audience, content, and many more factors. Most likely, the optimal strategy involves some combination of the methods above; it's up to you (with our help) to figure out which approach is right for your site.
Have a question about monetization? Post a question in the MonetizePros Forum and we'll get back to you soon!