When attempting to monetize a website with an existing traffic base, one of our golden rules is, "Don't try to reinvent the wheel." In other words, it's probably not a good use of time to seek out new, creative ways for your site to make money; there are hundreds of thousands of websites out there already that are already using a wide variety of monetization tactics.
If you're trying to make money from a site, you should always have your "monetization hat" on. Whenever you visit a site, take note of the strategies they're using to make money, and consider whether that approach may be useful for you. (By the way, if you're enjoying this article, you may want to subscribe to our free newsletter; we'll send monetization tips straight to your inbox each day.)
In recent years, the tremendous success of some Web-based companies has made it easier to piece together the specifics of effective monetization strategies. As websites have grown and gone public, they've been required to open up their books and share the details of their revenue statement with investors. The regulatory filings can be a gold mine of information, shedding light on what strategies work for monetizing large traffic bases.
Today we're taking a closer look at one of the largest and most profitable social media networks, trying to answer the question, "How does LinkedIn make money?"
The Short Answer
The short answer to the question posed above is:
LinkedIn (LNKD) makes money primarily from providing the corporate recruiting departments of large companies with access to job candidates through its LinkedIn Recruiter product. The company also generates revenue from display ad sales and sales of its premium membership products to individuals.
The Long Answer
For a more in-depth answer to this question, we'll expand upon the short answer given above. To start, here's a breakdown of how LinkedIn reports their revenue in their quarterly SEC filing (numbers are in thousands and for the nine months ended September 30, 2013):
| Source | Revenue |
| --- | --- |
| Talent Solutions | $614,052 |
| Marketing Solutions | $248,891 |
| Premium Subscriptions | $218,383 |
| Total | $1,081,326 |
This is pretty meaningless without an explanation of what each of these categories means. Here's the quick explanation; we'll give a more detailed analysis of each below.
Talent Solutions: This is access to the LinkedIn Recruiter product, which is used primarily by corporate recruiting teams to find candidates for jobs.
Marketing Solutions: This is revenue from display ads–the 300×250 and 728×90 banners you see on the site.
Premium Subscriptions: This is the product that most of us have either signed up for or seen countless promos for; it allows you to see who is accessing your profile and send messages directly to other users (among other features).
Talent Solutions
The biggest source of revenue for LinkedIn (representing about 57% of revenue so far in 2013) is access to the LinkedIn Recruiter tool. This may be a bit of a surprise, since it's a feature that the vast majority of users on the site don't really use (and that most have probably never heard of). This is basically access to a massive database of passive and active job seekers (professionals looking for a new position as well as those who may be happy in a current job but a good fit for an opening).
This product is geared primarily for corporate recruiters, and it's priced at a rate that only larger companies can really afford. Here's the lineup of product features from LinkedIn: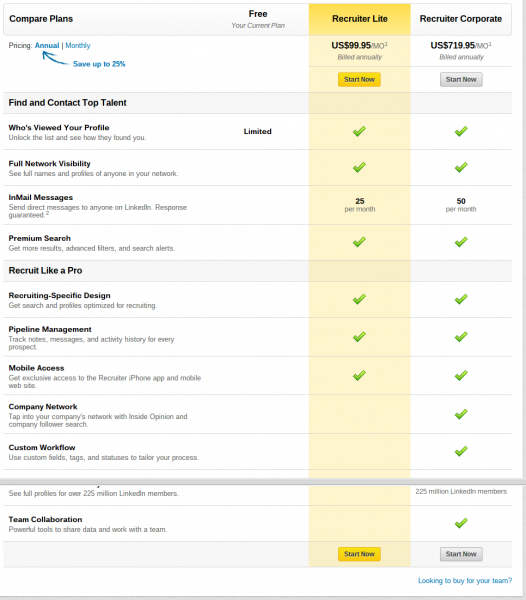 What should jump out immediately is the price; The Recruiter Corporate package costs just over $8,600 annually (if you pay upfront; it's about $10,800 each year if you pay month-to-month).
According to its latest filing, LinkedIn has about 22,000 "Corporate Solutions" clients, up about 57% from the prior year. These corporate clients account for a huge percentage of overall revenue, paying large annual subscription fees in order to access job candidates and other features. While 22,000 may seem like a huge subscriber base, it's tiny in the grand scheme of LinkedIn's membership. There are about 260 million registered users–or about 12,000 member accounts for every Corporate Solutions client.
In other words, LinkedIn makes most of its money from a very expensive product tailored to only a very small percentage of its audience.
Marketing Solutions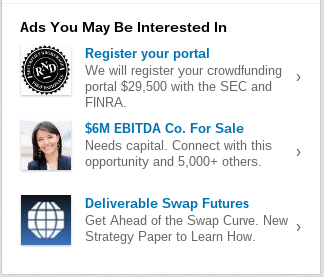 This area of the business is more straightforward. LinkedIn makes about $90 million each quarter, or about 23% of total revenue, from showing ads to its users. These ads appear on most pages on the site, and include both IAB standard ads (such as a 300×250 rectangle) as well as custom text ads (shown to the right).
For the three months ended September 30, LinkedIn reported about 12.2 billion pageviews on its site from about 184 million unique visitors each month. This tells us a couple of things about LinkedIn; the first is that the each unique visitor views about 22 pages a month, indicating high user engagement.
It also implies an effective revenue per 1,000 pageviews, or effective RPM, of about $7.25:
Display Ad Revenue
Pageviews
12,200,000,000
Display Ad Revenue
$88,502,000
Effective RPM
$7.25
Given the nature of the LinkedIn audience, that number seems pretty low (for a point of comparison, several large publishers generate effective RPMs in the mid teens). The LinkedIn audience consists primarily of professionals, who tend to be relatively wealthy (and therefore attractive to advertisers). Moreover, the audience is very targeted–or at least targetable. LinkedIn presumably offers advertisers the ability to target relevant segments of its audience. For example, an advertiser looking to promote advanced computer products should be able to have their ad appear only to users who identify their as software engineers or similar professions. Those campaigns would presumably be very effective (since there are very few "wasted" ad impressions).
Given those facts, it's a bit surprising that LinkedIn makes only about $7 for every 1,000 pageviews. Of course, LinkedIn isn't aggressive with its banner ads; it generally shows a max of two per page, and several pages on the site don't have any ads at all. Moreover, the site has so many pageviews each month (about 4 billion) that it would be tough to sell them all directly to advertisers without using a network to fill in some of the inventory. But there should be significant upside potential in this metric because LinkedIn offers access to such a valuable and targeted audience.
Here's another way to look at the ad business:
LinkedIn reported 184 million unique visitors monthly during the third quarter
LinkedIn reported about $29.5 million in monthly advertising revenue during the third quarter
LinkedIn made about 16 cents in ad revenue from each unique visitor in the third quarter
LinkedIn notes in its filings that it prices ads primarily on a cost per advertisement basis (another way to say "CPM") and that the average length of an advertising contract is about two months.
Premium Subscriptions
The last piece of the LinkedIn revenue puzzle is the premium subscription. LinkedIn offers its members four tiers of membership on the site, including a free option. The other three range from about $20 / month up to $75 / month, depending on the features desired. Here's the product table shown on the LinkedIn website detailing what exactly comes in each tier: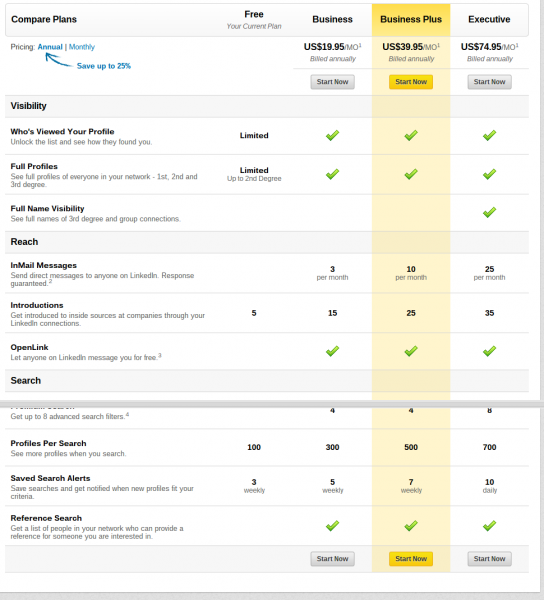 LinkedIn makes about $26.5 million per month from its premium subscription business. If we assume that the average monthly fee is about $50, that means that there are 532,000 or so members who pay to upgrade to the premium tier. Again, that's a very small portion of the total membership base–only about 0.2% of the 260 million or so total members.
Bottom Line
A few things stand out about the LinkedIn business model:
LinkedIn makes nothing or next to nothing from 99% of its members; the 22,000 corporate clients and approximately 500,000 premium memberships make up more than 75% of total revenue.
There exists significant potential in the display advertising business, though optimizing the ad revenue may cannibalize other more profitable areas of the business.
LinkedIn is a great example of a "freemium" business model; most of the site and features are available free of charge to all users, with value-added premium products available only to paying customers.