Signing up for Infolinks through the MonetizePros link, you'll get 10% extra earnings!
As you all probably know, our mission here at MonetizePros is to be the best resource that will help you earn more money from your site or blog traffic. We believe that each and every blogger or site owner can and should monetize his site no matter which platform he uses, and transforming his passion into profession. Whether you write about tech, sports, health, entertainment or any other topic, these days it's easier than ever to create additional and very beneficial revenue stream from all the hard work you put into your site.
As part of our constant work exploring and testing pretty much all the various monetization tools that are out there, we recently got to know in depth one platform that really stood out from the crowd – Infolinks. Of course, we have heard about Infolinks many times in the past, after all they've been around for over 8 years now, and we even mentioned them in a few posts, for instance as the 5 top Google AdSense alternatives, they are our #1 tip on how to make money on Tumblr and we chose them as a surefire way to make money online. However in the last few months Infolinks got extremely good reviews and feedbacks from our writers and contributors team that were experimenting with its ads on their own sites.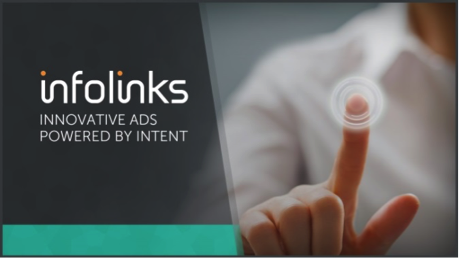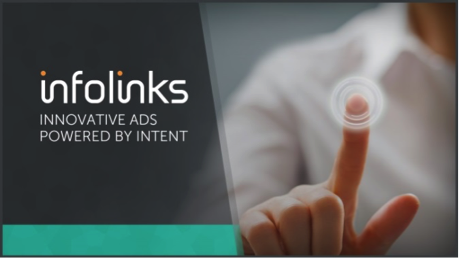 Besides from its ad products, Infolinks is also known by its super beneficial publishers affiliate program. This referral program is plain and simple: earn 10% out of each referred publisher income for 12 months. The program is designed to help Infolinks publishers to increase their revenues with Infolinks even more, and to spread the word about their services by referring fellow publishers.
What is Infolinks?
Infolinks is a Palo Alto CA based company which was established in 2007. Their unique algorithm scans the site content and delivers intent-driven ads to the right users in real-time. Currently they're analyzing 2 trillion keywords and has 2.5 billion ad views on a monthly basis. The platform is completely free of charge for all types of publishers and it always will be; there are no limited trials or monthly fees of some sort. They have a large variety of ad units that enables you as a publisher to use your sites' unused ad space. Due to that fact, their ads work perfectly with all other ad solution you might have, including Google AdSense and Amazon Associate programs.
Among their suite of products, you can find various types of products which work on all platforms and enable you to customize it to your own personal needs:
InText works by looking at your page's content in real-time to show the most relevant ads. InText matches the best ads to the site's top keywords. The InText is triggered by intent, so its ads are displayed only when a user hovers over the highlighted keyword. Infolinks is best known for its InText ads which produce real-time relevancy for each and every user.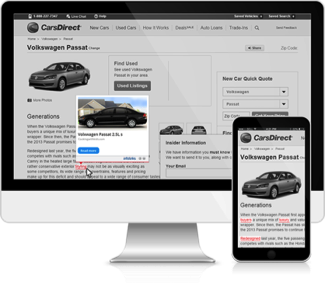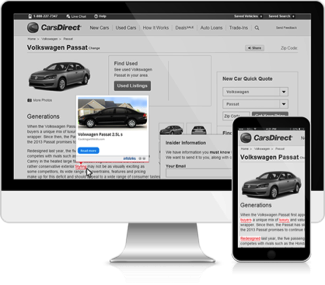 InTag displays the most valuable keywords directly related to the content of a page in highly customizable ad units. The InTag is in fact a line of keywords that blend into the site's look and feel. Like InText, the InTag ads are also triggered by intent, and displayed only when a user hovers over the highlighted keyword. InTag ad unit also future a revenue boosting algorithm which matches several ad formats to increase performance by up to 3 times.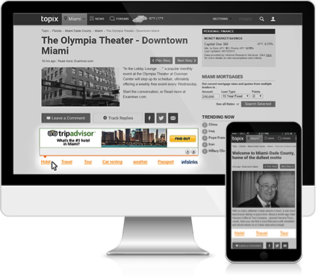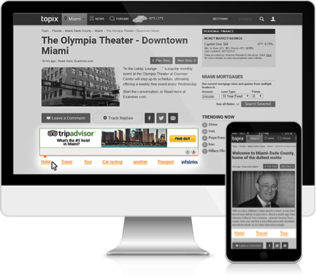 InFold ad unit takes advantage of the power of search and display, and presented itself above the fold. The InFold is a slider that grabs the user attention so it guarantees an impression. This ad unit monetizes incoming search traffic without disturbing returning visitors. This is one of the most engaging products, with cutting edge performance that resulted up to 30 times the engagements of standard display units.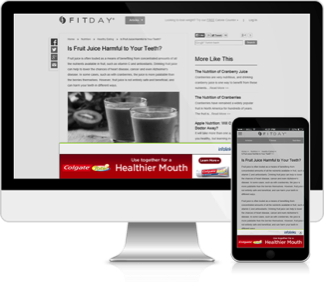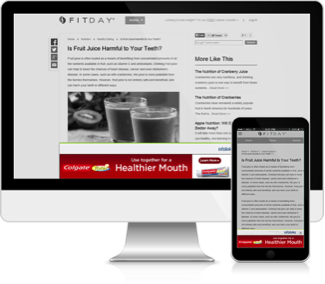 InScreen is an interstitial ad that functions as an "ad intermission" between page views. The InScreen serves highly viewable ads relevant to the user's intent by using advanced triggers. Like all Infolinks products, this ad unit can also be customized. The InScreen can be shown when a user enters a site, leaving a site by clicking on an external link or navigates inside a site. The InScreen ad unit capitalized on user interaction across all platforms.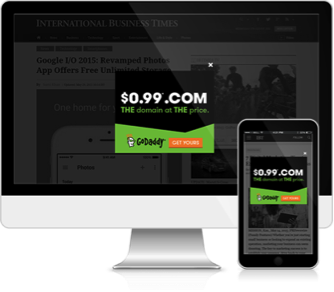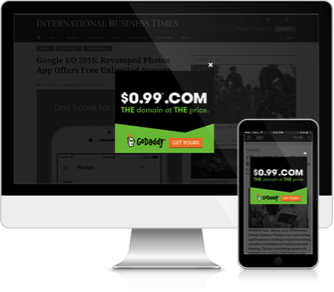 InFrame provides a solution for the unused real estate on wide screens. The InFrame ad unit serves ads only on available space in the site's blank margins, by optimizing the unused ad space. InFrame is capitalizes on each user with an exclusive auto screen size detecting algorithm. This ad unit fixes position for enhanced visibility and of course renders only when relevant ads are available.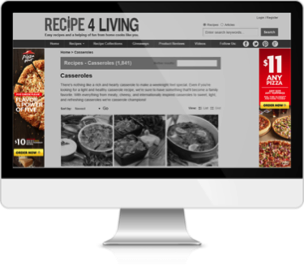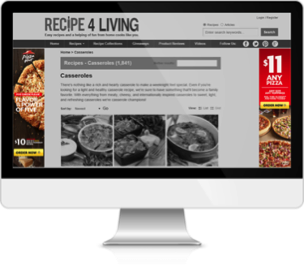 Sponsored content is a high performing unit that presents engaging content ads and promotes content from premium publishers. This is in fact the ultimate native solution that is seamlessly integrated to each site's page at the end of its content. The sponsored content ad unit monetizes all traffic by increasing the sites earnings with high paying cost-per-view advertising.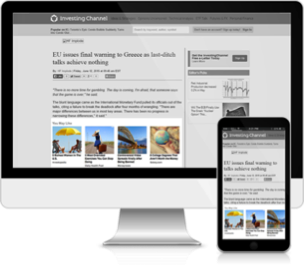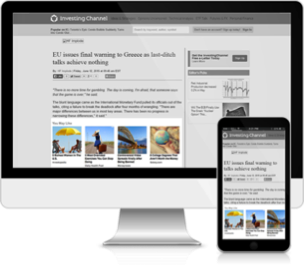 Why Is It The Best Google Adsense Alternative?
We have three main reasons why we recommend Infolinks:
– It's FREE to use: there are no registration fees, no minimum requirements for page views and no hidden commitments or charges at all. All site owners and bloggers can join Infolinks free of charge, and it always will be free for the entire time you are using it. In addition, the Infolinks team is constantly conducting cool giveaways and fun contests on festive occasions and even for no reason at all, just to reward their publishers. In fact, we recently won $200 from a referral contest.
– It's simple to set up and manage: it takes less than one minute to set up your Infolinks account, and the products are completely customizable via their easy to use publisher dashboard. You can create your own theme, so that the ads become tailor fitted to your site's layout. You can also choose some ad units' colors, change their frequency, try out various amounts of ads and much more.
– It works great with all platforms, devices, sites and other ad networks: whether you're mobile-centric WordPress enthusiast, or use another ad solution such as Google AdSense, you can use these ads. Speaking of AdSense, the Infolinks approval rate is much higher than AdSense, and most sites get approved by them.
Is Infolinks For You?
Infolinks work best especially for those of you who are sick and tired from serving the old fashion display banners, which causes their users to suffer from a severe case of "banner blindness". As their study reveals, 86% of consumers suffer from "banner blindness" which has become one of the industry biggest challenges nowadays. What exactly is banner blindness? Ask yourself what is the last display banner ad you saw and which company or product did it promoted. Most chances are you probably won't remember, like the vast majority of people. Their native and unique ads are designed to overcome this difficult obstacle, by really sticking out and engaging the users.
However it's not enough "only" to attract the user attention, it should be the right user at the right time. Even with today's sophisticated targeting technology, according to the research mentioned above, relevancy remains a key challenge with only 2.8% of respondents stating that they thought the ad they saw was relevant to them. What is so special about these and really define them from the rest, is their real-time algorithm that detects only the users that will most likely to be interested in the specific ad, by analyzing his characteristics and his interests at the exact moment.
Additionally, they provide the publisher's users a very positive user experience, by presenting them native ads, which blend seamlessly into the site look and feel. The fact that their ads are native, doesn't necessarily means they are hard to track and thus impossible to earn money from it. On the contrary, here is a screen shot of Infolinks earnings, sent to us by one of our readers: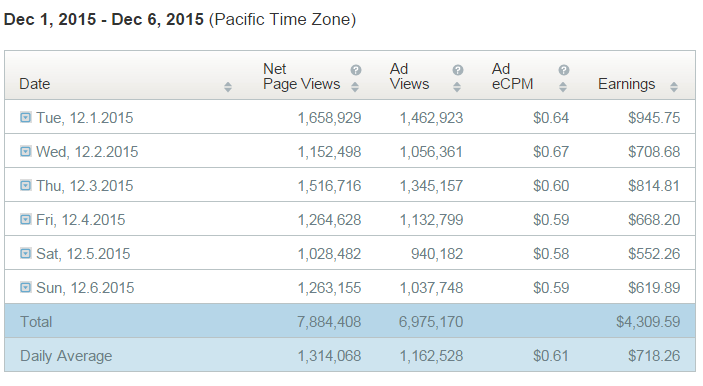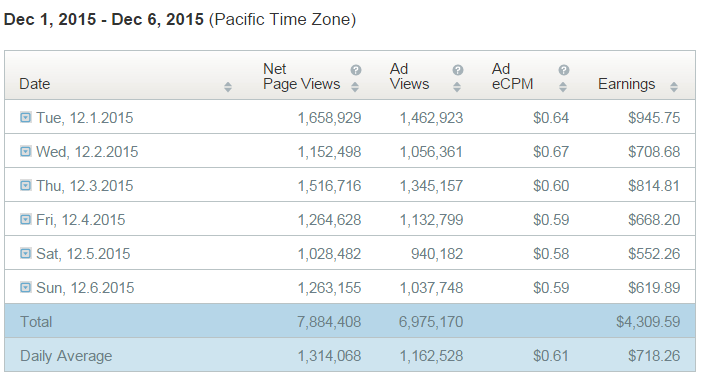 As you can see, the earnings can be very substantial, and one can definitely make a decent living out of it. We are not the only one who fond of Infolinks; currently they are the 3rd largest ad marketplace in the world, working with over 150,000 websites and blogs in 128 countries worldwide. Furthermore, they're especially known for their great relationship with top brand advertisers such as Go Daddy, Pizza hut, ebay, Sears, TripAdvisor and many more.
How to join Infolinks?
Setting Infolinks account is pretty simple and takes less than a minute. All you get to do is to fill up their registration form by entering your site's URL here. The second and final step is to integrate the Infolinks code you'll receive after signing up into your site – and your ads will instantly go live! Once your code is integrated, that's it; the rest is intelligently automated. It takes about a day or two for the algorithm to learn the site's content and user behavior and to match the most relevant ads to the right users in real-time. As said before, their approval rate is fairly decent, especially as opposed to Google AdSense.
However, even if you are already using AdSense or another ad solution, you can still use this to get additional revenue from your site. If you have any queries, their devoted team of support and account management experts will gladly help you get things going.
Publishers' Center Dashboard
As a publisher, you will get access to your own personal member center in which you can manage your account easily and have control over the ad units. In addition, in the publisher center you will have your full earnings and performance real-time reports (that can be also sent to your inbox according to your preference), add more sites to your account, customize the ads style, type, color and amount, and to receive your unique affiliate link in order for you to send it to fellow publishers.
Infolinks payments
Obviously this section is very important when it's time to choose which ad network to work with. There is no doubt that making money is crucial for any blogger or site owner who is working hard running his site and always striving to provide his readers the best possible content. So after all the hard work you put into your site, it's your absolute right to make money out of it. Here you can both earn decent living and their payment terms and conditions are more than fair.
They offer several convenient ways for publishers to receive their payments such as PayPal, Bank Wire Transfer (a direct transaction of the funds to your bank account), eCheck, ACH or Payoneer. Your monthly earnings from them should only be higher than the minimum threshold payment of $50, which is considered to be very low in the ad network industry. If you don't hit this threshold, that's totally OK, your earnings will be carried to the following month. Here is an earnings report screen shot of one of our readers, as you can see it's very detailed and comprehensive:
Summary & Our Recommendation
To review, Infolinks is one of the most popular in-text advertising programs that help to monetize your site and to make money from it. We found it to be the #1 alternative to Google AdSense, especially since it's provides quality service to its publishers. From our long term experience in the industry, they really are one of the best ways one can create revenue flow from their site.
Since one of our favorite things here at MonetizePros is helping our readers achieve their goals, we highly recommend you to try them out. This platform can help you serve better and much more accurate ads, and to get higher ROI for the same investment, comparing to other advertising networks.
We hope this article has helped you get acquaintance with this network a tad better, and if you have any further questions you can always contact their support team directly.
Click here to sign up free of charge and start earning from your site today!
P.S. As mentioned before, signing up through MonetizePros in 2015 will get you 10% extra earnings!