What's the Best Option?
If you'd like to skip straight to the point - for the majority of people, the best monetization method would be using a display advertising network to show ads on your site.
​
Click the button below to see which ad network we recommend using in 2016!​
There are several advertising and monetization options, and your website niche, target audience, traffic volume, and visitor behavior will determine which options are the most reasonable for your particular website.
We are going to show you 10 monetization options that have broad applications, allowing you to start generating revenue, whether you are trying to turn your website into a profitable business or just cover some of your operating expenses. Don't try and do all of these at once and make sure you give it some time to see results. No one is an overnight success and you need to see what will work for you and your audience.
1. Google AdSense
Google's advertising platform for publishers, AdSense, shows ads that are highly relevant to your website content and pays you a percentage of the revenue each time they are clicked on. If you had a website about travel, it might display ads from an airline or travel agent. The process couldn't be any easier:
You place HTML code on your website where you want the advertisements to display. Note: AdSense policy allows up to 3 ad blocks on each page of your website.
Advertisements that are related to the content are displayed, and Google uses a real-time to ensure that the highest paying ads are shown.
Google bills the advertisers and networks for the advertisements that appeared on your website and pays you directly.
This program is among the most popular monetization methods because of its simplicity. There is no dealing with advertisers directly or chasing down invoices for payment. Google handles everything and you receive a check or direct deposit every month for the revenue that your website generated.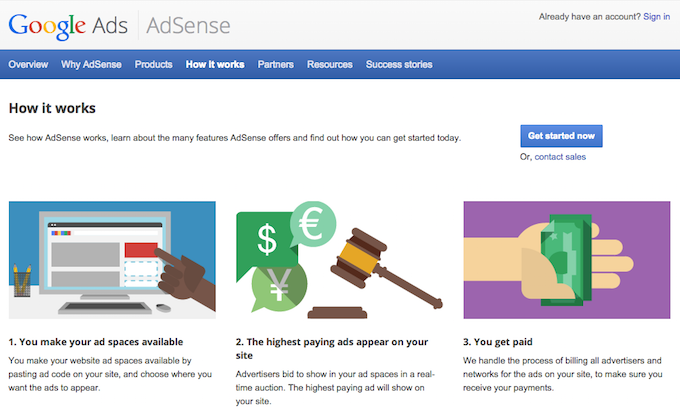 Anyone with a website can take advantage of this program and getting started takes just minutes, provided that you have a Google account. You can read more about Google's AdSense program by reading our Google AdSense Review.
2. Infolinks
Infolinks is an advertising platform that places in-text ads within your website content and pays you each time that they are clicked. Their software identifies your most valuable keywords within your website content and double-underlines theses keywords, and when your visitor hovers his or her mouse over them an advertisement related to the keyword is displayed. If they decide to click on the "learn more" you are compensated.
Infolinks allows you to customize the look and frequency of the text ads. Making them the same color as your website theme makes them appear to be part of your content, and this will increase your click through rate significantly. Also, they allow you to determine how often they appear. The last thing you want is a page full of clickable ads. One or two per piece of content is enough to attract interest without pushing away visitors.
This is a great platform to sign up for when you are just getting started because every little bit of extra revenue can help you cover basic website expenses like web hosting and domain registration. The payouts per click are fairly low though, so once you build up your traffic and your site becomes more popular there are other monetization methods that will provide you with a bigger and more attractive return.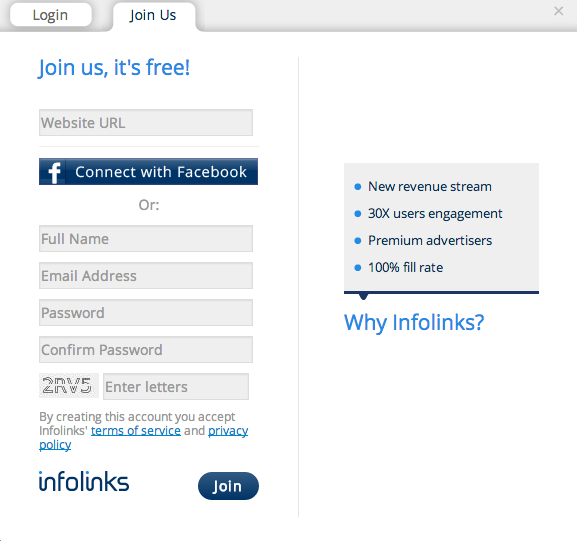 You can get more information on the infolinks program by clicking here.
3. Affiliate Offers
Affiliate marketing is a very effective way to monetize your website traffic because it allows you to present your visitors with offers that they are likely to be interested in. For instance, if you had a blog about personal finance you would want to find an affiliate offer that would be of interest to your visitors, such as a credit card offer. You would place a banner or text link on your website that contained your affiliate link and directed the visitor to the offer. Now, if they signed up for the particular offer, which in this case is a credit card, you would be compensated with an affiliate referral payment. Some credit card offers pay out $50 – $100 for every referral an affiliate sends.
There are two different types of offers: Cost Per Action (CPA) and Cost Per Sale (CPS). An example of a CPA offer could be an insurance quote request where the user submits his or her name and contact information to receive additional information. Most CPA offers are lead generation offers. Now, a CPS will generally require a purchase be made and a credit card pixel to be fired in order for an affiliate payment to be issued. An example of a CPS offer would be a diet pill offer, where the consumer actually purchases the product. Generally CPS offers will pay out more than CPA offers.
It is important that you match relevant offers with the content and theme of your website. You wouldn't place a credit card offer on your blog about diet tips and weight loss. You would want to find a health and fitness offer that you believe your website audience would be interested in. One of the best resources for looking for available affiliate offers is Offer Vault.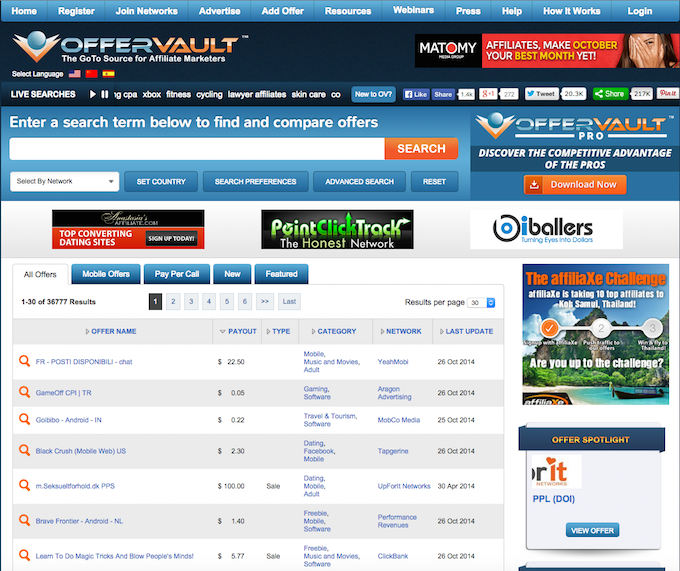 You can enter in any search term related to your website content and instantly review the available offers. It also tells you what affiliate networks manages each offer. Once you identify the offers that you want to promote on your website you will want to sign up with the affiliate networks that manage them. You can search Offer Vault by clicking here.
Further reading: The Beginner's Guide to Affiliate Marketing: 7 Essential Resources
4. Create & Sell Your Own Digital Product
This is a monetization strategy that is great for those who have a very niche specific website combined with a large volume of website traffic. Creating your own product allows you to provide something very specific for your visitors and retain 100% of the revenue. Affiliate offers pay you a commission per action, but you don't have to worry about customer service, refunds, or any issues that might arise. When you sell your own product you have to handle the customer service as well as any problems that pop up.
Don't worry about stocking inventory and the costs associated with developing a product – go digital! The beauty about creating a digital product such as an eBook is that there are no production and inventory costs after you create it the first time. You can handle the complete creation or you can outsource the work.
There are several WordPress plugins that help you manage your digital downloads and integrate with your payment processor, only allowing your purchaser to download it once their payment is processed. Once you develop the product it is a relatively hands free process.
5. Direct Ad Space
Once your website has a significant amount of traffic and you have built up a following it gives you the ability to sell direct advertising space on your website. Don't expect these offers to roll in on Day 1. It might take a couple of months but be sure to include details of how you should be contacted by a potential advertiser. Now, Google AdSense doesn't have any traffic volume requirements, so you can implement that onto a brand new website and your revenue will grow as your blog grows. No advertiser will want to directly purchase exclusive space on a brand new website, but once the traffic numbers increase it becomes more attractive to an advertiser to purchase direct space for a flat monthly fee.
Advertisers that use Google's platform are charged per click. This can become very expensive for the advertiser so they often look for opportunities to buy ad space for a flat fee. So, imagine that you had a blog about parenting and a retailer of children's clothes was paying $5 per click on Google's advertising network. If you charged $500 a month for a banner ad and your blog was receiving 30,000 visitors a month and generating 100,000 page views then it would be a great deal for the advertiser. Their ad would be seen 100,000 times for the same amount of money that they were paying for just 100 clicks using a pay per click model.
You can also combine Google AdSense with your own direct advertising to really generate some serious income from your website.
Check out our full Ad Network Reviews.
6. Sponsored Posts & Reviews
Publishing sponsored posts is another great way to generate income by leveraging the success and popularity of your website. Advertisers pay large sums of money for bloggers to write reviews about their products and services and post them for their audience to read. It is a popular form of advertising because visitors see it as more of a review than a direct advertisement. This type of non-intrusive advertising is very effective. The amount you can get for a sponsored post varies greatly based on the size of your niche, the niche itself, the popularity of your site and your social media following.
The advertiser will also generally provide the website owner with the product or service to review for free, so in addition to generating revenue you can also collect some nice products and services along the way. SponsoredReviews.com is a service that connects advertisers and websites and it is free to set up an account.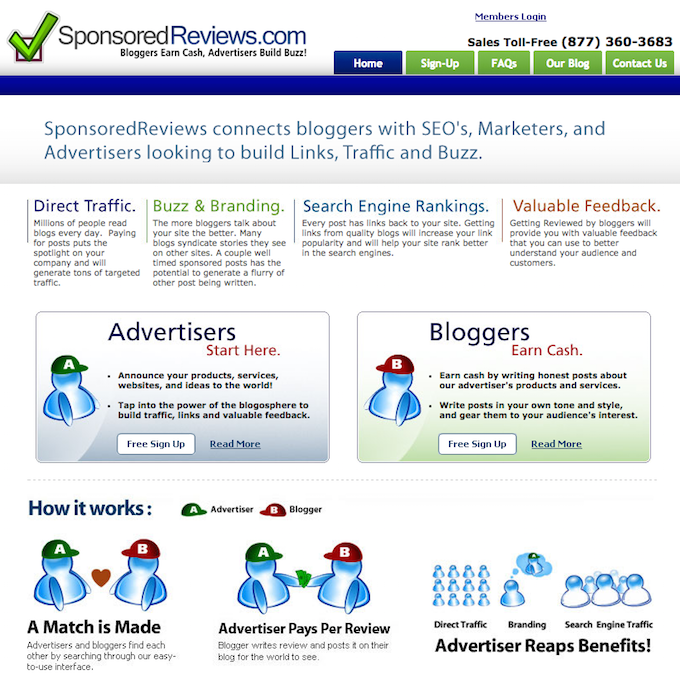 7. Gate Premium Content
If you develop a large loyal following you can start to gate premium content, which means that readers will have to pay to access it. Many websites that successfully gate content will offer the first couple of paragraphs for free in order to grab the interest of the reader. They will naturally want to continue reading so they will be more willing to complete an offer in order to access the rest of the content.
For these purposes, there are modern e-commerce platforms, where you can create gated content. For instance, one of them is Paid Access on Ning.com – you have a convenient set of tools for website monetization, paid access to the posts/articles. Remember, followers are the engine of your website. The more they like what you are writing, the higher your profits are.
Now, it is important that you discuss this with the account manager of any affiliate offer you plan to require your visitors to complete in order to access your content. Some offers don't allow incentive traffic while some do. Make sure that you only use offers that allow this type of traffic because the last thing you want to do is forfeit your earnings because you did not follow the guidelines. Just have open communication with your affiliate network and you will be fine.
You can also go straight to your affiliate network and let them know what you plan on doing and they can often suggest an offer that they feel will perform well for you while also remaining within the advertisers guidelines. Remember, they want you to be successful just as much as you do. Since they work with thousands of publishers they will typically have very good suggestions for you.
The key here is to create very high quality content that your readers are going to want to access so bad that they don't mind filling out a quick survey or filling out a form in order to read it. Don't gate all of your content though, as this will push away a large percentage of your traffic that isn't interested in completing an offer.
8. Generate & Sell Leads
Once you build a strong following and your traffic numbers are constantly increasing you have the ability to generate your own in-house leads that you can then sell directly to an end buyer. This requires a little more work on your end, but the payout per lead generated can be significantly higher than what you would be paid by an affiliate offer.
Not every website is going to have a niche that has a direct demand for leads. Examples of niches that have this demand are finance, retirement and employment. If this isn't for you then there are ways to come up with very targeted offers that you could create. For example, if you had a website about cars that discussed reviews of new models it would be hard to create an offer around those that wanted to purchase a car, because your visitors would be from all over and you would need to create relationships with nearly every dealership to make that work. It just wouldn't make financial sense. So, you would think of something complimentary to the new car shopping experience, such as financing the purchase.
You could create an opt-in lead form to generate car-financing leads and then sell them to one of the largest auto financing companies. They wouldn't have geographical restrictions, so it would allow you to sell all of the leads to one source. This would make it extremely manageable for you as you would just have one purchaser to deal with. If you decide to generate your own leads just make sure it is something general enough that it will interest a large percentage of your visitors and try to sell them all to one buyer.
Further reading: The Beginner's Guide to Lead Generation: 7 Essential Resources
9. Related Posts
Outbrain is a great way to help monetize your blog, as it only includes adding a snippet of code to your website and they tend to have high click through rates. At the end of each blog post you publish the Outbrain widget is displayed and it suggests additional posts that their algorithm feels that your reader would also be interested, as they relate to the content they just finished reading. Each time they click through to one of their recommended articles you are compensated.
You don't have to worry about the quality of the content being displayed on your website visitors, as Outbrain has a very strict policy and only syndicates content from high quality websites. Your visitors just see the post title and an image, so it really doesn't distract them from your website. It is a great way to earn additional revenue, especially if the user was going to just leave your website after reading the content of the page they were viewing. You might as well maximize the revenue for every single visitor, and Outbrain is a great way to further monetize your website.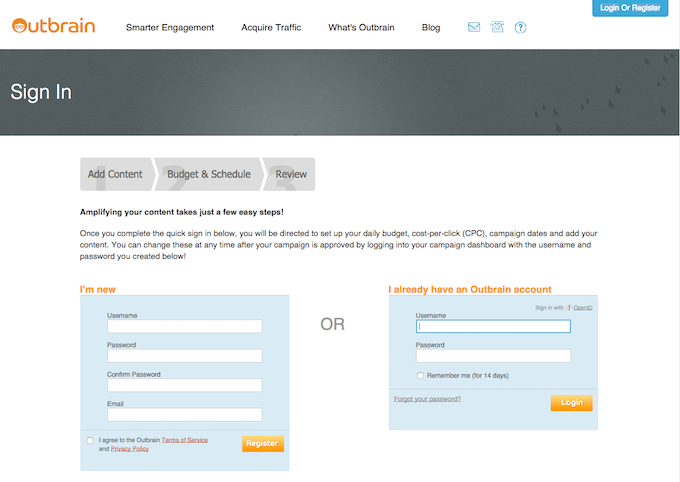 You can get more information about Outbrain by reading our Outbrain Review.
10. Paid Private Forum
Creating a private paid forum on your website is another great way to generate extra revenue. This is a strategy that can take a lot of time and should be attempted when you have more of a following and experience. If you built your website using WordPress then you can install the bbPress plugin and instantly create a forum on your website. The settings allow you to make it a private forum and there are add-on's that allow you to manage paid subscriptions.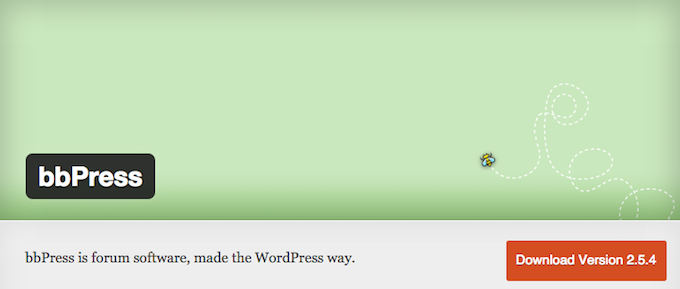 To justify charging a price to access your website forum you need to provide something of incredible value. You need a very strong USP (unique selling point) to justify making it a member's only forum. Premium content, special offers and having well known industry influencers as members provide incentive for your visitors to sign up.
This provides you with a great opportunity to generate steady residual income, but you need to price you forum access in a way that it will encourage a large user base. Charging a high monthly fee will only attract a small pool of users and the forum will be inactive, causing your users to fall off and cancel their subscriptions. Keep it affordable so a large percentage of your user base will sign up. Even a $3 – $5 monthly fee can translate into a good return if you have a massive group of participants.
With several monetization options, it is a good idea to try several and then stick with the ones that earn you the most money per visitor. With all of the analytical and conversion data available you will be able to determine exactly how much each visitor is worth. Some of the most profitable websites have multiple income streams, so don't be afraid to test several to determine what results in the biggest return for your site.
RELATED POSTS