As the percentage of Web traffic coming from cell phones and tablets continues to rise, monetization of mobile traffic has become increasingly important. Many publishers would likely be surprised to learn how much mobile traffic they are receiving, and the monetization of this traffic is largely an afterthought.
There are seemingly hundreds of mobile ad networks, many of whom boast unique ad opportunities or superior technology. But chasing the over-promises of various ad networks is unlikely to yield much fruit. Instead, there are several relatively easy-to-implement strategies that can be employed to make more money from mobile traffic, including new types of ad units, design changes, and small tweaks to settings in your existing network. Below are five ideas for making more money from mobile traffic.
Idea #1: Cost Per Download Networks
Instead of (or in addition to) running standard ads promoting products and services, mobile sites can now hook up with networks where the advertisers are app developers looking to drive downloads of their products. This model is attractive to app developers because they can pay only per download, and can also be attractive to publishers because the click rates can be very high.
Below is an example of this in action on celebrity gossip site TMZ.com: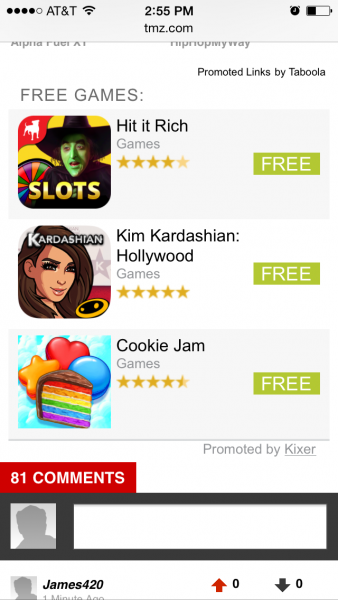 This model has the potential to work very well on mobile sites because of the high relevance of the offer to visitors. In this case, the relevance relates more to the type of action requested by the ad than the type of apps promoted (though apps related to the subject matter of a site would certainly help).
Specifically, these types of ads provide an opportunity to download a mobile app to visitors who are using the site on a mobile phone or tablet. If one of the apps appeals to them, they can have it downloaded in just a few seconds with a few clicks.
Kixer is the network powering the implementation above.
Idea #2: Fixed Banner
It's nothing new to incorporate mobile friendly ads into a site; many ad networks, such as Google AdSense, automatically adjust ads to appear as mobile banners on phones and tablets. But as a result of mobile content consumption habits, most ads quickly pass through the visitors field of view as they scroll through a page.
Below is an example of a common mobile banner ad implementation. Though it temporarily takes up most of the page, most visitors will quickly scroll through–often without even glancing at the ad: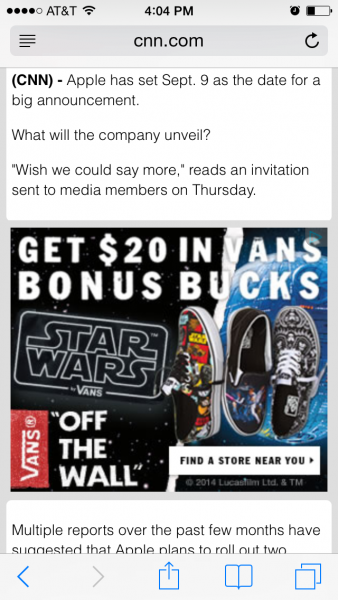 There's an opportunity to significantly increase the visibility of an ads by effectively fixing them in place at the bottom of a mobile browser. This effectively means that the mobile banner is always on the screen, increasing the likelihood that a visitors will notice and click it.
Below is an example of this in action on the Washington Post mobile site (if you're viewing this site page on a mobile phone, you'll notice that a mobile 300×50 banner is appearing at the bottom of your screen there–and will stay fixed there even as you scroll through our responsive site).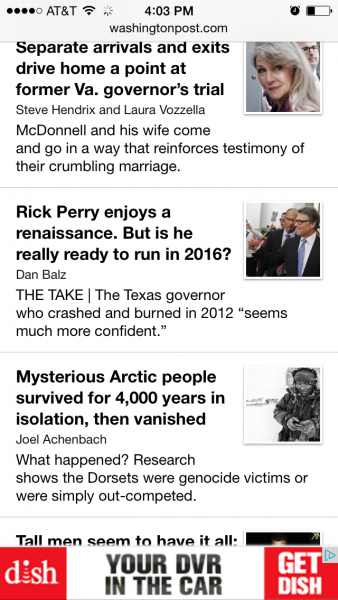 A "fixed" mobile banner will be visible to mobile traffic for longer periods of time, and will typically see much higher click rates than banners that may spend less than a second visible as viewers scroll.
If you want to implement this type of ad unit, check out the techniques used on our site or on the Washington Post mobile site.
Idea #3: Experiment With Affiliate Marketing
Though mobile networks strive to serve ads that will see high click rates, there may be an opportunity for some manual work to improve both the quality and relevance of mobile banners.
Affiliate marketing is normally discussed as a monetization strategy for desktop traffic, but there is no reason that it can't be used for mobile traffic as well. Many merchants have high quality, mobile friendly ads that you can try out relatively easily on your site.
The steps for this idea would look something like:
Sign up for an affiliate network (or log in to your existing account)
Spend an hour identifying offers that would be relevant and attractive to your audience. Many affiliate networks will allow publishers to filter the advertisers down to those with mobile certifications: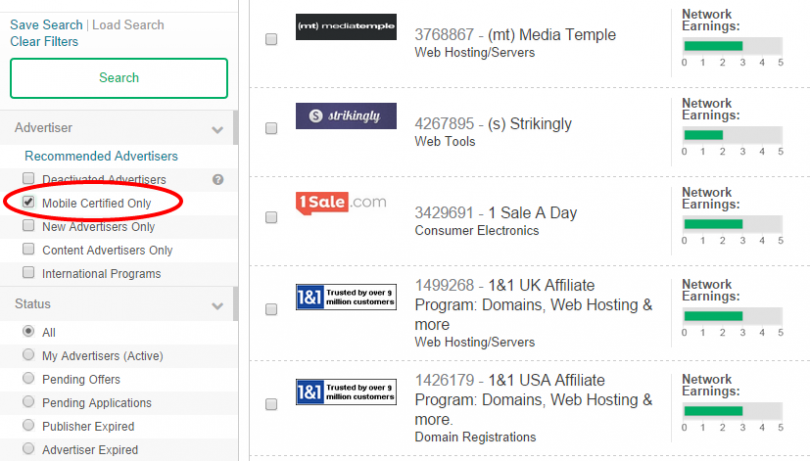 Set up a campaign to mix in some affiliate offers with standard display ads
After a few weeks, evaluate the CPMs realized on affiliate offers compared to display ads
If this shows any promise, there will be opportunities to iterate on the affiliate offers available. This certainly isn't a guaranteed win, but for some publishers a CPA affiliate model will work well with mobile traffic.
Idea #4: Ad Reloads
Many mobile ad networks let publishers automatically refresh ads, effectively loading a new one if a visitor has failed to engage with the first one. This gives the network a second shot at serving up another relevant ad that may be of interest to a visitor if the first one wasn't compelling.
Here's what Google's AdMob has to say on the topic:
You can choose not to refresh ads or to refresh every 30 to 120 seconds. We recommended that you have ads persist for 60 seconds or longer, depending on the functionality of your application. Our internal tests have shown that this ensures users have enough time to engage with ads, providing the best performance for both advertisers and publishers.
Idea #5: Get Responsive Already!
This final piece of advice admittedly isn't all that creative, but it's worth emphasizing for anyone thinking about mobile monetization. Failure to have mobile friendly version of a website is a major issue in 2014, from both a traffic acquisition and traffic monetization perspective.
Google has stated publicly that non-mobile friendly sites won't get much love from search engines. And the traffic that does make it to a non-mobile site will likely have a bad experience and be unlikely to click on ads or engage with other revenue-generating sections of the site.
To drive home this point, below is a side-by-side comparison of two similar sports blogs. One is obviously mobile friendly, while the other is not. The user experience between the two would be very different.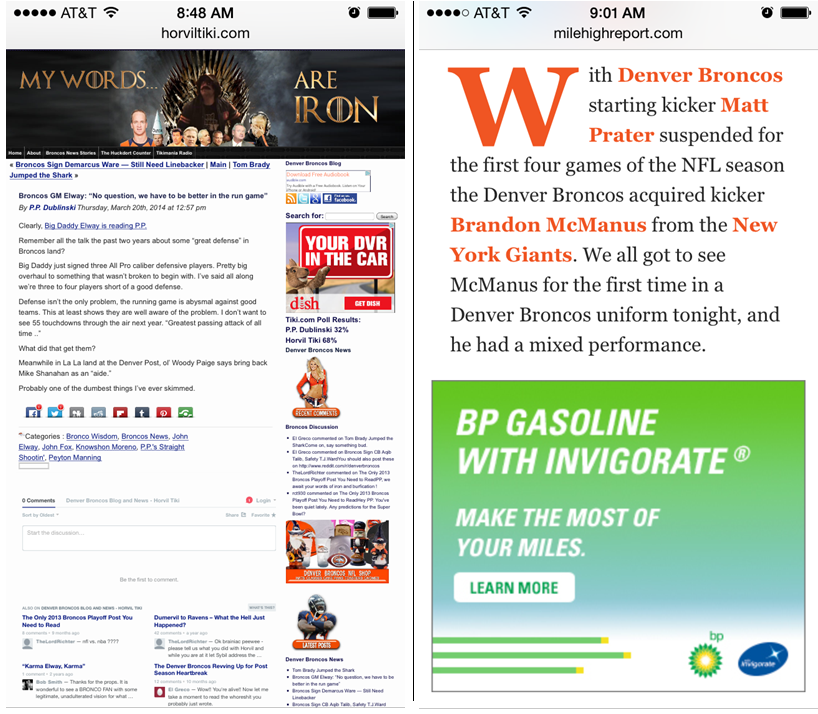 One of these sites is clearly better positioned to provide a good user experience and generate display ad revenue once visitors land there.
Google has put together some reading on common mistakes made related to mobile sites.
Bottom Line
Mobile is becoming a larger source of traffic for many sites, meaning that its importance in the overall monetization picture is increasing significantly. For sites looking to improve their mobile monetization, there are some relatively easy strategies that can be employed to boost revenue.