This guide covers all aspects of building a paid membership product. In it, we'll cover everything from building your product to accepting payments to starting with the actual promotion.

Included in This Guide
How to Sell Paid Memberships: Building a Product
How to Sell Paid Memberships: Economics of Premium Product
How to Sell Paid Memberships: Payment Options
How to Sell Paid Memberships: Marketing Basics
How to Sell Paid Memberships: Building a Product
For a website with a meaningful traffic base, creating and launching a paid membership product can be an effective way to substantially increase revenue and its overall value. As is often the case with a potentially huge reward, there is a tremendous amount of work involved in successfully selling a premium product.
Appeal of Sub Revenue
A paid membership product is appealing primarily because of the recurring nature of the revenue stream. Once visitors convert to paying members, they're likely to continue their subscription for a relatively long period of time (especially if you make an effort to retain them as members). Paid memberships can also become a "low effort" revenue stream; once set up, signups should keep coming as you focus on other areas of the business. In other words, paid memberships are a revenue stream that can flow while you sleep.
If you have a steady and growing stream of traffic to your site, your pool of paying members should also continue to grow regularly. If the pace of new signups exceeds the rate of cancellations or organic attrition, revenue will begin to compound as the months and years go on. Membership-based products can get very exciting once the product has been around for a few years, when both renewals and new signups combine to produce a big chunk of revenue.
How to Sell Paid Memberships
If the thought of building, packaging, and selling a paid membership product on your site seems overwhelming, it may be useful to break it down into several smaller projects. Each of these involves answering a particular question:
What does your paid membership include?
Are the economics viable?
How much will you charge?
How will you process payments?
How will you market your paid membership?
How will you maintain your paid content?
This article will deal with the first question only; we'll cover the rest in upcoming posts here.
What Does Your Product Include?
The first question is often the most challenging: what exactly are you going to offer that people will be willing to pay for? For existing sites with free content, this may require stepping up your game and producing even higher quality content that will be for paying customers only.
Each site will have a unique paid membership product; the type of audience, nature of the property, and various other factors will likely make some offerings more appropriate than others. But there are, of course, some common components of paid membership packages that tend to appear over and over again. These generally fall into a few categories:
Members-Only Content. This may be in the form of a newsletter, special guides or reports, or daily content on your site that is available to members only.
Alerts. Many paid memberships offer alerts of certain events, via text or email.
Tools. Access to on-site tools is a common component of paid membership products.
No Ads. An ad-free experience is another part of many paid membership products.
The components of your paid membership product will ultimately guide all other aspects of this process, from setting the price to marketing the subscription. Obviously, the more value-added your product is the higher your chance of success. A good rule of thumb is to offer a product that you would be willing to pay for (or what we like to call eating your own dog food).
Pros Tip: Focus on making a small number of features for your paid product, and focus on making each of those really good. Additional features are likely to complicate the technical and promotional aspects of this product, without a commensurate increase in appeal to your visitors.
Sample Paid Memberships: Premium Content Access
The simplest paid membership model involves segmenting your site's content into two classes: free and premium. Generally, most of the content on a site will be accessible to all, with a paid membership required to view the best content. It's common to put "actionable" content that includes potentially valuable recommendations behind a paid wall. This can be stock picks, sports predictions, or restaurant reviews.
ESPN.com's Insider product is a great example of this membership strategy in action. A small portion of the site's content, generally including mock drafts, predictions, and analysis, are available only with a paid membership: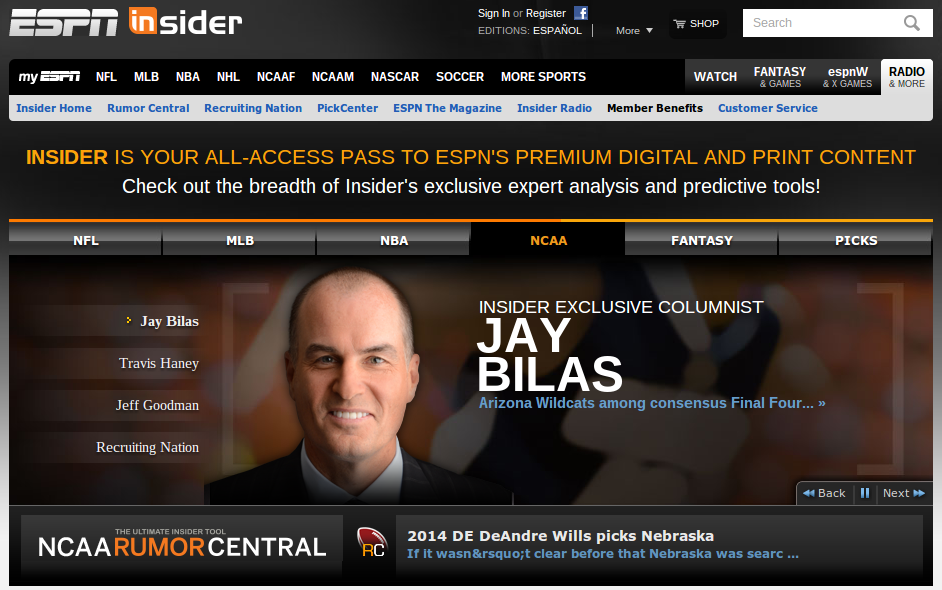 ESPN is unique among major sports Web properties with its paid membership tier. But it appears to be a successful venture; in late 2012, it was reported that there were 670,000 paying subscribers to the service.
Another example of this type of paid membership model is TheStreet.com, the financial website that features TV personality Jim Cramer. While the vast majority of the content on the site is free to read, most of the actionable advice requires a paid membership to access: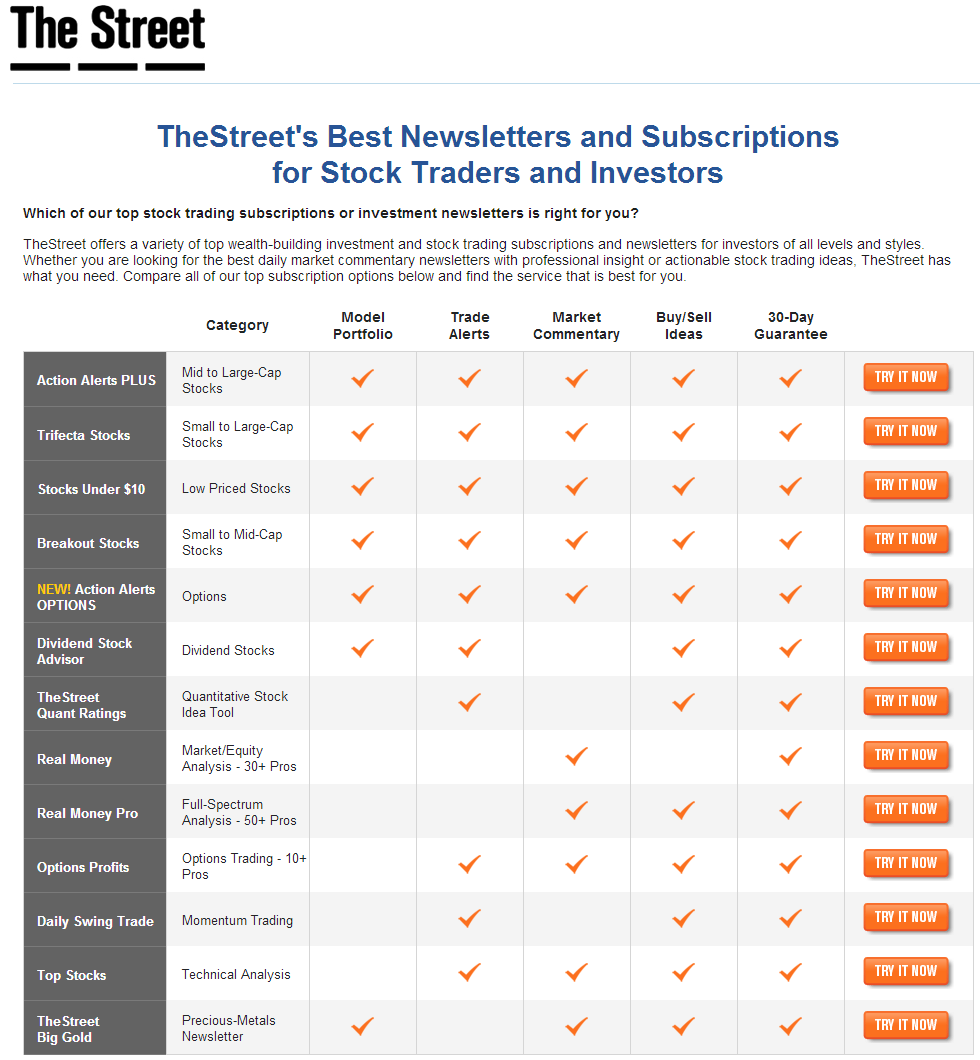 According to its latest annual report, TheStreet recorded about $38 million in subscription revenue in 2012.
People.com, the online version of the popular celebrity magazine, similarly puts some of its content behind a pay wall. That site features a massive amount of free content; only a very small percentage of the total content requires an upgrade to a paid subscription to access: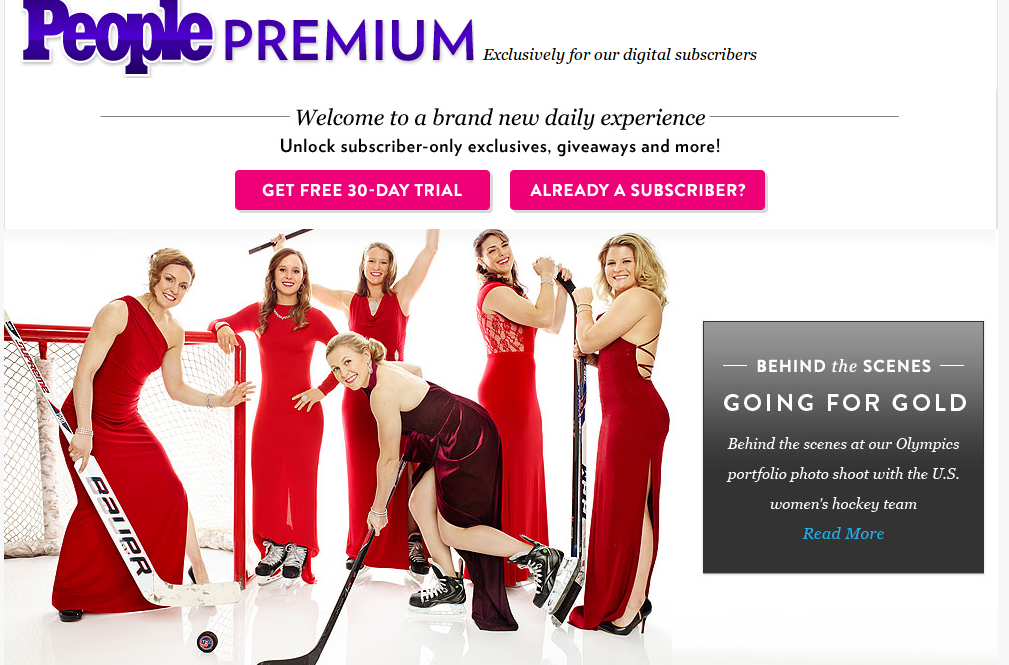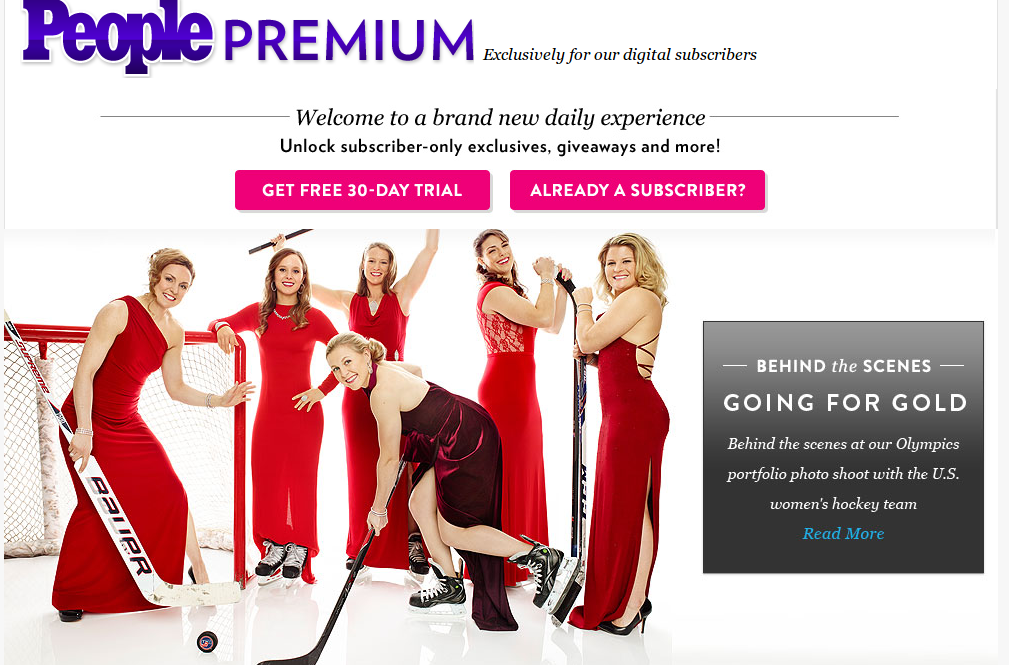 This segmentation between paid and free content also works well for gambling-related sites. For example, PredictionMachine.com puts out a number of free articles each week providing analysis and commentary on various professional and collegiate games. But the most valuable pieces of content–predictions on the actual outcomes of the games–will cost you: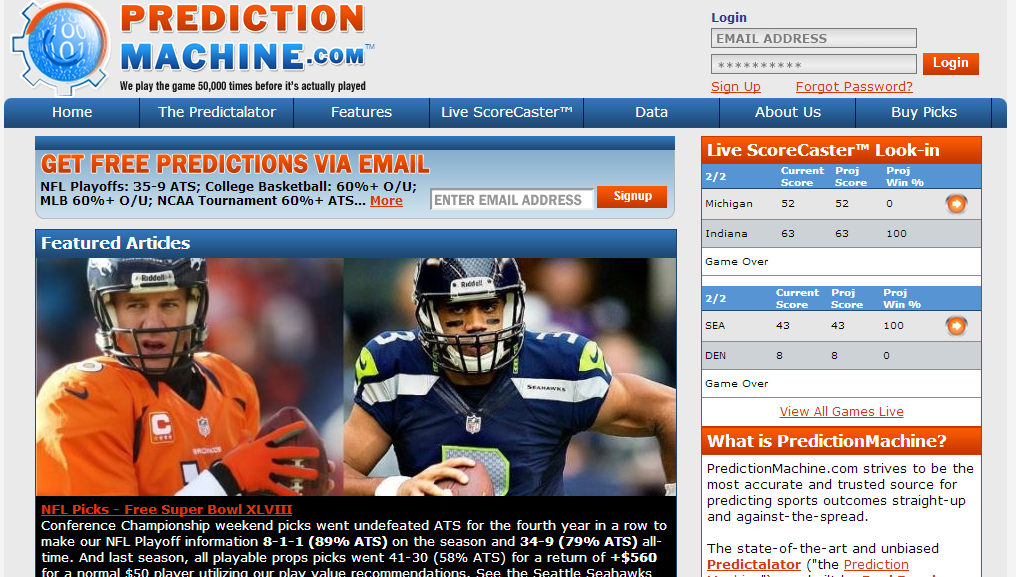 There are a number of other sites that have successfully built a paid membership product around a simple segmentation of their content into two buckets. For more ideas an inspiration on these types of products, check out some of these properties:
Sample Paid Memberships: Freemium Tools
IMDb, the popular Hollywood movie site, uses this model for its paid offering. While the majority of the database they maintain is completely free, there is a segment that's reserved only for those who have a paid membership (specifically, information on in-development titles).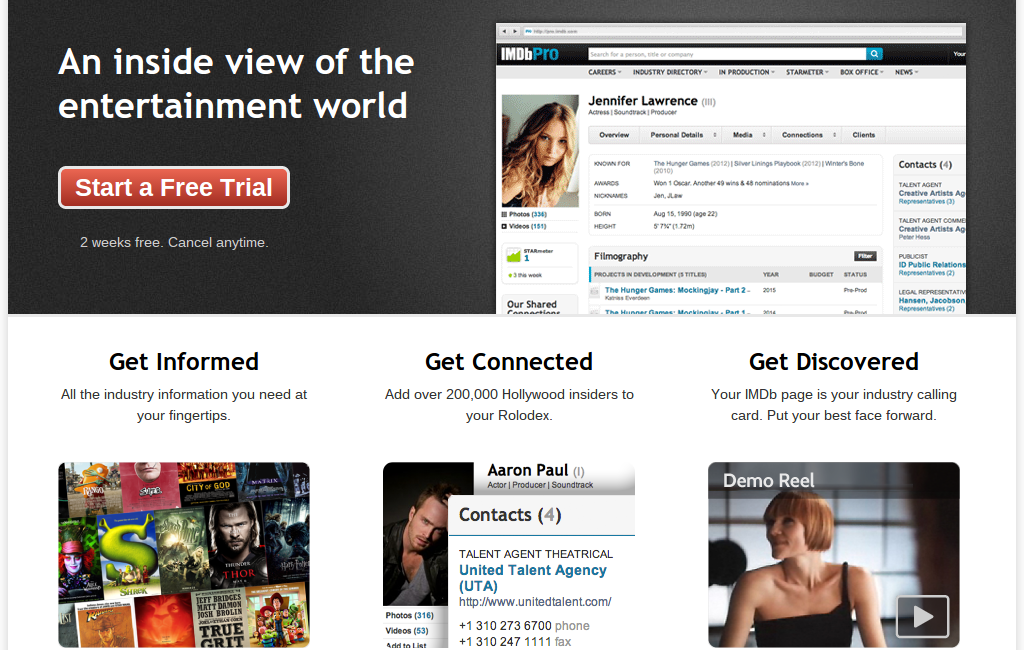 Compete.com, an Internet analytics company, has a similar approach to their paid membership product. The site has an extremely useful tool for analyzing Web traffic that is completely free. Additional functionality and insights are then available with a paid membership.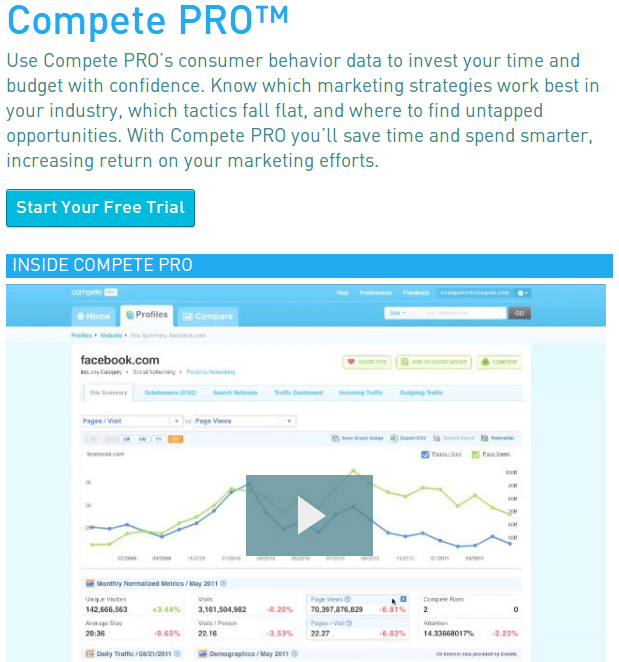 Another example of the "freemium tool" model is AllRecipes.com, a site that publishes thousands of pieces of cooking-related content. While the vast majority of the content is available to everyone, upgrading to a paid membership unlocks some additional functionality on the site such as a "recipe box" that lets users store recipes that they've customized.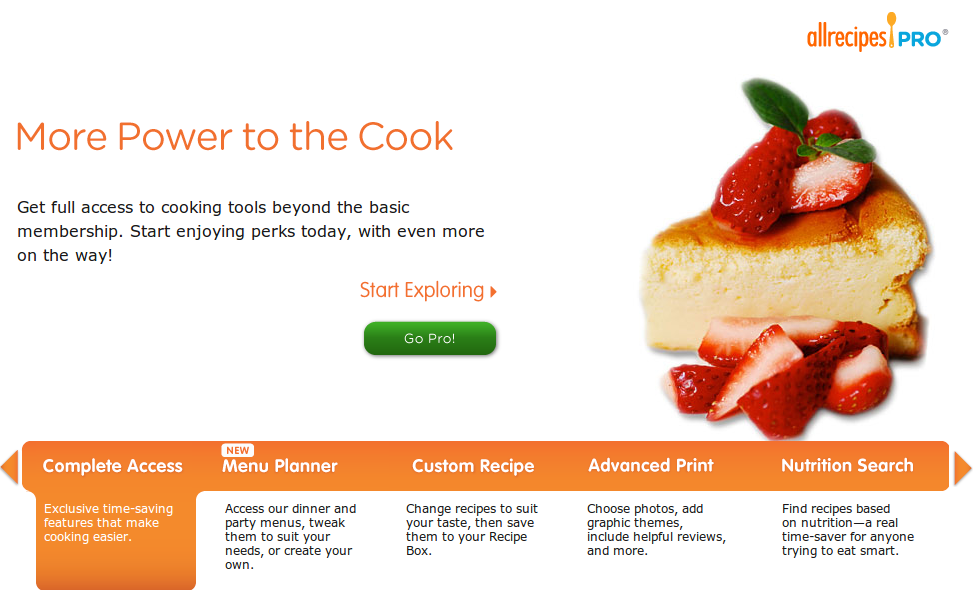 There are, of course, a number of other sites that offer access to premium tools as the main draw of a paid membership packages. If you're doing research or looking for inspiration for your own paid membership product, check out these properties:
Bottom Line
The first step to a successful paid membership revenue stream involves coming up with the actual product that you think visitors to your site will be willing to pay to access. As is often the case, we suggest doing some research on existing premium products in your niche to get a feel for what has been successful elsewhere. Start with the examples we highlighted above to get a feel for how paid memberships are packaged, and start brainstorming features you have or could create on your site that you would want to spend on.
Back to top
How to Sell Paid Memberships: Economics of Premium Product
Below is a template for determining whether or not a paid membership product is viable, including how much you can potentially make and which key factors will impact the long run success of this strategy.
Are the Economics Viable?
Committing to developing a paid membership product is a major decision. There is a big cost associated with pursuing this initiative, even if it's the opportunity cost in the form of your time. The hundreds (yes, hundreds) of hours you'll spend creating and marketing the paid membership are hours you could have otherwise spent growing traffic and optimizing existing revenue streams.
While it's impossible to tell beforehand if your paid membership will be a success, you can certainly confirm that success is among the possibilities. At the most basic, the revenue from a paid membership depends on:
Existing traffic
Conversion rate to paid
Cost of the subscription
Renewal rate
This assumes that you'll be using primarily organic channels to market a membership; if you're planning on running a paid campaign (such as an AdWords campaign), you can add Cost of Lead Acquisition and Paid Visitor Conversion Rate to the list.
Before sinking resources into a premium product, do some analysis on what the revenue stream might look like with various conversion rates and price points. We've created a template to help in this analysis; open up our Paid Membership Spreadsheet to follow along with an explanation of the key variables that will determine your success in this type of initiative. (Note that we've made both a Monthly and Annual tabs for different types of pricing models.)
Ultimately, paid membership revenue is determined by five inputs:
1. Traffic
Each visitor to your site is a potential customer for your paid membership, so the more traffic you have the more chances you'll get to make a conversion to a paid member. As we'll discuss below, even the most valuable and well marketed premium products will have a relatively low conversion rate, so a significant amount of traffic is generally required to get a paid membership site up and running.
Our template considers organic traffic, but many paid membership models will use some combination of organic and paid traffic (e.g., AdWords) to acquire potential customers.
The viability of paid traffic depends entirely on the focus of your site; depending on the keywords you're targeting, you could be paying anywhere between $0.20 and $20 for each visitor. If you're able to acquire visitors on the cheap and these visitors have a relatively high conversion rate, this might be a way to jump start a paid membership without putting the heavy volume of work required to build an organic traffic base.
2. Trials
No matter how good a paid membership is, a relatively low percentage of your visitors will ever consider a membership. Most paid membership products are driven by a small number of "power users" of a site who are willing to pay for a premium offering.
Estimating the percentage of visitors who will sign up for your paid product is tricky, as the exact rates can obviously vary quite a bit. If you have a free product, such as an e-newsletter, the conversion rate there can serve as a starting point. The percentage of visitors converting to a paid membership will likely be quite a bit lower than the signup rate for free products.
A few data points that put the conversion rate in perspective:
LinkedIn has about 259 million registered members, and fewer than 1 million paid members.
Pandora has 200 million registered users and about 3 million paid members.
ESPN.com gets about 73 million unique visitors per month; its paid ESPN Insider product had about 670,000 subscribers in 2012.
There are two different paths to take here:
Require a credit card to start a free trial.
Offer a free trial with no credit card required.
The first route will result in a significantly lower number of trials, since a lot of potential sign-ups will be turned off at the idea of having to enter this information up front. But there will be a much higher conversion rate with the first option; if you can get someone to enter his/her credit card information to take a free trial, they're likely to eventually pay for the product.
If you're confident in the value your product offers and your ability to market that value to potential customers during their free trial, the second route mentioned above may be idea. But because each site and audience is different, the ideal approach is to allow yourself the flexibility to test both approaches. This will likely require some advance planning from a development perspective, so it's good to note this requirement early on in the process.
3. Conversion Rate
Once you get a visitor to take a free trial, the last step in the paid membership funnel is for them to upgrade to the full paid membership. As mentioned above, this can either occur when they fail to cancel (if you take the credit card information up front) or when they enter in their payment information after the conclusion of the free trial.
Ultimately the conversion rate from a free trial to a paid membership is a function of two factors:
How good your product is
How well you communicate the value of your product
While the first point above is obvious, the second often isn't given as much consideration. But it's incredibly important: a free trial is your opportunity to impress a potential customer. You can't assume that they'll immediately recognize the value they can derive from a membership to your site; you need to effectively highlight all the benefits and make it as easy as possible for them to fund and use all the features.
There's no definitive way to accomplish this goal, but it will generally involve a clean, easy-to-follow layout of the paid member site and a cohesive marketing plan that highlights the benefits available. (This can be done through a series of autoresponder emails.)
The conversion rate to a paying customer will depend in large part on the free trial model you offer. If you take the credit card information up front, you may see trial-to-paid conversion rates as high as 50%. If you offer a true free trial, the conversion rate will likely be much lower (though you'll see a significantly higher number of trials).
4. Price Point
At the risk of stating the obvious, the financial success of a paid membership product will depend in large part on the amount charged. Even minor changes to the price point in our model will change the revenue amounts dramatically.
There is some research you can do on the optimal price point, from reviews of similar products and reading of analysis done on which prices attract and repel potential customers. But the final decision here is perhaps more art than science. Again, it's impossible to give advice on a price point since each product and site is so different. The ideal solution here involves flexibility to test different price points, sales and specials, and payment options.
5. Renewal Rate
Once someone becomes a paying customer, the challenge becomes retaining them. Ideally, each subscriber you acquire will be a member for life. But in reality that usually doesn't happen; members cancel and credit cards expire. A 5% change in the renewal rate can have a big impact on your subscriber base, especially with the compounding effect of many months or years.
Though renewal rates can vary dramatically, a monthly retention rate of 90% is a good starting point if you're not sure what to assume.
Bottom Line
If you're considering adding a paid membership in an effort to better monetize your existing traffic, spend some time doing your homework to figure out just how viable the business model is. Understanding the factors that ultimately determine your success will allow you to thoughtfully craft a strategy for building and marketing your paid product.
Back to top
How to Sell Paid Memberships: Payment Options
When launching a paid membership product, you'll probably spend the bulk of your time working on the features of the product itself, whether that's a tool or a collection of premium content. But the actual product is just the tip of the iceberg; from there, you'll need to think about how you'll market it, how you'll let people try it out, and (fingers crossed) how you'll collect payment from them.
As is often the case, the right approach to these questions will vary from site to site and depend on your specific circumstances. So while we're happy to give you our general advice on these matters, we'll also try to highlight the factors to consider.
Free Trial Decisions
Most paid membership packages come with a free trial option that allows visitors to "test drive" the upgraded membership level before committing to a monthly payment.
There are two basic ways to offer a free trial. The most common is to take credit card information up front, and allow subscribers to cancel their membership at any point during the trial to avoid a charge. A less common method is to allow visitors to start a free trial without taking payment information; when the trial expires, they'll have to pay in order to keep access.
Here's an example from TheStreet.com, which requires a credit card to start a free trial and then charges unless the trial is cancelled during the 14-day trial period: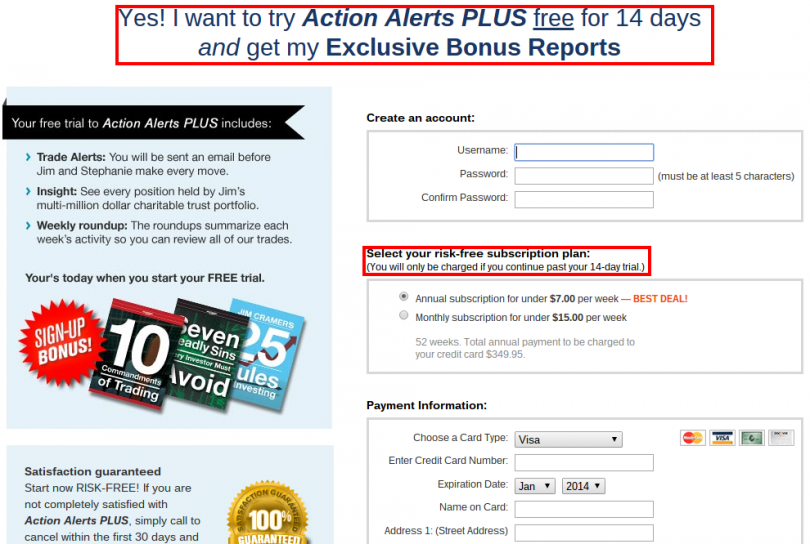 Pandora's premium product is an example of a free trial with no payment information required up front. If you attempt to upgrade, you'll see the screen below. Clicking the button highlighted below will immediately kick off the 24-hour free trial; after that time, you'll be asked to enter your payment information if you want to keep the upgraded product (which has no ads):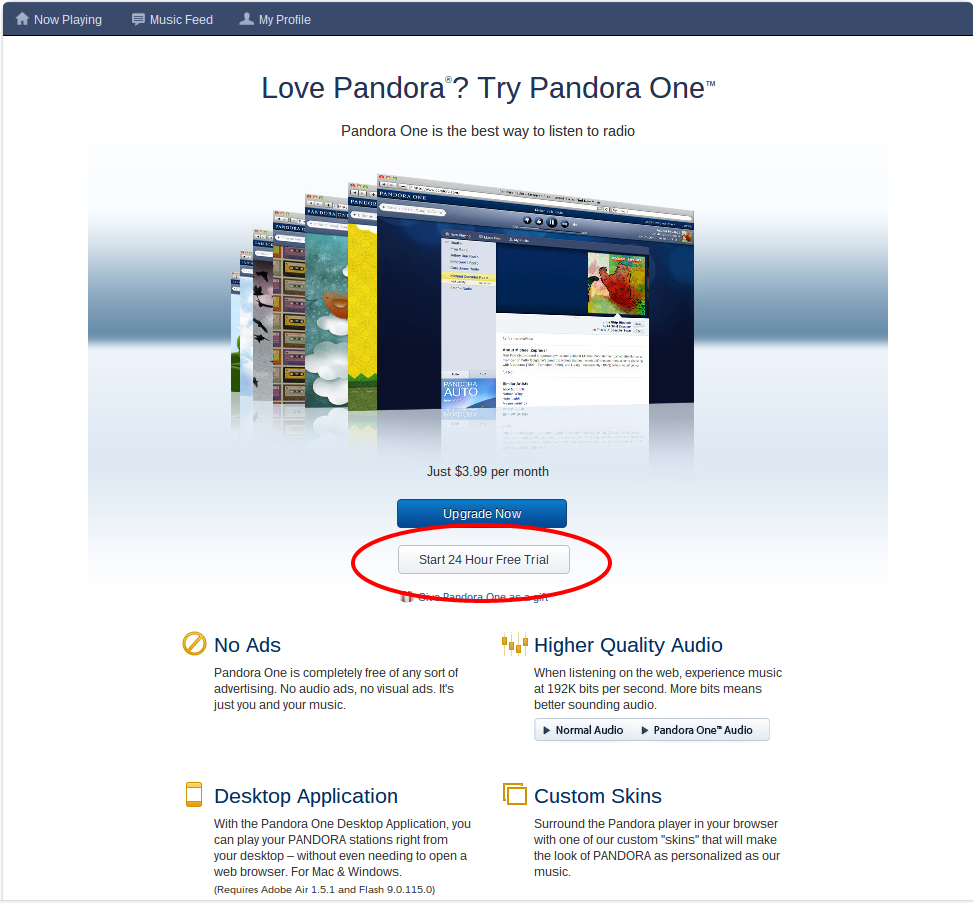 As with many strategic monetization decisions, there's no universally correct answer to this free trial question. Each approach has advantages and drawbacks:
| | Credit Card Up Front | No Credit Card Up Front |
| --- | --- | --- |
| More Free Trials | | |
| Higher Bill-Through of Trials | | |
| Lower Cancellation / Refund Admin | | |
| Fewer Chargebacks | | |
A lot of potential paying customers will be turned off by the prospect of entering credit card information in order to take a "free" trial. This can be perceived as a bait and switch; visitors click a button offering a "free" trial, and are directed to a page where they're asked for their credit card information.
As a bit of a tangent, check out how TheStreet gets visitors into this funnel; before getting to the credit card page above, you'll be prompted for just an email address. This seems like the final step, even though the next page asks for much more information (including your credit card number).
It's a sneaky way to get the visitor invested in the process; by the time they're asked for a credit card number, they're already invested in the process and will want to see it through to completion: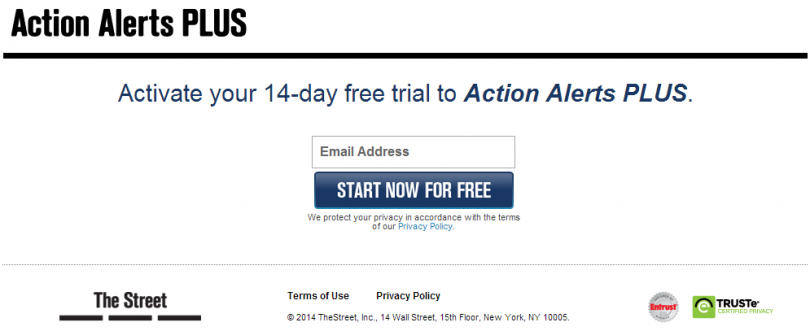 OK, back to the free trial discussion…
If starting that trial is as easy as clicking a button or entering an email address–as it is for Pandora One–you'll get a higher number of free trials. But once you collect the credit card information–as in the first example above–you have a much better chance of billing that customer. If a free trial doesn't tee up the customer to be billed as soon as day 8 hits (assuming a 7-day free trial), there's a much lower probability of success.
Here's another way to visualize that:
| | CC Required | No CC Required |
| --- | --- | --- |
| Free Trials Started | 100 | 500 |
| Bill-Through Rate | 50% | 10% |
| New Customers | 50 | 50 |
If you have other ways to monetize visitors who start free trials but ultimately don't convert–for example, if you can make money by showing them ads or sending them emails–there is another argument for allowing free trials without any additional information.
The best approach for your paid membership depends on the niche and the type of product. If you have a product that you really believe in, you'll generally be better off getting as many people as possible to start a trial. Otherwise, you'll miss out on a chunk of visitors who would have converted if they weren't scared off by giving payment details up front.
Multiple Membership Levels
When thinking about launching a paid member product, you probably want to be thinking about how to launch multiple paid products. Here's a good rule of thumb: the more options you're able to give potential customers, the more revenue you'll generate.
The best practice is to have at least two levels of premium membership–a basic and a premium paid membership. Many sites will segment their paid membership into three options, including a lower price, the "most popular" mid tier price, and a "super premium" higher price point.
Here's an example of a three-tier premium signup page (this one is from LinkedIn):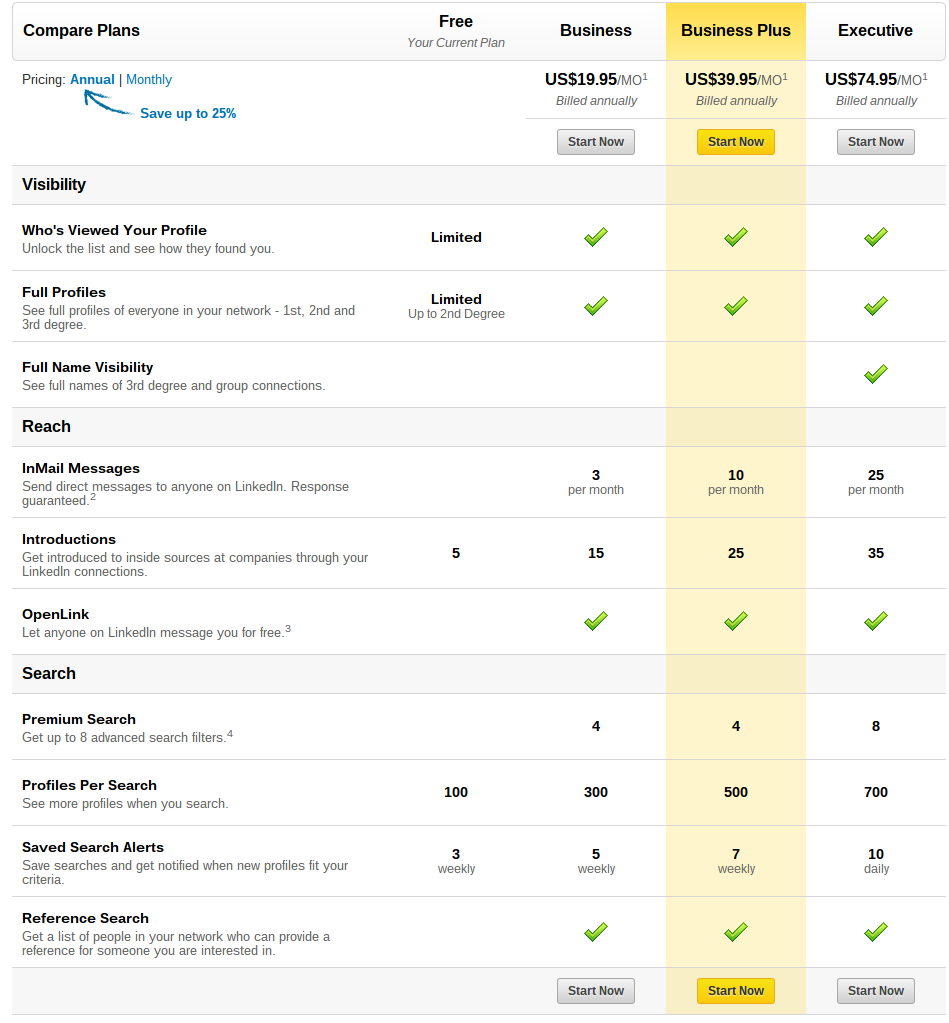 Here's another example of a similar strategy, this one from Angie's List. Note the Basic, Plus, and Premium membership options available. Angie's List also takes a credit card up front, but offers a full refund for memberships cancelled within the first year: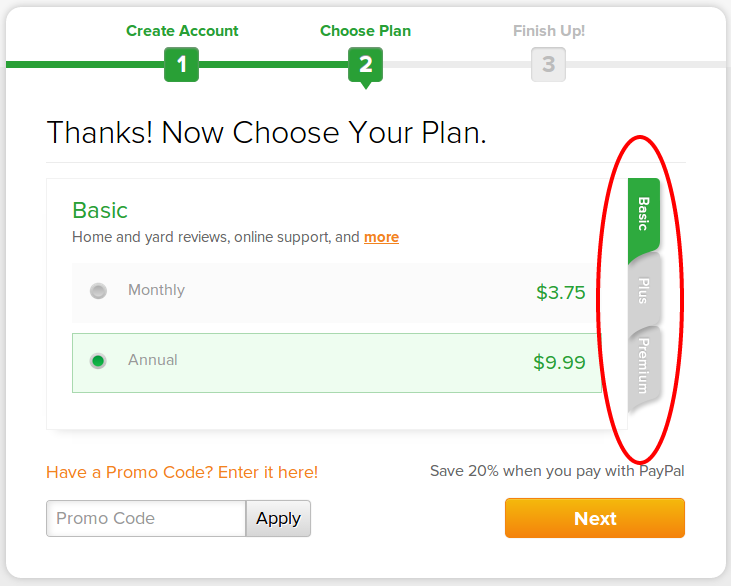 Here's one final example of a three-tier premium membership site, this time from Optimizely. Notice the significant jump to the Gold package; it's about 5x the price of the next lowest offer. That lofty price makes the $71 option seem cheap: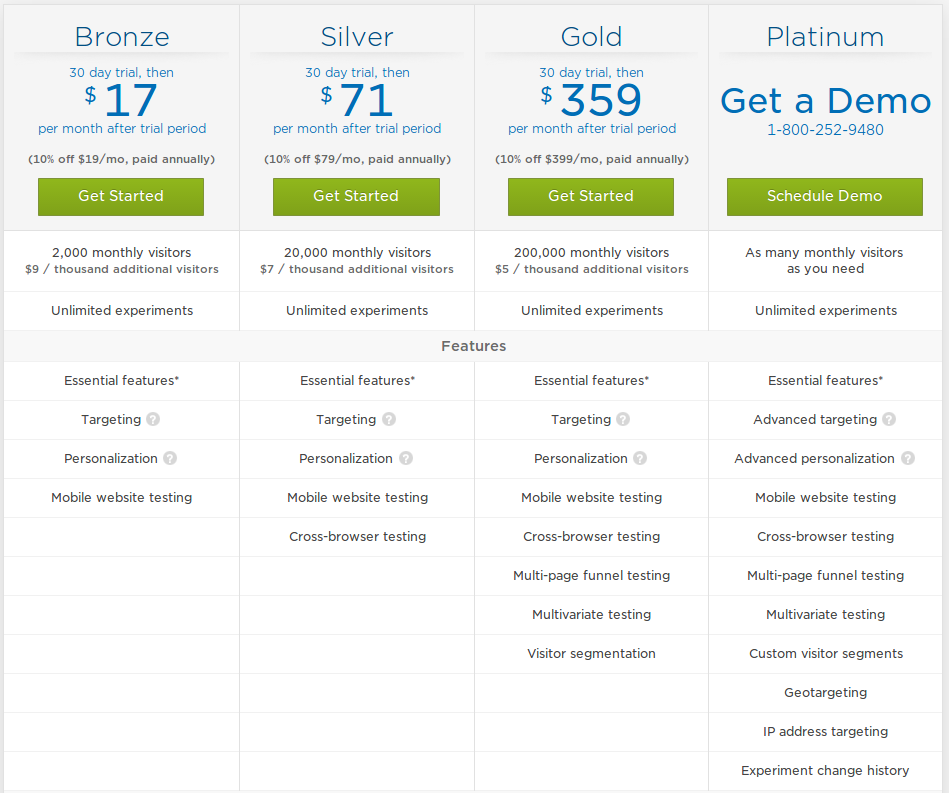 For more on setting price points and offering multiple products, here are six pieces of suggested reading.
From 5 Psychological Studies on Pricing That You Absolutely MUST Read:
With appropriate pricing in place, you can offer customers options that fit their budget, while at the same time influencing "on the fence" customers that your more premium offerings give enough benefit that their extra price is justified.
From Pricing Experiments You Might Not Know, But Can Learn From:
People tend to be clueless about prices. Contrary to economic theory, we don't really decide between A and B by consulting our invisible price tags and purchasing the one that yields the higher utility, he says. We make do with guesstimates and a vague recollection of what things are "supposed to cost."
From The Science of Pricing: 7 of the Best Product Pricing Strategies (Infographic):
Offer three options, and include the one that you want people to buy in the middle. Make the luxury option really expensive: some people will buy it, no matter what the price.
From An eBook pricing model that resulted in $100,000 in sales:
It's important to point out that by offering multiple packages you aren't excluding customers. Had I just raised the price of every package, that would have excluded plenty of people who weren't willing or able to pay more than $39 for the book. But by leaving that package alone and just adding more prices for those who can pay more, there is something for everyone.
From Dan Ariely's The Truth About Relativity:
Humans rarely choose things in absolute terms. We don't have an internal value meter that tells us how much things are worth. Rather, we focus on the relative advantage of one thing over another, and estimate value accordingly. (For instance, we don't know how much a six- cylinder car is worth, but we can assume it's more expensive than the four- cylinder model.)
From Case Study: Is The "Trade-Off Effect" Killing Your Average Revenue Per Customer?:
The more expensive option acted as a price anchor, making the cheaper bread machine…look like a deal. There was a trade-off effect happening, where people would rationalize purchasing the less expensive option by avoiding purchasing the most expensive option.
We'll close with one more oddly insightful thought:
Don't make toilet seats; make toilet paper.
That one, which comes from comedian Adam Carolla, probably wasn't spoken with paid membership products in mind. But it's certainly applicable; in order to generate a consistent, recurring revenue stream for yourself, you'll be better off selling a membership that renews on a regular basis as opposed to a product that you can only sell once.
Payment Processors
The ability to process payments is obviously a big part of launching a paid membership site. Most sites will want to outsource the process of collecting and charging credit card information; there are simply too many logistical and liability headaches associated with doing it yourself.
PayPal is one of the most popular payment processors out there, but we'd recommend avoiding it completely. It's a big name, but the technology behind it is clunky at best, and you'll spend a ton of time trying to get everything set up properly. Other big names in the payment processor game include Authorize.net, Chase Paymentech, and 2Checkout.
The options for processing payments have increased significantly in recent years, with several smaller companies developing solutions that are easy to launch and easy to maintain. Some of the processors to consider include:
Braintree: Charges $0.30 plus 2.9% of transaction.
WePay: Charges $0.30 plus 2.9% of transaction (1% for bank payments).
Stripe: Charges $0.30 plus 2.9% of transaction.
We'll be covering payment processor options in more detail in upcoming features, but wanted to touch on some high-level strategies in this post. For most online products, one of the services above is going to be a great solution: easy to use and relatively cheap. Our dev team has quite a bit of experience with Stripe, and recommends it as a cost-efficient and easy-to-use payment processor.
Bottom Line
As mentioned above, giving a universal recommendation on these matters is tough. But based on our experience, the best approach in many cases will be to:
Offer a free trial without a credit card.
Have three different paid options, including one with an outrageously high price.
Use Stripe to process your payments.
Obviously, the nuances of different niches and business models mean that the suggestions above won't be appropriate for everyone.
Back to top
How to Sell Paid Memberships: Marketing Basics
Once you've designed and launched a paid membership product, it's time to focus your attention on getting as many subscribers as possible. We would, of course, love to see a massive stream of traffic to the paid product once it's launched. For some products, that's exactly what happens.
But most successful premium online products are built up over time with a steady stream of new visitors and leads over time. While it's wise to think big when it comes to your product, there is also value in working small by executing smaller tasks that can add up to major revenue.
Below, we'll offer up eight specific suggestions for jump starting the marketing of your paid product.
Marketing Tip #1: Use Coupons
The idea of coupons probably conjures up images of clippings from the Sunday paper to be used at the grocery store. They may seem quaint, but the fact is that coupons are extremely effective drivers of paid memberships.
Here's an example of an email from PayPal, with an opportunity to save on an Overstock.com purchase: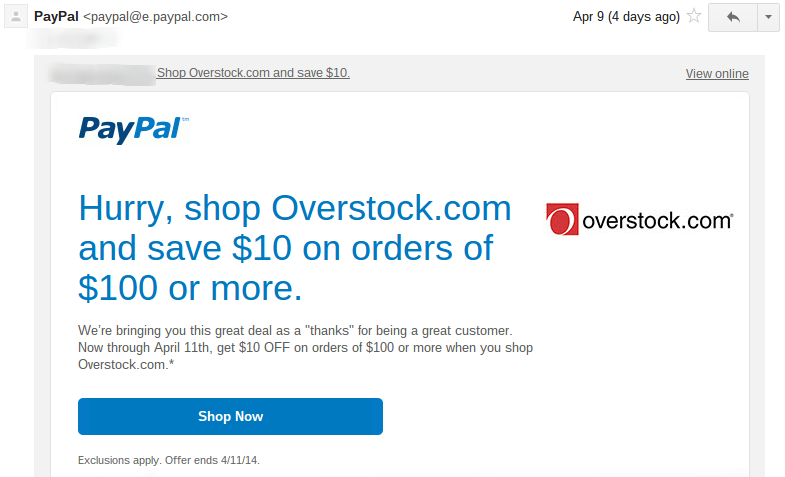 Below is another example from Boomerang, an extension that brings added functionality to Gmail. The offer for a substantial discount likely drove a number of additional signups: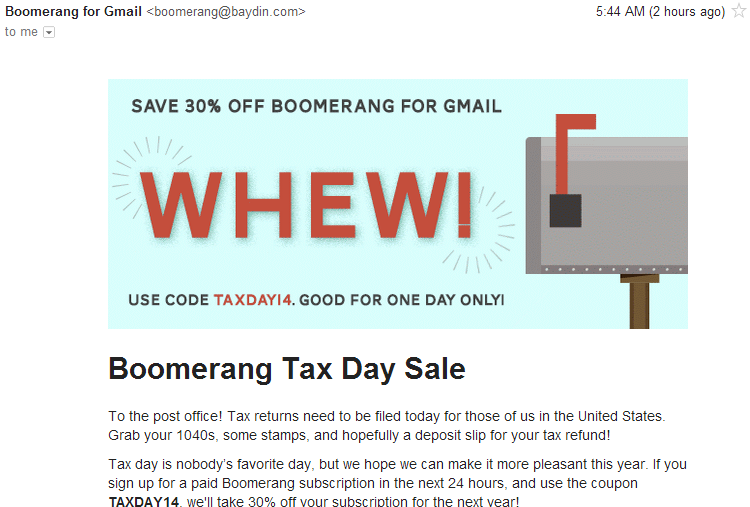 Coupons can be offered to potential subscribers in a number of different ways. Email is perhaps the most effective; if you have a database of subscribers who haven't signed up for your site, email them an offer to try your paid product at a lower price point than it's marketed.
Marketing Tip #2: Send Emails
Email lists are a gold mine when it comes to marketing a new product. Spend some serious time crafting a message to blast out to your distribution list when your paid product comes available; your first customers will probably come from the group that is already familiar with your site and brand. This strategy works well in combination with the idea above (for example, offering existing subscribers a special rate as a thanks for their interest in your site).
If you're planning to launch a paid membership at any point, start thinking now about how you can collect email addresses from visitors who pass through your site on a daily basis. There are a lot of ways to do this; offering some high value content only to those who provide an email address is a popular (and very effective) technique.
Marketing Tip #3: Try Pop-Ups
Pop-up advertisements may seem like a nuisance when you're browsing online, but the bottom line is that they can be extremely effective. If you're looking to drive more visitors to your paid membership pages, a pop-up promoting the product is a pretty blunt way to send them in that direction.
Most pop-up software is extremely customizable, meaning that you'll be able to pick settings that won't compromise your user experience. For example, you can set pop-ups to show only once per month, and only after a visitor has seen five pages on your site.
Pop-Up Domination is a good, quick solution for setting up these promotional ads.
Marketing Tip #4: Insert Contextual Links
If there are text-heavy pages of your site that are highly trafficked, take some time to go through and throw in contextual plugs for your paid product. This is a manual task, but can be an effective way to get through to engaged readers who tune out the calls-to-action in your sidebars or ad units.
This doesn't have to be anything fancy; it's as simple as reminding readers that they can sign up for a free newsletter if they like the content they're reading right now.
Marketing Tip #5: Use Prime On-Site Real Estate
If you have the benefit of meaningful traffic coming in to your site, there are opportunities to place "drivers" to your paid product throughout the site. While none of these strategies will open up the floodgates to new paying customers, they will almost certainly send a few incremental leads to your sign-up page.
The rail of a site (left or right, depending on your design) can also be an opportunity to highlight the fact that you have a paid offering.
Below is a screenshot from the Moz.com blog, which features a widget highlighting their paid product:
Here's one from People.com; notice the button at the top of every page indicating that it is possible to switch to a premium product (presumably with increased access and functionality):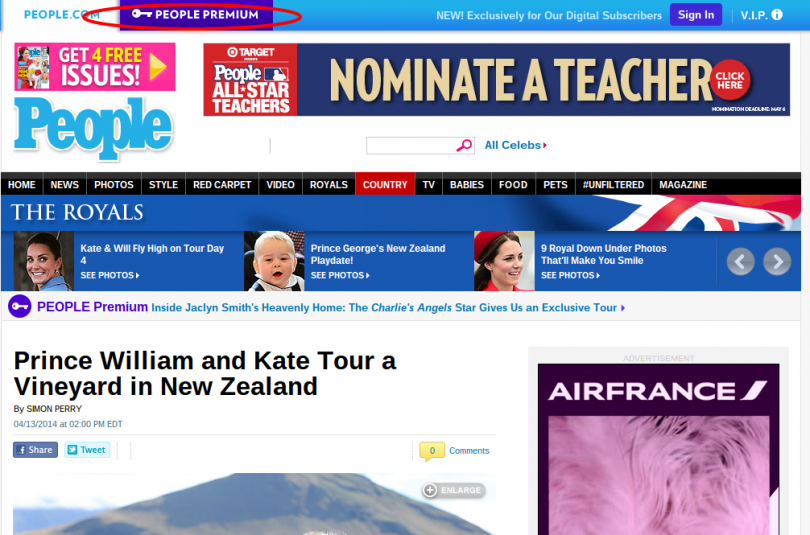 The nav bar of many sites is an opportunity to put a link to your paid product, alongside other features of your site. Here's an example of a recipe site, with a link to "Go Pro" incorporated into the design: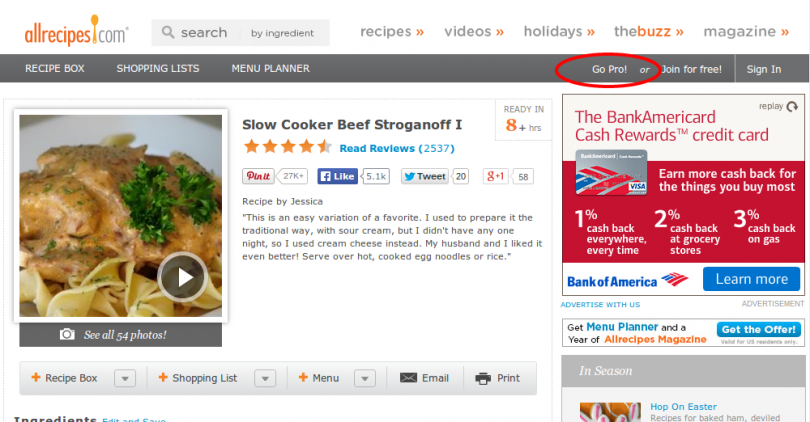 Below is the footer of AccuWeather.com, a weather site that otherwise makes very little mention of its paid products. We doubt that the link so far down the page will send many conversions, but it certainly won't hurt: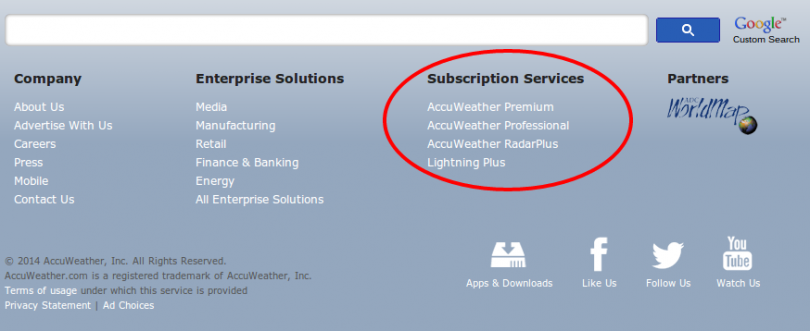 The layout of each site is unique, but odds are that yours has some unused premium real estate that could become a funnel for a bit of incremental traffic to your product's landing page.
Marketing Tip #6: Run (Paid) Ads
Before you jump to the conclusion that you don't have a budget for advertising, take some time to investigate the low cost options out there. Google AdWords has no minimums, meaning you can start by spending $5 a day (or even less) and determine if you're able to generate positive ROI from the purchased traffic. Depending on how competitive your niche is and how high search volume is, you may be surprised at the cost of acquiring a visitor to your paid product site.
Facebook also offers opportunities to run extremely cheap and targeted ads, making it possible to acquire traffic to your product's landing page for just a few cents a visitor. And sponsored content networks such as Taboola, Outbrain, and nRelate can also send very cheap traffic if your images and headlines are compelling enough.
Even if you're skeptical and don't have much room in the budget, make an attempt to generate a positive return from paid advertising. A few hours spend learning best practices will allow you to stretch a very small budget a long ways. And if you are able to "crack the code" on paid ads–meaning you get some paying members from your efforts–you'll suddenly have a bit more of a budget.
Marketing Tip #7: Run (House) Ads
Even if you don't have a budget for advertising, you have access to free ads–on your own site. If you monetize through display ads, set aside a portion of your ad inventory to promote your paid membership. The ads will be extremely relevant to your audience, and you'll likely see pretty good performance.
Here's an example from ESPN.com. This site sets apart part of its ad inventory to promote its own programs and products, including its premium offering. Here's a 160×600 ad unit promoting the paid membership on the site: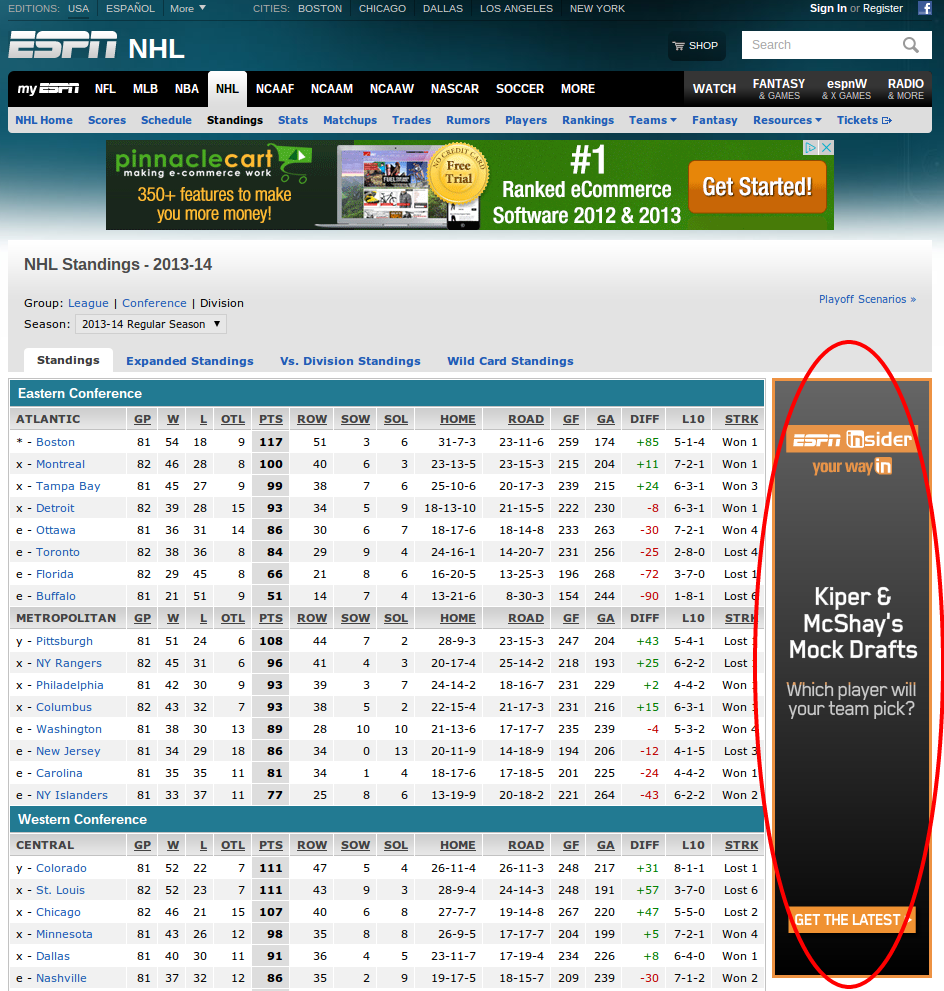 Here's another example of a "house ad" from the Crazy Egg blog. In this case, it's a banner ad promoting the premium newsletter offered by the site: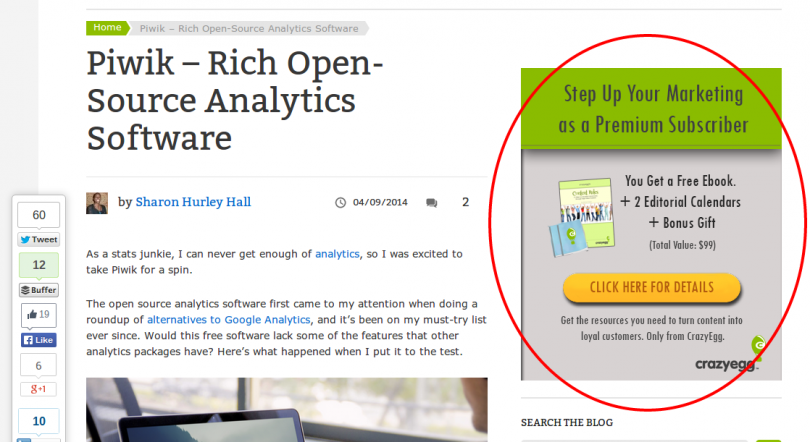 If you don't have any design chops, there are a number of relatively cheap tools out there than allow you to leverage existing templates to come up with professional ads. Bannersnack is one that's easy to use and pretty cheap.
Marketing Tip #8: Call In Favors / Extend Freebies
When you lift up the curtain on your paid product, it will help to do some good old-fashioned outreach. Email or call up professional contacts who owe your a favor or who would be willing to do you one, and ask them to mention your offering to their audience. Unless you're really well connected this won't open up any floodgates, but it will likely help to get some initial traction.
If you're really confident in your product, reach out to anyone in your industry who may be able to help spread the word. Instead of asking them for a favor, do one for them. Set up a free account, and invite them to test it out and give you any feedback. Who knows; if they're really impressed with what you've done they may send some traffic your way through a link or mention on social media.
Bottom Line
Its never too soon to start thinking about how you're going to promote your paid product once it launches. It's also difficult to exhaust the list of options you'll have to get attention to your site. While the list of techniques that can be scaled up are limited to paid advertising, there are a number of smaller efforts you can make to help get an initial wave of interest in your product.
• • •
Back to top