There are few (if any) sites that monetize their audience primarily through co-registration offerings. But plenty of sites have implemented this channel to work as a supplementary revenue stream to add a bit of new income to their online properties. Co-registration has appeal because it's a low visibility opportunity to generate purely incremental revenue.
Getting a co-reg program up and running on your own can be a lot of work. In addition to developing relationships with advertisers, there's a need for some tech infrastructure to verify and process the leads.
For those reasons, many sites that are monetizing via co-registration elect to work with a network who can make implementation relatively simple and shorten the sales cycle significantly. In this article, we'll highlight some of the biggest co-registration networks, as well as offer some tips for dealing with them.
Co-Registration 101
Before diving into the best partners for monetizing via co-registration, we'll start with an explanation of exactly what this is. Co-registration, or co-reg, involves presenting offers from third parties to visitors on your site. These offers are usually for some sort of newsletter or free membership, and typically appear after a visitor has signed up for a similar product (newsletter or free membership) on your site.
Co-registration is essentially a cost-per-lead, or CPL, form of affiliate marketing. For each sign-up (i.e., lead) that you generate, you receive a commission.
Here's an example of a co-registration form that appears after creating a free membership: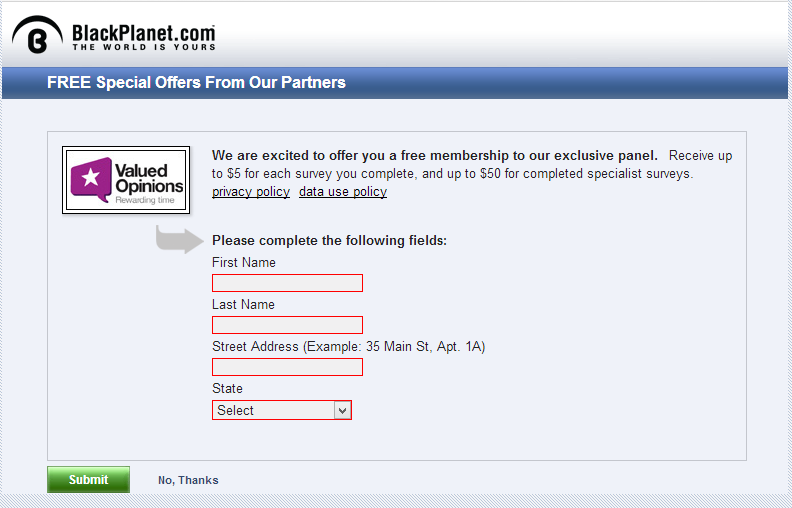 If a visitor opts in to the offer presented in this example, the publisher and the network will split a fee paid by the advertiser.
Here's an example of co-registration in action on SECFilings.com. Note that the third-party offers are described only generally; this makes it seem less like a lead generation platform and more like a freebie that comes with the membership: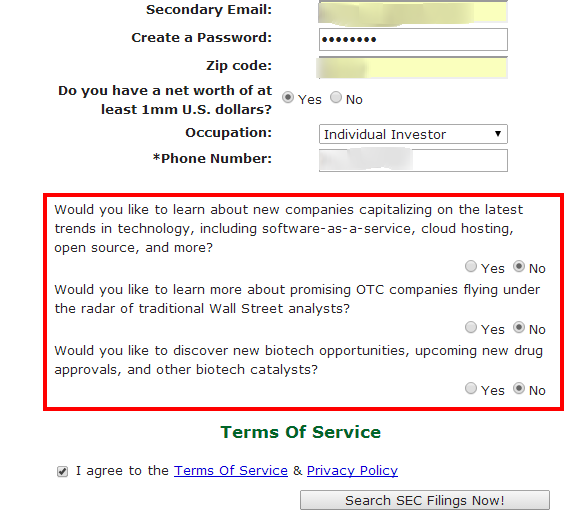 Co-reg isn't reserved exclusively for content publishers. Here's an example of co-registration in action on Orbitz.com; while completing a rental car reservation, visitors are presented with an option to sign up for an email newsletter about Texas vacations: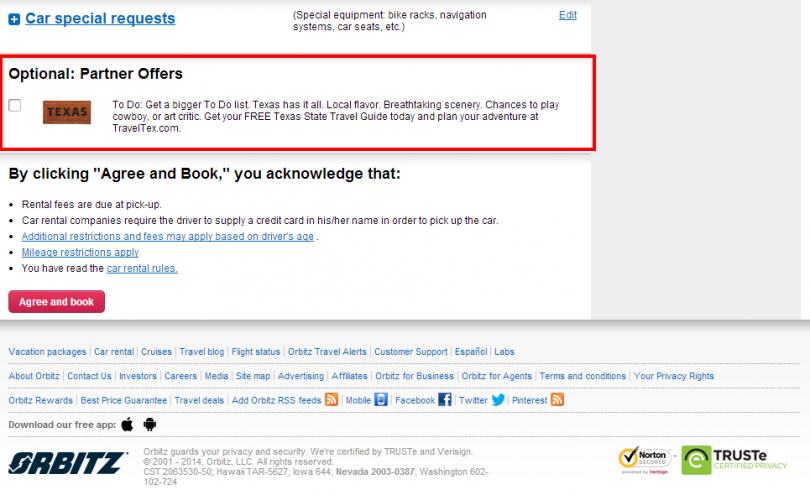 Biggest and Best Co-Reg Networks
The market of co-registration networks is a lot like the domestic beer market: there are about three big players, and then a number of more niche options. Below we offer an overview of three of the largest co-registration networks.
Opt-Intelligence
Based in New York, Opt-Intelligence is one of the largest co-registsration platforms. Their network of publishers includes some of the largest news sites in the world, as well as smaller niche properties.
Sample Publishers: New York Times, Orbitz, Wall Street Journal.
Here's a complete list from their site (as of April 2014):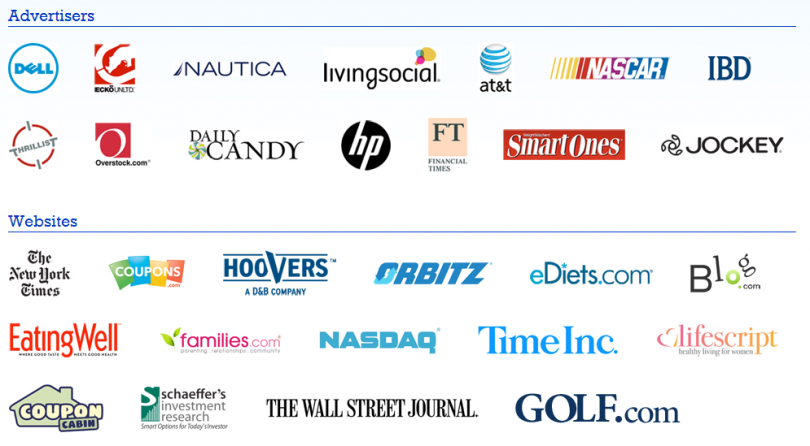 CoregMedia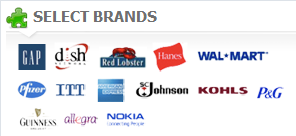 A plus for CoregMedia is the standard agreement they offer to publishers, which includes the option to terminate with only 24-hour notice. As discussed below, many co-reg networks will try to force publishers into extended contracts that can't be cancelled if the network fails to perform as advertised. So the limited commitment is a major advantage here.
Sample Publishers: CoregMedia doesn't share a list of publishers, though they note that they have more than 1,000 of them. Their sample of advertisers, shown to the right, includes primarily big brands.
SnapVertise
Based in Toronto, SnapVertise offers a number of monetiazation services. Along with a display network, gambling-focused affiliate network, and a CPA network, they also offer co-registration services.
Sample Publishers: SnapVertise doesn't offer much information on their network of publishers, and their anonymous case studies aren't much use either. The depth of advertisers will be considerably lower than the networks above, as will the ease of use (especially considering their publisher signup page).
Silver-Path
Based in Ontario, Silver-Path is the co-registration division of display ad network Mundo Media.
Sample Publishers: Silver-Path doesn't share much about their publisher base, though they do highlight a few decent advertisers on their site: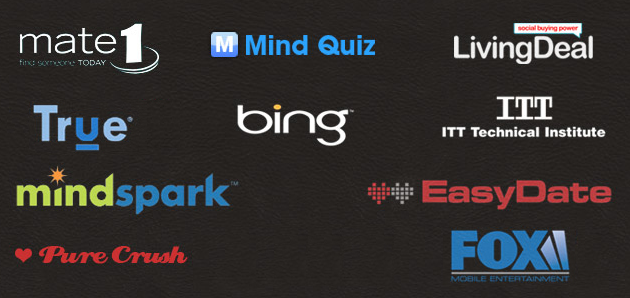 Co-Registration Advice
The two big players in this space are Opt-Intelligence and CoregMedia. If you're looking for a low maintenance solution, one of those will be your best option. They both offer:
Easy-to-implement co-reg technology (generally a just a line of JavaScript that needs to be dropped on your site)
Deep networks of advertisers
Reasonable revenue splits (approximately 50/50)
With either of these networks, most publishers will get generally similar results.
While we don't have a great recommendation for a superior network partner, we do have some suggestions for pursuing co-registration as a monetization technique. Most networks have a bad habit of making revenue projections that they can't deliver.
Temper Your Expectations. Co-reg won't be a huge moneymaker for most sites. If you're lucky, you'll net a dollar or two for every successful registration. If you're passing a few hundred visitors through the offer page each week, that can translate into a nice boost in revenue. But it's unlikely to be a primary source of revenue for your site.
Demand Short-Term Contracts. Co-reg networks have a tendency to over-promise great results, convince publishers to sign a one-year exclusive contract, and then really fail to deliver. Push back on any demands for exclusivity or contracts longer than a month. That flexibility allows you to move on to a new partner if the results don't meet your expectations.
Push on Revenue Split. Most networks will offer you a 50/50 revenue split. Push back on that; they generally have the flexibility to offer you better terms, especially if you have the ability to provide a decent lead volume.
Try Out Some Smaller Networks. The biggest guys aren't always the best. AfterOffers is a smaller network, but will offer service and transparency that you won't find anywhere else. BirdDogMedia is another smaller network that is worth trying out.
Find Targeted Advertisers. The advertisers associated with the big networks listed above are primarily big brands with broad, general offerings. Ideally, you'd be able to find a network that has more targeted offerings that would be relevant to your audience. When you're interviewing potential partners, ask about specific advertisers they have on board who would be a good fit for your audience. For example, if you run a cooking newsletter you'd want to know if they have any housewares or food advertisers that would appear on your site.
Monitor Performance. If a co-registration network has a decent technology solution, your performance should gradually improve as they determine which ads work (and which don't) with your audience. If your earnings–measured by RPM on the offer page–stay flat, then their optimization engine isn't worth much.
Bottom Line
Co-registration is a great opportunity for publishers to add a bit to their bottom line with very little work or risk. Though the perfect solution would involve working directly with advertisers, the revenue potential and infrastructure required make it more practical to find a good network partner. If you're interested in this opportunity, try out the networks above with our advice in mind.