If you're planning on staying ahead of the digital marketing curve with your website, conferences are the way to go. At conferences you're exposed to many products, ideas, and experts at the same time. Here's our list of the 10 digital conferences ever website owner should attend.

When: 9th to 11th of February 2016
Where: San Diego, CA
Who for: Beginners to Pros seeking the latest information.
What: Traffic and Conversion Summit is the largest conversion conference in North America for a reason. The Day 1 theme at Traffic & Conversion Summit is always traffic, covering the newest trends and changes in traffic channels, including such topics as why SEO is fundamentally dead and organic Facebook results. Also features special breakout sessions on podcasting and marketing automation.  Day 2 is all about sales and conversions. Special topics include selling with video and YouTube hacks, the merging of content and commerce, and more. Day 3 features discussion of the strategy of marketing and business growth. Trends and opportunities for the coming year will be presented. Special breakout tracks just for agencies, and another track for owners and executives on how they can setup their business processes to prepare for the growth they're about to experience.
Price: $997 until 31 December 2015, $1,997 at the door.
When: 14-16 November, 2016
Where: Salk Lake City, UT
Who for: Beginners
What: Together with 5,000 digital marketing leaders, industry pros and innovators, you'll explore the latest trends and tools, and learn how to get better, more quantifiable results from your digital marketing programs. Summit sessions and labs are taught by some of the most innovative marketers from top companies around the world. Summit is the place to discuss the latest trends and developments in digital marketing, as well as being introduced to this year's product announcements, news, and industry trends from the Adobe Marketing Cloud community.
Summit 2015 is expected to sell out, so don't miss your opportunity to attend.
Price: $995
When: 10th – 13th of October 2016
Where: Las Vegas, NV
Who for: Pubcon Masters Group, Beginners and Pros.
What: Multiple session tracks covering the latest local social media, digital marketing, and search-related research, top keynote addresses, breakfast and lunch, all led by a strong lineup of national speakers. Features the industry's leading businesses, start-ups, speakers, keynotes, exhibitors, and sponsors involved in social media, digital marketing, search engines, and online advertising. The conference offers an unrivaled, highly-productive conference experience at some of the fairest cost-effective rates in the industry. Every attendee will come away with valuable new ideas and solutions for their businesses.
Price: $899 for full all-access conference pass. $399 for networking badge. $50 for Expo hall pass.
When: January 10th – 12th 2016
Where: Las Vegas, NV
Who for: Affiliate marketing professionals looking to network
Price: All-Access Pass: $1,749; $2,249 day of show. VIP Pass: $949; $1,249 day of show. Networking Plus Pass: $549; $749 day of show. Networking Pass: $249; $449 day of show.
When: July 31st – August 2nd 2016
Where: New York, NY
Who for: Affiliate marketing professionals looking to network
Price: All-Access Pass: $1,749; $2,249 day of show. VIP Pass: $949; $1,249 day of show. Networking Plus Pass: $549; $749 day of show. Networking Pass: $249; $449 day of show.
What: This three day conference includes an exhibit hall with affiliates, merchants, vendors, and networks, as well as multiple tracks of educational sessions covering the latest trends and information from affiliate marketing experts. Day 1 features sessions on break-out blogging, live SEO and monetization site reviews, buying and selling websites, WordPress optimization, YouTube, mobile media, and more. Day 2 features an Ask Me Anything SEO panel of experts, mobile commerce, the digital marketer's legal toolkit, Amazon, social media, increasing email open rates using segmentation, and a variety of ask the expert roundtables. Day 3 features drill-down sessions on affiliates and affiliate managers, affiliate recruitment strategies, multi-channel bidding, mobile ad campaigns, and the Pinnacle Awards.
When: 30th of March to 1st of April 2016
Where: Near Austin, TX
Who for: Pros, Beginners.
What: Features a unique format to facilitate relationship building. The event takes place outside Austin, away from distractions. All attendees and speakers stay in the same location for three days, fostering quality conversations and long-term relationships. The outcome is high quality networking, discussions, learning. No other event does content, experience and networking like this one. The best optimization practitioners from around the world teach their best material. The hand-picked speakers teach optimization processes that you can model, and boost profits on any website you work on. Preconference workshops are available and take place in Austin.
Price: $1199

When: 22nd to 24th of February 2016
Where: Bellagio Las Vegas, NV
Who for: Beginners and Pros
What: Discover how-to details and strategies for fast, measureable digital marketing success. All of this real-world experience is grounded in rigorous research and is taught by successful marketers who face your same challenges. Learn how to make your campaigns – and your career – more successful than ever and do it in a world-class venue. It's no wonder leading organizations consider MarketingSherpa Summit a priority investment year after year.
Price: Two-day Summit: $1495. Three-day Summit + Workshop: $1990
When: 8th to 11th of November 2016
Where: Boston, MA
Who for: Beginners to Pros.
What: INBOUND's purpose is to provide the inspiration, education, and connections you need to transform your business. This September, we will host thousands of marketing and sales professionals from almost every industry imaginable and from all corners of the globe at the Boston Convention & Exhibition Center. In 2015, we had 10,000+ attendees from all around the world and we're excited to be bigger than ever this year. Through inspiring keynotes, innovative talks, educational breakouts, hands-on lessons, and tons of networking, you will learn how the INBOUND experience, and especially our content, is truly remarkable. Past keynote speakers included Arianna Huffington, Seth Godin, Nate Silver, and Scott Harrison.
Price: $499 for keynote pass. $1499 for all-access pass. $1998 for VIP package.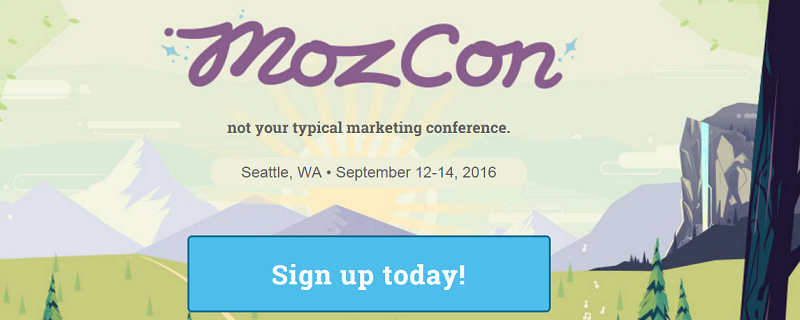 When: 12th to 14th of July 2016
Where: Seattle, WA
Who for: Beginners
What: Three days of forward-thinking, actionable sessions in SEO, social media, community building, content marketing, brand development, CRO, the mobile landscape, analytics, and more. MozCon speakers share next-level advice on everything from building a loyal community to making data-driven decisions in your marketing. You won't find any stuffy networking events here—you can connect with our amazing community of industry leaders, chat with the speakers and Moz staff, pick up some cool swag, and even get a hug from our friendly robot, Roger.
Price: Early Bird pricing for Moz subscribers: $799. Early Bird GA: $1,299.

When: 17th to 19th of April 2016
Where: San Diego, CA
Who for: Beginners and pros.
What: Social Media Marketing World 2016 is the world's largest social media marketing conferences. By attending, you'll make connections with 100+ of the world's top social media pros (plus 3000 of your peers) and you'll discover amazing ideas that'll transform your social media marketing. You'll rub shoulders with the biggest names and brands in social media, soak up countless tips and new strategies and enjoy extensive networking opportunities. You'll pick from 100+ expert-led sessions and workshops covering social media tactics to content creation to social strategy. Discover the best and newest ways to deploy and track social tactics, reduce your trial and error time, network with other marketers, and meet the world's top social media experts.
Price: $1497

When: 1st to 3rd of March 2016
Where: San Jose, CA
Who for: Beginners and Pros.
What: Search marketing is by far the biggest area of digital marketing. You can't afford to waste time or money getting it wrong. Attend SMX, and you'll get it right! Immerse yourself in three days of SEO and SEM sessions and you're guaranteed to leave with practical techniques and tips to immediately improve your search marketing efforts. SMX also has strategic sessions to help you with what's coming over the horizon. With over 60 sessions designed to serve a diverse search marketing audience, you'll discover topics tailored for your needs — whether you're into SEO or SEM, whether you're an advanced search marketing veteran or are a beginner just learning the ropes. Includes Search Marketing Boot Camp on March 1 to help people new to search engine marketing learn the fundamentals in organic and paid search to drive traffic and boost revenue. Sessions on Keyword Research & Copywriting, Link Building, Paid Search Fundamentals, and Search Engine Friendly Web Design.
Price: Early Bird pricing: $1595 for All Access; $2395 for All Access and Workshop; One-day pass $895; Workshop only pass $895