When it comes to your business, you're the expert. But there are many aspects of running a small business that have nothing to do with the product or service you provide. For many business owners, one of the most frustrating and time-consuming aspects of running a small business is accounting.
If accounting is not your thing, don't worry. We've got you covered. There is a variety of online accounting software for small business needs. We'll help you figure out what software will work best for you.
If you've monetized your website, this software will be of interest to you, too.
We've listed our top ten favorites accounting applications below. We've included a brief overview, the main pros, the main cons and the prices. We've found some great software including programs for any budget. Let's get started!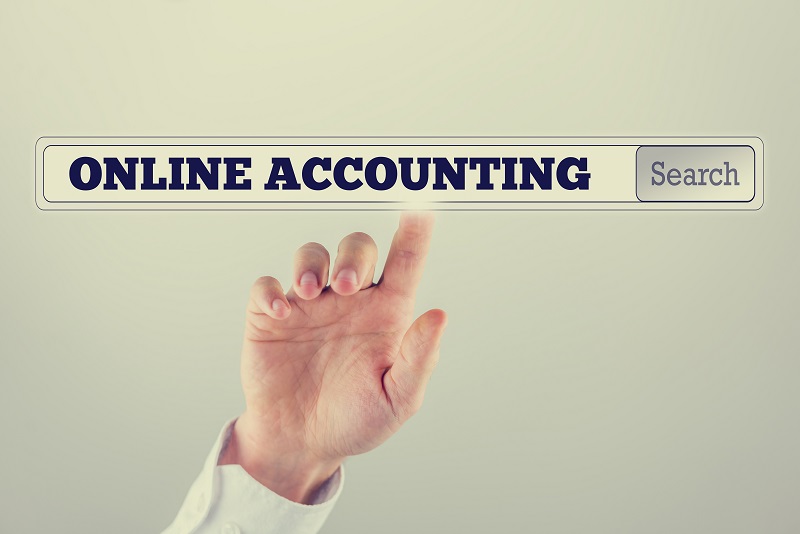 Determine Your Online Accounting Software for Small Business Needs
The more you understand what types of features you'll need, the easier it is to find the right software. You don't want to pay for features you don't need. You also want an application that will grow with your business.
Let's break it down by the numbers. Specifically, you'll need to know the number of…
invoices your business generates each day/week/month
employees who will need access to the platform
accounting features you'll need such as online bill pay, check printing and other customer relationship management features
If you conduct business internationally, you'll need a platform capable of handling multiple currencies. In this case, you'll also likely want instant conversion rates. Almost every type of business will want software that can handle checks, PayPal, direct deposit and credit cards.
Most of the platforms on this list are cloud-based. This means your data will always be available. In some cases, downloading the software and running it on your computer is an option.
Got a general idea of what your needs are? Let's take a look at our ten favorite accounting platforms:

Xero is cloud-based accounting software designed for small and medium sized businesses needing a full-featured accounting solution. Since launching in 2006, Xero has grown steadily and currently has over 500,000 customers around the world. Forbes awarded Xero the title of "World's Most Innovative Growth Company" in both 2014 and 2015.
The Good:
Works well on all mobile platforms including smartphone and tablets
Ability to import info from bank statements, credit card statements, and Paypal
30-day Free Trial without a credit card
Supports over 160 currencies
Up-to-the-minute exchange rates
Over 400 third-party apps provide support including payroll, inventory management, POS, and invoicing.
The Bad:
Possible steep learning curve for anyone unfamiliar with accounting terms and acronyms
Some add-ons are features that come standard with other platforms
Free trial version limits some features available in the paid versions
The Price:
Xero's prices are low compared to other accounting software. For just $9.00 a month the Starter Plan allows up to five invoices, unlimited users, and reconcile 20 bank transactions. The Standard Plan is $30.00 a month and includes unlimited invoices, bank transactions, and payroll for 5 employees.
All plans include free automatic backup, free unlimited 24/7 support, and free conversion from QuickBooks.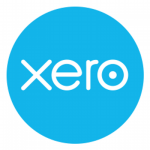 Follow the link below to receive your 30-day FREE trial for Xero cloud accounting. You can also use the exclusive coupon 'XERO30' at the checkout to receive 30% off all paid plans for the first 6 months.
Coupon Code...
XERO30
(click to copy & open site)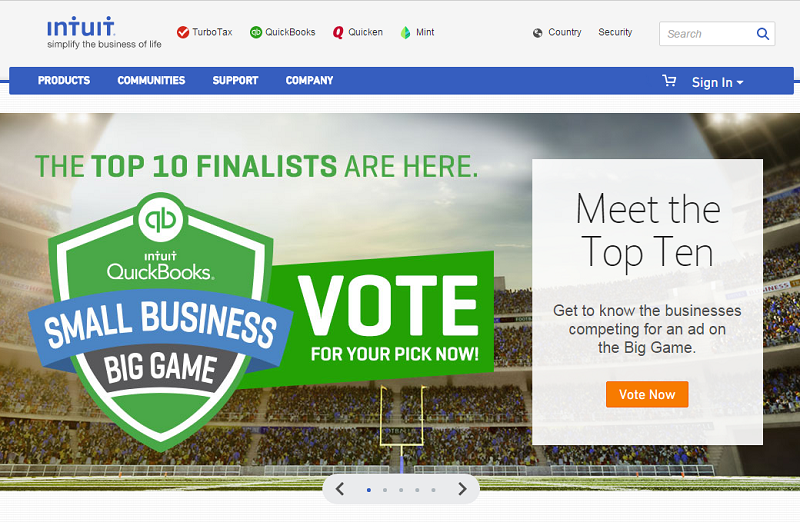 The question really isn't: does Quickbooks have what you need. Instead, does Quickbooks have too much for your needs? Because Quickbooks basically does it all. They offer bookkeeping, invoicing, bill payment, profit reports, inventory tracking, bank synchronization, tax reports and more. Quickbooks is great for large, complicated bookkeeping needs – but is it a good choice for small businesses and bloggers, too?
The Good:
Wide variety of services
Easy to import data from popular spreadsheet programs such as Excel
A huge variety of bookkeeping reports available
Ability to print checks
Can accept credit card payments
The Bad:
The most common complaint about Quickbooks is their many add-ons. In some cases, this means you don't have to pay for features you'll never use. In other cases, this means features commonly found free in other applications have an additional cost here. How much of a negative the add-ons are, really depends on your specific needs.
Expect to pay for add-ons for:
Credit card processing
Recurring client billing
Job estimates
The Price:
There are four price points available.
Independent Contractor – A six-month subscription is $8 a month. This plan has the basic features and is designed for the self-employed.
Simple Start – At $10 a month for a six-month plan, the Simple Start allows one user to manage the books of a small business. You can sync your bank accounts to Quickbooks.
Essentials – This allows for instant sales and profit reports. This plan is $18 a month for six months.
Plus – This premium plan costs $24 a month for a six-month plan. This plan offers all the bells and whistles including the ability to track inventory.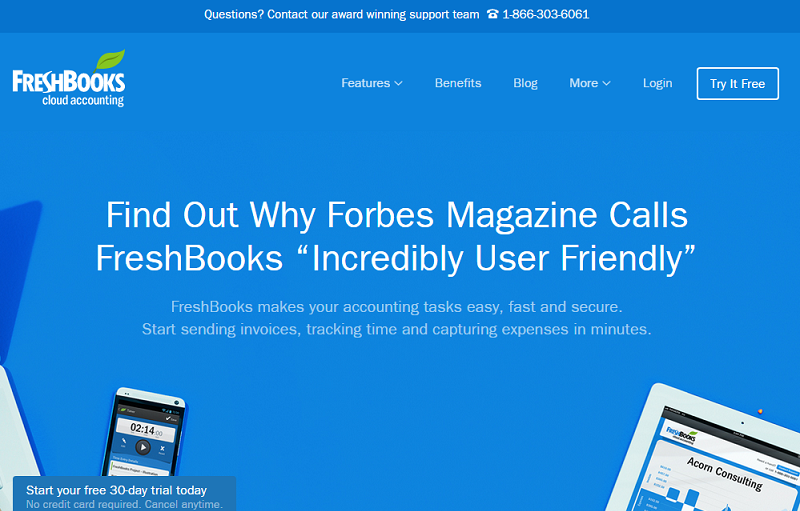 One of the best platforms on the market, Freshbooks is powerful enough for a professional accountant but simple enough for everyone else. Freshbooks is a complete bookkeeping and time tracking system. Over five million business owners rely on this Canadian-based platform, and it's easy to see why.
The Good:
Customized for any service-based business including legal offices, graphic designers and freelancers of all types
Team management tools allow for multiple employees to easily work together
Customer service is easily reached by phone, email, and instant message
Free 30-day trial
Free option for businesses that have up to three clients
Easy to track expenses, time, billing, and other metrics
Mobile app for smart devices
Platform is well designed and easy to navigate
The Bad:
Prices are hard to find on the site
The Prices:
Sprout – Allows up to five clients. Provides invoicing, time tracking, expenses and estimates for $9.95 a month
Seedling – For $19.95 a month this plan increases the number of clients to 25.
Evergreen – This plan allows unlimited clients. Also adds project managers, team timesheets, and team expense reporting. This plan is $29.95 a month.
Mighty Oak – The premier subscription plan costs $39.95 a month. The Mighty Oak plan includes all the features in the Evergreen, plus access for up to five staff members. Additional staff can be added for $10 each.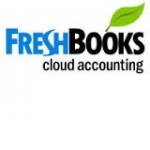 Click on the button below to receive your free 30-day trial of FreshBooks cloud accounting. You can try Freshbooks risk free with no credit card details required and the ability to cancel your account easily at any time. Simply enter your name and email address on the signup page to get started!

If you have a small business or are self-employed, you might not want an especially complicated platform at first. Harvest is a streamlined platform that allows you to easily and quickly create invoices.
The Good:
Invoices can be created in less than a minute.
No extensive computer or bookkeeping experience required.
Add-ons let you use Harvest on your iPhone or Android device.
The Bad:
Doesn't have a particularly strong emphasis on bookkeeping
Price of the premium plan is high compared to similar services
The Price:
There are three price plans. Each one includes unlimited clients, projects and invoicing. The Solo plan is $12 a month and allows up to three users. The Basic plan adds timesheet approval and allows up to nine users. For unlimited users, you'll need the Business plan. This plan costs $99 a month.
No accounting program list is complete without the one who started it all.  Previously well known as Simply Accounting, has continued to be one of the financial software leaders.
The Good:
Cloud accounting allows you to access real time data from any device
Bank Connections to easily add transactions
Robust accounting options, more than competition
The Bad:
Can take a bit to learn, due to the advanced accounting options
More expensive than the competition
The Price:
There are three price plans. including Pro, Premium and Quantum.  There are also additional add on features you can get including payroll, direct deposit and online payments.
Read our full Sage 50 Cloud Accouting Review here.

This online accounting software offers a variety of bookkeeping features geared specifically towards small businesses. Yendo was created in 2006 after the founder couldn't find any accounting software he liked. Today, over 30,000 small businesses use Yendo to manage their finances and customers.
The Good:
Can create invoices, profit/loss reports, and balance sheets
Easy to import your financial information into other programs (for your accountant)
Designed from the ground-up to work on smart devices
The Bad:
Yendo is headquartered in Ireland, so customer support can be a bit slow to those located in other countries and different time zones.
The Price: 
There are five price points available. The least expensive is the Solo, which is $19 a month and allows for one user. The Premium plan is the most popular plan for small businesses. This plan allows unlimited users and emails. The Premium plan is $99 a month. All plans include a free 30-day trial.
Located in India, Invoicera is a small team who has made a big impact. Over two million users around the world use Invoicera to create over 200 million invoices each year.
The Good:
Fully customizable with many add-on options
Both cloud and self-hosting options available
Supports over 120 currencies, 11 languages and 20+ payment gateways
The Bad:
Customer service is based in India and considered by many customers to be unreliable
The abundance of add-ons can be confusing to navigate
The Price:
There are four subscription plans. The Classic Plan is $19.95 a month and lets you have 100 clients. The Business Plan is their most popular. For $39.95 a month you get unlimited clients and profiles. The Infinite Plan, at $99 a month, gives you unlimited clients, profiles, auto-billing and staff access.
Users of every level will be interested in the Free Plan. This gives you unlimited invoices, three clients, and one recurring profile. You can use the Free Plan for as long as you like. The ability to instantly upgrade is only a click away.

Brightbook has a unique angle on the market: it's completely free. This platform offers a variety of bookkeeping services including invoicing, multi-currency conversion and other accounting functions. So is Brightbook a fantastic, free solution?
The Good:
Free, free, free
Unlimited invoicing (including the ability to add tax and/or discounts)
Easy to customize invoices by adding your own logo
The Bad:
Not a full-service accounting platform. (Unfortunately, you get what you pay for here)
Site is confusing to navigate

This cloud-based accounting application company has been around since 2008. Based in Canada, one of their main claims to fame is their international accessibility. Kashoo allows multi-currency invoicing. You can also view real-time exchange rates. But you don't need to be an international operation to like what Kashoo has to offer.
The Good:
Supports an extremely large variety of banks
Supports over 100 different currencies
Allows check printing
Easily integrated into invoicing software such as Freshbooks.
The Bad:
Can be confusing if you don't know bookkeeping terminology
Check printing options can be a little confusing
The Price:
Kashoo used to have several tiers of pricing. This was recently replaced with a single, simple pricing plan. Now, Kashoo is $12.95 a month with a free 14-day trial. You don't have to commit to any contracts, and you can cancel the free trial with no risk.

This cloud-based online accounting software has a wide variety of useful features.
The Good:
Clear site design makes navigation a breeze.
Ability to generate many different types of reports
Great value compared to other platforms
The Bad:
Knowledge of bookkeeping and accounting is needed to use many of the features
Tax features are set for U.K. only
The Price: 
FreeAgent's pricing is pretty simple with only one price point. All subscribers are charged $24 a month. Users can cancel at any time. All accounts start with a 30-day trial. Annuals subscribers get 12 months for the price of 10.
Are you a freelancer, small business owner or real estate professional? If so, Wave Accounting is designed with you in mind. While perhaps a bit too simple for a large operation, Wave Accounting provides a variety of tools for the at-home professional.
The Good:
Full suite of accounting features including income statements, balance sheets, journal entries and a general ledger.
Ability to upload bank statements, credit card receipts and other financial records
Frequent updates
The Bad:
Ability to correct mistakes is limited to just the previous transaction
Lack of audit trail means you might face difficulties if you're ever audited
Unable to reconcile bank statements, although this feature is promised for the future
No prices are listed on the site
Selecting the Best Accounting Software for Small Business Needs
Almost all of these platforms have some type of free trial. New users are strongly encouraged to take advantage of the free trial to try the software in a real world setting. You'll be surprised at what a difference the right accounting software can make. You'll be free to run your business while the software lets you easily create invoices and manage the books.