One of the most common (and most effective) ways to monetize a blog is through display advertising–serving banner ads alongside the original content you give away to your audience. While achieving a bit of display advertising revenue is pretty easy, optimizing this revenue stream requires a significant investment of time and effort.
Getting ads up and running through an ad network can be accomplished in a matter of hours. But the bloggers who cash the big advertising checks are the ones who establish relationships directly with premium advertisers.
One of the most important parts of the direct sales process involves building a Media Kit, a document that can be used to convey the value proposition and specific ad opportunities to potential advertisers. If you're looking to build a media kit template, here are seven tips that can help you succeed:
Tip #1: Dive In to Data
A quality media kit will convince potential advertisers that your site offers access to a uniquely targeted demographic. "Targeted" can refer simply to age and gender metrics–your site may attract a lot of older men or young women. But ideally you're able to show that your audience features a concentration of individuals with similar buying habits or hobbies, such as video gamers, cooking enthusiasts, or frequent travelers.
Before you can assemble this data as part of your media kit, you need to actually gather it. There are a number of different sources that can be used to gain some insight into what your audience looks like. I suggest getting a Quantcast pixel up on your site (it's free and pretty easy) and also figuring out a way to ask your audience to provide a bit of additional data about themselves. Here's a preview of the data you can get your hands on (this one is for Huffington Post):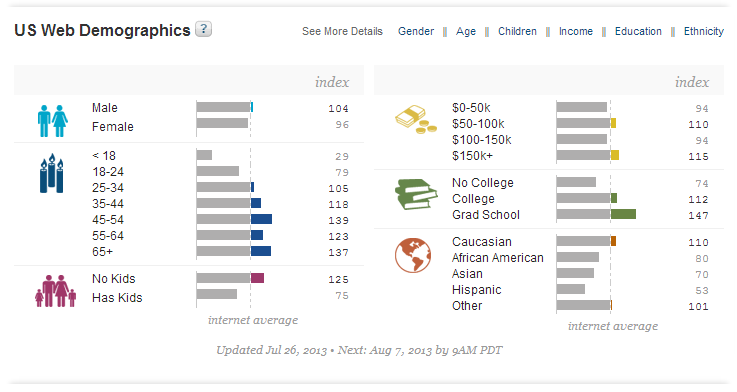 If you want more customized data, Survey Monkey is a great, cheap tool for building custom surveys that can help to arm you with compelling statistics about your audience.
Tip #2: Get Inspired
There's no need to reinvent the wheel. There are thousands of media kits publicly available online, including examples from top tier publishers and smaller bloggers. Before you dive in to putting together your media kit, spend an hour or two browsing what is out there already. In addition to some features that highlight the pros and cons of various media kits, a good old-fashioned Google search will give you plenty of options to digitally flip through (try searching "digital media kit" to start).
Pretend you're a potential advertiser trying to understand what makes each site unique and also understand what specific ad placements are available to you. Take notes on what you like and don't like about each one, and specifically highlight any pages you think would be a good fit for your site.
For example, here's a page from Fast Company that stands out as a great example of digital audience demographics: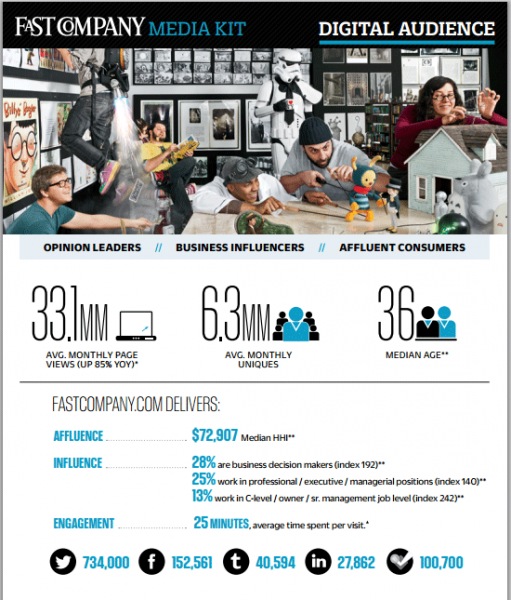 Tip #3: Keep it Short & Sweet
Now that we've covered the "homework" tasks, let's move on to actually building the media kit. You may be tempted to make your media kit as long as possible, under the premise that a lengthy media kit conveys a quality site. But that's a mistake; focus on getting your point across in as few slides as possible. The important messaging is likely to get lost in lengthy media kits; buyers can get overwhelmed by too much information and fail to take away the key points.
There are really only four pages you need in a media kit:
Site Overview: The highlights of your site–what type of content is featured there, when it was started, what the mission is. 
Audience Overview: Showing off the numbers you gathered from tip #1 above–numbers that convey the composition of your audience and what makes your specific audience so valuable.
Advertising Opportunities: How advertisers can appear on your site, including the specifics of ad sizes, formatting, and positioning. Ideally, this page includes a screenshot showing exactly where the ads appear.
Contact Information: Your name, phone number, and email address.
Depending on your site and the advertising opportunities available, you may end up expanding these sections to multiple pages. But don't be afraid to keep it short and sweet, and pack all the relevant information into a few short pages. There are some good examples of brief media kits, including some as short as a single page.
Tip #4: A Number Is Worth 1,000 Words
As a general rule of thumb, the fewer lines of text in your media kit the better. That's a tough guideline to follow, but will help you to create a document that clearly communicates the value your site can deliver to advertisers.
This is particularly relevant when it comes to highlighting your audience; try to explain exactly what makes your audience unique (and valuable to an advertiser) with a handful of statistics as opposed to several paragraphs. Here's a page from the Entrepreneur.com media kit that stands out as a great example of this (in addition to the page shown above):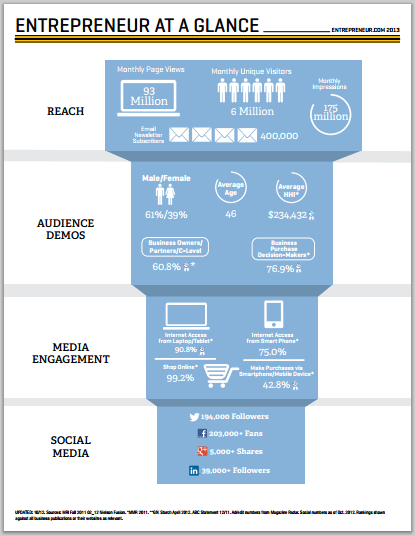 There isn't a complete sentence on this page, and it is incredibly effective at communicating all the relevant stats about the audience (it's primarily male, wealthy, and is likely to do shopping online).
Tip #5: Hit A Target…Any Target
There's a common misconception about what makes a valuable audience. In this context, valuable doesn't necessarily mean rich. More important than the aggregate wealth of your audience is their concentration into a demographic group that an advertiser will be interested in targeting.
This "targeted demographic" can take many shapes and sizes. Depending on your site's mission and content, for example, you could attract a high concentration of new parents, recent retirees, or high school students. All of those are potentially valuable audiences for different advertisers–perhaps for life insurance providers, cruise lines, and video game makers.
A primary challenge of online advertising is getting the message in front of relevant potential customers. If you're that life insurance company, you don't get much value from having a bunch of high school kids see your ad, as they're unlikely to be in the market for insurance. But if you can get your ads in front of new parents, you'll probably have a much higher success rate since they are likely to be receptive to the messaging and in the market for life insurance.
If you can help advertisers target their ads in that way, you can be a very valuable partner to them. Keep that in mind when showing off your demographics.
Tip #6: Don't Try to Please Everyone
Don't be afraid to hammer home the point that you offer access to a targeted audience. This will inevitably turn off some advertisers, and that's completely OK. Check out the media kit for Break.com; that site emphasizes its male-heavy audience repeatedly to show the value to advertisers looking to reach that demographic: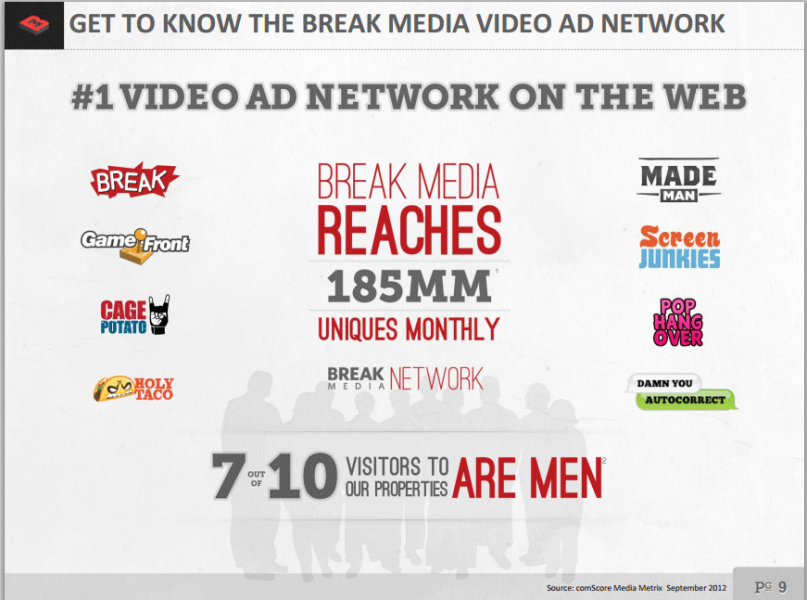 Someone looking to advertise women's clothing will be turned off immediately, but that's fine. That advertiser shouldn't be on this site, but there are plenty of others who do belong. From the universe of all advertisers, only a handful will have messaging and products that allows them to generate serious value from your site. Your media kit should be constructed with these clients in mind, and not the countless others who don't belong as an advertising partner.
Tip #7: Make It Pop
Your media kit is a chance to make a first impression on potential advertisers, so it's important that you have both substance and style. If you do a great job following the tips above but the media kit just looks amateurish and sloppy, all that hard work can go out the window. There are some great design tools out there that are free to use; if you're fortunate enough to have a bit of artistic ability, you'd be well served to spend a few hours making sure your awesome content is accompanied by awesome visuals.
There are also some great resources that let you hire a talented designer for a relatively low amount. Spending $100 to $200 on Elance to get a designer to spruce up your media kit can be a great investment if you're serious about establishing direct relationships.
Bonus Tip: Start Prospecting
Once your media kit is done and you're ready to start reaching out to potential clients, you'll probably be tempted to take a "shotgun approach" and send it out to as many agencies and companies as possible. Instead, break out the rifle and take a more thoughtful and precise approach. Brainstorm your "wish list" of clients by thinking about which companies would benefit most from appearing on your site. Check out other sites in your niche to see who's advertising there, and also take a list of the ads that are appearing on your own site if you're using an ad network at present.
Once you've come up with a list of 10 or 12 desired advertisers, dig around to find the appropriate contacts. Free resources like SellerCrowd and LinkedIn are great places to start.