Start Making Money on YouTube!
David Di Franco is an established YouTuber with 8+ years of experience. He has created a 10-step online course showing you how to properly monetize your YouTube content. Check out his course and get his 8 years of knowledge, neatly packed into one course.
Most of the hundreds of millions of videos uploaded to YouTube attract relatively little interest; they may be viewed by friends or family, but don't get a lot of attention from elsewhere. In fact, about half of YouTube videos get fewer than 100 views in their first month, and only 30% of uploaded videos are viewed more than 200 times.
But while the vast majority of YouTube videos never translate into fame and fortune for the creators, there are certainly exceptions to that rule. In 2014, a lot of people are making money on YouTube, either through the associated ad revenue or by using the site as a springboard to more widespread popularity. (By the way, we maintain a MonetizePros YouTube Channel that contains all of our free video monetization tutorials; click here to subscribe to the channel for free.) Anyway, some of the world's best-known artists–and plenty of multi-millionaires–can trace their big break back to the video site. Here's a look at how 25 celebrities got rich and famous on YouTube. 
Musicians
1. Justin Bieber. It wasn't that long ago that Justin Bieber skyrocketed from relative obscurity to superstardom–thanks in large part to YouTube videos of him performing as a pre-teenager. The Biebs was posting homemade performance videos at 12 years old, and those videos convinced execs at Island Def Jam Recordings to sign Bieber to a huge deal before he was even able to drive.
With an estimated $55 million in earnings last year, it's safe to say Bieber got a pretty good return on his time spent uploading videos to YouTube.
2. Carly Rae Jepsen. Interestingly enough, Bieber is largely responsible for the rise to fame of another young recording artist. Carly Rae Jepsen was already popular in her native Canada (she finished third on "Canadian Idol") she didn't hit the road to U.S. fame until Bieber tweeted that "Call Me Maybe" was "possibly the catchiest song I've ever heard." (He misspelled Jepsen's name in the tweet, but we're guessing she's since forgiven him.)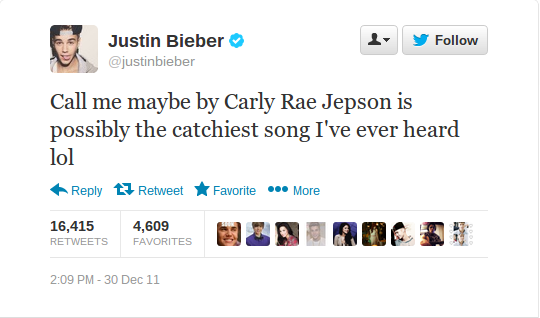 That tweet sent Bieber's manager Scooter Braun to YouTube, where he viewed videos of Jepsen performances and ultimately signed her to a mega-deal with Schoolboy Records.
3. Esmee Denters. Bieber isn't the only heartthrob to discover a major talent on YouTube; Justin Timberlake also got in on the action in 2007 when he signed Dutch singer Esmee Denters to a record deal. Denters started her career by uploading low-tech karaoke videos to YouTube, eventually building up a following and catching JT's eye.
4. Susan Boyle. In 2009 Susan Boyle was a complete unknown in the music world. That changed overnight when a video of her performing "I Dreamed a Dream" from "Les Miserables" on "Britain's Got Talent" went viral and became (at the time) the most viewed video ever. Boyle, a 47-year old from Scotland, was suddenly appearing on "Good Morning America" and fielding phone calls from record execs around the world. Though she was known in Britain after the show aired, it was the YouTube clip that made her a worldwide celebrity.
Boyle, who was unemployed when the video was recorded, was quickly pulling in more than £5 million in recording and advertising deals.
5. Greyson Chance. The soon-to-be 16-year-old Greyson Chance is one of the youngest YouTube stars in recent history. A video of the sixth grader performing "Paparazzi" at a music festival caught the eye of Ellen DeGeneres, and Chance soon found himself performing on her show and signing with her new record label.
Chance released his debut album "Hold On 'Til The Night" in 2011, and toured the world.
6. Karmin. This pop duo started off on YouTube producing covers of songs from popular artists (a cover of Chris Brown's "Look at me Now" has about 85 million views), and rode their success there into a deal with Epic records and an appearance as the musical act on "Saturday Night Live".
7. Cody Simpson. The Australian-born teen star, who's also an accomplished swimmer, uploaded videos of him covering songs by the Jackson 5 and Justin Timberlake in 2010. He was subsequently discovered by record producer Shawn Campbell. Simpson has appeared in a number of TV shows in the last few years, and released two studio albums.
8. Avery. This teen star originally drew attention after releasing a video of her singing "Sweet Child O' Mine" to re-enact a scene from "Step Brothers". Since then, she's released her own single, "Love Me of Let Me Go," on YouTube and signed a deal with Island Def Jam.
9. Avery Molek. The youngest star on this list, Avery Molek became a YouTube phenomenon after his parents uploaded videos of the six year old playing the drums. Avery's prodigy-like skills attracted the attention of some local venues, and eventually caught the eye of KISS drummer Eric Singer.
Avery's recent gigs have included "Good Morning America" (with Brad Paisley) and an appearance on "LIVE With Kelly and Michael."
10. Dondria. After her YouTube cover songs were seen by Jermaine Dupri, Dondria (who was 20 at the time) flew to Atlanta and signed a deal with Dupri's So So Def record label. She released her first studio album in 2010, and has since collaborated with several other musicians.
11. Soulja Boy. The Chicago-born hip hop artist relied on fans of his MySpace and YouTube channels. His best known hit, "Crank That", was originally self-published online. (The song would go on to hit #1 on the Billboard Hot 100.) He was eventually discovered there by hip hop producer Mr. Collipark and eventually signed a deal with Interscope Records.
Soulja Boy earned $7 million in 2010, making him one of the highest earning hip hop stars for that year.
12. Marié Digby. By the time she became a YouTube star in 2007, Marié Digby had experienced some modest success as a musician. But she started getting significant attention for a version of her covering Rihanna's "Umbrella," which was quickly picked up by radio stations across the country. That song was featured on the soundtrack of "The Hills", and got Digby a spot performing on "Last Call with Carson Daly".
Digby has since recorded multiple studio albums, toured throughout Asia (she's part Japanese), and put out a Web miniseries called "Breathing Underwater".
13. Savannah Outen. Another young artist whose YouTube videos became popular in the late 2000s, Savannah Outen has more than 470,000 subscribers to her YouTube channel and has multiple videos with more than five million views. Her songs have been featured on Radio Disney, and Outen has performed the National Anthem for several professional sports teams.
14. Arnel Pineda. Though certainly not a household name, Arnel Pineda is now the lead singer of one of the biggest rock bands of all time. After posting videos of his band at the time, The Zoo, performing covers on YouTube in 2007, Pined was invited to audition to become the lead singer of Journey (longtime lead singer Steve Perry was replaced in 1998, and a number of different musicians rotated through the role over the next decade). Pineda got the job, and has been with the band ever since.
The first album with Pined behind the microphone debuted at number five on the Billboard charts, and the 2008 tour took in more than $35 million in gross receipts.
Comedians
15. Bo Burnham. Burnham started with videos of his comedic songs–some early hits included "Bo Fo' Sho" and "My Whole Family (Thinks I'm Gay)"–and rode the remarkable response to a deal with Comedy Central Records before his 18th birthday. Since then, he's released multiple full-length comedy albums, signed a deal to write music for a Judd Apatow movie, and developed his own show on MTV, "Zach Stone Is Gonna Be Famous" (which was cancelled after one season).
16. Liam Kyle Sullivan. This struggling performer caught a break when his song "Shoes," performed by alter ego (in drag) Kelly, went viral and won a People's Choice award for user generated video. Sullivan's YouTube channel has more then 300,000 subscribers, and "Shoes" has been viewed more than 50 million times.
He's also made appearances on multiple TV shows (including "Gilmore Girls") and has put out two albums.
17. Brooke Brodack. After dropping out of college and working as a hostess at a restaurant, Brooke Brodack started posting short comedy videos to YouTube in late 2005. She was offered a development contract from Carson Daly (though nothing came of that arrangement) and eventually starred on the video content site "It's Your Show TV". "Brookers" was called the "first real YouTube star" by the New Yorker.
18. Jimmy Fallon. OK, so Jimmy Fallon wasn't discovered on YouTube and would probably be a successful comedian without the site. But the former SNL star, and current host of "The Tonight Show", owes at least part of his success to an impressive YouTube following. Among late night hosts, Fallon has used YouTube early and often to build up a massive following of younger viewers who prefer to consume content through a computer as opposed to live TV. His popularity among younger viewers–built on the impressive collection of YouTube videos–helped him land one of the most coveted jobs in show biz (and a reported $12 million annual salary).
Fallon's official YouTube channel has about 633,000 subscribers, which is nearly ten times the 66,000 subscribers to Leno's YouTube channel (Letterman doesn't even have his own YouTube channel; his videos go up under the main CBS account).
Athletes
In perhaps a more recent trend, countless athletes now have YouTube to thank for their college scholarships and even professional tryouts.
19. Havard Rugland. This Norwegian soccer player became a YouTube hit after uploading his "Kickalicious" video featuring impressive trick shots. That video eventually found its way into NFL circles, and Rugland is now a member of the Detroit Lions after signing a free agent contract in April.
20. Alex Tanney. After going undrafted out of Division III Monmouth College, Alex Tanney was a long shot to ever get a chance with an NFL team. But a YouTube video of the quarterback making some ridiculous trick shot throws got the attention of a few general managers, and helped him land tryouts with different organizations.
Tanney is currently on the Dallas Cowboys' roster, as a backup to Tony Romo.
21. Wedley Estime. YouTube has become a critical tool for young athletes looking to get attention from college coaches and recruiters. There are countless cases similar to that of Wedley Estime, who wasn't getting any attention prior to his senior season. A highlight video highlighting his skills got passed around recruiting circles, and the offers started flowing in. Estime eventually signed with Virginia Tech, one of the country's premiere college football teams.
Estime now plays under the name Dadi Nicolas. Though he had some run-ins with the law, he's also had some on-field success. Nicolas was named Player of the Week by ESPN after recording a three-sack game against Pittsburgh during the 2013 season.
Models & More
22. Kate Upton. The bombshell model who's been featured on the cover of Sports Illustrated multiple times owes part of her success to a couple of YouTube videos. Upton was struggling to find work when she posted a video of herself "doing the Dougie" at an L.A. Clippers game; the video was quickly viewed millions of times and gained her 170,000 Twitter followers.
Upton doesn't have any trouble finding work now; she's earned millions from modeling and advertising jobs over the past few years.
23. lonelygirl15. One of the stranger YouTube success stories belongs to lonelygirl15, which was presented as a video blog of a teenage girl but ultimately revealed to be fictional. But regardless of the authenticity of the video series, lonelygirl15 became a huge internet hit and the creators parlayed the success into media company EQAL. That company has built custom social media networks for a  number of celebrities, including Jennifer Lopez and Tori Spelling.
24. Ray William Johnson. Better known as Ray WJ, Johnson started producing the YouTube series "Equals Three" while at Columbia preparing to become a lawyer. The format, which featured Johnson adding commentary to the most recent viral videos, proved to be a huge hit. At one point, Johnson had created six of the 20 most watched YouTube videos of the month.
Ray WJ continues to be tremendously popular; he has almost 10 million subscribers to his YouTube channel and over 1.5 million Twitter followers. In 2013, he announced that he had inked a deal with TV network FX to develop an original sitcom. Not bad for a thirty-something guy just a few years removed from recording YouTube videos in his dorm room.
25. Philip DeFranco. "PhillyD" is another YouTube phenomenon who has parlayed his success on the video site into a career in entertainment. He started posting videos of "The Philip DeFranco Show" in 2006 (during finals at East Carolina University), featuring his commentary on recent news stories. His following grew rapidly, allowing him to make a career out of online video. DeFranco doesn't make money just from YouTube ads; he's been paid by corporations and TV shows (such as Carl's Jr. and "Lie to Me") to create promotional videos, and has a sponsorship deal with Netflix.
In 2013 DeFranco sold the assets associated with his YouTube presence to Revision3, an online-only TV network, and became an executive at the company.
Bottom Line
YouTube has been a starting point for countless successful musicians, comedians, and actors over the last several years. Though the niches and talents vary, the general story seems to be the same: producing high quality content–whether a stand-up act or a cover of a popular song–can lead to fame and fortune for some. If fame and mega fortune are not you aim but you would still like to monetize your YouTube channel, you should check out this course on Udemy: 10 Guaranteed Ways to Monetize Your Content on YouTube. So far they've got hundreds of enrolled students already and five-star reviews!
YouTube isn't the only way to make money online though – if you're hungry for success, follow the tutorial on our homepage: How to Create a Blog
RELATED POSTS