Do you want a boost in online revenue for 2014? One of the biggest ruts online entrepreneurs face is trying to make money one way. The key to being successful is trying a variety of different outlets until you find the one(s) that fit you and your niche. In this guide, we're going to look at the top tips, strategies, tools, and resources you can use to make more money online.
(By the way, if you're enjoying this article, you may want to subscribe to our free newsletter; we'll send monetization tips straight to your inbox each day.)
Jump to Section:
Placing Ads on Your Blog
If you're just starting out, you can always start by placing ads from ad networks on your blog. This is best for people who don't have any other monetization strategies in place; if you already sell a product, service, or have quality advertisers, then exchanging more valuable business with outgoing clicks that will only help you earn pennies is not a wise decision. That said, here are some tips about placing display ads on your blog.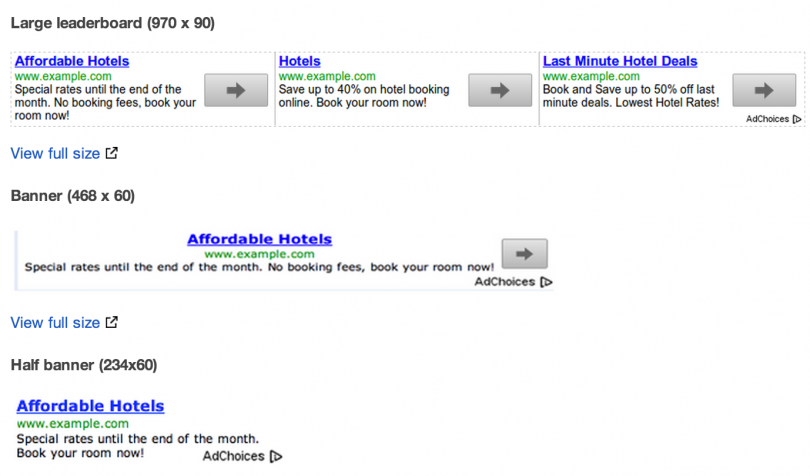 Example ad sizes on Google AdSense.
Most ad networks like Google AdSense work by placing ads that are relevant to the content on the page. Make sure that your content has a very specific topic focus in order to get the most relevant ads placed alongside it.
Creating niche sites for keywords that typically bring in a high CPC (cost per click) is a popular strategy that marketers use to increase their Google AdSense income. Research the niches you want to create blogs about for ad placement, looking in particular at the average bid amount of relevant keywords; use the Google Keyword Planner for this.
Do not overload your niche website with ads. Google has dropped the rankings of sites that use too many Google AdSense ads on a page. Content should be the main focus on each page of your niche site, with ads incorporated as a resource.
With the latest changes to Google's algorithm, it takes a much higher investment into niche sites to get them ranked well and generating income from ad clicks. If you do not plan to create unique content for your niche sites, invest in a content creator to create unique content for your blog. To save money, you can always hire an inexpensive writer and edit the content yourself to make it more unique and valuable.
Test your ad placement regularly. You may find that one site generates more revenue when you use a 728 leaderboard ad, while another site generates more revenue when you use text link ads above or in the middle of content. You may also find that one audience response to video ads while the rest don't. It all depends on your niche.
Finding Advertisers for Your Blog
Once your blog has gained steam in terms of traffic and authority, you may be able to earn more money by getting relevant advertisers for your blog than you can with ads from ad networks. Here's how you can find advertisers to pay top dollar to reach your audience.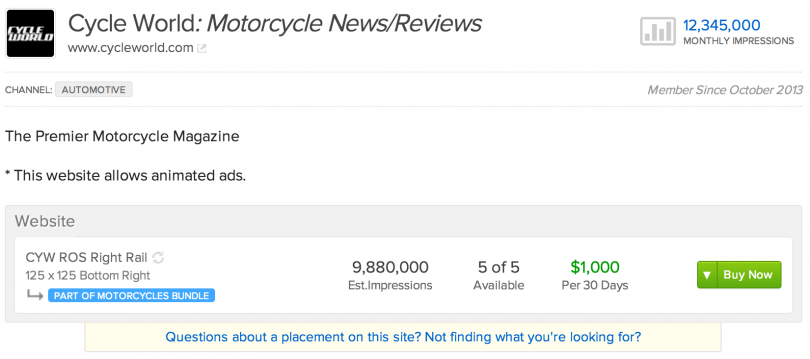 Finding advertisers on BuySellAds.
Decide what type of advertisements you will allow on your blog. Think about what people have asked to place on your website — banner ads, text link ads (nofollow only as per Google's guidelines), infographic placement, sponsored posts, etc.
Create an advertise here page or media kit on your blog. This page will give potential advertisers an overview of what ad types you have to offer along with the current stats (traffic, audience size, subscribers, social following, etc.) so advertisers know how many people they will reach.
In addition to offering a la carte advertising options, consider creating package options as well. For example, you can offer a VIP advertiser package that includes a leaderboard banner, a mention in your weekly email newsletter, and a sponsored review at a rate slightly lower than what people could pay if they bought the advertisements individually. This could turn a $50 banner ad into a $500 sale.
Don't wait for advertisers to come to you. One way to find advertisers to reach out to is to look at the companies who advertise on blogs similar to yours. Look at other blogs' banner ads, text link ads, sponsored posts, and anything that isn't from a source like Google AdSense and similar ad networks. Reach out to these companies and let them know why your blog would be a great fit for their advertising needs.
Want to get more renewals on your ads? You can't prove whether clicks from your website led to conversions on theirs (that's up to them to track), you can track the clicks themselves. Google Analytics, for example, has Javascript code you can use to track outbound clicks. Send your advertiser a screenshot when they are up for renewal to show them the amount of traffic you received over the months and the number of clicks their ad received. Your proactive approach and results could result in a happy, long-term advertiser.
Place your ad options on networks like BuySellAds. This will help you reach even more prospective advertisers. It's also a great place to research how much you should charge based on niche, traffic, and audience size.
If your reputation is important to you (it should be), be sure to check out the sites you are allowing to advertise. Even with a disclaimer that you are not responsible for advertiser content, your audience will frown upon being directed to a scam. Regardless of the fact that they are advertisers, you will be seen as a supporter of those companies.
Make your ad spots appear as if they are in high demand by filling any empty spots with products you are an affiliate for. Let advertisers think they need to reserve a spot on your blog vs. letting them think there's always something available.
Turn queries for free representation on your blog into an opportunity to sell advertising space. If you offer sponsored posts, take those emails where someone wants you to "just try out their product and mention it to your audience" and let them know what your sponsored post advertising has to offer. Many advertisers will always try to see what they can get for free first before saying they want advertising.
Affiliate Marketing
Affiliate marketing can be a great source of passive income. Here are some ways you can incorporate it into any online business.
If you live in the United States or any country that requires you to disclose that you are sharing affiliate links, please do so. You can do it by placing a disclosure next to any affiliate links, creating a disclosures page on your website that notes you use affiliate links, add a widget to your blog's sidebar saying you use affiliate links, or all of the above to be on the safe side.
Start with the products you use. Anytime you purchase something you use, look around on the website for a link to an affiliate program (typically in the footer of the website) or do a Google search for the product name + affiliate program. If you find one, sign up for it and promote it on your website. For example, if you use a premium WordPress theme, add a link in the footer of your website that notes the theme name and uses your affiliate link. Or create a resource page on your website entitled "Helpful Tools for Niche Marketers" and include a list of the tools you use most, the benefits you receive from using those tools, and your affiliate link.
Use HootSuite or Tweetdeck to create searches on Twitter for people tweeting about products you are an affiliate for. For example, if you have a great review on StudioPress themes, create searches for studiopress ? -http, wordpress themes ? -http, and similar. This should bring up people who are asking whether they choose this theme collection for their website. Send them your review to help them learn more about StudioPress to make a decision, and they might end up buying it using your affiliate link.
Reach out to the owners of products you are an affiliate for to see if they will give you a custom discount code. These can help increase your ability to sell a product with your affiliate link. Add your promo code in product reviews, beneath banners on your website, and anywhere you mention the product with your affiliate link.
Use HootSuite or Tweetdeck to create searches on Twitter for people tweeting about promo codes to products you are an affiliate for. For example, if you have a promo code for Godaddy, create a search for promo code godaddy -http. This should bring up people looking for Godaddy promo does. Send them a tweet back that says "Use this link along with promo code XYZ to get $10 off your purchase."
If you have a promo code for a particular product, create a page for it on your website. Start by figuring out what term the product's checkout system uses (discount code, promo code, or coupon code are most popular). Then create a page on your website that is SEO optimized for "Product Name Promo Code" or similar. In addition to the main benefits of the product, include a line that says "Click here and use promo code XYZ to get 30% off your purchase."
If you have created niche sites to place advertising upon from networks like Google AdSense, consider switching some of those ads to affiliate promotions for popular products in those niches. You could turn clicks for pennies into large commissions.
Affiliate programs have different rules about what you can do to advertise your affiliate marketing messages. Many, however, don't have a rule again promoting your review posts. Use Facebook ads to target specific audiences with your review post of an affiliate product to generate more revenue from it.
Optimize your affiliate review posts for search. Find out what keywords people are searching for, such as product name review, product a vs product b, does product name work, and similar queries. Once you find the one that has the highest search volume, create a review post on your blog along with a review video for YouTube. This will help you gain a continuous stream of search traffic and continued sales.
Regularly review which affiliate products generating the most income. If you notice one particular product does really well, devote more energy into promoting the review for that product, add more banners for that product around your website, and
If you have an information product that is relevant, offer it as a bonus when someone buys a particular product through you. Make sure that the value of the affiliate commission you will receive makes up for the free product giveaway.
Creating Information Products
No matter what niche you are in, there's a good chance that you could create an information product to help educate those who know less about the niche than you do. Here are some ways to determine what type of information product to create and how to sell it.
Start by looking at the questions you are asked the most. If you've been in a niche long enough and have built up authority, you'll likely know this answer off hand. You can also keep a running spreadsheet of questions you are asked on your blog, through your contact form, on social media, etc.
Once you've discovered this question, create a progressive sales funnel around the answer. For example, let's say you have a niche websites on a particular designer dog breed, and you always get questions from website visitors about where they can find a breeder in their area. Your funnel could start with a free report upon opt-in of top designer dog breeders in the United States. When visitors opt-in for this report, they get placed in an autoresponder series that leads them into purchasing a small product, such as an e-book on how to choose the right dog. At the end of this e-book, they will find a link to a premium video course on how to train their designer breed dog.
Not sure how to price the items in your sales funnel? Do some research by looking at other similar products in your industry. price your product competitively, but don't aim to be the lowest price out there. This will only give people the impression that your product is not valuable.
Set up an affiliate program for your product. You can choose from popular networks such as E-Junkie, Clickbank, Shareasale, or systems that allow you to create your own independent affiliate program. Choose the platform you use based on what you are selling, how you would like your products delivered, how you would like your affiliates handled, and what payment systems you would like to use. E-junkie, for example, is the least expensive but doesn't work well with membership sites or products that require recurring billing. Clickbank will handle affiliate payments, product payments, and returns processing. Shareasale has a high setup fee. All of these different points should be considered.
Recruit affiliates who are ethical and promote products similar to yours. Preferably look for people with large audiences and authoritative reputations.
Make promotion of your produce as simple as possible, regardless of whether you have affiliates. Offer banners in multiple sizes, create swipe copy that people can use, offer to do interviews (text-based, podcasts, and video), and answer questions as quickly as possible.
Keep your affiliates up to date about product changes, sales, and any other news that will keep them excited about promoting your product.
Product launches are the best time to make sales of information products. You can even relaunch your product once you have made major updates to it every six to twelve months. Hype your relaunches as much (or even more) than your original launch to get new customers and new affiliates.
During launches and relaunches, offer incentives that will make people want to purchase immediately. Maybe for the first 24-36 hours, offer a free half hour consultation with anyone who buys your course.
Hold a live event for your launches and relaunches. It can be as formal as a webinar using GoToWebinar or as informal as a Google+ Hangout launch party.
Take advantage of times to offer special discounts that will increase the sales of your products exponentially. This can include Black Friday / Cyber Monday specials, birthday specials, and similar kinds of sales. Especially those sales that take place in large retail stores online and offline.
Use one product to add value to another product. If you have a few paid e-books and you create a course, offer the paid e-books for free as bonuses for the course.
Host a contest and giveaway one e-book, product, or membership. This will get people excited about the possibility of using your product, and when they don't win, they might be excited enough to buy.
Offer an upsell with your product to generate more income. A base product, such as a membership course, could have an upsell to gain access to a private membership forum.
Experiment with different payment options. You can start with a one-time charge, or (for more expensive products), try breaking the fee up into payments. $950 for a course may sound like too much, but 12 monthly payments of $79 could turn someone skeptical into a customer.
Create a small discount code that you can include in your welcome email for new subscribers. This is a great way to get them interested in checking out your product, turning a new subscriber into a new customer instantly.
Offering Services
Do you get asked often to do something specific for someone? For example, do people love the custom website design or logo you created so much that they ask you to do one for them, or do businesses ask you to contribute content for their blog? If so, then you might be able to offer it up as a service. Here are some tips on how to tell what service you would could offer, how to price it, and how to get paying customers.


Services on Fiverr.
Think about the top three to five things you are asked for on a regular basis. Do people want you to review their blog or social media profiles? Do they ask you if you could design a log for them? Do they ask you to write content for them? Then, think about how you could turn these into services such as blog audits, social media strategy reviews, logo design, website design, freelance writing, etc.
Create a services page on your blog that details what you offer and the benefits the customer would receive. Include samples of your work (even if they are just things you have done for yourself).
Research what you should charge by looking at the rate pages on other similar professional's websites.To find them, do Google searches such as freelance writing rates, WordPress customization rates, and similar. If you can't find rates on a the service page, also look at the contact / quote form. Web and graphic designers in particular typically have a "budget for this project" dropdown that will show you their starting to high end rates.
Include your main specialities in every profile you have online. That way, no matter where someone finds you the first time, they know what you do, who you do it for, and how to contact you for more information.
Start offering your services on the sites people go to find freelancers and consultants such as oDesk, Freelancer.com, Elance, and similar networks.
If you can create a reasonable offer for $5, add your service offerings on Fiverr. To really make money off of Fiverr, add extras. Start with a basic service that takes 10-30 days to deliver, then offer things like rush delivery for an extra $25+ dollars, more options (such as variations for a logo) for $50, and any other value adds that you can charge for. To get an idea of what you can do, look at the top sellers for similar services to see what prices they are quoting.
Find out where your ideal customers hang out online. Social media groups, forums, and Q&A networks all present the opportunity for you to demonstrate your expertise by answering simple questions. Spend 15-20 minutes a day in these communities helping out potential customers, and you are bound to get leads for your services. Just be sure that the profile you use to answer questions clearly states the specific type of service provider you are so people know why they should contact you.
Start engaging with your target customers on social media. Something as simple as regularly tweeting a company's blog posts could get their attention. When they check out your profile and see what you do, they might be more interested in your service because they know that you already love their brand.
Whenever you see an opportunity to provide a business a friendly nugget of advice or suggestion that relates to your service offering, take it. For example, if you offer SEO consulting services, email some businesses to let them know that their website isn't optimized properly. A simple, "Hey, I noticed your website's title tag says HOME. I'd love to help you optimize it so that your customers can find you in search engines." email could lead to new business. Don't be overly pushy or sales-y; just let them know what the problem is, and how you could help them fix it.
Outline the particulars that you offer along with basic services in order to make them more valuable (aka, so you can charge more). Don't just say you'll design someone's logo. Say that you'll also offer them variations to choose from, a specific number of revisions, different filetypes to keep on hand, and even preview of how their logo will look on letterheads and business cards. Even if they are things you offer as standard, point them out in a bulleted list to make a basic logo design package much more impressive.
Collect testimonials whenever possible to use on your website. When you deliver work to a satisfied customer, ask them if they would connect with you on LinkedIn and provide a recommendation. Favorite tweets when people share with their followers how happy they were with your work and embed them on your website. Embed public posts from Facebook on your website when someone leaves a recommendation on your page. Or, when someone sends you their praise in an email, ask if you can use a snippet of it on your website accredited to them. Satisfied customers generally don't say no.
Building Your Mailing List
If you're planning to generate money from affiliate marketing, your own information products, or services, then you need to have a mailing list. Your mailing list is the perfect audience to sell to! If you haven't done the following, make sure you do by the new year to start it off right!

Squeeze page examples from LeadPages.
Create at least one lead magnet to get more people to sign up for your mailing list. Create additional lead magnets that can help you segment your audience into different lists by interests.
If you have multiple lead magnets in the form of free reports, e-books, whitepapers, etc., create a resource page of free downloads where people can view all of them, linking each to their individual squeeze page. See HubSpot's Marketing Resources as an example.
Make a squeeze page for each of your lead magnets so you can promote them in status updates, Facebook ads, guest post bio links, and your email signature.
Place opt-in forms in high-traffic areas such as your website's header, sidebar, the end of blog posts, the footer, your about page, your thank you page when people comment or submit a contact form, and any where else that seems applicable.
Selling on Your Blog
Your blog is the perfect selling platform: it gives you the opportunity to attract your target audience and demonstrate your expertise with your content, and then sell to them when they are most impressed by you. Here are some quick tips to get the most income potential from your blog.
What is your number one money maker? Is it a particular affiliate product, information product, or service? Create a banner for it and put it in a highly prominent area on your blog, such as in the header with a 728×90 leader board or at the top of your sidebar.
Place a feature box at the end of each post for your top money-making item. Once someone has read your content, they are more likely to be interested in what you are selling.
Let people know about your top information product or service on your about page, linking to the product sales page or your services page as applicable.
Selling on Social Media
Next to your website and blog, your social profiles are the most popular places people will discover you. Make sure they are geared to help you make money online by reading these articles here on MonetizePros.
Getting More Exposure for Your Business
More exposure equals more traffic, and more traffic equals more income generation. Here are some additional ways to gain exposure for you, your business, your website, and your blog.
Get media exposure for your business by signing up as a source on sites like HARO, Muck Rack, and ProfNet. This will give you the opportunity to get your name mentioned by major media outlets and blogs, positioning you as an expert in your industry in front of a new audience simultaneously.
Tap into the iTunes audience by creating a podcast aimed at your target audience of potential customers.
Tap into the YouTube audience of 1 billion unique visits each month by creating videos. These can be commercials for your products and services, affiliate product reviews, or helpful information geared to your target audience of potential customers.
Tap into the Amazon customer base by creating Kindle books. Offer them at a low price to ensure more customers and more exposure.
Get traffic from professionals on Slideshare by creating robust presentations. Sign up for a premium account and have the opportunity to collect leads directly from your presentations.
Managing Your Expenses
Your total income isn't what makes you rich; your total net income after expenses is. If you're not managing your expenses wisely, then you'll end up spending everything you've earned with little to show for it later. Here are some tips to help make sure you are getting the most out of every dollar you spend online to make money online.
A cheap web host is not always the best solution if you are spending additional money on private IP addresses, security monitoring, backup, and CDN services. Consider a web host that offers all of the above at one price point and you might end up saving in the long run.
Are you paying for inactive subscribers on your mailing list? Twice a year, make it a habit to create a segment of your subscribers who have not opened any of your emails in the last six months. Send that segment one last email to see if they are still interested. You can simply create a new segment a week after sending that email of your subscribers who have not opened any of your emails, including this one. Prune your inactive subscribers regularly to lower your mailing list service cost.
Make it a habit to review the recurring memberships you have signed up for quarterly (or monthly even). If you paid via Paypal, you can find them by logging into your account and clicking on this link or looking under the Profile > My Money > My preapproved payments. Ask yourself if you are still getting value out of those memberships. Are you still activity participating on paid forums? Is your business growing as a result of the advice you are getting? If not, then consider canceling those memberships. If you have made valuable connections inside those membership sites, find those member's social media profiles and websites prior to leaving so you can stay in touch. If the site has downloadable information (e-books, interviews, videos, etc.), download as much of it as you can before you cancel your membership to keep for reference later.
In addition to reviewing your recurring memberships, review the tools you pay on a quarterly or even monthly basis. Are you still using them on a regular basis? Have you found one tool that could replace two or three others? Are you still getting good results? if not, consider canceling them.
Do you sign up for free trials that will charge you at the end of the trial period? Each time you do, set a reminder in Google Calendar, Remember the Milk, or other time management tool to review that trial a week before your credit card will get charged.
When you buy courses or e-books to educate yourself, set a reminder for a week before the time you can return it ends (usually 30 days, but check the product's sales page to make sure). At that time, review whether you have used and gained valuable insight from the course or e-book. If you have not, act accordingly. Just watch out for programs that require you to "do homework" and require "proof" of your dissatisfaction as those can be tricky to get refunds from.
Review your analytics when you set up paid advertising campaigns. If you have Google Analytics, use UTM parameters with any links you use for Facebook ads, banner ads, etc. This way, you can look under Acquisitions > Campaigns in your website's profile on Google Analytics to see which campaigns have the most affect on your business. Any campaigns that do not drive traffic or conversions should be discontinued.
Make sure you are getting the most tax deductions possible by working with a tax accountant if possible. They can help you pinpoint and deduct expenses for your business such as a portion of your rent if you work from home, travel expenses when you go to customer sites or conferences, educational expenses (i.e., all of those courses and e-books you've purchased throughout the year), website services, advertising, software, and so forth.
Tools
Tools that help increase your productivity, organization, and efficiency will go a long way in helping you make money online. Here are some great ones that are easy to use and will help you spend less time managing your business and more time making money with it.
Remember the Milk — Simple tool that allows you to create a to do list. Great for anyone who needs to keep up with due dates for services they offer, renewal dates for advertisers on their website, payout dates for affiliates, dates to review inactive subscribers, dates to review recurring memberships, dates to review recurring tool payments, and dates to review products before the refund period expires. If you use Gmail, you can add it to your Gmail interface on your desktop by going to Settings > Gadgets. This will conveniently put your to-do list in your inbox and make sure you are on top of action items that will help you earn or save money.
Buffer — Don't spend all day glued to social media just to keep your accounts active. Use Buffer to schedule updates for your Twitter profiles, Facebook profile and pages, Google+ pages, LinkedIn profile, and even LinkedIn groups. Use your social media time to engage with potential customers instead.
IFTTT — Tons of automation recipes that will help you manage online tasks. For example, you can automate the updating of your Twitter account by creating a recipe that will add tweets to your Buffer when new blog posts appear on a specified RSS feed.
Boomerang for Gmail — Follow up on leads, advertising inquiries, etc. with this tool. It allows you to set an email to pop back into your inbox after a specified number of days in case no one response. You can also schedule emails to go out at a specific time to get a better position in your customer's inbox without being online at that time.
Rapportive — Get details about everyone who emails you instantly inside your Gmail inbox. This way, you can make a good first impression and ensure a favorable response.
Cyfe — Instead of visiting your Google Analytics, Facebook Insights, Aweber dashboard, and dozens of other accounts, set up all of your important metrics as widgets in Cyfe instead. This way, you can see all of your important business data in one dashboard and save time.
Social Report — If you prefer getting your analytics via email, Social Report allows you to connect to Google Analytics, eBay, Bit.ly, Shopify, and all of the top social networks. Your analytics data and activity for those accounts will be emailed to you in a daily summary report.
Mint — See your bank account and credit card balances along with an analysis of your spending habits in one dashboard on your desktop or mobile device.
FreshBooks — While it's tempting to just invoice people within Paypal, FreshBooks makes it much simpler. Plus you'll be able to run reports on your earnings, client payment history, and other financial data much faster.
Google Alerts — Manage your online reputation by creating queries for your name, your business name, and your product names to be delivered to your inbox on a regular basis when they appear in search results.
StayFocusd — Do you find yourself lost on TMZ, Imgur, Buzzfeed, and similar sites that have little to nothing to do with your business? If so, StayFocusd is the answer for Google Chrome users. It allows you to set a list of domains that will be blocked after a certain amount of time is spent on them per day. It has flexible scheduling options so you can block these sites during specific times of the day and/or specific days of the week. For example, Monday through Friday from 8am to 7pm, you can only allow yourself 10 minutes total for all of your blocked sites. But you can peruse them at your leisure during non-working hours.
Additional Reading
Want more information on making money online? Here's a collection of more awesome articles that will help you earn income in a variety of ways.
Bottom Line
As you can see, there are plenty of ways to make money online. So be sure to implement the tips that fit best for your business today so you can have the best online income year in 2014.