Founded by Dwayne Lafleur, Ezoic is known to be one of the oldest ad operation partners in the industry. Lafleur started by building a Facebook advertising platform in 2007 which later was sold to Ad Knowledge. That spurred Lafleur to start Ezoic which solved an even more important problem: How to find that happy middle between monetization and usability. Here is MonetizePros' Ezoic review for publishers.
Introduction to Ezoic
Ezoic offers page layout optimization technology that tests placing ad units in multiple placements in a page. Ezoic's technology will analyze the performance of each ad placement and determine which is the most optimal for monetization and usability. They even take it a step further by improving the results over-time via machine learning technology.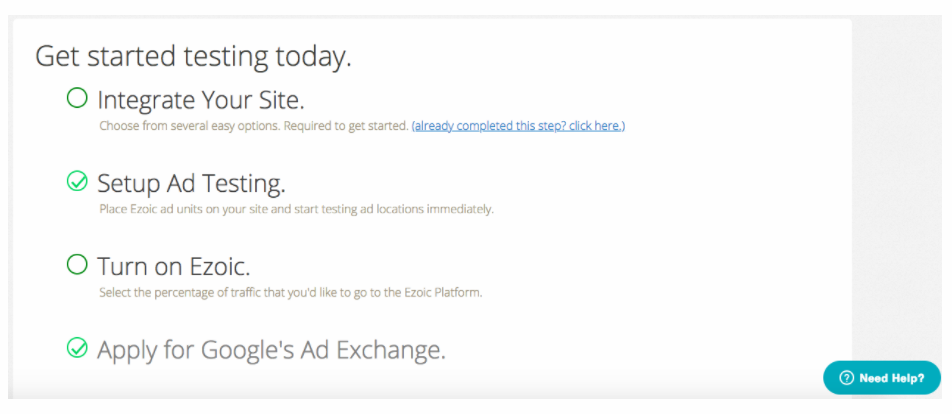 To get started, a publisher must complete the above steps. The biggest challenge with the Ezoic onboarding is the requirement to handover DNS control. Changing the name servers isn't difficult, however, making the decision to handover control is. For example, if Ezoic's technology goes down, your site could go down with it. Handing over DNS control makes a publisher so dependent on Ezoic which might be too risky for some publisher owners.
Having DNS control also gives Ezoic a lot of control over your website. For example, if there was a disagreement between Ezoic and the publisher then Ezoic becomes disgruntled, they could take action by taking down the website. While we've only heard of one DNS problem that happened with Ezoic, most have been smooth and issue free. As a publisher owner, if you have the stomach to give up your DNS control, then you could have access to an ad operations partner with a large suite of ad optimization tools.
Once you grant DNS access to Ezoic, you will need to setup your ads on the platform and make several ad optimization decisions. You'll need to decide how aggressively you would like to monetize your pages. The more aggressive you are, the more ads per page will show including auto-play video ads. You can also enable or disable ads like pop-unders, interstitials, and in-line ads. Finally, you have the choice to turn on Google Ad Exchange (AdX). If you don't already have access to AdX, we'd highly recommend you to choose this option. It is the best demand source for advertiser coverage and overall RPMs.
Once you have gone through the long onboarding process and made the necessary decisions, you can go ahead and turn on Ezoic. Ezoic's ad tech doesn't necessarily work off the start though. We've heard complaints from other publishers of broken pages, spikes in unfilled ad impressions, slower page speeds and sometimes the ad setup do not work altogether. Their customer service team is quite friendly once they respond and will be able to help you.
Ezoic Review for Publishers
Let us now go ahead and discuss the results of our research by providing you our beloved readers with the full and honest Ezoic review for publishers.
What we like most about Ezoic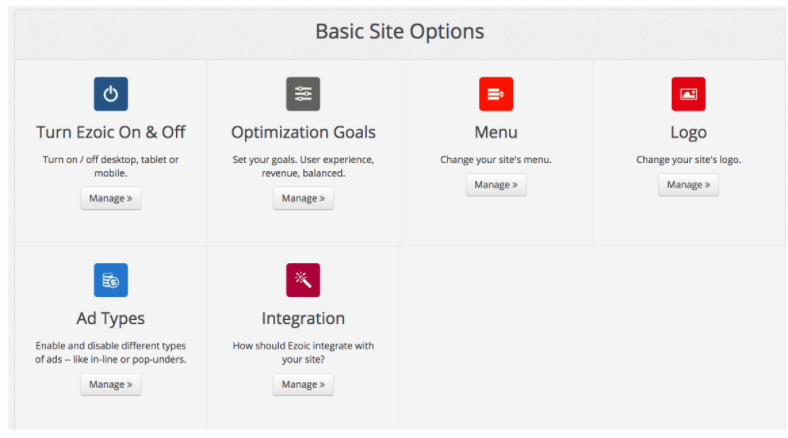 What we liked least about Ezoic
Underwhelming RPM performance

High unfilled ad impressions

Traffic Analytics does not offer much value above Google Analytics

Lack of DNS control

Can't use own DFP account

The affiliate program is not lucrative

Onboarding can be unreliable

Stopped making tech updates in late 2017
Publisher Requirements
Ezoic seems to focus on small publishers that are looking to make the next step after implementing Google AdSense but are not sophisticated enough to learn DFP. Therefore, they have a low minimum threshold to be accepted of 50k pageviews per month. If your publisher network gets over 50k pageviews per month and you don't have the patience to learn DFP, you can sign up with Ezoic here.
Terms: https://www.ezoic.com/terms/
Language Requirement: All sites that Ezoic work with must be written in an AdSense supported language. You can find a list of these languages by clicking here
Prohibitions: The site must be in compliance with Google's policies. This includes, but is not limited to:
Not falsely encouraging clicks

No invalid clicks/impressions

Not offering copyrighted material/downloads

Not offering counterfeit goods

The site should have reliable traffic sources

Sites shouldn't redirect users to undesirable pages/ sites/pop-ups or pop-unders

Gambling content

Not using automatically generated content

Not creating empty pages with no original content

Not using content that is copied from other web pages

Not keyword stuffing

Not using adult / dangerous / derogatory content

Not offering alcohol/tobacco/healthcare related content

Not using aggressive/threatening content

Not using illegal content
Company Stats
Head Office: Carlsbad, California, United States
Other Offices:
Ireland

Virginia, US

Singapore
Founder: Dwayne Lafleur
Ad Serving: International
Categories: Native video advertising, Artificial Intelligence, SaaS, Test, and Measurement
Date Founded:  Oct 1, 2010
Company Type: For-Profit
Company Size: 11-50 Employees
Contact and Support Information
Website: http://www.ezoic.com/
Facebook: https://www.facebook.com/ezoic
LinkedIn: http://www.linkedin.com/company/ezoic-inc-
Twitter: http://twitter.com/ezoic
Email: [email protected]
Phone Number: (760) 550-9689
Onboarding Rating: 2.5 out of 5
While the Ezoic onboarding seems smooth at first, once you actually launch it, that's when the fun really happens. The onboarding system is easy to use. Many publishers get a huge surprise with the requirement to handover DNS control to Ezoic. Unsurprisingly, this is non-negotiable for many publishers. If that's the case for you, we'd recommend checking our other ad operations partner reviews.
For those that are fine with giving up DNS control then the rest of the onboarding is making other ad inventory related decisions like how aggressively you plan on monetizing and ad unit specific info. Once you implement Ezoic's code on your site and turn Ezoic on, make sure to thoroughly check that everything is working fine. We have heard issues with broken pages, unfilled ad impressions or broken ad inventories. If that's not the case, then you're off to the races with Ezoic's ad tech!
Reporting Interface Rating: 4 out of 5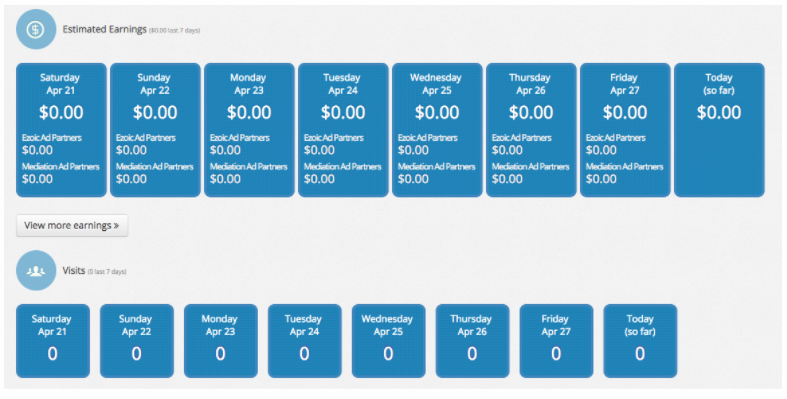 Ezoic has a huge wealth of stats. Of all the ad operation partners that we've reviewed, Ezoic has the most. Their Advanced Reporting allows publishers to cross-reference almost any stats available.


Ezoic's Traffic Analytics acts more like a simplified version of Google Analytics.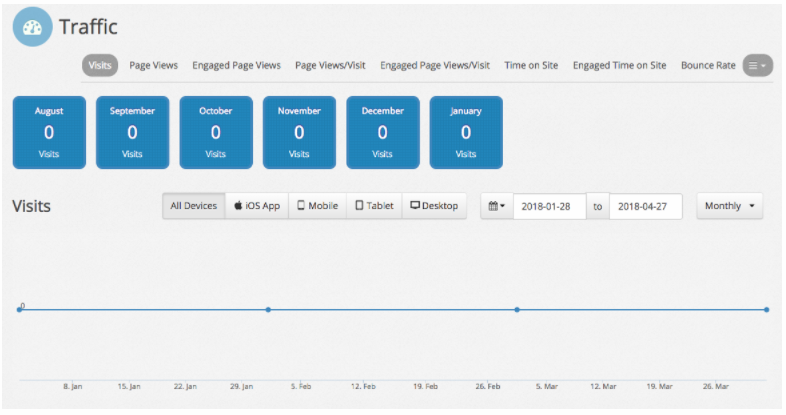 The revenue stats are holistic and easy to read and the Big Data Analytics is quite interesting and plentiful.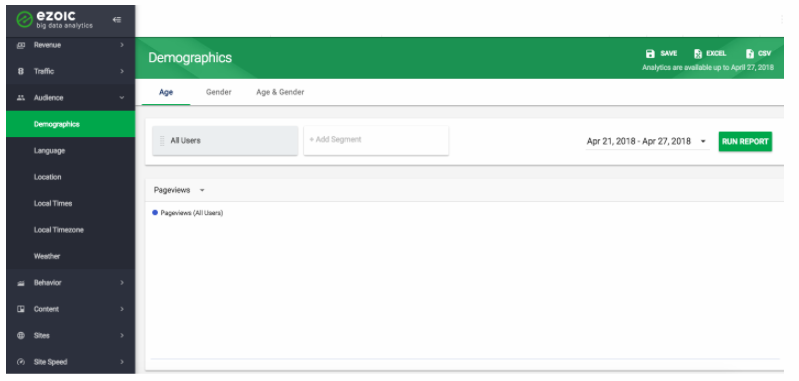 The biggest critique with the reporting interface is it isn't the most aesthetically pleasing. We were also left scratching our heads with the metric that Ezoic leverages the most: EPMV. Why make a whole new metric instead of referring to the commonly used RPM metric? This is confusing to so many publishers and really shows a lack empathy for the publisher. Publishers more commonly call this metric, Session RPM. Perhaps Ezoic will come to their senses one day and will do the same.
Payment Rating: 4 out of 5
Ezoic pays out on a Net 30-day basis. These are great payment terms from a trusted ad operations partner. However, we have spoken with publishers that have had issues receiving payments. This seems to be quite rare though.
Payment Methods:
Cheque

PayPal

Direct deposit (Only Available in the US)

International Wire Transfer via Payoneer – please note that international wire transfers are subject to a 2% currency conversion fee or a $15 fee to receive funds in USD.

Payoneer Prepaid Card
Minimum Payout: $20
Additional Info:
To get paid on time at the end of the month, you will need to:
Earn at least $20 in the previous earnings period

Make sure you fill out your tax information

Have chosen your payment method preference
Support Rating: 3 out of 5
The support team is quite friendly however they are less responsive compared to the other ad operation partners. Their system could be a bit rigid so sometimes the solution you want is not possible. The support team tends to do a good job communicating. We just wish they were faster with their responses.
Performance Rating: 2 out of 5
This is by far Ezoic's worst aspect and for most publisher's, the most important aspect. We have seen split tests of Ezoic versus other ad operation partners and Ezoic's ad tech was consistently outperformed when it came to Session RPM and Page RPM.
Ezoic makes some bold promises related to increasing RPMs and sophisticated machine learning technology. The theory is that their layout optimizer will find the best ad placements to get the highest CTR and therefore, Page RPMs. Their usability engine will optimize the page to maximize user experience and increase the page views per sessions which will, in turn, increase the Session RPMs. However, in practice, this does not seem to happen. Most of their claims seem to be marketing talk instead of actual sophisticated technology that can prove itself.
Affiliate Program


We have been part of the Ezoic's Affiliate Program for several years and have been quite disappointed. It has not been a lucrative source of revenue for MonetizePros. While we have sent over many publishers to try out Ezoic and a good number signed up, it was really only the small publishers that signed up.
This comes down to Ezoic being a better fit for smaller publishers vs. large publishers. Since only small publishers that we referred signed up, they would only earn a small amount with Ezoic and wouldn't even run Ezoic for long. Even if they did, the affiliate revenues were so small that it wasn't worth paying attention to. For example, if publisher 1 earned $100 in a month, an affiliate would earn $3. Therefore, we'd recommend applying your affiliate talents elsewhere.
Pros
Useful toggle and optimization options

The great wealth of reporting metrics, dimensions, and cross-referencing options.

Integrations are quite easy to setup
Cons
Performance is over-promised and under-delivered

Several potential problems with the implementation

Rigid DNS control requirements

The support team is a bit slow

Affiliate Program

Tech features have screeched to a halt

Can't use your DFP account
Overall Rating: 3 out of 5
Conclusion
Ezoic is a trustable partner that has been in the ad tech industry for a very long time. What they have built is impressive. Their platform is extensive with some of the most publisher stats available in the industry. Their integrations are easy-to-use and the toggles within the platform are useful.
An ad operations partner can have all the bells and whistles but without strong RPM performance, they offer little value to publishers. At the end of the day, publishers want to work with an ad operations partner that maximizes their ad revenues. They shouldn't just tell publishers that they maximize ad revenues, they should actually show them with hard stats.
Ezoic has had a lot of success targeting less sophisticated small publishers that are looking to make the next step after implementing Google AdSense. DFP tends to be too intimidating for these type of publishers and Ezoic offers a nice alternative. These publishers can have access to an easy-to-use platform, get higher RPMs vs. running AdSense and don't have to worry about any ad operation headaches. This is fine for small publishers that get under 5M page views per month. Ezoic has shown testimonials of strong increases and most of these are benchmarked against simple AdSense setups.
However, for publishers that have more at stake and more resources available, giving away DNS control and not maximizing ad revenues will not suffice. Using a solution like Ezoic wouldn't work because there would be too much ad revenue being left on the table and it would be too risky to give up DNS and ad inventory control just to Ezoic. Instead, more sophisticated ad operation partners are a better fit for large publishers that focus on realizing ad revenues being left on the table and require keeping control of their ad inventory and DNS.
At MonetizePros, we sift through ad operation partners marketing clutter in search of real conclusions. We look for conclusions important to publishers like, which ad operations partner will get them the highest return on traffic. The best way to determine the top performing ad operations partner is with 50/50 split tests. Therefore, there is no shadow of a doubt which ad operations partner earned more for the publisher under fair conditions. You can expect continued analysis of these split tests within our future posts and reviews.