A test campaign is a type of display ad campaign that effectively allows advertisers to try out a site for consideration in upcoming initiatives. If a publisher performs well during a test campaign, they will generally be invited to submit larger proposals for more traditional campaigns.
Test Campaign Strategies
Some sales reps or publishers may elect to offer an advertiser the ability to run a test campaign from time-to-time. This offer typically makes sense if:
The publisher is confident that their site would perform very well for a specific advertiser.
The advertiser has been hesitant to include a specific publisher on a campaign.
Generally, a test campaign involves some sort of exception being made by the publisher. For example, the minimum spend amount may be waived in order to allow an advertiser to run a campaign at a lower price point. The publisher may also make significant concessions on the rates normally charged in order to reduce the advertiser risk.
Some publishers may elect to present the opportunity to run a test campaign at zero cost to the advertiser. Again, this strategy only makes sense if you are very confident in the ability of your site to deliver value but are struggling to convince the advertiser to give you a shot. Giving away valuable inventory for free is only worthwhile if you expect the same advertiser to pay for additional inventory in the future.
It's important to make it clear that the discounted or bonus media pricing is applicable to the test campaign only.
Test Campaign Basics
Though all advertisers and sites vary, some rules of thumb for test campaigns include:
Budget of $1,000 to $5,000
Typically one month in length
One or two line items / creative sizes
Though advertisers will occasionally request a test campaign, it is often a technique employed by publishers looking to attract new customers.
Test campaigns can be relatively unsolicited, meaning that it may make sense to send an advertiser a detailed proposal for the "bargain" campaign you are willing to offer them. This could look something like the following: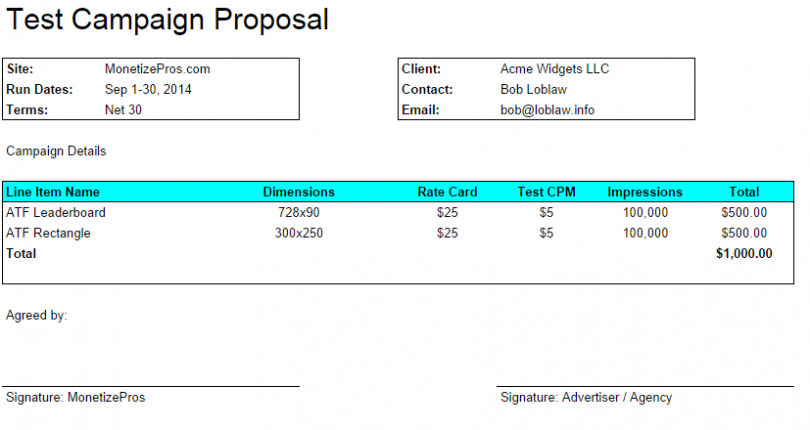 RELATED POSTS