Definition of
Split Testing
The process of testing different variations of the same web page in order to identify a layout or strategy that results in superior performance.
Split Testing

 in Depth

Also known as A/B Testing. This is basically running an experiment with the goal of determining which variables impact performance of a web site (and specifically, which variables result in higher performance). There can be many goals of a split test, but they generally involve increasing key metrics such as time on site, conversion rate, click rate, or ARPU.

This process gets its name because it generally involves splitting traffic to a specific page into multiple segments, with each group seeing a slightly different version of the page. Below is an example from WhichTestWon.com, a valuable resource for split testing ideas and inspiration: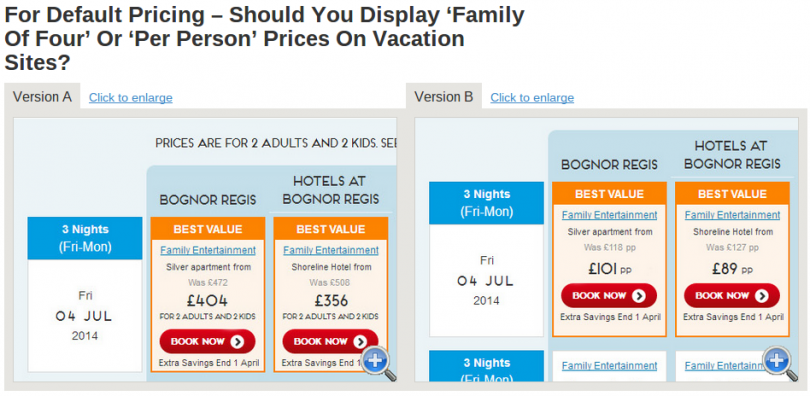 In the example above, the differences between the two versions are minimal and not related to the site layout or design. Split testing can involve changes of very different magnitudes; in some cases, a single word may be changed, while in others the complete layout of the site is affected.
As a best practice, limit the number of variables you change in a split test. Changing too many factors at once will give you uncertain results; you won't know which changes helped and which hurt.
Split Testing & Monetization
There are countless ways to use split testing to improve overall monetization. These include:
Testing ad styles, colors, and fonts (this can be done through AdSense Experiments)
Testing ad positioning and sizes (this can be done through services such as AdPushup)
Testing price points of paid membership products
Testing different affiliate marketing offers
Testing different display ad and affiliate networks
Test email layouts, subject lines, and split tests (platforms such as MailChimp offer this functionality)
Split Testing Tools
There are a number of tools designed to help site owners conduct scientific split tests. These include products intended to greatly simplify the process, enabling those with limited technical skills to set up different designs and run tests. Ten of these tools are highlighted in the resources below.
To many site owners, split testing seems like a process that is high complexity and low priority.
In reality, however, it can be pretty easy thanks to tools such as Optimizely and AdSense Experiments. Moreover, split testing has the potential to result in a meaningful increase in bottom line revenue for sites that are already generating significant traffic.
If you're not sure where to begin testing, here is some advice for getting started:
If you use AdSense, set up an Experiment using the dashboard and monitor the results.
Sign up for one of the "dead simple" split testing apps highlighted below; there are low end tiers with very reasonable price points for each.
Sign up for the WhichTestWon newsletter (also linked below) to start getting ideas for test implementations
Identify your largest revenue stream, and set up a single split test
See Also
Related terms include:
Heat Map
.