At a glance, FAQ:
What is the IAB Standard Sizes? 
The most common IAB Standard Sizes are 300×250 medium rectangle, 180×150 rectangle, 160×600 wide skyscraper,728×90 leaderboard.
What are the benefits of IAB Standards? 
The benefits for most publishers by knowing the most common ad sizes is that they can build site designs that incorporate these ad units as a way to maximize display ad earnings.
What are the highest performing banner ad sizes? 
The medium 300×250 – Medium rectangle, 336×280 – Large rectangle, 728×90 – Leaderboard, and 320×50 – Mobile leaderboard. 
---
IAB standard ad units are the most commonly-used creative sizes created by advertisers.
These ad units include:
300×250 medium rectangle
180×150 rectangle
160×600 wide skyscraper
728×90 leaderboard
Below are some of the specs laid out by the IAB for these ad units: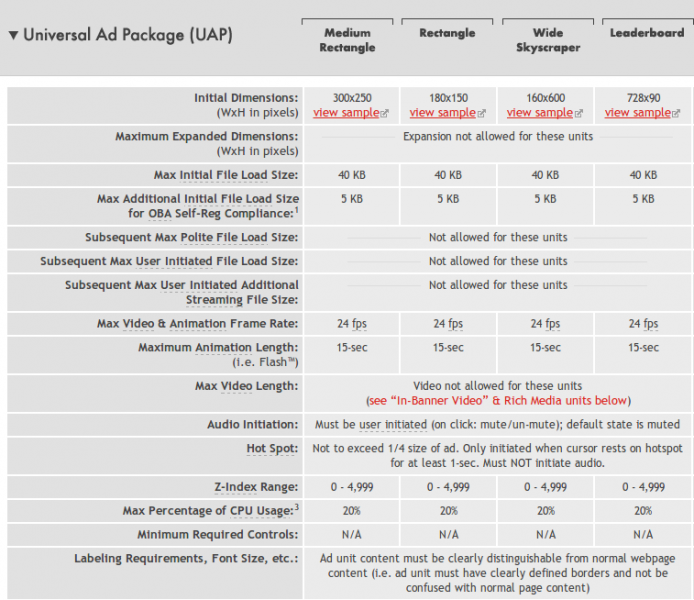 Benefits of IAB
Because these are the most common types of ads, it is generally in the best interest of publishers to build site designs that incorporate these ad units. Doing so gives them the deepest possible pool of advertisers and ads to choose from, and reduces the likelihood of being unable to work with a would-be client due to lack of acceptable creative.
For example, many page designs feature some combination of a 728×90 leaderboard, 300×250 rectangle, and 160×600 skyscraper. Site designs that use less traditional ad units may run into issues with limited optimization opportunities (for those monetizing through networks) and lack of creative from advertisers (for those selling directly).
Advantages for Network Publishers
If you are monetizing a site primarily through ad networks such as Google AdSense, you should have a strong motivation to use IAB standard ads.
This is especially true for the 728×90 leaderboard and 300×250 rectangle. Though all four ad units are part of the "universal" package, these two are by far the most common. Almost every digital campaign will include leaderboards and medium rectangles, though many advertisers don't create the other sizes (180×150 and 160×600).
The 180×150 rectangle is by far the least common of the IAB standard units. This ad unit will likely be replaced at some point by the 300×600 large rectangle, which has become increasingly popular in recent years.
For most publishers, utilizing primarily IAB standard units will be an effective way to maximize display ad earnings. However, there are some drawbacks to these ad units as well.
Unfortunately, many of the IAB standard units are not particularly conducive to integrating into the content section of a web page. Specifically, the width of the leaderboard (728 pixels) and height of the skyscraper (600 pixels) means that their inclusion results in a layout that is not visually appealing or user friendly.
The 300×250 rectangle, however, can be more easily integrated into the content of an article or webpage, making it the most useful of the IAB standards. Many publishers will experience the highest RPMs from this ad unit. Below is an example of a 300×250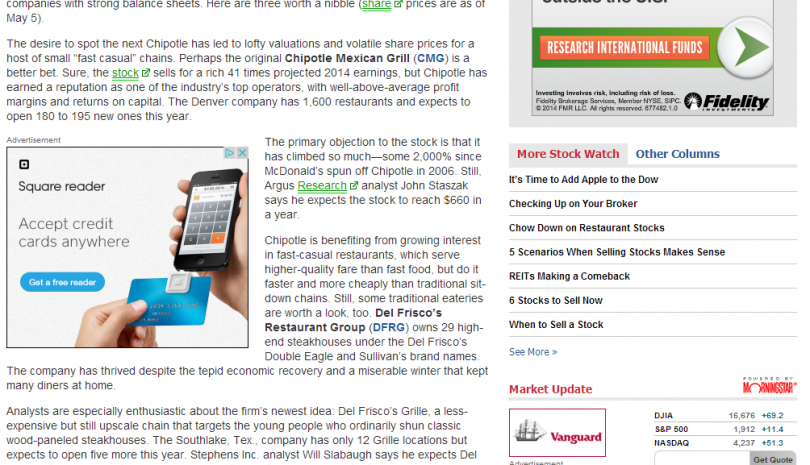 Other smaller ad units–such as the 468×60 banner and even smaller "half banners" can be useful as well due to the ability to insert them into content-heavy sections.
Good, Better, Best
In addition to the UAP, the IAB has also developed a package of display ad "Rising Stars" that it expects to account for a growing share of ad impressions going forward. These ad units, which are generally larger than the current lineup of standard ad units, are being promoted as a more effective way to disrupt banner blindness and help advertisers break through to visitors.
Currently, use of these ad sizes is limited. Until advertisers begin producing creative in these sizes more regularly, publishers will be unlikely to incorporate these ad sizes into their site designs.
Below is a layout highlighting these various ad units (full descriptions here):