Under a freemium model, the majority of the features are generally available to all users while a small portion is accessible only by those with a paid membership. This model is attractive to many publishers and webmasters because it allows the site to be indexed by search engines and consumed by all visitors while also offering value to those looking for additional content or advanced functionality.
The concept of a freemium model is best explained by some examples of this approach in action. The best example is LinkedIn, which includes a free service that the vast majority of its users select and a number of paid membership tiers with various benefits: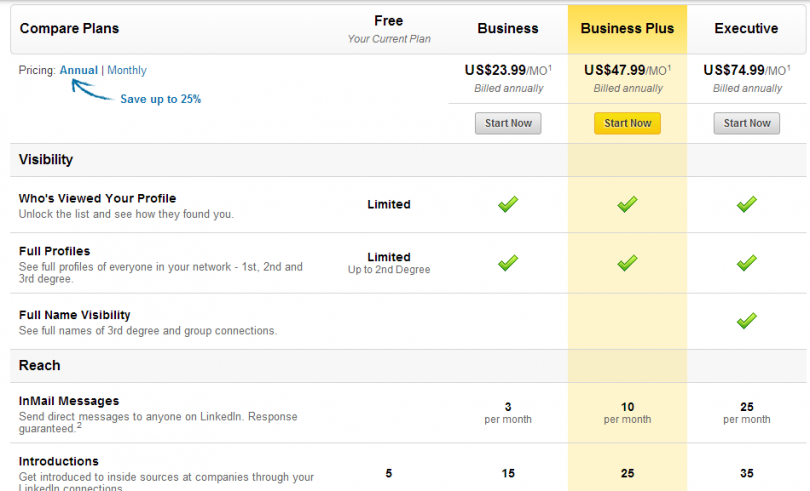 Another example of a freemium business is Dropbox, the cloud-based file sharing and storage site. Most users maintain a free membership that gives them up to 2 GB of storage. "Power users" with higher storage demands are able to upgrade to paid memberships at various price points: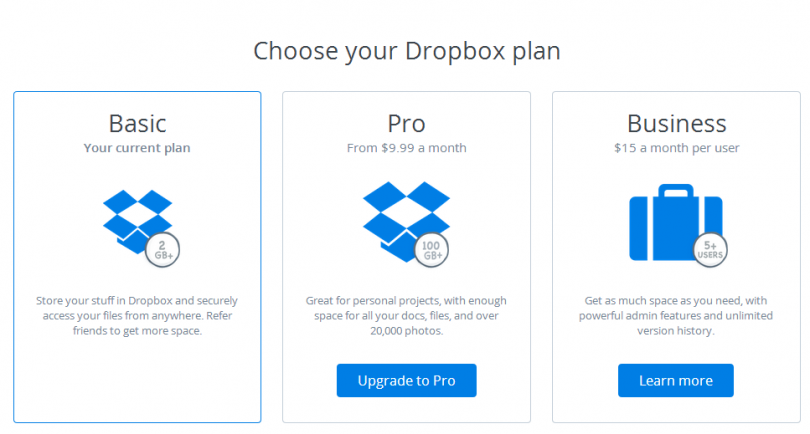 In these cases, the freemium model is applied to the entire business. It can also be applied to individual aspects of a web site, such as tools.
For example, Loopnet.com features a searchable database of real estate across the U.S. Non-members can access a limited number of search results, which creates an opportunity for the site to "upsell" paid memberships that unlock the full functionality: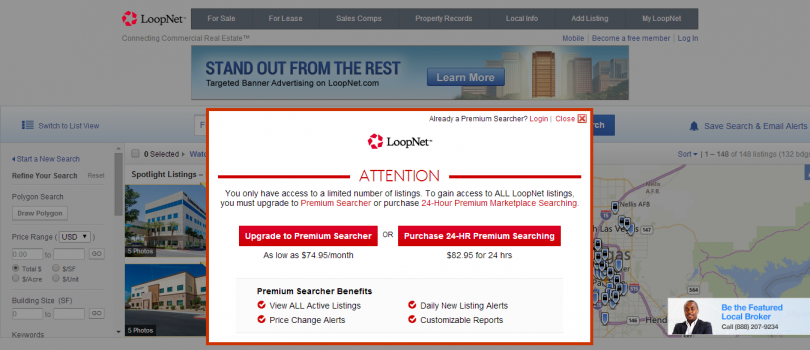 Compete is another example of a tool that has different levels of functionality for different levels of users. Public visitors to the site are able to pull a limited information of competitive intelligence about a site. Upon using the Compete tool, they will be notified of some additional features that are available with an upgraded Compete PRO membership: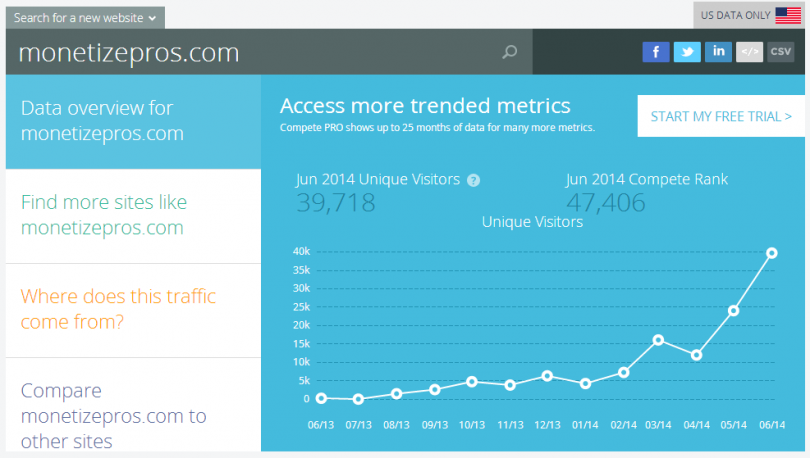 Other Examples of Freemium Implementations
Below are a couple examples of sites that operate under a freemium model:
New York Times: This site lets visitors view a limited number of articles each month, and then puts up a wall that forces them to register (and pay) if they want to view additional pieces of content.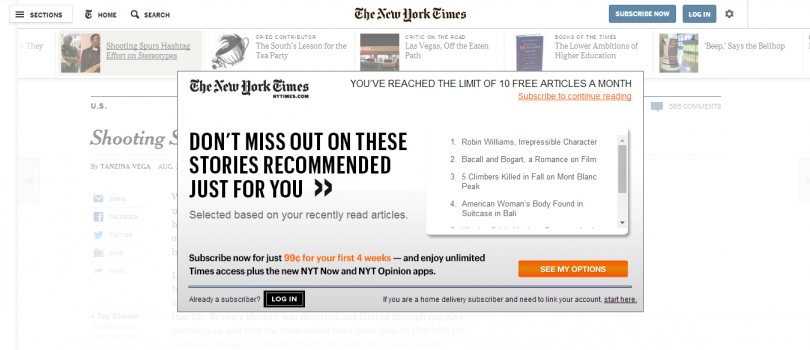 ESPN: The popular sports site takes a different approach to freemium content; most of the articles on the site are always free to access, with a small percentage of "premium" pieces kept behind a paid wall: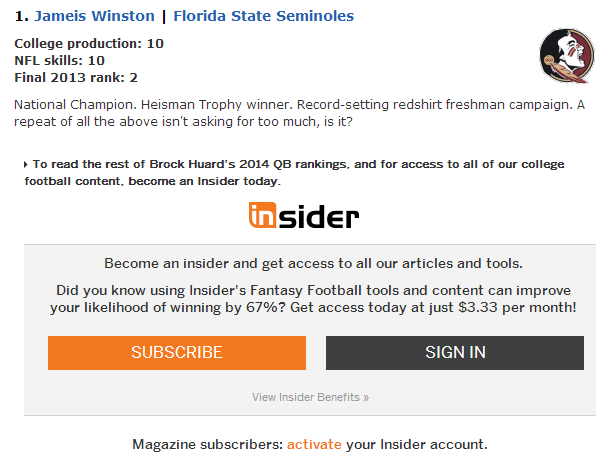 When building a new site or tool, there are a number of different options available. If the site contains or will contain a paid membership option, the freemium model can often be a sound strategy. However, as discussed in the section below, there are some drawbacks and limitations as well.
Freemium models allow for a significant amount of flexibility in creating and marketing features.  The most important part of this strategy relates to the relative value of the offerings.
Specifically, it's important to build a product in which both:
The free product is useful; and
The increase in utility for the premium version is significant
LinkedIn is a good example of this; the free membership delivers a tremendous amount of value to members, but there is also a very clear set of benefits that come only with a paid subscription (e.g., visibility in to who is viewing your page). If the free product was extremely limited and not very useful, there would be far fewer members to whom the paid memberships can be marketed. In many cases, visitors who discover the site's free content through a search engine or referral will eventually upgrade to a paid membership once they become convinced of the value.
There are a number of ways that non-paying customers can be convinced to upgrade:
Email autoresponder (additional resources below)
House ads
On-site / in-product messaging (more on this directly below)
It's also important to clearly communicate the opportunity to unlock additional functionality once free visitors have reached capacity. The screenshot above of Compete is a good example of this; it is clear that more information is available to paying members.
Advantages of Freemium
If you're building a high quality site, tool, or resource you may be tempted to put it behind a "pay wall." In that case, users would have to have a paid membership (or a free trial, if you offer one) to enjoy the full functionality. Ideally, there will be a way to allow visitors to your site to experience part of the product while keeping the most useful functions behind a pay wall.
There are several advantages to taking the freemium approach:
Allows for additional indexed pages. In addition to being off limits to non-members, premium content is also unavailable to search engines. That means that any tools or pages are unlikely to rank well, which diminishes the organic traffic potential.
Larger pool of potential customers. By exposing visitors to your free content, you begin creating a pool of potential customers to whom you can "upsell" paid memberships.
Opportunities for alternative monetization. Visitors who ultimately do not upgrade can still be monetized in a number of different ways. For example, LinkedIn shows numerous display ads to all of its free members.
Freemium Model Keys
To successfully implement a freemium acquisition model, you have to place limitations on certain aspects of your product. You can do this in several ways:
Feature Limitations: offering extra features, enhanced functionality of available features or ad hoc paid upgrades
Usage quotas: storage limits, monthly credits, data processing quotas
Limited support: tiered access to customer service and support resources
By limiting access or usage in your product, you create friction for free users, which encourages them to upgrade to your premium tier
---
FAQ
What does Freemium Mean?
Freemium is a combination of "free" and "premium" is a pricing strategy that offers a basic service for free, additional premium functions or services are only available for a fee
Does freemium strategy work?
For services that's new to the market, offering a freemium version can be a quick way to drive trial because of the low barrier to entry. It also makes a product more shareable to build word of mouth
What's the difference between Free and Freemium Model?
In the "free model", you give a locked version or allow a certain amount of time for the use of a product so that in hopes of getting the person to subscribe to the service, whereas " Freemium model" you allow them to have the basic service for free then offer the premium service for a fee