Last edit: December, 2015
One of the most valuable assets any online property will hold is its email list. Generally built up over a period of time, an email list represents the most loyal list of visitors to your site who have chosen to engage with you on a deeper level than most who simply pass through. Email is a cost-efficient way to better monetize your site, whether you're selling a product, running display ads, or driving visitors towards affiliate links.
Given the importance of a large, quality email list to any online business, the selection of an email provider becomes a very key decision. There are a number of providers out there, each offering generally similar products that are differentiated by price, ease of use, and level of customization (among other things).
Because each site is so specialized, it's impossible to make a universal recommendation. Different sites can have very different experiences with these providers, depending on how they are being used. So you'll see articles like these show up side-by-side in the search results: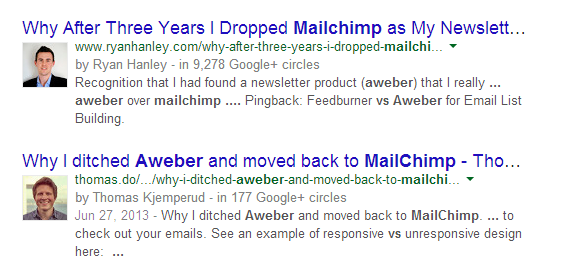 There are a number of factors that go into choosing the best email providers, and the priority of these factors to you will determine which is the best choice. We get a lot of emails daily, asking "What's better: aweber vs mailchimp" so we're happy to tell you who we use (and why), but first we'll explain the different characteristics that you should consider.
Deliverability
To say that being able to deliver your messages to your audience is important is obvious. But it's not necessarily a slam dunk; achieving perfect deliverability can be a challenge if you pick the wrong email service provider (ESP).
Why It's Important: As email providers have ramped up efforts to keep unwanted email from their users' inboxes, the percentage of commercial email that actually makes it to the inbox has dipped a bit. By some accounts, the overall deliverability rate is about 76%–meaning that one out of four emails doesn't make it to the desired inbox.
Ultimately, the ESP's reputation has a big impact on the willingness of Gmail, Hotmail, and others to let their messages get to the inbox. So the spam complaints from other clients of an ESP hurt everyone using that ESP, which is why many of these companies make such an effort to only work with quality partners and prevent companies who are buying email lists from using their server.
Who's Best:
To a general consensus, there are now four players considered as the major email providers.  AWeber, MailChimp, and Getresponse were considered as the top three previously.  However, the entry of Constant Contact to the market has opened up the competition to a higher level.  AWeber previously had a deliverability rate of over the mid-90's while the other two had rates from the lower 90's to the middle.  Constant Contact has a higher rate of deliverability of 97 percent as compared to the others.  This ensures messages will get to the recipient it is intended for.  
Constant Contact is registered in most ISPs.  This means using metrics that detects when emails are seen as SPAM when it is not.  Using methods to authenticate genuine mails, the delivery rate is ensured.  Plus, with constant review and check of its compliance capability makes sure users get rid of fraudulent emails.  
Signup Forms
Depending on how you plan to push visitors to become newsletter subs, the convenience and flexibility of ready-made signup form options may be an important consideration.
Why It's Important: An ideal email service provider would make it as easy as possible to get new members on to your list. While the technical side of adding subscribers is relatively easy and standardized–at least among the major providers–there are some differences in the assistance they offer from a stylistic and marketing perspective.
Having a signup form that both looks good and captures all the fields you want is important. Depending on the theme and styling of your site, you may like one of the following much more than the other:
Who's Best:
Signup forms enable the user to have their personal details on the platform.  MailChimp has around 30 fields that need to be filled up prior to having the email system.  User friendly and less complicated HTML forms are the best way to go, and MailChimp has them.  AWeber and GetResponse also have their own DIY themes to make the emails more attractive.  
Now, Constant Contact aims to deliver the above and more.  Apparently, the popularity of social media is one of its integrated apps.  This means users can easily connect to their emails and the different social media platforms.  The best thing about Constant Contact is also its features for users to connect to mobile devices such as tablets and phones.  Plus, it also comes with the TEXT facility to register.  
Pricing
Unless you have an unlimited budget, pricing matters.
Why It's Important: When you're only sending a few thousand emails a month, the price you're paying to do so probably isn't all that important. But if and when you grow your list to require millions of emails on a monthly basis, email can become a major expense.
Who's Best:Among the most popular in the market is Constant Contact, and from what is shown there is the prominence of choice for the users.
For Constant Contact, their Email Plus offers a low and affordable price that gives features similar to other email systems' higher platforms.  The CTCT,
Their Plus plan priced at $250.75 seems higher seems higher if only price is considered, but is actually a combination of the 3 higher packages GetResponse offers.  CTCT Email Plus includes:
Salesforce Integration (GetResponse Max: $209.10/mo)

Account Manager (GetResponse Enterprise: $849/mo)

10 Users (GetResponse Enterprise: $849/mo)
Features GetResponse does not offer:
Additional annual prepay discounts for NonProfits.

Customizable Templates, Surveys & Polls, & Coupons

Articles, Guides & Videos, Seminars & Training, Live Expert Support
Each provider has different tiers and pricing models, so a direct comparison is tough.
For MailChimp, the monthly fee for fewer than 50,000 subscribers depends only on the number of subscribers:
P.S. MailChimp have changed this up a bit to make your life easier. There are more in-between options, i.e. 2,800-5,000 subscribers are now $50 so you don't have to pay $75 right away for the 10,000 plan.
| Subscribers | Monthly Fee |
| --- | --- |
| 500 | $10 |
| 1,000 | $15 |
| 10,000 | $75 |
| 20,000 | $150 |
| 30,000 | $215 |
| 40,000 | $240 |
| 50,000 | $240 |
For AWeber, the pricing schedule looks like this: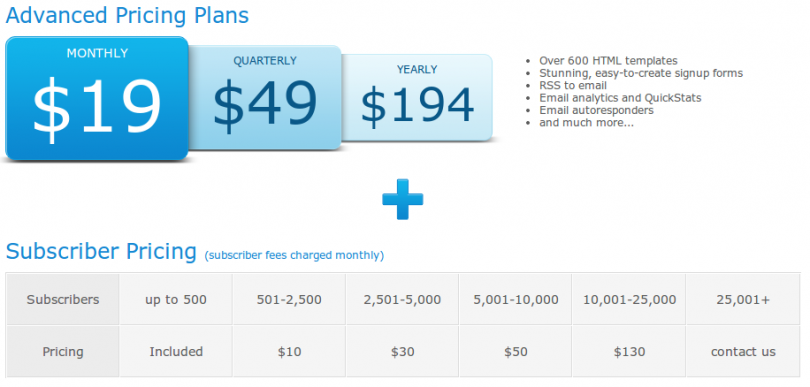 And for GetResponse it's as follows: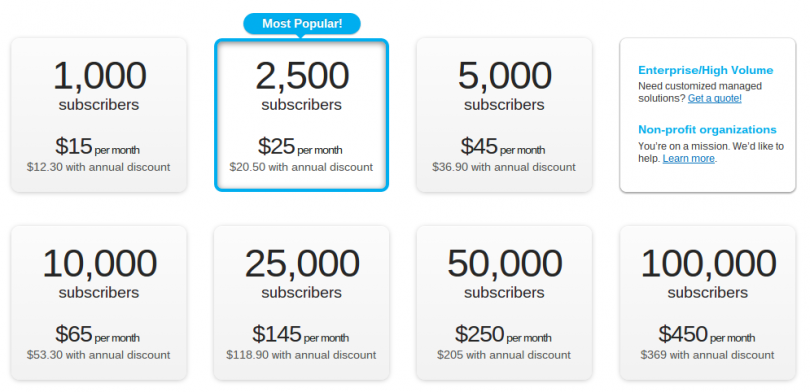 For unlimited emails to 25,000 subscribers, here's what you'd pay in monthly fees:
In other words, there isn't much difference for smaller volumes. MailChimp pricing scales based on both number of subscribers and emails sent at higher levels. If you have a large number of subscribers and/or a large number of emails sent per month, here are some price points:
| Subscribers | Monthly Emails | Monthly Cost |
| --- | --- | --- |
|  100,000 | 1,200,000 | $475 |
|  500,000 | 6,000,000 | $2,100 |
|  1,000,000 | 12,000,000 | $4,200 |
|  2,000,000 | 24,000,000 | $8,300 |
|  5,000,000 | 60,000,000 | $20,700 |
|  10,000,000 | 120,000,000 | $40,700 |
Autoresponder
Some sites may not use autoresponders at all, but those looking to drive subscribers to a higher level of membership or market their existing content will use this feature regularly.
Why It's Important: If you plan to use a pre-set email campaign to highlight other products and services to your subs, having a good autoresponder is vital. (For more on this topic, check out our guide on email monetization.)
Who's Best: Autoresponders aim to get the users the quick communication to their market.  AWeber and MailChimp have quite very useful systems for this.  Constant Contact offers the basic response systems such as those of other email providers.  Functionality of the auto response is essential, and CTCT seems to have the user friendly ease of use that most people are looking for.  
Ease of Integration
If you're looking to send basic newsletters and autoresponders, you probably won't be too concerned with integrating other tools into your email.
Why It's Important: If your plans for email go beyond a simple RSS newsletter delivery tool, you'll want to make sure you have a platform that plays nice with others. Depending on your plans for email marketing, you may want to select a platform with easy integration to other services such as social media, survey tools, coupon codes, and order confirmations.
Who's Best: MailChimp is generally viewed as having the easiest platform to integrate with other apps and tools.
Check out their Integration Directory to get the full picture; if you'll want to integrate your email with one or many of these tools, you'd be wide to research the ease of making this connection before signing up.
Customer Service
Perhaps the biggest variance among the major providers is perhaps in the level of support and service provided.
Why It's Important: In setting up, integrating, and maintaining a smooth email marketing campaign even the most tech-savvy publishers are likely to have a few questions or run into a few roadblocks. Being able to get in touch with someone at the company who can answer your question can both calm your nerves and help you be more productive with your email campaigns.
Who's Best: Customer support for other email platforms such as MailChimp and AWeber seems to be limited during weekdays for only as much as 12 hours  Weekends have shorter periods such only 8 hours for AWeber. Constant Contact, however, offers longer support hours during weekdays with 14 hours during Mondays to Thursdays and 13 hours on Fridays.   Perhaps the drawback for CTCT is its limited customer support during weekends.  Nevertheless, they offer community access in its social media platforms.  
Affiliate Links
If your site relies on affiliate marketing as a primary source of revenue, you may want to do a bit of additional homework.
Why It's Important: If you monetize your traffic through affiliate marketing, you'll obviously want an email provider that doesn't place any restrictions on your ability to include affiliate links in your emails.
Who's Best: MailChimp is definitely the harshest on affiliate marketers. Though they don't ban affiliate links completely, they will shut you down if you're sending emails that contain links to any of their blacklisted domains (a list that just so happens to include a lot of merchant sites).
Our Official Recommendation
Most marketing strategists need to have the best email system that will assist them in their business.  Constant Contact has the facility and ambition to be of great use to its users.  It comes with facilities that enable constant communication to the market.  With the email platforms that can be easily integrated to different social media systems as well as mobile devices, CTCT is the choice for online users.  
Pricing models are also main reasons why Constant Contact is the choice.  With two platforms to choose from, you get options for your preference.  Plus, the higher platform of CTCT comes with features that are offered with other systems with a much higher price.  Essentially, the ease of use of Constant Contact makes it a better choice for those who want to have ease of integration, choice options, affordability, and sign up formats.  Get Constant Contact now and enjoy the features the system offers for your online business.