As marketers we're competing with some of the biggest companies in the world. Sometimes having access to the right tool may be more useful than a dozen employees.
I'm not here to chant about how the money is in the list. If you're reading this, you already know that. Here's everything you'll ever need to take your email marketing campaigns to the next level.
Best Email Marketing Software
Choosing the best email marketing software for your business is something you'll have to do on your own, but we're here to help. Everyone has different needs and not all businesses are equal. Some companies send out more email than others, some prefer plain-text, some need fancy templates and some want CRM integrations.
Here's an overview of each of the top-rated tools out there for sending your emails out.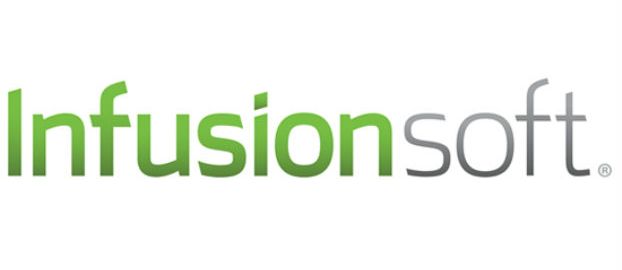 InfusionSoft is one of the most famous email marketing tools of all time – use it right and you'll make your money back ten-fold. It's not just an email marketing tool, but a full-blown marketing automation assistant with hundreds if not thousands of features and unlimited possibilities.
Here's just some of it's amazing features:
Easy to create web forms
Traditional email marketing capabilities w/ advanced list segmentation
Advanced autoresponders
One of the best CRMs (customer relationship managers)
Their own shopping cart system
Brandable reports
Integrates with hundreds of tools through their API
Affiliate management system
Create landing pages with ease
Price: $199/mo

MailChimp is the most popular email marketing software and there's a lot of reasons for that. It's free to get started with, has amazing deliverability rates, features autoresponders and opt-in forms, integrates with just about anything and has super flexible pricing.
Price: Free up to 2,000 subscribers & starting from $10/mo afterwards

GetResponse is another super popular tool and offers competitive pricing, a myriad of pre-tested templates for you to use, hundreds of integrations, an amazing affiliate program and great support. List segmentation, landing pages, signup forms, split-testing, send-time optimisation, a super friendly user interface are just a few things you can expect when signing up for GetResponse.
Price: $15/mo & up

More and more marketers are switching from traditional tools like Aweber, GetResponse and MailChimp to ActiveCampaign. Why? It's one of the best email services that has a CRM attached to it as well. It helps you gather a lot more information about your leads and start segmenting them based on that. It's time to personalise your automated campaigns.
Price: Starting at $9/mo

Aweber is known for having some of the best email marketing templates in the industry. It's not as flexible as MailChimp for example, but it's definitely better for a less tech-savvy users. You don't need to be a designer and a developer anymore, to create amazing autoresponders and opt-in forms. They've also got much better analytics than most providers.
Price: Free trial & starting from $19/mo

Use Benchmark's drag and drop editor to create beautiful autoresponders and test them on every single device you may think of. With this tool, you can be certain that your email gets delivered everywhere and looks the way you intended it to look. Other notable things include 24/7 support and the ability to easily integrate photos and videos in your campaigns.
Price: Free up to 2,000 subscribers & starting from $11.95/mo

With a super straightforward and pleasing user interface, responsive email templates and split-testing features, it's a pretty good tool. It's a lot pricier than most of their competitors but extremely suitable for companies that rarely use email marketing – they're the only provider that will let you "pay per campaign".
Price: Starting at $9/mo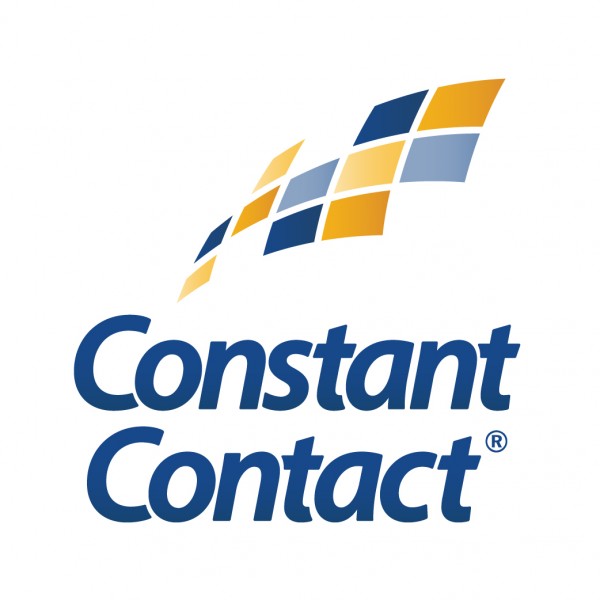 Constant Contact has the second highest deliverability rates in the industry, right after MailChimp. They have systems in place that'll flag your email before you send it out, if it has a chance of ending up in the spam folder. This feature alone could save you a lot of time and make you a LOT more money.
Price: Free 60-day trial & starting from $20/mo

A great WYSIWYG (What you see is what you get) email composer, great segmentation capabilities, social media integrations, autoresponders, split-testing, Google Analytics integration and ROI reporting – what else could you want? How about super competitive pricing? They have that too.
Price: Free trial & starting from $14/mo

Mad Mimi, as cheesy as it sounds, is one of the top tools out there. Possibly the best MailChimp alternative and the cheapest email marketing software on the web. It's made for beginners and is thus super simple to use. Advanced users will want to steer away from this, but if you're just getting started, Mad Mimi is perfect.
Price: Free up to 100 subscribers & starting at $10/mo
SendinBlue is one of the cheaper tools and can be super helpful for, yet again, companies that send messages out rarely. They charge you per email sent, not per subscriber. They've also replaced autoresponders with "trigger marketing" – something I definitely urge you to check out. One of our favorite parts about SendinBlue is the "statistics" aka analytics. Crisp, clear, practical.
Price: Free up to 9,000 emails/month & starting from $7.37/mo

DotMailer is an amazing replacement for InfusionSoft. Great CRM and automation capabilities and even the design is similar at times. It's definitely the go-to tool for anyone doing mailing for an eCommerce business.
Price: Individual
Best List Building Tools
What's the point of having the best email marketing services if you don't have permission to send anyone an email? This section is dedicated to helping you grow your email list by any means necessary.
All-Inclusive
This tool will let you create amazing-looking forms within a few minutes. Integrate these high-converting forms with their exit-intent technologies, customer segmentation features, target based on visitor behaviour. It won't be long until you've tripled your current email list and hopefully revenue as well.
Other features include:
Popups
A/B testing
Useful analytics
Conversion boosting 2-step optin technology
Mobile specific popups
In-content forms
MonsterEffects™
Price: $9/m or $49/year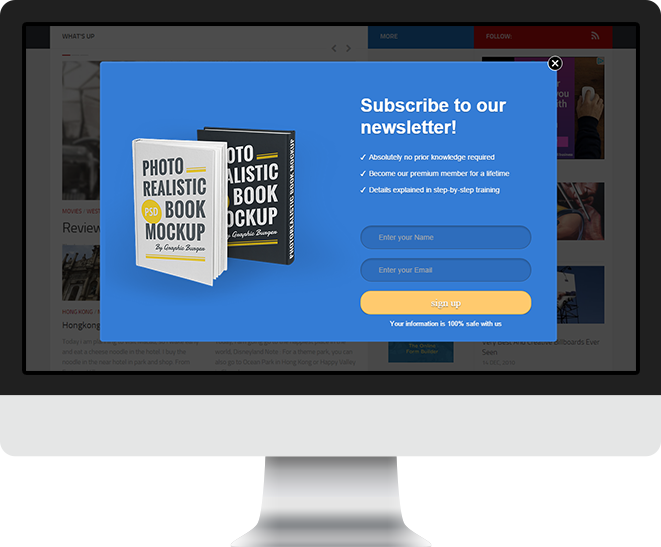 Very similar to Optin Monster, this tool has popups, sitewide optins, 2-step optins and they're all super simple to create. It integrates with just about any email marketing service and comes at a fair price. Not a fan of Optin Monster? Check this one out.
Price: $27/mo or $297 lifetime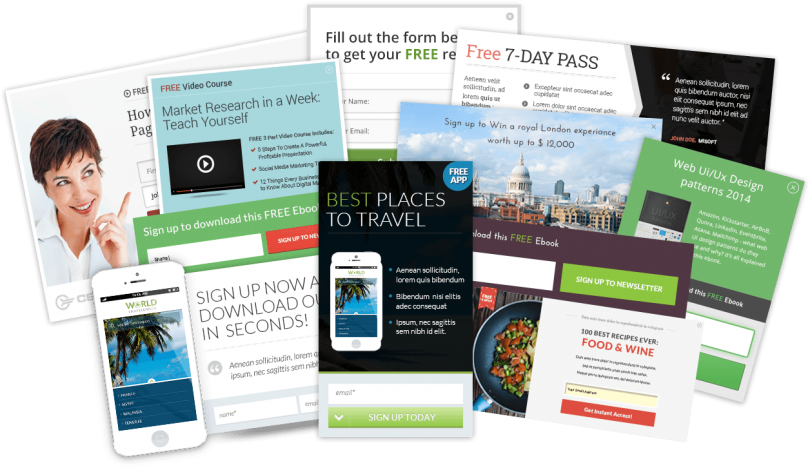 Thrive Leads promises to turn your website into a lead-generation machine. It has the same features as the previous two solutions, but is way easier to use, for better results. It has a super powerful A/B testing system built into it that will even pick the winner for you automatically. One of the most impressive list-building tools I've seen!
Price: $67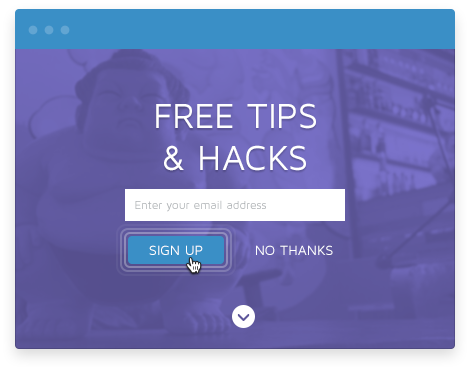 A huge suite of tools that you get from installing one plugin on WordPress. Log in, choose the features you want and they'll be enabled on your site. Great A/B testing, easy to design opt-ins, a plethora of different options and they have both free and paid versions. This is what we've been using at MonetizePros for a while now.
Price: Free & premium versions available
Exit-Intent
Exit-Intent tools will recognise when your visitor is about to leave and will let you present them with extra incentive to stay. This is one of the main ways online businesses are leaving money on the table.
Build your email list, reduce cart abandonment, increase your social media following, redirect your leaving traffic – all of this translates into more revenue for your business. Exit Monitor has some of the most advanced exit-intent technologies on the market and it comes at a bargain.
Price: 14-day free trial & starting at $39/mo

Have a SaaS or eCommerce business? Rooster's exit-intent technology is probably for you. It's already been a huge success on it's own, but has now been acquired by Unbounce which means that it can only get better. Start your trial today!
Price: Free 30-day trial & starting at $49/mo
Pop-ups
Pop-ups used to have a horrible image to them due to the ads that spammy websites have been running for decades. Popups are making a return, by providing your users value, instead of annoying them with advertising. Here are some of the best tools for you to use.

See your pop-up in real-time as you edit and customize one of their 18 designs. Elegantly bulleted lists, your own product images, dozens of triggers to use for your popup and split-test your results – all within 5 minutes.
Price: $49/year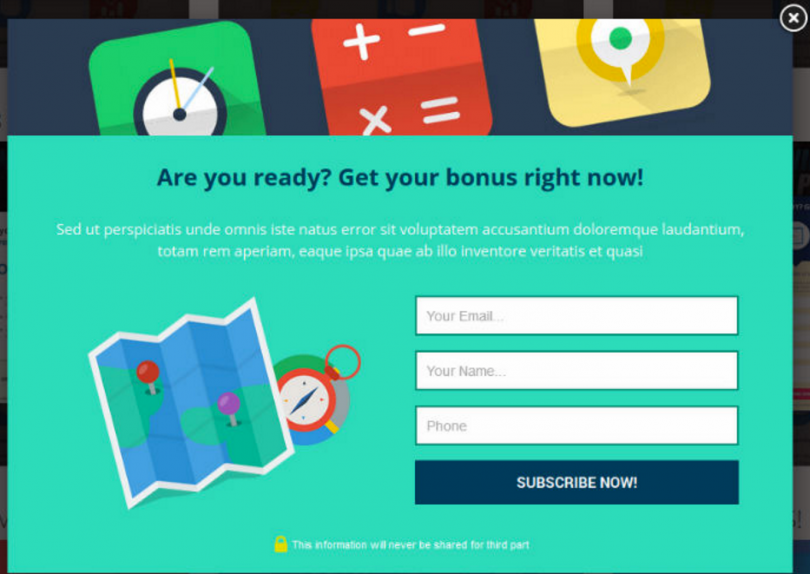 Exit intent popups, scrolling triggers, time-based triggers, Google Analytics integration, A/B testing and much more. Sounds like a simple popup tool at first but is full of conversion-boosting technology to help you get the most out of your websites' visitors.
Price: $25

Great pop-up plugin that doesn't have a "spammy feel" to it. Includes A/B testing, force-subscribe features, page specific popups, entry and exit popups and much much more.
Pricing: Starting at $47
Opt-ins
Snip.ly is an amazing way for you to get extra visitors and potential optins. It lets you put your own message on any website. This allows you to drive traffic to your own landing page, while promoting other experts' content on social media. Here's an example from Quicksprout and MonetizePros: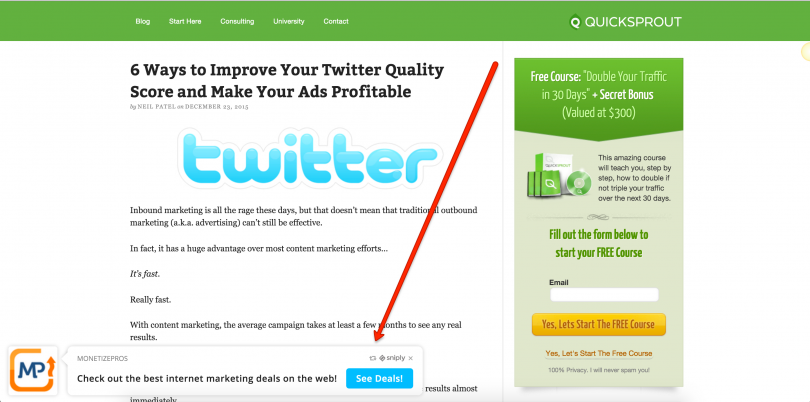 Price: Free & premium versions available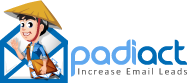 PadiAct is an easy-to-install way to show customized messages to your audience, based on their behaviour on your site. Collect leads, offer extra incentives – MONETIZE!
Price: Free version & premium starting at $25/mo
Put some of your best content out there and offer bonuses, but implement them IN your content. Let's say your talking about measuring Facebook Ads results, you probably have your own Excel sheet with the proper formulas already set up. Offer that as a bonus to your readers and lock it with the OptIn Content Locker.
Price: $15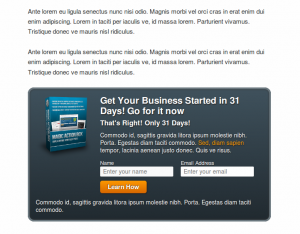 Easily create action boxes and optins in your blog posts, before them, after them. An easy way to turn your passive visitors into engaged customers and leads. Create powerful call-to-actions and much much more.
Price: Free & Premium versions available from $47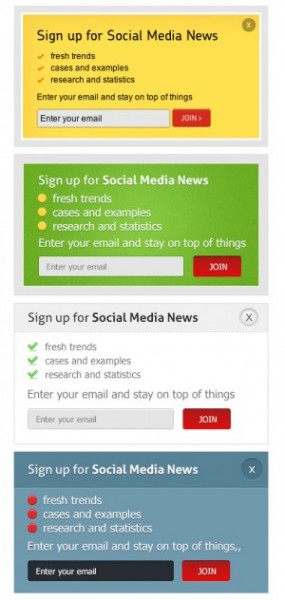 Super customizeable popups that get triggered when your visitor scrolls down the page a certain amount. You can use opt-in boxes, social share buttons, article suggestions, have a lead gen form and much more. Triggers are now not only limited to scrolling but also based on clicks, mouse-overs, time and even reaching the end of a post.
Price: Free

The Optin Feature Box is probably the easiest way for you to double your email optin rates. Popularized by Derek Halpern, the FeatureBox is a box that goes below your menu, above your content and lets your readers optin. Derek Halpern said the feature box has a 33.6% conversion rate on his website!
Price: $37 & above
BONUS! The folks over at Plugmatter gave our readers a special discount for all of their plugins!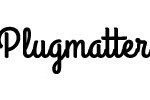 Plugmatter makes some of the best Wordpress plugins, including the famous Feature Box and Promo Box. They've given our readers a 20% discount code! Click on the button below and it'll automatically be copied to your clipboard!

It seems like every site in the internet marketing niche now has a HelloBar attached to it. It's a powerful way to get your visitors attention and:
Direct them to a page of your choice
Collect emails
Increase your social following
A/B test everything
Price: Free & Premium versions available
Redirect everyone who leaves their first comment on your website to a landing page of your choice. When someone's leaving a comment, they're already in "action taking mode" – make use of that and give them another action to do. This could be opting in to your newsletter, joining your Mastermind group on Facebook or whatever is most valuable to you.
Price: Free
Improving open rates and deliverability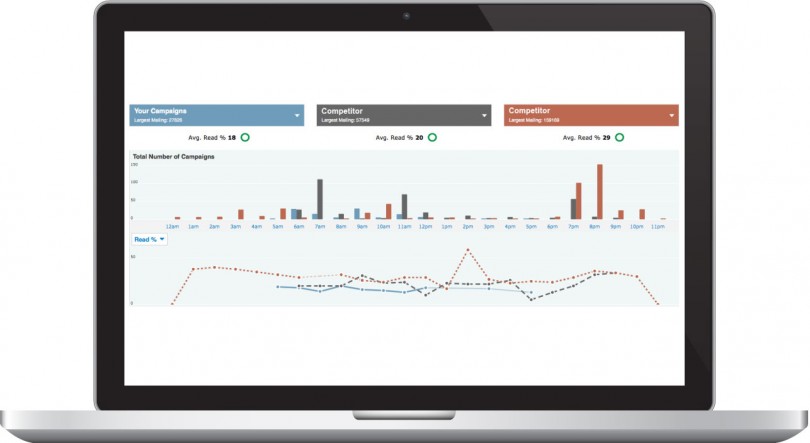 See which of your subscribers are being messaged by your competitors, how their engagement rates compare to yours, what you should put in the headline of your emails, when you should start sending emails to your following and much much more. If James Bond was an email marketer, this would be his #1 tool!
Price: Individual
About to send out an email newsletter? Run it through Lyris ContentChecker and see if you have a chance of ending up in the spam folder of your subscribers. If yes, adapt your content based on their suggestions and maximize your deliverability!
Price: Free
You send your newsletter to a test e-mail they give you at Sendforensics and they analyze the deliverability of your email based on the content, infrastructure and other factors. With the pro version, they'll show you exactly how to maximize your deliverability.
Price: Free trial & starting from $49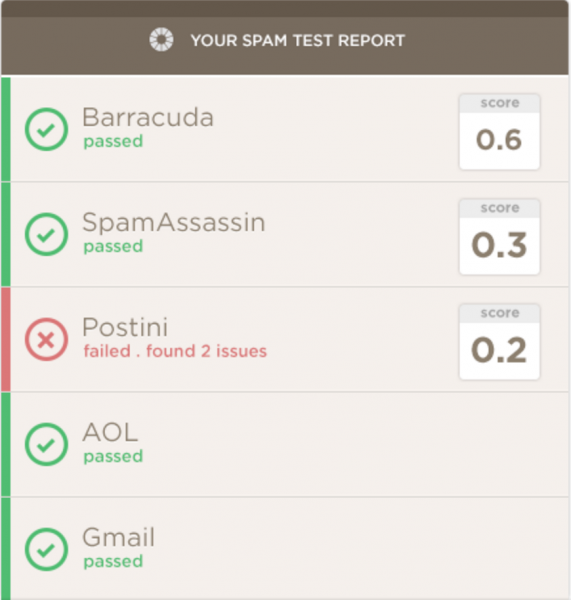 Litmus will let you build your newsletter in their own system and send it out with your ESP. You benefit by seeing real-time how your newsletter will look across 40+ different email clients. It also helps you make sure that all links, images and tracking codes work properly. Not only that, but they have spam filter testing, too.
Price: Free trial & starting from $79/mo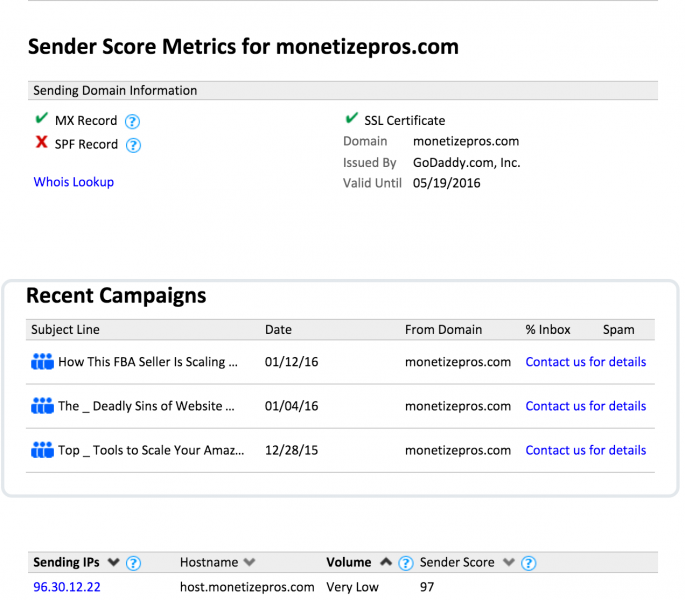 SenderScore is one of the many criteria for whether your email gets delivered or ends up in spam. Sign up on their website and find out what your senderscore is and what you can do to improve it. This is probably the easiest way to maximize email delivery rates.
Price: Free!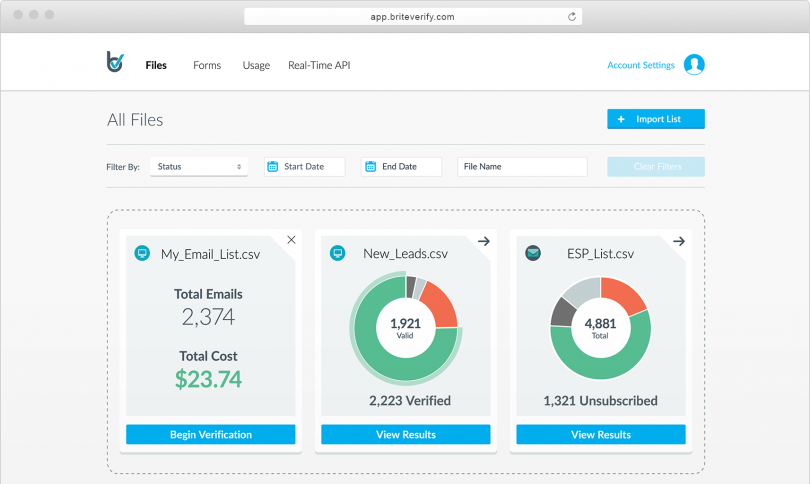 As nice as it is to be able to say that you have an email list of XX,XXX people, what it really comes down to is how much revenue you make from those emails and how many people open it. BriteVerify helps you get rid of all of your dead emails, emails with typos etc – it's basically a list cleaner. This is your chance to see REAL data from your email marketing, after clearing out the rubbish.
Price: $0.01/email, less for bigger lists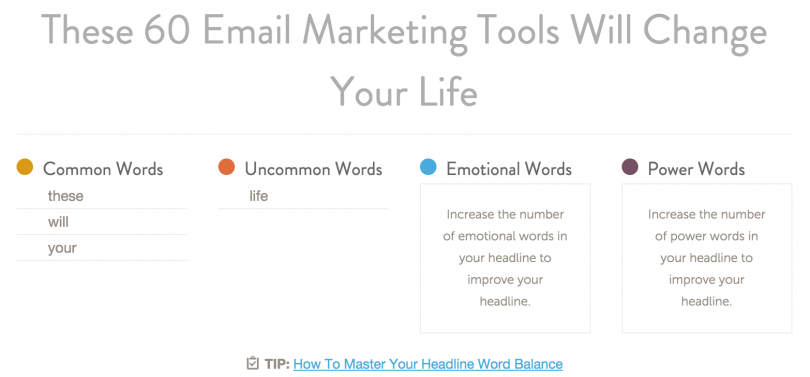 This little tool scans your headline based on several criteria and gives you advice on how to improve it. This ranges from the use of power words to the keywords present and even shows you previews in Google results and your customers inbox. More often than not, using this tool you'll realize that you can come up with a better headline.
Price: Free

Subject Line Gold lets you input your email subject line and will compare and analyze against your previous campaigns as well as 40+ million email campaigns sent by your competitors. It will predict your open rate and delivery rate, give you advice on what to change in the subject line and much more.
Price: Free & extra credits available
CRO
If we had one takeaway for you at MonetizePros, it would be that increasing the amount of traffic you have isn't always the best solution for making money. We're all about working with what you already have and improving upon that.
Conversion rate optimization is one of the easiest ways to increase your bottom line and start making more money. These tools will make your CRO a million times easier!

Bounce Exchange is a service based on advanced behavioural technology. They run 50,000+ A/B tests across their network and will automatically optimize your website for the most conversions. Supposedly one of the most efficient tools/services out there for improving your CR, but definitely comes at a hefty price.
Price: Individual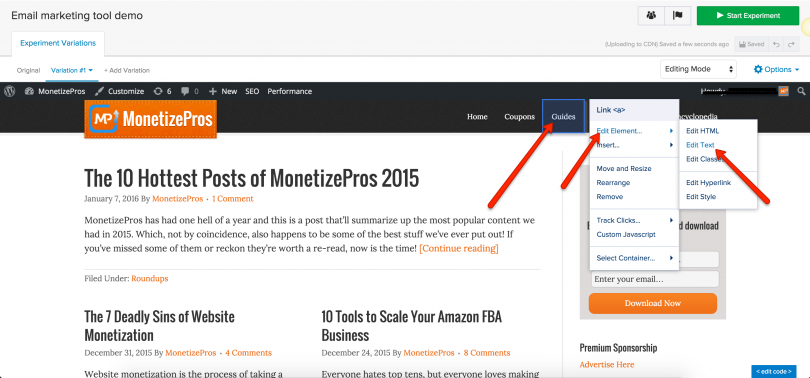 Optimizely let's you visually make changes to your website by clicking on any element and changing it from their dashboard. It automatically turns your two variations into an A/B test and displays it on your website. All you need to do is copy one line of code into the header of your website and you're done!
Price: Free & Paid versions available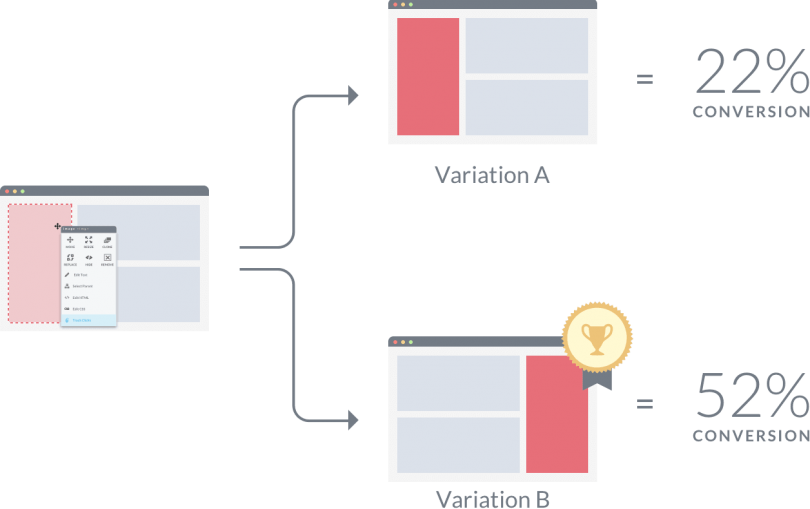 Visual Website Optimizer is another amazing tool for, surprise surprise, optimizing your conversion rates by making visual changes. This means no coding experience is necessary, no design knowledge. In my opinion, it has a slightly nicer and friendlier interface than Optimizely but also has a higher price tag.
Price: Free trial & starting at $49/mo
Generating Content Ideas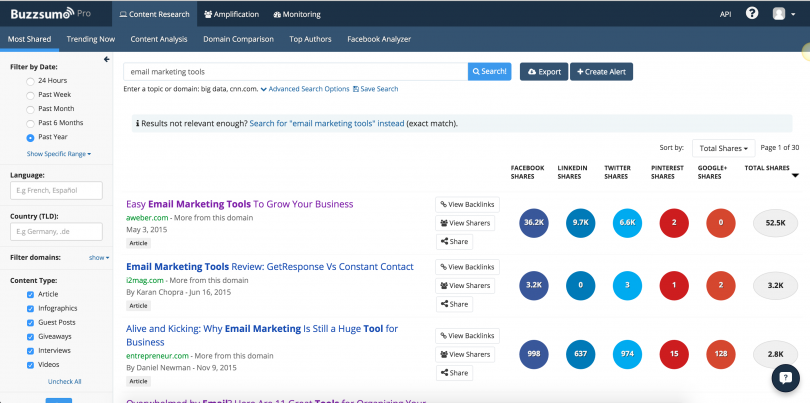 BuzzSumo is one of the most powerful tools for analyzing content. Enter a keyword and quickly see what's been successful and why. You'll get an idea of the best performing content (and their headlines) in your industry. Use this as inspiration.
As a bonus, you'll see the backlinks to that article as well as the share counts across all major social networks. With the pro version, you can also see who precisely shared it and reach out to the same people for your new and improved piece of content (see Skyscraper technique).
Price: Free & Pro versions available from $99/mo
42. EduBirdie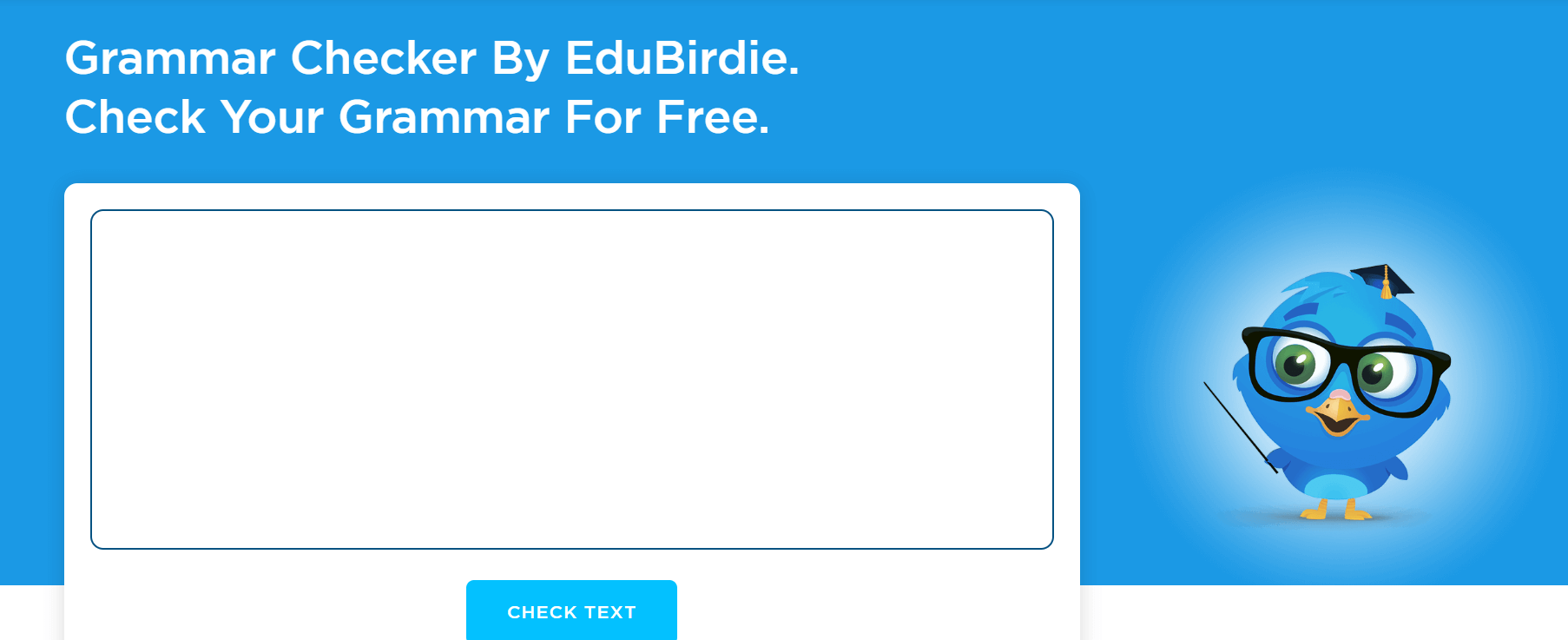 Most bloggers find grammar and spelling challenging when producing content. You do not want to spend too long on an article, or do not want many too many spelling and grammar mistakes like my content. Luckily Edubirdie has  a free grammar and punctuation check that helps with language rectification, paraphrasing, and wordiness. Pasting full paragraphs or grammar check sentences, students also receive such helpful tools as word count tool, word to page converter, case converter, plagiarism checker, alphabetizer and many others. 
Price: Free
The Hemingway App is not for generating content ideas. It will help you make your headlines and content much better. All your hard to read sentences get highlighted, allowing you to edit them. This will make certain that your content is easy to understand.
Complex phrases are highlighted and simpler alternatives given to you. If you're using passive voice, that'll turn into another colour. Edit that and stop being boring.
Price: Free
Best Email Outreach Tool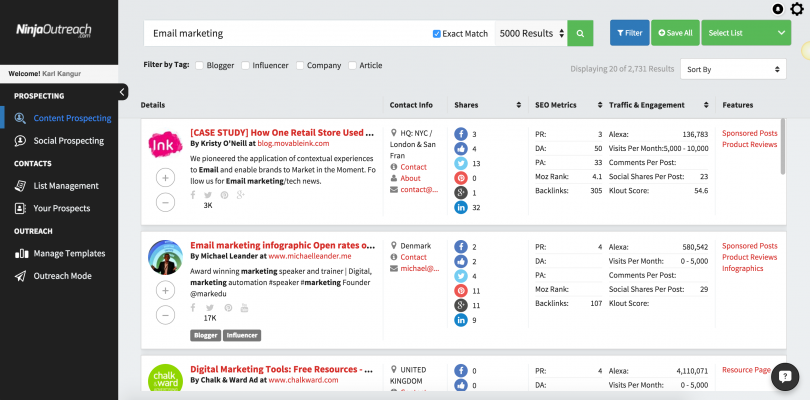 Ninja Outreach deserves a post of it's own and we're working on that. This is THE tool when you're looking to take your content marketing to the next level.
Search for a keyword and you'll be presented with relevant influencers, authors, companies. You can filter them based on dozens of factors, ranging from backlinks, twitter followers and even the types of pages on their site.
Compile them all into one list, write a template outreach email and personalise it with the data Ninja Outreach fetched. A few clicks and you've just let dozens of relevant influencers know about your latest, amazing piece.
It's a powerful tool, but don't abuse it. Put thought into your templates and only reach out when you have actual value to provide.
Price: Free trial & starting from $29/mo
Giveaways
Giveaways can be an amazing way to get thousands of emails in a short amount of time, with little investment. Meanwhile, you'll be making your audience happier! Buy some sick tools or services that your audience might like and run a giveaway. We've done this in the past and ended up getting thousands of emails. Extreme cases have shown email list growth of over 200K people.
UpViral lets you create a sophisticated giveaway with no technical knowledge required. Viral giveaways, contests, product launches, locking your content virally – anything you can think of. They have dozens of pre-made landing pages designed for you, that you can modify with ease. It integrates with almost all email marketing services, too!
Price: $47/mo
KingSumo giveaways lets you do super simple giveaways in as little as 10 minutes. This is what we used last year for our $14K marketing giveaway. It integrates with your favorite ESP, picks the winner for you, has a nice viral system built in and is a super cheap solution.
Price: $198 for a lifetime
Best Landing Page Software
Landing pages are one of the most important parts of your email marketing campaigns. This is where you actually get access to your (potential) customers email address. A good landing page will make or break your campaign.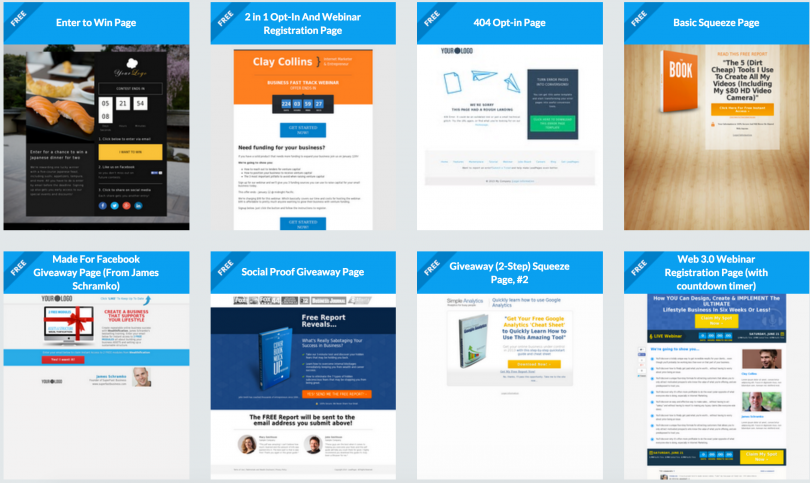 LeadPages is probably the most popular solution when it comes to creating high-converting landing pages. They're excellent at marketing themselves and have become a well-known name in the landing page industry. They've got hundreds of templates pre-made for you. Sort these based on conversion rates and modify according to your needs.
Other than the traditional landing pages, you'll also be able to create LeadLinks, LeadBoxes, LeadDigits and many other revolutionary things they've invented.
Price: $25/mo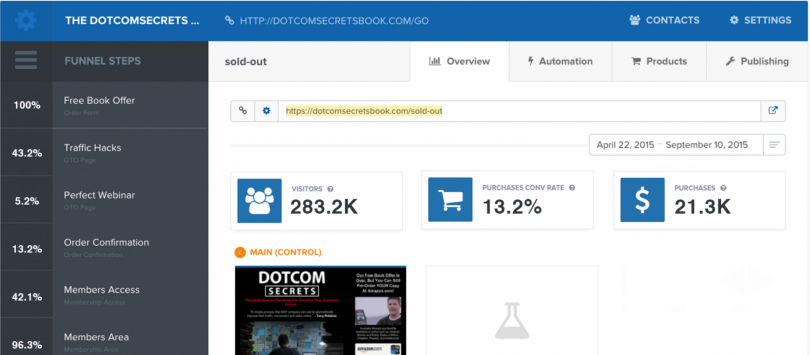 Although one of the more pricier services, it's much more than a simple landing page tool. It will not only make you perfect, measured landing pages, but entire sales funnels that you can use for your marketing campaigns. They've got templates for just about everything, ranging from webinars to upsell pages.
Price: Starts at $97/mo

Instapage promotes themself as being super easy to use. It's true – in fact, you can set up your first landing page within just 3 minutes. There's a 45-day free trial so go ahead and give it a shot! They've got a huge library of templates and they're actually one of my favorites out of all the landing page software providers.
Price: Free trial & starting at $29/mo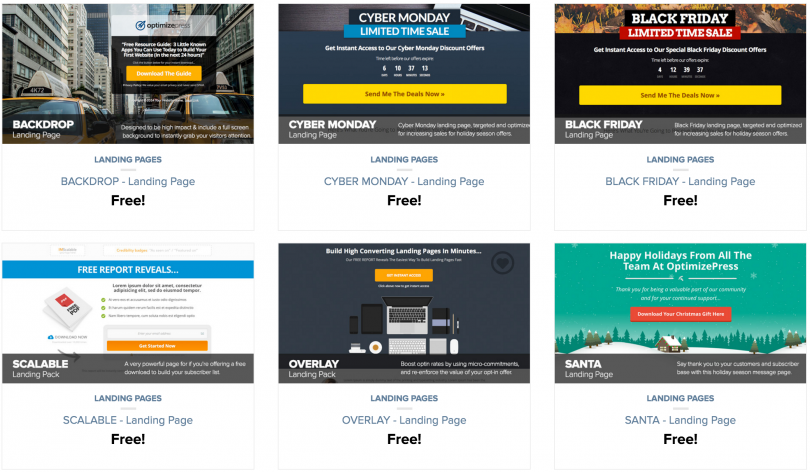 OptimizePress is great for making landing pages but in reality, it's a lot more than that. I'd say the majority of membership sites that I've worked on, have been made with OptimizePress. Other than those two, you'll also be able to make product launch funnels, webinar registration pages and whatnot – and it's all responsive!
I'd say the key benefit is that it's yours for a lifetime, there's no monthly fees.
Price: $97/lifetime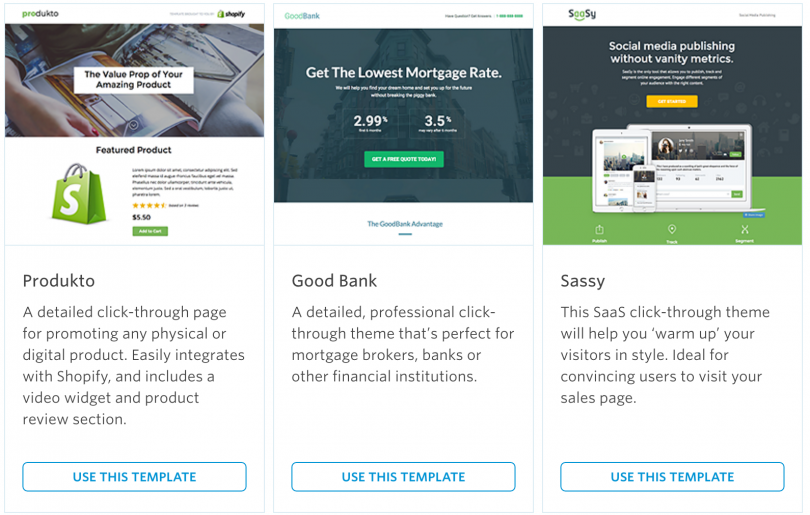 With Unbounce you can create high-converting landing pages that are responsive within just five minutes. Countless of templates for you to use and customize and more being created all the time. They've also got an A/B testing system built in for you to get the most out of your landing pages.
Price: $49/mo
Regular Email Hacks
As much as I love automation and efficiency, not all of our email marketing is automated. There's still dozens if not hundreds of emails a day that need my answer, follow-up or input. Here are some tools to help you get to inbox zero easier, clean up your mailbox and make the whole process smoother in general.

We're all a part of at least some newsletters that we want to receive. Unfortunately, we also get a lot of mail we didn't really intend to sign up for and that clutters our inboxes. With Unroll.Me, you simply log in and it fetches the information on everything you're subscribed for and let's you unsubscribe from the unnecessary ones with just one click.
Price: FREE!
A lot of my email require a response another day, sometimes even weeks or months later. How do you keep track of all of that? I haven't thought of a good way, but these guys did. Instead of flagging the email or marking it as unread for months.. Use FollowUpThen.
Simply forward your desired email to [some time]@followupthen.com and they'll automatically remind you.
Examples:
Price: Free & premium versions available

Unless you're living in a cave, you've probably heard of Boomerang already. Similar to FollowUpThen, Boomerang allows you to send email at a later date or have them remind you to send something at a later date. Don't like forwarding email? No worries, Boomerang is a gmail plugin!
Price: Free
Not everyone is easy to reach by e-mail. A lot of influencers and other important people don't want their e-mail to be found by just anyone. BuzzStreams tool asks you to input a persons name, company and website and then generates potential Google searches that may help you find the persons email.
Price: Free
Sent out an important email and are anxious to hear back? Simply want to split-test the open-rates of your email headlines? Sidekick makes your manual email measurable. See who opens your emails, when and from where. Not only that but it'll automatically fetch important information on your contact, so you don't have to memorise everything. See your mutual connections, your contact history with them, social media profiles & content and much more.
Price: Free
57. Canned Responses
Canned responses is actually a tool built into Gmail, that's disabled by default. You can easily enable it though. Why?
I don't know about you, but a lot of the e-mails I have to respond to, ask the same questions. That means they also get the same answers. Why waste time writing the same things over and over again?
Canned Responses lets you save messages you have to send out all the time and choose the one you need by clicking one button, when the time comes. A huge time-saver in the long run!
Head to your gmail settings, click on labs and enable canned responses!
Remember how we used BuzzStreams tool to find someone's email? Rapportive helps you validate that email (or any other email address). When you start composing a new email in Gmail, Rapportive will show their information in the right-hand sidebar. If you've got a correct e-mail address, you'll probably see their profile picture and other information. If it shows nothing, you've probably got the wrong email.
Here's an example:
Price: Free
Checker Plus is a gmail extension that makes managing multiple accounts super easy. It also lets you enable desktop notifications for new email, has the ability to read your emails to you (if you're busy with something else) and has many other features to help you with email.
Price: Free
Email is pretty boring and overwhelming, we can all admit that. This gamifies your email and helps you be more efficient. You get points for making decisions and answering your email. You've got five seconds to decide whether you want to reply, archive, Boomerang it or whatever. Do it quickly and you get points for it.
Need to answer? You've got three minutes to do so.
Need more than three minutes? No problem, you just don't get any points!
This makes email fun and efficient!
Price: Free