Have you ever dreamed of creating your own marketplace like Amazon, Ebay, or Etsy but do not know how? Some of the highest earning e-commerce companies in the world are marketplaces and offer a scalability that is second to none.
What everyone might not know is that many of these marketplaces do not sell any products of their own. They have registered vendors who sell their goods through their platforms and take a percentage of the revenue they sell. A lot of work goes into setting up these marketplaces as vendors need to be able to upload products, and consumers need to be able to buy and review their purchases.
Instead of spending hundreds of thousands of dollars and years creating a system that can scale, there are many different marketplaces themes and websites that can allow you to set up your own business almost instantly. However, there are many different options to choose from that include WordPress, Joomla, or even custom solutions.
What is multi-vendor eCommerce
So what exactly is multi-vendor eCommerce? Essentially it's making an eCommerce store which allows other vendors to sell on the same portal as you, the Admin. In return, you provide them with a dashboard, tools and essential add-on which can help them with their transactions.
When a consumer visits your multi-vendor site they are able to select any item from "Vendor A" and also from "Vendor B" while having it all processed from exactly the same cart from your website. So how do we know which revenue goes to which vendor? Well, the system and algorithm behind a multi-vendor shopping cart system automatically split all payments made behind the screen from the two vendors who just sold products.
This whole environment of people purchasing and selling from one portal aids consumers to find a wide array of products and diverse prices. At the same time, you, the multi-vendor eCommerce owner gets to enjoy commissions. In the physical world, it's kind of like malls, allowing tenants to rent out a stall in their establishment for a fixed fee or a percentage of their net revenues.

Top 5 multi-vendor eCommerce platforms
Started in 2005, CS-Cart is part of the Simtech conglomerate, and it's been known as a solid solution for those who want to sell on a self-hosted platform. In the span of just 13 years the company has already sold over 35,000 copies of their software through 170 countries.
CS-Cart Multi-Vendor isn't like your casual SaaS solutions companies wherein you have to pay for a monthly subscription. You only need to pay the one-time fee however pricing does get tricky. You will need to pay for upgrades and customer service.
With CS-Cart Multi-Vendor all of your vendors are treated to an admin dashboard filled with metrics, statistics, and multi-functional tools.  Not to mention, the vendor admin area allows vendor-specific shipping methods, payout recording, and powerful product display tools.
What we like most about it
Support for over 70 payment options
Support for eight carriers
Each carrier has dozens of shipping options
Highly customizable
Sleek drag and drop editor
Intuitive admin dashboard
Reliable metrics and statistics
Design tools
Self-hosted
Integrations with email marketing tools
Bundling features
Abandoned cart functionality
Promos and discounts
On-sale listings
Best Seller listings
Product ratings and reviews
What we liked least about it
Tricky pricing
Paid customer support
What we think about it – 4.5 out of 5
From the multiple options of platforms that are available, we have selected CS-Cart Multi-Vendor as our top pick. This is because it is one of the most powerful ways to create your own multi-vendor store. You are given complete control of your content creation and maintenance procedures. You are also given the freedom to host your own site on your server of choice. This way, your security is ensured from possible breaches and you are given plenty of freedom.
Yes, the pricing might get tricky and you need to pay for customer support which most likely will lead to you spending more than you actually planned to pay for a downloadable platform which you are hosting yourself. Costs can stay a tad lower as long as you're not paying for constant updates or customer support. If you can manage to pull it off, you get an amazing multi-vendor creation platform at a fair price with heaps of built-in add-ons.
Yokart is a popular multi-vendor marketplace platform to easily launch ecommerce marketplaces such as Amazon or eBay. It offers a comprehensive list of features and as an entrepreneur; you don't need any specific technical knowledge to get your marketplace up and running. It is one of the rarest platforms that have mobile apps for both customers and sellers. You can contact the YoKart team to customize your online marketplace as per your business requirements.
Yokart works on one-time pricing model and allows you to pay in installments.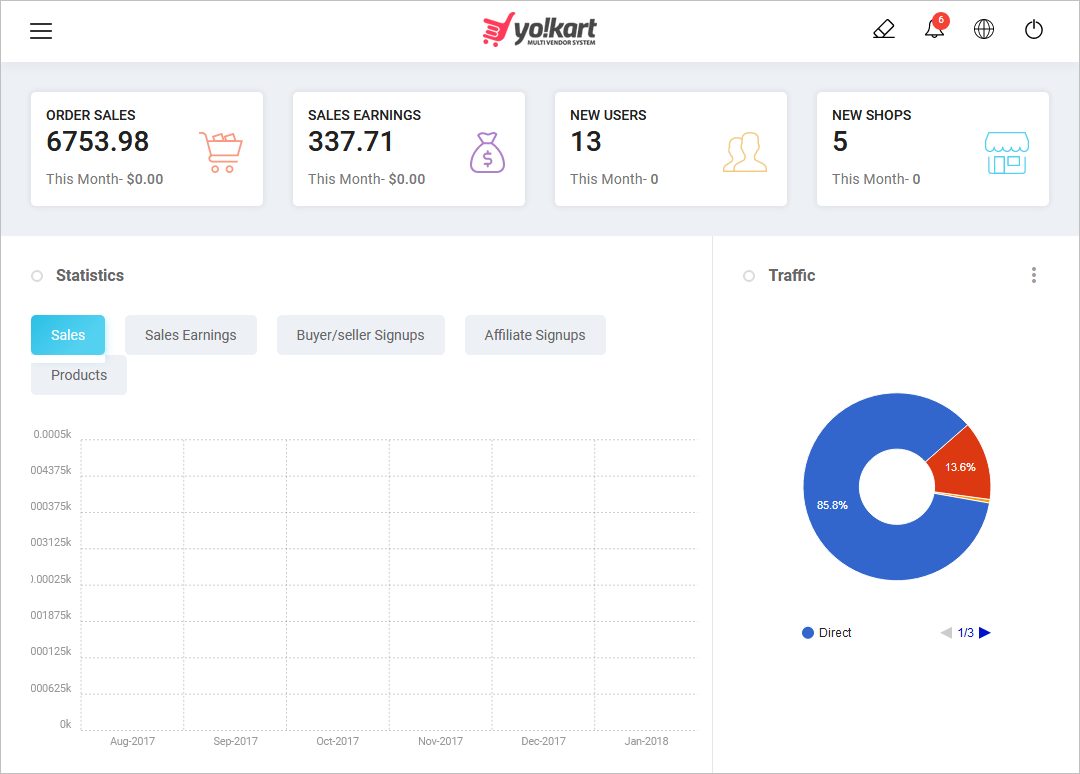 What we like most about it
An intuitive interface
A highly secure system
Multiple payment gateways
Real-time shipping cost calculator
All orders are split and consolidated for shopping carts with products from multiple vendors
Most SEO is completely automated
Divide customer into groups based on buying behavior
Relatively cheap pricing
What we liked least about it
Limited templates
Not completely open source
You pay monthly for SEO
What we think about it – 4.5 out of 5
YoKart is built in an encrypted framework considering the security purpose. The platform offers 1-year free technical support in case you found any bug or errors in the system. You can also read a lot of positive reviews about YoKart and its support team.
Overall, YoKart is an effective and efficient platform to launch a multi-vendor marketplace.
Unlike most other marketplace SaaS platforms that offer a templated solution for all purposes, Arcadier allows users to choose from a bunch of options- from buying and selling goods or booking services to renting spaces and items and several other business models.
What we like most about it
Self-Service On-Boarding
Items Management System
Transaction Reports
Hosting
Order Management System
Customer Account Management
What we liked least about it
Their paid packages are not available as of now. You can get either the basic package or enterprise package.
No drop-shipping default feature
No facebook store
No Data feeds
No Cart saver
What we think about it – 4 out of 5
Besides these, they also offer several unique features like multi-lingual capabilities, private marketplaces, and social logins. I particularly love the ability to edit JS code (which opens the possibility of additional customization and the ability to add our own payment service providers).
They've also got a Freemium plan where the pricing plan scales up with the number of transactions on the store!
From their humble beginnings, Shopify has been known now as one of the most successful and productive eCommerce platforms around. With the help of a plug-in you can turn your eCommerce store into a fully pledged multi-vendor platform.
What we like most about it
Best in class dashboard
Best in class tools
Reports and Metrics
Additional plugins available
Integration and comparability
What we liked least about it
You need to subscribe to Shopify
Exclusive hosting
You pay monthly for SEO
What we think about it – 4.5 out of 5
If you are already a Shopify subscriber (which in there is a high change you are) or if you would like to use the best eCommerce platform around to channel your multi-vendor website then this is definitely for you. However, it can get pricey as there is a monthly payment for SEO if you want to avail that service. But, if you have deep pockets to spend for your developmental stage then this is the top pick for you.
If you want to learn about how to make money with Shopify, go ahead and read our guide over here.
Sharetribe is intriguing because the system is built solely to help people create marketplace (multi-vendor) websites. They don't mess around with standard eCommerce sites, so you can rest easy knowing they focus on this one area.
The initial starter package lets you have up to 300 members, and if you pay for the highest package you can manage up to 100,000 members. What's cool is that you don't have to stick to the normal sales strategy. Rather, Sharetribe allows rentals, services and more. The setup only takes a few minutes, and the global payments are good for accepting just about any credit card or online payment system like PayPal.
What we like most about it
Customer Accounts
Email Marketing
Order Management
SEO Management
Very easy to set up
What we liked least about it
Functionality upgrades are not very fast
Expensive pricing
Lack of functions
Pricing is driven by number of users rather than by number of transactions
Lack of API's
Lack of custom themes
Limited customization
What we think about it – 4 out of 5
Users create listings and manage their own profiles, with features for including photos, pricing, location and product information. The white label design is nice for attracting vendors, since they can upload their own logos, and the messaging and order management system is perfect for vendors to keep in contact with customers.
If you are looking for a fast way to set-up a multi-vendor platform then Sharretribe is for you, but if you are looking for something long term we suggest you consider our other choices.
X-Cart is a licensed shopping cart that lets you sell products securely from your own server. Since its launch in 2001, X-Cart has grown to support over 35,000 stores in 111 countries.
What we like most about it
Both hosted and self-install versions available
30-day free trial
Refunds
Free plan
Extensive features
Highly customizable
Intuitive UI
Scalable
What we liked least about it
The upgrade fee is expensive
Requires manual coding and setup
Confusing pricing packages
Developer skills required
Annual upgrade fee
Expensive customer support
What we think about it – 3.5 out of 5
X-Cart can be used both as a ready out-of-the-box shopping cart or as a powerful basis for a customized web shop with whatever modifications of design or functionality. X-Cart loves customization, yet remains easy to upgrade.
Conclusion
To sum it all up, to anyone trying to create an eBay like marketplace, we recommend CS-Cart Multi-Vendor. This platform can provide you with support for over 70 payment options and eight carriers each with their own shipping options. They have an easy to use drag n drop editor filled with templates that you can choose from. And, the metrics from within the dashboard, once you have launched the site, has all the tools you and your vendor could possibly need.