Making money from a new eCommerce store store isn't easy.  But it is simple.
The secret? Don't try to do anything original.
Rather than try to invent the next best selling Widget, just copy a business model that's already working and sell products that are already selling.
Rather than setting your sights on a major payout in the distant future -a payout that may or may not ever materialize – invest a few short weeks on a proven way of making money that generates results within a month.
And, rather than sacrificing your quality of life by slaving over a startup for 15 hours a day, just invest 1 hour every day in following a system that works.
The business model that I'm talking about is Drop Shipping – the same business model that Wayfair, Amazon, and Alibaba use to sell billions of dollars of product per year. So, how exactly does it work?
What Is Drop Shipping?
If you're already familiar with the drop shipping business model, then skip this section and go straight to "Week 1 – Product Selection".
When you drop ship products, you don't actually see the products. You don't have to keep a warehouse or any inventory, and is one of the first steps in starting an online business. You don't need to worry about shipping anything, or ordering products in bulk based on customer demand. Instead, the MANUFACTURER of the products handles all of this for you.
You see, lots of product manufacturers are great at making things, but terrible at marketing them! And that's where you come in.
Here's the quick summary of what your job as a drop shipper entails:
Display the manufacturer's products on your site

Drive traffic to the site

When orders come in, forward the order email to the manufacturer. They charge your card and ship the product to the customer, and you keep the profit



Pretty cool, huh?
There are many different ways to drop ship… and a lot of time can be wasted if you don't know what you're doing.  In this guide I am going to share how to get set up in just one hour per day, five days per week, for three weeks.
That's right:
If you have 15 hours to spare, you can succeed at Drop Shipping. In this article, I will show you how.
Let's break it down week-by-week.
Week 1 – Product Selection
Week 1 is all about laying the foundation for a successful store.
Many ivy league schools admit to their students that they already know could be successful regardless of their education options. Later, they claim credit for the accomplishments of those same students.
Likewise, you want to pick a product category that will make money no matter what. As you can imagine, selling a product that is predestined for success makes the rest of your job much easier.
Pick A Product
There are 3 key indicators of a successful drop shipping product.
Right Price Point



The average product price should be $200 – $1,000. Why?





The same amount of time will go into processing an order for $20 as it will for processing an order for $200 or $2,000.  If you're going to be doing the work you might as well have a chance of making some real money on each sale.





If you start pricing more than $1,000, you'll need to be more hands-on with customer service, which can become a headache.

 

Right Target Market



Pick a product that appeals to the upper middle class, meaning online shoppers who have a household income of $100,000 – $200,000.





Both low-income and ultra-high-income customers require more customer service and tend to be less satisfied with purchases and more likely to return products.

 

Brand Loyalty



Try to avoid selling products that people have a strong brand-association with.





For instance, if you want to sell iPhones or Nike brand shoes, you're going to be competing with companies that are spending millions of dollars a year to market those same brand-name products – and that's if Nike or Apple even authorizes you as a reseller in the first place! No bueno.
Real-Life Example
To solidify what this would look, let's create an example drop shipping store together!
For example niche, let's pick straight razors.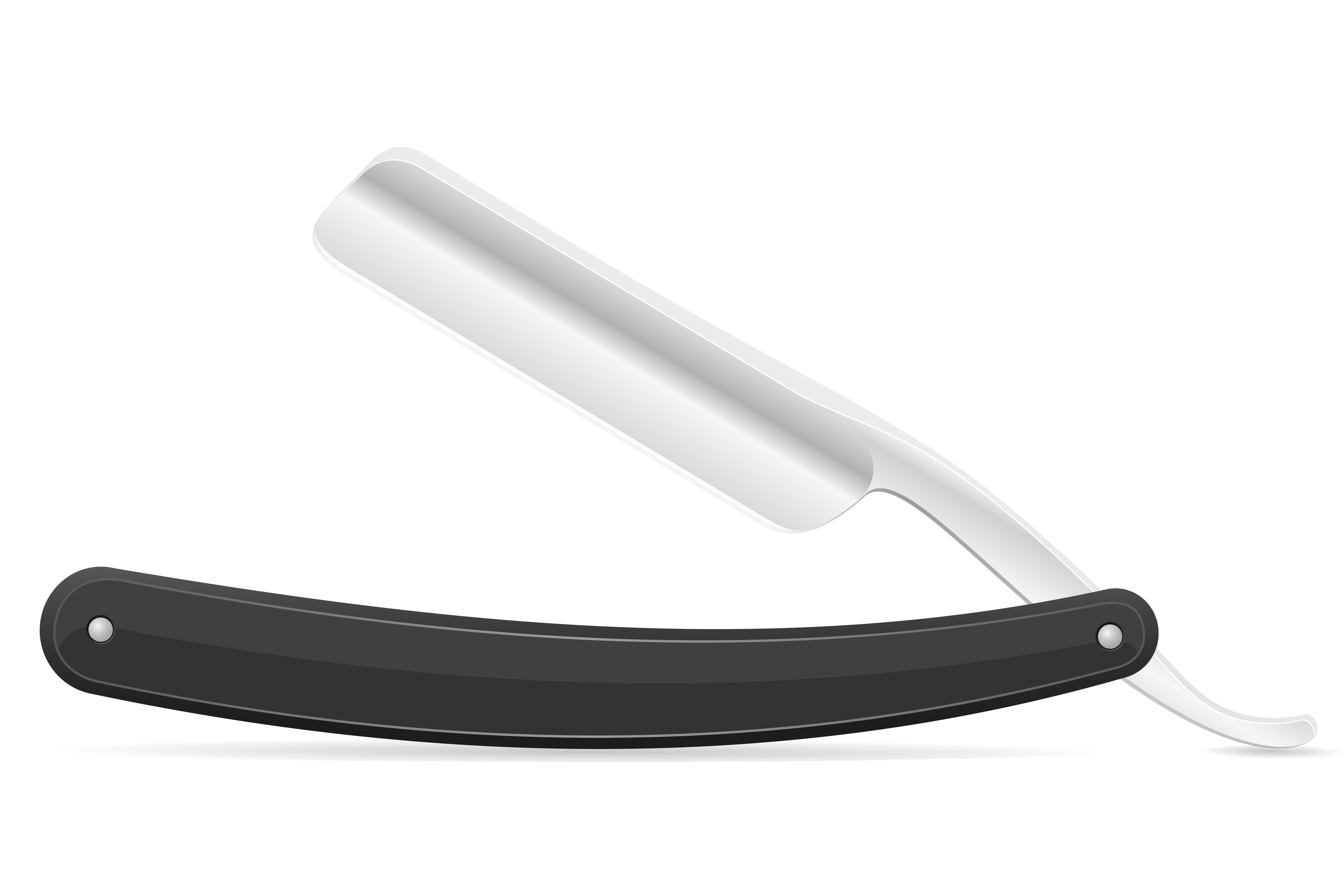 This product fits all 3 of our criteria. Most razors are around $300, it's a product that appeals to the upper middle class, and there is not a strong brand association with it.
Now that we've got an example product category, let's move on to the next step!
Research Suppliers
Once you have your product picked out, spend some time online finding suppliers that drop ship that product. These will be your future suppliers!
The best way to do this is to Google "buy [your product] online". Then, look through the website results and find the stores that ONLY drop ship. You'll know that they are drop shipping websites if they don't have a physical location, which you can usually find out by looking at their "contact" and "about us" pages. If they have a physical location, they will mention it.
If they don't have a physical location, DING DING DING! You hit the jackpot! Why? Because, if they are exclusively a drop shipping store, then that means all of their suppliers are willing to drop ship! When you find stores like this, use a dropshipping software like SaleSource to analyze competitors and find the best suppliersfor your items. 
Real-Life Example
Let's go through this process using straight razors as our example. If I google "buy straight razors online", here are just a few of the stores that come up:
From these stores, I can get tons of great suppliers! I also get more insight on my product category. For example, I can see that I have to potential to maximize my profits by offering accessories like brushes and aftershave.
Now I want to extract the suppliers from these stores so I can get in touch with them later. If I go to the "about" page for Straight Razor's website (http://www.straightrazor.com/about-us/), I can see that they don't list a physical location, and they call themselves an "online retailer". These are both strong indications that they are a dropship-only store, which in turn means that all of their suppliers likely drop ship.
Sometimes, drop shipping stores will have a link called "brands", where you can go and literally copy/paste all of the brands into a spreadsheet for future research. StraightRazor.com doesn't have this feature, so instead I went to the "Straight Razors" shopping page…
…And when I got there, they were nice enough to have all of the brands laid out for me in the sidebar!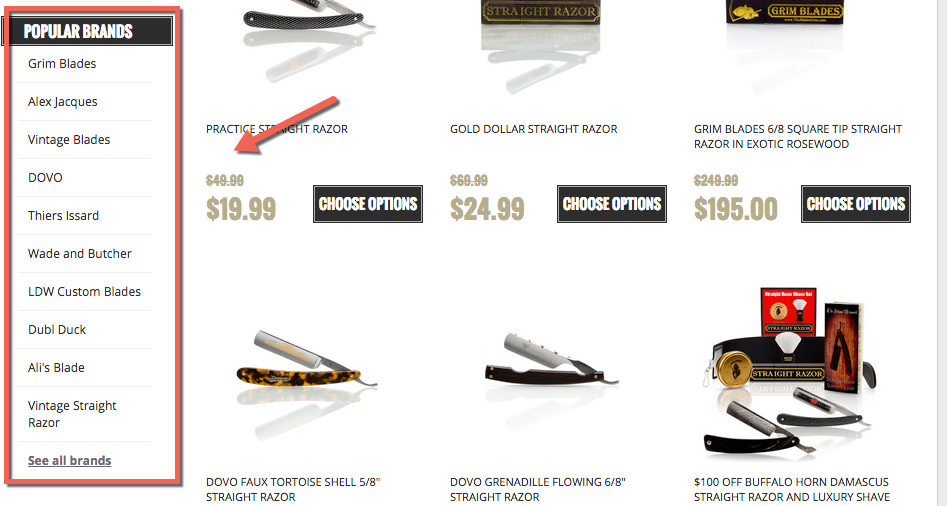 Now all I have to do is click on "see all brands" at the bottom, copy them into a spreadsheet, and BOOM! I've got a long list of potential straight razor suppliers.
But, before we start calling suppliers we've got to…
Week 2 – Build A Website
The next step is to build a website. You need to do this before reaching out to your suppliers; No supplier worth their salt will start a business relationship with someone who doesn't have a business!
Building a website makes it look as though you're already making sales, and is very appealing to potential drop shipping suppliers.
The bare minimum we need is:
A functional website

10-20 demo products uploaded

Contact information
If you're not a techie, don't worry! There's a service that I use called Shopify to build all of my drop shipping stores. It costs $29 per month, and it allows you to easily create and maintain beautiful drop shipping websites.
P.S. MonetizePros has also negotiated a deal with Shopify! 🙂

Sign up through the link below to receive your 14-DAY FREE TRIAL for Shopify. All you need to do is simply fill out your email address to get started.
For the demo products, simply Google your product category online and upload product images, descriptions, and pricing from competitor's sites (you'll be deleting these demos products once you get approved by real suppliers.)
Use Shopify's "create a page" function to build your contact page, where you can put your best email and phone number for now.
Real-Life Example
I've put together a pretty well built-out demo website for our straight razor drop shipping store. Take a look at it and get some ideas for your own site:
Your site doesn't need to have all the bells and whistles that this one does when you first start selling. Again, the bare bones you need to get supplier approvals is a functional website with contact information and demo products.
Week 3 – Start Selling!
Week 3 is super exciting. If you've followed everything up to this point, then this is the week where you'll be securing supplier partnerships, generating traffic, and making your first sales.
How to Get Dropshipping Suppliers
Now that you have a great site in place, the next step is to get in touch with suppliers so you can start promoting and selling their products.
Conveniently enough, you already created a list of potential suppliers back in week 1. Go back to that list, Google the supplier names, and find their contact info. Email is ok, but getting phone numbers is ideal.
Once you have this info, add it to your spreadsheet. When you've done this for each of the potential suppliers, go down the list and call each one to get approved as a reseller of their products. I use the following script:
Hi [account managers name],

My name is Anton and I am the lead buyer for [MyCompany Inc]. We currently manage ten different eCommerce stores in various niches and we recently noticed an opportunity in the [your product category] niche.

We have just launched [yournewwebsite.com] and we are looking for suppliers who are interested in working together on a drop ship basis.

Based on the market research that we have done my team and I are confident that our marketing techniques will make this new venture our most successful yet.

We are not looking for credit terms, we are just looking to build a solid business relationship.  Can you tell me how we can go about applying for an account?
The suppliers will then tell you exactly what they need from you to set up an account.
Ask them for product information, then upload those products to your store!
Get Traffic
There are tons of ways to get traffic to your online store. The easiest and most effective way that I found has been using Google's Product Listing Ads, or "PLA's".
PLA's are the graphic ads that display on the right side of the page for customers searching for your product category.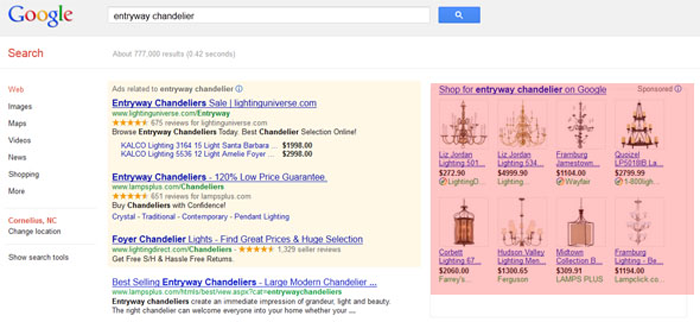 See that area highlighted in pink? That oh-so-clickable area with beautiful pictures? That's exactly where Google PLA's will put your products!

Besides making your site highly visible for cheap, the other benefit to using PLA's is that you don't need any advertising experience at all. Since there are no graphics besides your copy, and there is no sales copy for you to write; Google simply imports all of your listed products and automatically generates ads for them!
All you need to get ads like this displaying on Google is a Shopify store, a Google Merchant account, and a Google Adwords account. Here's how you get set up:
Step 1
In your Shopify admin, download the free Google Shopping app. This is the app that will send your "product feed" to your Google Merchant account.
Here's a direct link to the free app: https://apps.shopify.com/google-shopping
Step 2
Next, create a Google Merchant account. You can do so here:
https://www.google.com/retail/merchant-center/
Once your Merchant Account is set up, link it with your Google Shopping app in Shopify. Then, submit your product feed through the app and wait for your products to populate in your Google Merchant dashboard!
Step 3
Once your products are live in your Google Merchant dashboard, you'll want to create a Product Listing Campaign for those products in Google Adwords so you can start running ads.
This is a 3 step process. First, you need to create a Google Adwords account. Next, you'll link your Merchant account to your Adwords account. Lastly, you'll push your product feed from your Merchant account to your Adwords account, and use it to run ads.
This comprehensive video made by Google walks you through the step-by-step process:
Though this whole process can take a couple of hours, it is well worth it because once you set up your PLA's, you don't need to worry about them again. As you add, delete, and modify products, the Google Shopping app will automatically notate this changes and inform your Google Merchant account, which will in turn tell your Google Adwords account what modifications it needs to make to your ads.
In short, it's like having your own advertising team. For free!
Week 4 +
Congrats! You now know how to start a drop shipping business and get your first sale in just 3 weeks.
Yet, even when you start making money online, there is always room for improvement!
Here are some of the next steps you can take:

Continue to get approved by more suppliers so you can offer more products

Increase your traffic sources

Optimize your store for conversions

Start selling related products
I am also happy to answer any questions about this business model. Go ahead and post them below and I will do my best to answer.
Ready To Pick A Product?
Download Drop Ship Lifestyle's FREE list of 187 Ecommerce Product Ideas!

This was a guest post by Anton Kraly, the creator of the Drop Ship Lifestyle program.