This post covers the monetization of Web traffic through e-commerce, ranging from a review of the basics to some specifics around shopping carts and trust logos.

Included in This Guide
The Five Factors That Determine E-commerce Success
Most online revenue is generated through the sale of soft goods and services, such as ad impressions, e-books, and premium memberships fees. E-commerce is the combination of traditional business models and new technology, allowing online stores to sell physical goods without maintaining a storefront.
While the concept of an e-commerce business is easy enough to grasp, the execution is very tough. Many niches within the e-commerce industry are extremely competitive, with razor-thin profit margins and a very high failure rate for new businesses.
Read more on the 5 Factors That Determine E-Commerce Success.
• • •
Top Shopping Cart Platforms Compared
For e-commerce sites, a sound and flexible shopping cart solution is an absolute must. Poorly designed shopping cart experiences can result directly in lost customers, lower average order volumes, and fewer repeat customers.
Picking a shopping cart solution can be overwhelming; there are hundreds of options out there, each offering generally similar functionality while also claiming unique elements that can add up to a slightly higher conversion rate for your online store.
Below, we highlight more than a dozen shopping cart platforms that power most mid-market e-commerce stores. For each, we're provided a link to live stores using the platform; these real-life examples are often the best way to evaluate the merits of these products.
Big Dogs
The e-commerce software market features hundreds of different solutions, each offering slightly different solutions, pricing, and benefits. Of these, three stand out as the largest players in the market.
Shopify
Shopify powers more than 90,000 online stores, making it one of the biggest e-commerce solutions out there. This platform is an all-in-one hosted solution, meaning that features include storefront templates and management, SEO services, shopping carts, hosting, and many others.
In addition to the out-of-the-box Shopify product, there are also theme and app stores (featuring both free and paid products) that offer thousands of ways to customize and extend the functionality of an online store.
Live Stores: The Shopify gallery includes several dozen live stores ranging from clothes to electronics to books.
Free Version: No, but 14-day free trials are offered on all packages.
Pricing: Packages run from $29 to $179 monthly. Credit card processing charges cost $0.30 per online transaction plus between 2.15% and 2.70% of the total amount.
More on Shopify from MonetizePros: The Beginner's Guide to Shopify.
Volusion
Volusion is another hosted all-in-one e-commerce solution, offering hosting, shopping cart, and a storefront. The package also includes features to address SEO, pay-per-click advertising, social media marketing, and funnel analytics.
Live Stores: The Volusion site features a store showcase with live stores in a number of niches.
Free Version: No, though there is a 14-day free trial.
Pricing: Plans range from $15 to $135 per month.
More on Volusion from MonetizePros: The Beginner's Guide to Volusion.
Magento
Magento is an open source e-commerce platform, meaning that developers can download the code for free and make modifications as needed to customize for their specific usage. Magento also offers a hosted solution, Magento Go.
Magento, which is owned by PayPal, also features an Enterprise version of its e-commerce solution that is designed for larger clients.
A major advantage of Magento is the large community, which has resulted in an extensive support library, numerous on-demand training courses, and a number of forums dedicated to troubleshooting. For example, you can find amazing extensions such as MageMail to easily increase your revenue even further.
Live Stores: Magento's customer showcase highlights a few of their larger live stores, including sites run by Nike, Olympus, OfficeMax, and Vizio.
Free Version: Magento's Community version is open source and free to download.
Pricing: The Community version of Magento is free, while pricing for their Enterprise version will require a personalized quote.
More on Magento from MonetizePros: The Beginner's Guide to Magento.
The platforms listed above are the most popular shopping carts, but they aren't the only options out there. In fact, there are dozens of shopping cart platforms available to e-commerce sites, ranging from free, open source solutions to software that costs thousands of dollars a month.
Below are very brief overviews of several of these options. In addition to some basic pricing information, we've included links to live sites utilizing each platform (where available).
Open Source
In addition to Magento, there are several open source shopping cart solutions that are free to download and free to use. Many of these open source solutions try to upsell extensions or other services to make money after the cart product is downloaded:
Open Cart
OpenCart is an open source shopping cart platform. Users do have the option to pay for expert installation ($333) and other premium features.
Live Stores: The site features a list of online shops where this software is in use.
Free Version: Yes, OpenCart is an open source program.
Pricing: None, it's open source! They do offer add-on packages including SEO, AdWords, and Analytics services.
Spree Commerce
This open source e-commerce software has been used to build more than 45,000 storefronts worldwide.
Live Stores: Their showcase section highlights live stores using this solution, including  Chipotle and Lavazza Coffee.
Free Version: Yes! It's open source.
Pricing: There's no cost to download, though some of the third party extensions cost money.
Tomato Cart
TomatoCart is another open source shopping cart program. It's billed as offering a great user experience across all devices.
Live Stores: Their site features a number of live shop examples across various verticals.
Free Version: Yes! It's open source.
Pricing: TomatoCart is open source software, so there's no cost to download. The program will auto-install Arvixe hosting, which has a recurring monthly fee.
UberCart
UberCart is an open source Drupal e-commerce platform.
Sample Stores: Yes
Free Version: http://www.virtuemart.net/features/live-stores
Pricing: It's open source, so there's no cost.
VirtueMart
VirtueMart is an open source Joomla e-commerce platform
Live Stores: Yes
Free Version: http://www.virtuemart.net/features/live-stores
Pricing: It's open source, so there's no cost.
Zen Cart
ZenCart is open source shopping cart software download.
Live Stores: Their site features a database of a few hundred sites using this service for their cart.
Free Version: Yes! It's open source.
Pricing: There's no cost to download, though you can buy an e-book to get you started for $35.
Other Shopping Cart Platforms
Besides the open source options presented above, there are several more shopping cart options to consider. The list below includes both paid and free options (many solutions have multiple versions of their product).
1ShoppingCart
This platform is a brand of Web.com, which also includes Leads.com, SureResponse, and a search agency.
Live Stores: No
Free Version: There's no free version, though users can get a free trial of the whole suite.
Pricing: Packages run from $34 to $249 a month.
3D Cart
This solution comes with 50+ store templates, and features for SEO and social media.
Live Stores: The 3D Cart client gallery shows sites running this software grouped by industry.
Free Version: No, though there is a 15-day free trial option.
Pricing: Plans run from $19.99 to $129.99 per month.
Bigcommerce
Bigcommerce is a full-service platform that powers more than 95,000 stores across the Web. There are dedicated app and theme stores that allow stores to customize just about every aspect of their offering.
Live Stores: The Bigcommerce showcase page highlights sites running this platform in verticals including sports, homewares, and fashion.
Free Version: No, but there is a no credit card free trial option.
Pricing: There are three packages, ranging in price from $29.95 (Standard) to $79.95 (Plus) and Enterprise.
ContentShelf
This platform is created primarily for digital products, but also has functionality to handle physical goods as well.
Live Stores: Yes, as well as several examples
Free Version: Yes (2 products, 25 MB storage)
Pricing: Plans at $14 / month and $29 / month
CoreCommerce
CoreCommerce includes 100+ free themes as well as paid custom design services. This platform also features a number of shipping options.
Live Stores: Yes, grouped by industry.
Free Version: No, though 15-day free trials are available.
Pricing: Plans range from $29.99 to $199.99
CS-Cart
CS-Cart has multiple versions of a shopping cart and e-commerce platform (more on this below).
Live Stores: Yes
Free Version: No, though there's a trial version and a 100-day money back guarantee.
Pricing: CS-Cart costs $385, while the Multi-Vendor platform costs $590 annually.
WordPress E-Store
This product plugs in directly to WordPress sites, making it one of the easiest options to implement.
Live Stores: Yes
Free Version: No, though you can see a demo online
Pricing: One time $49.95 payment
CubeCart
This e-commerce solution comes has a free "lite" version available as well.
Live Stores: Yes
Free Version: Yes
Pricing: $180 one-time payment
Fat Free Cart
This free shopping cart works with PayPal and Google Checkout as a simple copy-paste cart.
Live Stores: Their site features a list of sites using both the free and premium versions of this platform.
Free Version: Yes
Pricing: The Pro version of this product has packages running between $5 and $265 per month, depending on product volume.
Foxy Cart
The FoxyCart platform was created by developers frustrated with clunky e-commerce packages.
Live Stores: FoxyCart has numerous case studies and featured sites.
Free Version: No, though there's a chance to run an unlimited free trial until you turn your store live.
Pricing: Packages run from $0.15 per sale plus $15 per month to $0.05 per sale plus $250 per month.
GetShopped
This is one of the popular WordPress plug-ins.
Live Stores: Their site shows just a few users of the plug-in, including IconDock and RockYourCause.
Free Version: The basic version is free; there are a number of premium upgrades at various price points.
Pricing:
Highwire
This all-in-one e-commerce plan offers very competitive pricing. There's also a theme store with free and paid options.
Live Stores: No
Free Version: No, though there's a 14-day free trial
Pricing: There are two options, either $14.95 or $29.95
King Cart
King Cart offers a simple shopping cart platform as well as a full turnkey package and merchant processing.
Live Stores: Yes
Free Version: No
Pricing: King Cart charges $0.25 per transaction for the first 100 transactions in a month, and $0.10 for each transaction after that.
PinnacleCart
PinnacleCart has a long list of features, including a number of SEO-focused components.
Live Stores: Their client gallery has a number of examples of live carts in action.
Free Version: No, but there is a 14-day free trial available.
Pricing: Plans run from $29.95 to $149.95 monthly.
Premium Web Cart
This platform includes a number of e-commerce features, such as shopping cart, live chat, and ticket system.
Live Stores: No, though there are a few testimonials sprinkled throughout the site
Free Version: No, though there is a 30 day trial
Pricing: Plans range from $39.97 to $199.97 per month
PretaShop
PretaShop is one of the more popular cheap / free shopping cart platforms. The download includes more than 300 individual features, including SEO, shipping, and analytics services.
Live Stores: The site features live stores, success stories, and some testimonials.
Free Version: Yes; this one is 100% free.
Pricing: There's no cost for PretaShop, though users will pay for hosting through a partner.
Shopping Cart Elite
This platform is a complete e-commerce solution, covering all aspects of an online store.
Live Stores: Their lengthy pitch deck concludes with a gallery of some clients.
Free Version: No, though there is a trial available.
Pricing: This is one of the more expensive platform; packages run from $399 to $1,995 monthly
ShopSite
ShopSite sells primarily through re-sellers who install the platform with their hosting account, though you can purchase directly from the company.
Live Stores: Their site includes a few dozen sample stores.
Free Version: No
Pricing: Packages run from $5 to $60 monthly (there are also options to pay a one-time fee (ranging from $495 to $1,295)
UltraCart
UltraCart offers catalog customization, shopping cart, and e-commerce hosting.
Live Stores: The UltraCart site features a number of case studies highlighting live stores in a number of different verticals, including books, food, and software.
Free Version: No, but there is a 30-day free trial.
Pricing: Packages run from $49.95 (up to 250 items) to $154.95 (up to 5,000 items) a month.
WooCommerce
This WordPress plug-in has been downloaded almost 3 million times, and has a 4.2 out of 5 star rating.
Live Sites: Yes
Free Version: Yes
Pricing: The plug-in is free, with premium extensions and themes at various price points
X-Cart
X-Cart is a PHP e-commerce platform that has mobile-ready features and integrations with major shipping companies and payment gateways.
Live Stores: The X-Cart showcase highlights a number of live e-commerce sites.
Free Version: No, though you can get a free trial on any of their plans or an online demo.
Pricing: Plans range from $19.95 to $199.95 per month for the X-Cart Cloud solution. The software downloads (a lifetime license) can be purchased for one time fees of $99, $495, or $1,495.
Bottom Line
We told you that the options for shopping cart platforms could overwhelm; the sites listed above are only some of the options out there. (We weeded out the generally worthless ones.)
A shopping cart is an important decision for any e-commerce shop, so it's worthwhile to spend some time on this decision. Make the commitment to looking through the options above and see what these platforms look like when they're actually implemented. Many shops will gravitate toward one of the larger platforms, since they tend to have more extensive documentation, apps, and themes. But the best store for each site will differ depending on a number of factors.
• • •
Five "Trust" Logos That Increase Conversion Rate
For any website that sells a product or service–whether it be a physical good or an email newsletter–there are two primary ways to increase transaction volume. One is to increase traffic, getting more potential customers into your sales funnel. The other is to increase the conversion rate on your checkout page, getting more revenue and more customers from your existing traffic base.
There are a number of ways to boost conversion rates, including adding testimonials to the site, tweaking price points and coupon codes, and even changing the color of the checkout button. Another opportunity to increase conversions involves putting a "trust badge" on a checkout page, with the goal of convincing potential customers that the process is safe and secure.
Read more on the 5 Factors That Determine E-Commerce Success. 
• • •
11 Experiments to Improve Your E-commerce Conversion Rate
For many e-commerce sites, the challenge is not getting potential customers to your site but getting them to complete the checkout process. The average e-commerce conversion rate is in the neighborhood of 3%. Getting just one extra visitor out of every 100 to complete a purchase can result in a big improvement in revenue.
Successful e-commerce sites are those that minimize distractions and barriers to sale, and make it as easy as possible for visitors to become paying customers. There are an infinite number of experiments that can be run and tweaks that can be made to boost conversion rates. Below, we offer some relatively easy and cheap experiment ideas for e-commerce sites. Unlike much of the advice on this topic, these suggestions are specific and actionable–no generic advice or ideas that would take a month of development work to install.
Experiment #1: Highlight Trust Badges
Just about every e-commerce site has a "trust badge" somewhere on the site to make potential customers feel secure in completing a transaction there. In most cases, these logos appear in the footer or only on the checkout page. Positioning the SSL seal in a more prominent position may have a positive impact on conversion rate.
Here's an example of a site with a security seal in the footer, along with a couple of ideas for a higher profile positioning: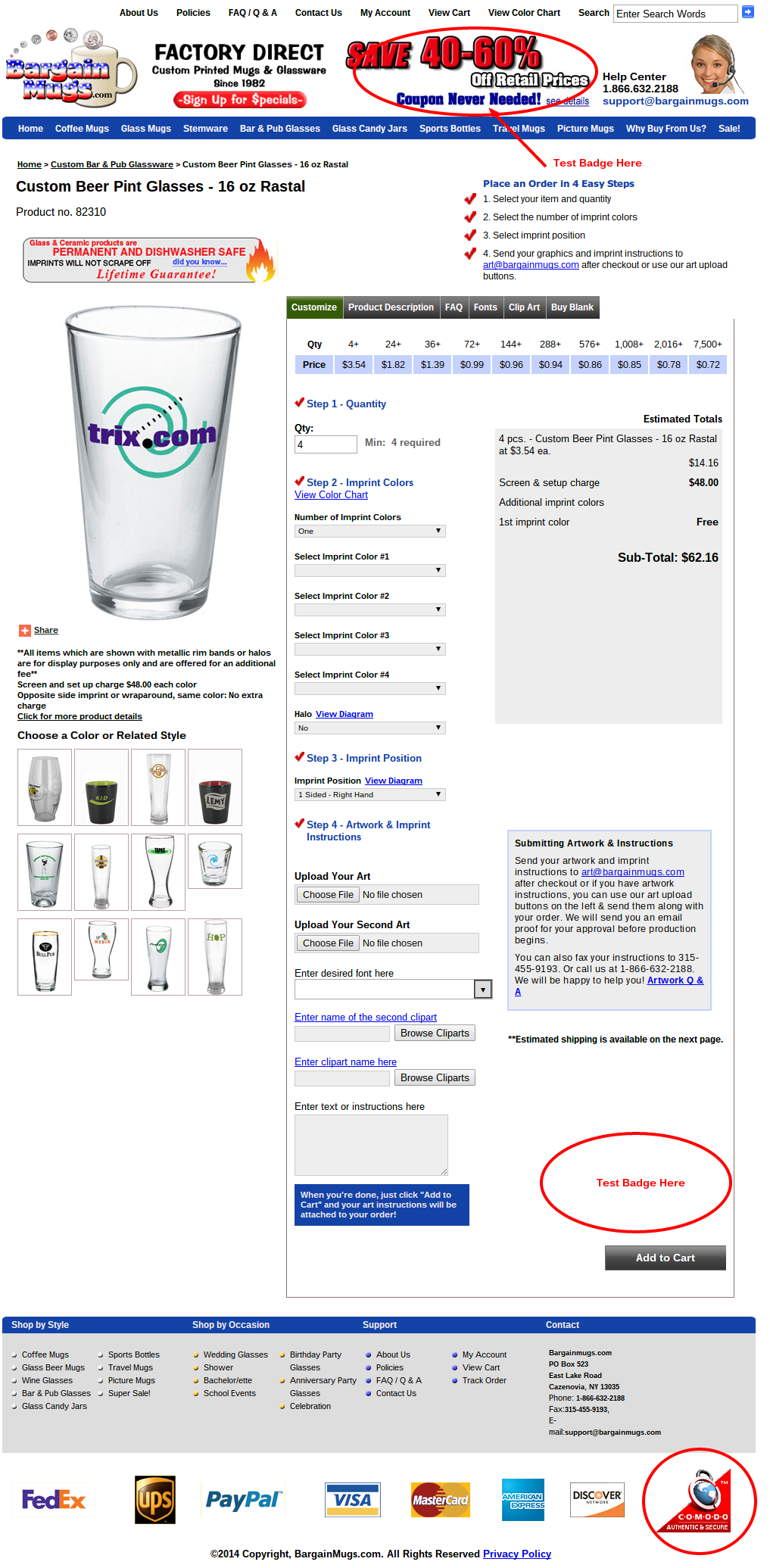 Experiment #2: Get Rid of Carousels
Carousels seem like a great idea to highlight multiple types of products (or pieces of content). But while they may look good, they're not very effective. The vast majority of visitors either click on the first position, or don't click at all.
If you have a carousel (or "slider") on your site rotating through different products, try replacing it with a boring old table to show off all the products at once. Here's an example of a carousel in action, rotating through three different offers: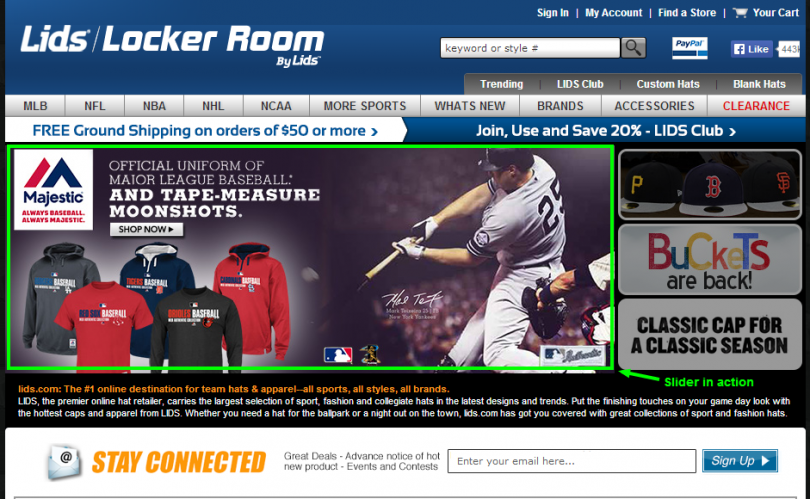 Experiment #3: Add Homemade Money Back Guarantee Badge
This one is extremely simple (and potentially very effective). In order to help you close the deal once a visitor has something in their cart, try adding a badge (or experiment with variations) that make visitors feel better about making a purchase.
Uncertainty over a potential purchase can often be alleviated if shoppers know they can undo it later. Even if this is something they very rarely do, knowing the option is there is reassuring. So if you can offer a satisfaction guarantee, highlight that benefit on the checkout page. The easiest way to do this is to throw up an image like the one to the right. This seems like a third party endorsement or seal of approval, even if it's just something you throw together or grab from elsewhere on the Web.
Experiment #4: Move "Add to Shopping Cart" Button
A good principle of e-commerce is to never underestimate the ability of potential customers to get sidetracked. In many cases, even the slightest difficulty or confusion can derail the process.
Making the "Add to Cart" and "Checkout" buttons easy to find and click can be a piece of "low-hanging fruit" in the e-commerce optimization process. A good place to start is putting these above the fold and picking a color with a positive emotional association.
This layout is probably sub-optimal; the Add to Cart button is below the fold: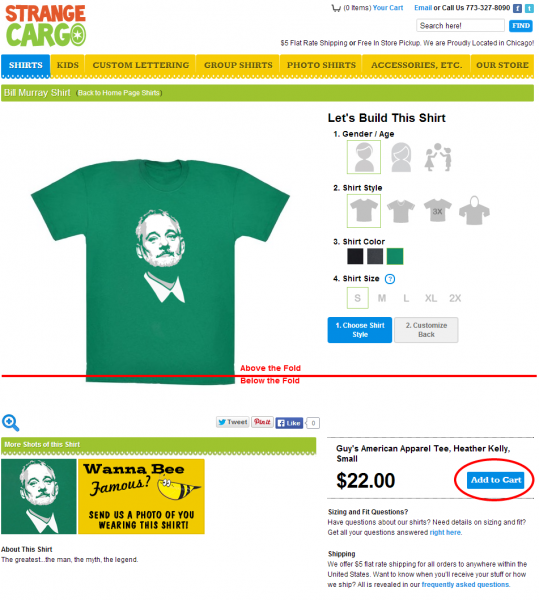 Experiment #5: Create Urgency With Banner Ads
Creating a sense of urgency is a great way to increase your conversion rate. If potential customers are aware that a window is closing on a good opportunity (such as a discount), they will be more likely to complete the purchase.
The easy way to test out the "impact of urgency" is to create and integrate some simple banner ads on to your site. Below is a good example from Overstock.com; a simple 125×125 button does the work here:
Experiment #6: Add a Hello Bar
The Hello Bar, and its alternatives, has been adopted by a number of publishers to highlight membership options on their site or to funnel visitors to a high priority section of the site. There's a great opportunity here for e-commerce sites also to highlight special products or deals.
If you're not familiar with this implementation, it's a narrow stripe that generally appears at the top of a page. (The image above offers a good example.) Hello bars typically include a brief call to action along with a link.
Below is another example of a similar concept in action. Art.com has a bar that pops up below its nav bar highlighting timely or special events. This one also incorporates the suggestion above to create a sense of urgency with a banner ad: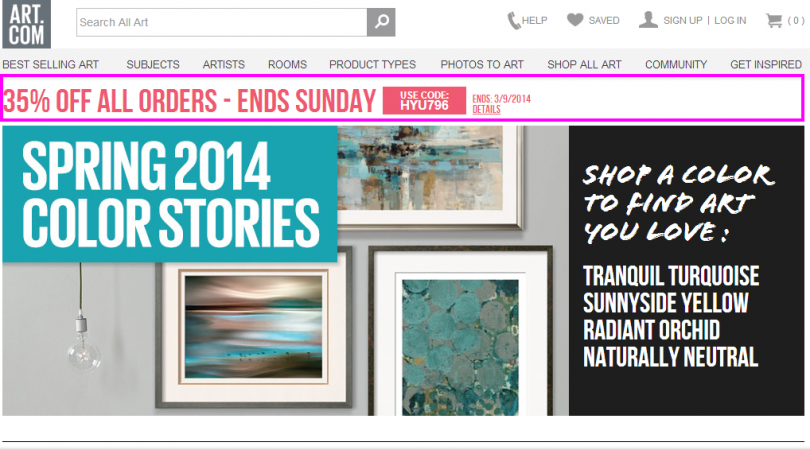 Experiment #7: Ship For Free
Free shipping has become more standard thanks to strategies by Amazon and Zappos (among others). As customers come to expect this as standard, they're also more likely to abandon potential purchase that doesn't include free shipping.
Telling potential customers that the bottom line price for an item jumps nearly 50% when shipping is factored in is a great way to get them to abandon their cart: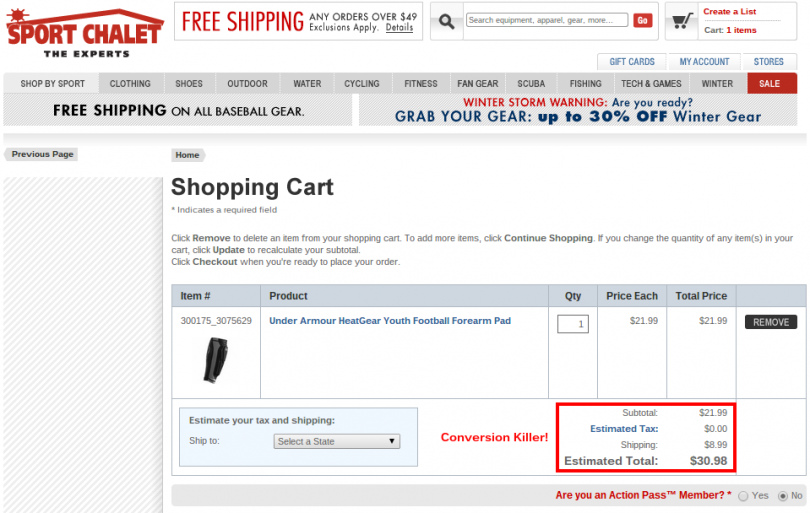 If you currently charge for shipping, consider an experiment to determine just how much of a "conversion killer" this added cost is. Try offering free shipping for a period of time (or on certain items) and see what the impact on conversion rate is. If it turns out to be substantial, figure out a way to make it standard (such as building in the cost of shipping to the price tag).
Experiment #8: Highlight Reviews / Ratings
Positive reviews for a product can help alleviate any concerns that potential buyers have about buying it without getting their hands on it first. Prominently positioning ratings on a product (assuming, of course, that you have this feature) can help customers give themselves the positive affirmation they need to complete a purchase.
Zappos puts user reviews and star ratings front and center on their site: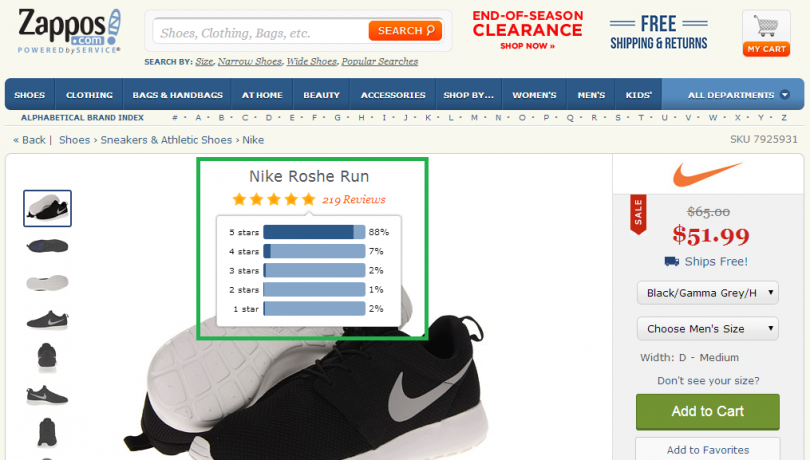 Experiment #9: Suggest Pairings
While the suggestions above have primarily focused on improving conversion rate, this one is an idea for increasing the average ticket price.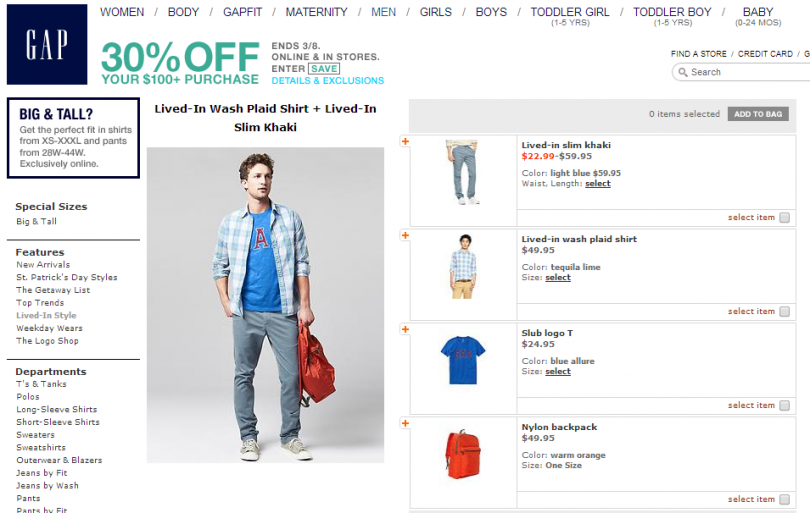 Depending on your niche, this experiment could potentially become pretty time consuming. While the ideal solution features either an algorithm to identify related items or a manual matching process, there are ways to do a simplified version of this experiment with limited work. For example, come up with some manually selected suggestions for a handful of your most popular products, and measure the impact on average ticket price. If you see a meaningful increase, then you can invest further.
Experiment #10: Offer Close Ups
E-commerce sites need to overcome the lack of access inherent in an online store. While letting customers get their hands on an item is obviously impossible, there are some creative ways to give them an in-depth preview of what they're about to buy.
Amazon and many others feature extreme closeups, offering high resolution images of every part of a product. Here's an example: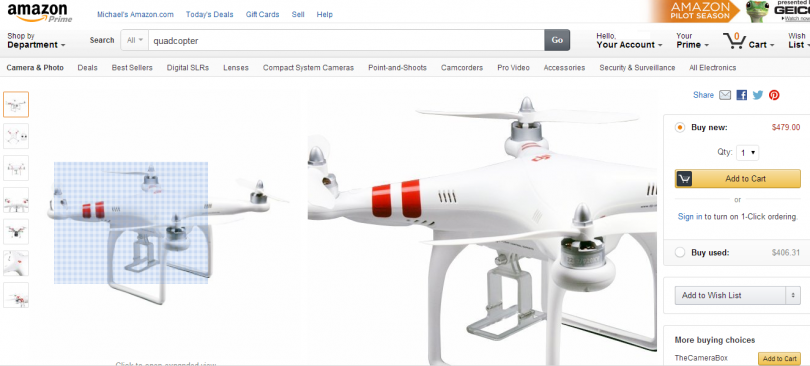 If you want to try this out, Shopify has an app that can make it happen. Magic Zoom Plus costs $69 with a 30-day free trial. (We have not tried this app out, but the reviews are very positive.)
Experiment #11: Make a Social Push
Social media can be a source of free publicity for e-commerce shops–if they're able to effectively execute a strategy. Offering coupons in exchange for Likes or Tweets has the potential to help new customers discover your site. Below is a good example of such a strategy in action: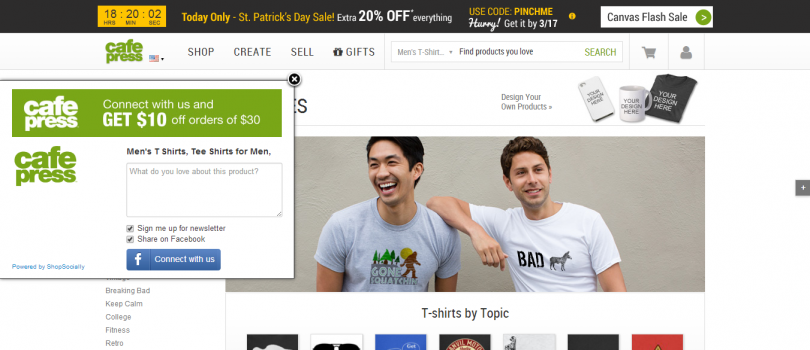 Again, a full-scale social strategy likely requires significant time and resources. But there are way to experiment with this idea that don't involve months of development time. The implementation above was done through ShopSocially, a platform that can be used to churn out these types of campaigns.
Bottom Line
If you're running an e-commerce site in 2014, there are probably dozens of opportunities for you to improve the user experience and conversion rate. Hopefully the ideas above provide some ideas for experiments you can run and improvements you can make to your site.
• • •
What Payment Options Should Your Shopping Cart Offer?
For as long as e-commerce shops have been around, it's been sufficient for merchants to simply accept credit cards as the primary or exclusive means of payment. But as a shift towards digital currencies takes place, many e-commerce sites are taking steps to increase the number of payment options offered on their sites. The number of online transactions completed with traditional credit cards has declined in recent years, and will continue to drop moving forward.
Sites that don't evolve to accept newer methods of payment risk losing out on more tech-savvy customers who have switched to one of these newer payment methods for their personal shopping. Below we take a look at some of the non-traditional payment methods that are gaining traction with online shoppers.
Option #1: PayPal
Though some sites don't yet allow shoppers to pay with PayPal, this option has become almost ubiquitous in recent years.
Having PayPal as a checkout options has become increasingly necessary as the traffic mix shifts towards mobile. For anyone looking to complete a transaction on a mobile phone, entering in a PayPal password is much easier than filling in the information required to complete a checkout with a traditional credit card. A ShopVisible study in 2013 found that more than three quarters of mobile transactions are completed with an alternative payment option (i.e., not credit cards):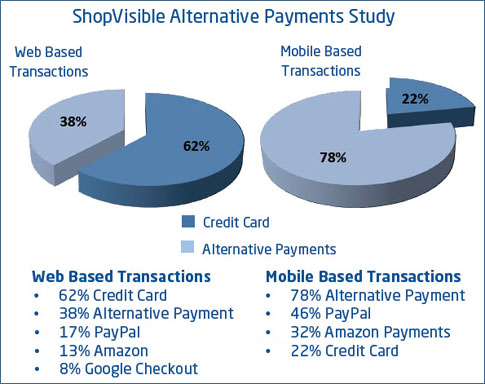 Accepting payment from PayPal is pretty straightforward; there's a detailed manual to guide developers through the process. PayPal notes that adding the option to "Express Checkout" with PayPal has resulted in an average revenue increase of 18% (though the study they reference is from 2010).
Option #2: Google Wallet
Google Wallet is a tool that can be used to purchase digital goods online. Though it isn't a popular option for most online shoppers, many large sites and apps have added Google Wallet functionality to their checkout process. These include GNC, Hilton, NewEgg, and Five Guys (see a more complete list)
If you want to get a feel for how this works, Google has a number of examples available.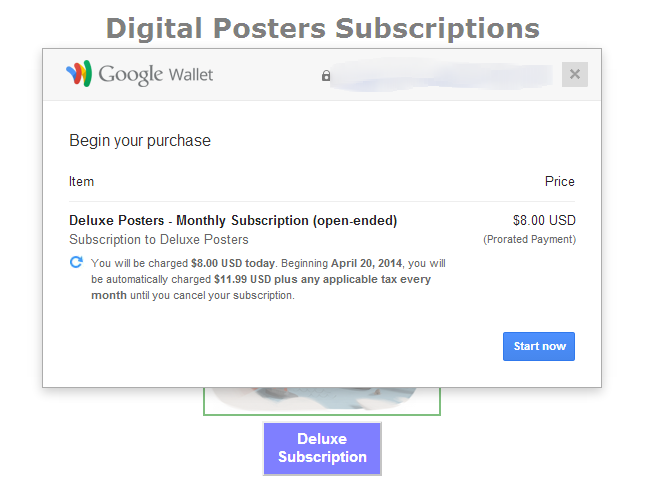 Google Wallet offers similar advantages in processing payments from mobile shoppers; once they've set up their account, it's relatively easy to complete a transaction on a site that is able to accept it. For now, however, there are a lot more PayPal accounts (about 143 million to be exact) than there are Google Wallet accounts.
Here's a way to visualize the advantage of accepting Google Wallet; the option presented below is much more appealing to mobile shoppers than entering a 16-digit code, expiration date, and billing address: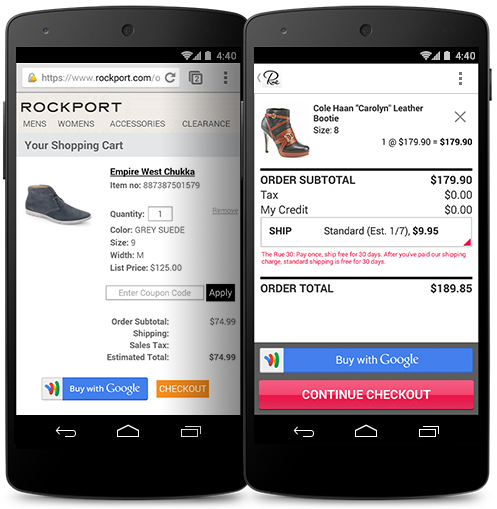 Option #3: Amazon Payments
Amazon has also set up its own system that allows merchants to accept payments from its members. This payment method has been adopted only by a limited number of merchants so far. Here's the checkout window at Build.com, a site selling home furnishings: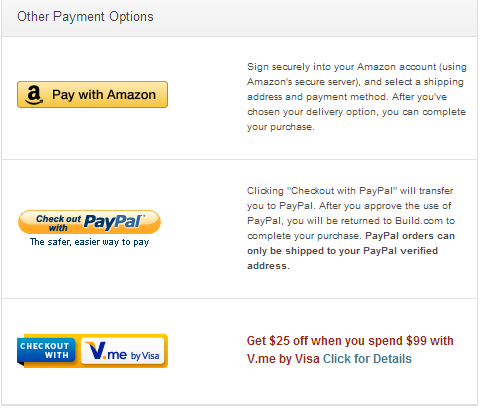 Amazon has a guide dedicated to enabling this payment system on merchant sites.
Option #4: Rewards Points
If your site is able to accept rewards points, it could help your conversion rate significantly. That's because these rewards points are often perceived as "free money" to shoppers. Because spending them requires no cash outlay, shoppers are unlikely to be hesitant about completing the sale. If, on the other hand, clicking the confirm button would mean an expense on their credit card statement, they may think twice (especially if it's a big ticket item).
Here's an example of a checkout that allows shoppers to pay using rewards points from major credit cards: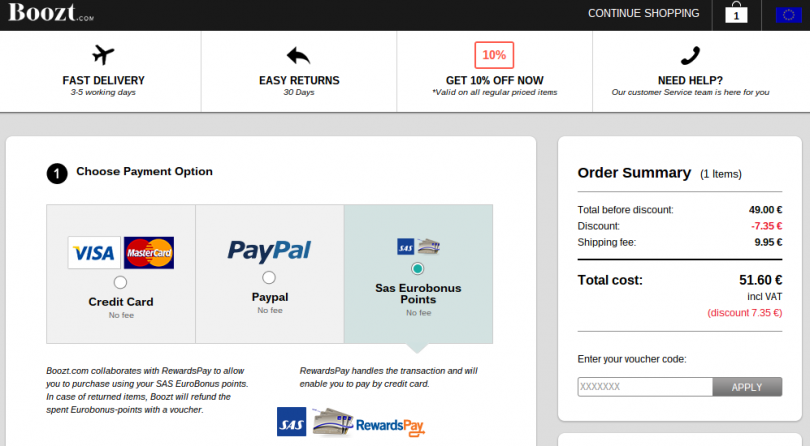 RewardsPay offers a service for merchants to accept bonus points at their checkouts (this is the technology that powers the example above).
Option #5: Bitcoin
By now, you should have at least heard about cryptocurrency Bitcoin. Though there have been a few bumps in the road, it seems increasingly likely that Bitcoin will stick around as a preferred means of payment for at least a portion of the online community.
The Bitcoin is unlikely to replace credit cards any time soon, a few online stores have started presenting it as a payment option. Overstock.com recently became one of the first major e-retailers to accept Bitcoin at its checkouts: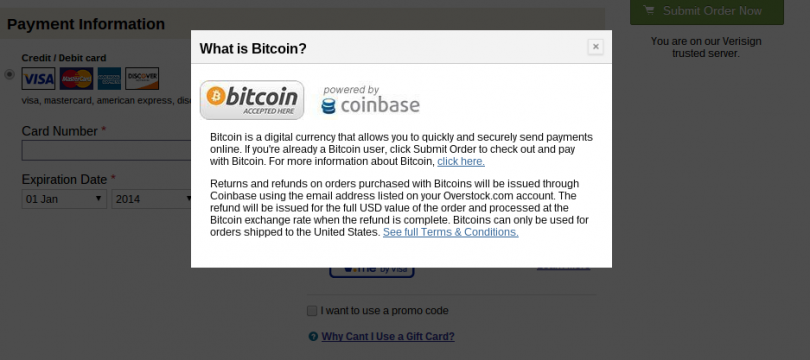 As shown above, Overstock is using Coinbase to power its Bitcoin-enabled checkout. Coinbase has a tutorial for merchants interested in letting shoppers pay with Bitcoin on their site.
There are also about 100 Etsy vendors who now accept Bitcoin as a way to purchase their products: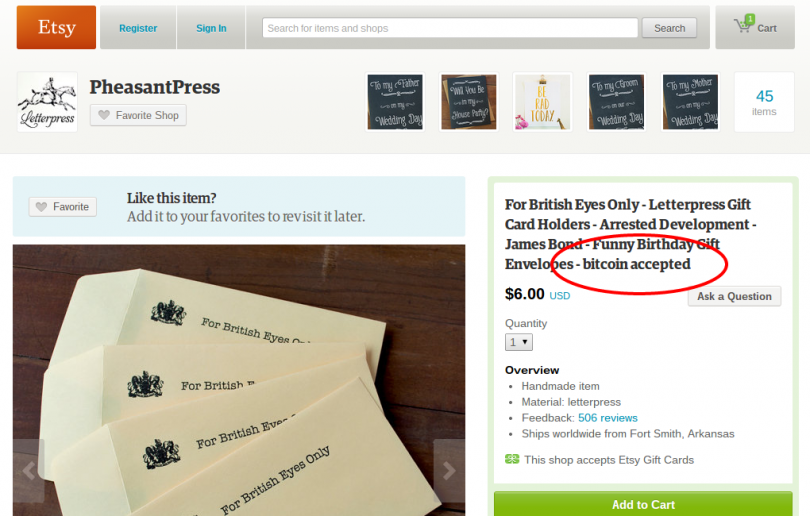 Overstock and Etsy aren't alone; a number of other companies, including Tesla, TigerDirect, OKCupid, Zynga, and eBay are now accepting Bitcoin as payment.
Bottom Line
In general, the more options you offer for checkout the better. While we like to think that most shoppers are determined to complete a transaction online, the reality is that many of them give up the process when faced with the slightest of obstacles. Making the final step of the checkout process as accommodating as possible will increase conversions, customer loyalty, and your reputation as a tech-savvy merchant.
• • •
Moving Beyond E-commerce Basics: 10 Resources We Love
While we consider ourselves to be experts on just about every aspect of online monetization, we'll admit that we don't have nearly as much hands-on experience when it comes to e-commerce. While we've published a few e-commerce tutorials, those looking to get a bit more advanced in their optimization strategies may require some additional resources.
Try out some of the trusted e-commerce tools and resources highlighted below. These are tools and blogs that we've personally tried out and/or read and highly recommend:
Tools
In an industry where conversion rates of about 3% are common, getting slight improvements to the number of visitors turned into customers can mean a major increase in revenue. There are some great tools out there for understanding where visitors are leaving your checkout process and testing the impact of different layouts:
This software has applications for all types of sites, but is particularly useful for e-commerce properties. Crazy Egg provides heatmaps of activity on a site, allowing users to see where visitors are clicking and how far they're scrolling. The insights provided can be used to optimize your site's design and checkout process.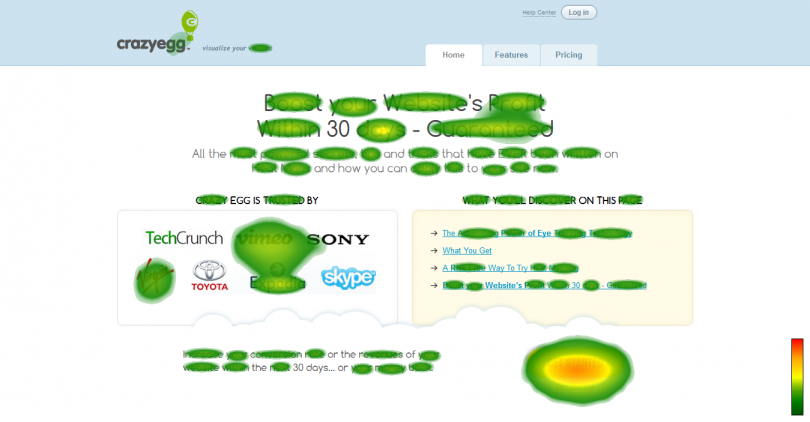 There are few things we look forward to more than the weekly newsletter from WhichTestWon. This site puts up a real life A/B test every week and lets users guess which variation delivered the better results. The answer comes with an explanation of the suspected reasons behind the performance differences, as well as great discussion from the community on any similar experiences.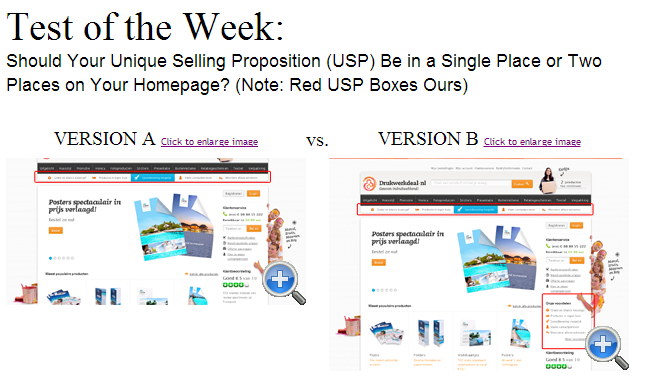 There's also a paid membership that gives access to a full library of split tests and results (400+ cases), a great resource for anyone looking for inspiration for split testing.
Resource #3: Optimizely
Similar to Crazy Egg, Optimizely is a tool that can be used to improve performance on all types of sites but that is particularly useful for e-commerce. Optimizely is one of the most popular split testing apps out there; it lets users run multiple versions of a web page simultaneously and track any differences in performance.
For e-commerce sites, Optimizely could be used to run a number of experiments. For example, the impact of changing the location or color of the "Add to Cart" button could be measured and optimized (as well as countless of aspects of the checkout funnel). For more ideas of experiments that can be run with Optimizely, check out our 11 Experiments to Improve Your E-Commerce Conversion Rate.
There's an Optimizely extension for Magento that's free to download and has a five-star rating.
The Shopify app store is a great place to do some browsing, even if your e-commerce site isn't powered by Shopify. This is the equivalent of a mall of WordPress plug-ins that offers some unique functionality or enhancements to a WordPress site.
Even if you can't get these apps to be immediately functional on your site, there is still a great deal of value in browsing the store; you'll get some great ideas for changes to your site that can be made to improve sales (for example, apps include a way to log in with social media accounts or launch a loyalty program).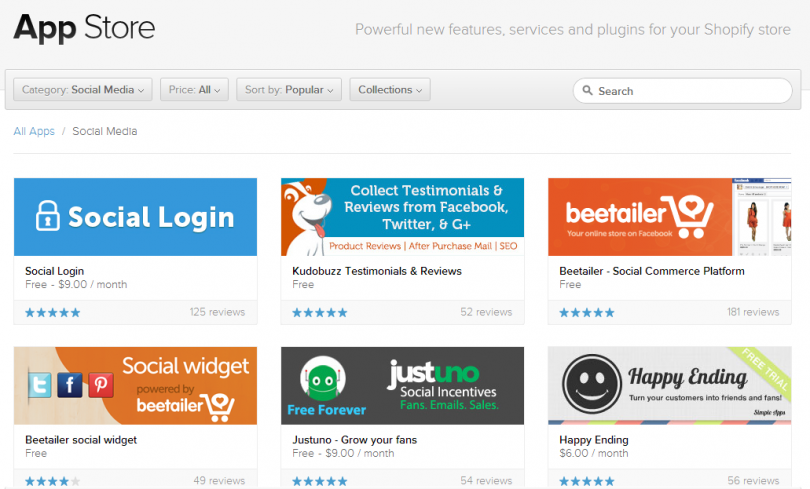 Blogs & Continuing Education
There are some great minds out there who fortunately share their thoughts on e-commerce strategies in public forums. Some of the best blogs with a focus on e-commerce include:
This site is a great resource for anyone running an e-commerce site. Daily blog posts and tutorials give in-depth lessons about running an e-commerce shop as well as ideas for improving key business metrics. There's also a library of on-demand webinars on various e-commerce topics.
If you haven't already, sign up for the Practical Ecommerce newsletter; you'll learn something new with each issue (and also get an e-book with 50 e-commerce tips and ideas). Some examples of the high quality content published on this site include:
Peep Laja runs a great blog covering all things related to online conversions (as well as an online marketing agency). Signing up for his newsletter gets you access to his incredibly in-depth posts (seriously…they're long) as well as some very helpful guides.
This site covers general site conversion, but that includes quite a bit on e-commerce tactics. Some of the sample topics that can help out e-commerce sites include:
This blog is published by e-commerce platform Elastic Path, and publishes new content three times a week. Elastic Path offers a number of additional resources as well, including webinars, white papers, videos, and more.
Must reads from this blog include:
Econsultancy is a more general digital marketing blog, with a channel dedicated to e-commerce. But a lot of the content published outside that channel is useful for e-commerce sites as well, as it covers basic and advanced online marketing techniques.
The best of this blog includes:
Signing up for the Daily Pulse newsletter is free, and will get you the latest from this site on a daily basis.
Magento offers several on-demand webinars that cover a range of topics related to running an e-commerce sites. These are a bit more in-depth–some are nearly an hour long–but full of good information if you have the time to sit through them. Recent webinar topics include:
Conversions – The Gift That Keeps On Giving! (embedded below)
Shipping Best Practices to Help Grow Your Revenue
Responsive Design: What is it and why it's so important for 2014
You'll need to be registered in order to access the webinars through their site, but that's free and takes less than a minute (you can also subscribe to their YouTube channel).
Resource #10: Volusion
Volusion is another e-commerce platform that allows entrepreneurs to build and launch an online store. In addition to the paid services they offer, this site has a pretty solid suite of free educational resources. Specifically, it includes:
Introductory "How to Sell Online"
On-Demand Webinars: Recent topics include "Realistic SEO Strategies for Ecommerce"
How-To Guides: Topics include using Facebook for e-commerce and choosing which products to sell online
Blog: It's not quite as good as the others highlighted above, but there's definitely some good information here.
Other Strategies & Technologies
There are a handful of other areas where e-commerce sites have an opportunity to optimize. These include:
Retargeting: If you've ever seen ads for a product you recently viewed on Amazon or Zappos while reading the news online, you've experienced retargeting. Savvy e-commerce sites know what customers who abandoned their site were looking at, and can remind them of their incomplete purchase later.
Check out this great guide to retargeting which walks you through the whole process.
Social Campaigns: Social media has emerged as a way to generate both new and repeat business for e-commerce companies. There are a number of different strategies and technology partners out there.
Shop Socially is a popular platform for getting social campaigns up and running on your e-commerce site. It has generally good reviews (though we haven't personally used it).
Shopping Cart Abandonment: Abandoned shopping carts are going to be an eternal frustration for e-commerce sites; potential customers are always going to drop off before checking out regardless of how efficient your funnel is. But there are definitely ways to reduce the number of left-behind carts.
There are a number of tools and apps out there for combating shopping cart abandonment (including the retargeting apps mentioned above). Other options include Barilliance and CartHook.
Bottom Line
The tools and resources highlighted above contain just about everything there is to know about e-commerce. However, if you feel overwhelmed you may want specific training I recommend the ecom success academy or our guide to dropshipping. 
• • •