The number one rule of AdSense is to always be experimenting. In a recent blog post we laid out three simple AdSense experiments that can be run without any development work–the simple tasks that can help you get your feet wet and understand the concept of optimization. Today, we're moving away from the shallow end of the pool with a few more advanced suggestions for AdSense experiments you can try out in the quest to find the optimal lineup for your website. (By the way, if you're enjoying this article, you may want to subscribe to our free newsletter; we'll send monetization tips straight to your inbox each day.)
Experiment #1: Turn Your 300 x 250 Into A 300 x 600
When establishing your initial AdSense layout, most websites include a 300 x 250 medium rectangle. That's a smart move; it's one of the standard units that every advertiser creates, meaning that you'll have a lot of demand for that segment. There could be an opportunity, however, to increase earnings by converting your medium rectangle into a much larger rectangle–a 300 x 600 to be exact. That switch more than doubles the size of the ad, and–all else being equal–should lead to higher click-thru rates than the smaller 300×250 unit.
This change is relatively easy to make in most cases since the width of the column hosting the ad doesn't change; the real estate dedicated to ads expands vertically instead. Here's an example of a 300 x 600 implemented:

Note that Google does put a limit on 300 x 600 ad units; there's a max of one per page. Harsh Agrawal has a review of the new 300 x 600 ad unit as well as instructions on how to implement it. Imran Uddin at AllTechBuzz compares the unit to the popular 300 x 250, highlighting some potential drawbacks in the larger unit. Note that some of these have been addressed since his article was written.
Experiment #2: Move Search Box To Nav Bar
Search boxes are an often overlooked piece of the AdSense puzzle; Google lets you have up to two on each page. In addition to a site-specific search engine, this placement gives you another revenue stream through the display ads shown on results pages.
Many websites hide the search box, burying it below the fold in a sidebar. Experiment with giving it some prime real estate in the nav bar; you may find that you simultaneously improve the user experience and increase your earnings.
Here's a blog that's done this:
For those unfamiliar with this concept, Michael Miller for Que Publishing has a great overview of how AdSense search can make you money.
Experiment #3: Move Your Link Unit To The Nav Bar
If you weren't already aware, Google allows up to three link units per page. If you aren't using these on your site, you should probably start; link units are an easy, non-obtrusive way to boost your overall CPM by $1 or more.
Sites that are actively monetizing through link units tend to put them at the end of content. Experiment with giving these link units more prominent placements; you may even want to try throwing them just under your nav bar so that every visitor who comes to your site will see them. (When buried below the fold, link units will only be seen by a small percentage of your visitors.)
You'll have a nav bar that looks something like this:


Experiment #4: Move Ad Units Within Content
In a similar vein, many sites tend to keep content and ads completely separate (e.g., ads in the sidebar next to the content). If your site's layout and structure permit it, try integrating ads and content together. Without trying to do anything too sneaky, there's an opportunity to put relevant ads in a place where your visitors can't help but notice them.
Try sprinkling ad units and link units in with your high quality content, effectively disrupting your users' digestion of your content with a presentation of ads. There is a bit of a trade-off here with frustrating some readers, but the inconvenience is pretty minimal and may result in a nice jump in revenue.
Take a look at what ReelSEO.com does in some of their articles; notice that the ads interrupt the article, ensuring that they will be seen by viewers:

Experiment #5: Flip To The Left
Generally speaking, the left side of a webpage gets a lot more attention from visitors than the right side. The eye naturally reads left to right, so it starts at the left sidebar and tends to spend the majority of its time on that half of the page. Here's the classic AdSense heatmap to illustrate this point:

You can probably see where this idea is going; if your layout has an ad in the zone 2 and content in zone 1, see what impact switching these two has on overall CPM.
Digvijay Todkar has some detailed ideas on site layouts to optimize AdSense.
Experiment #6: Ditch The Leaderboard
A 728 x 90 leaderboard is a staple of many display advertising layouts. On the surface that makes a lot of sense; it's a standard ad unit with a logical home at the top of the page. But most leaderboards monetize very poorly, which makes sense if you think about it a bit more. Upon landing on a page, most visitors almost immediately scroll down to center the content they're looking for–in many cases before the leaderboard can load completely. This is especially true for returning visitors who are familiar with the site logo and nav bar, and begin to immediately scroll down to get to what they're looking for.
Try ditching the leaderboard altogether and using your extra ad unit in the form of a 300 x 250 positioned next to the content with which your visitors engage more actively.
Ad units perform better when they are "in content." Leaderboards inherently fall outside of this bucket; they're located above a site's content, and are out of sight after an initial scroll down. Ditching the overlooked leaderboard and replacing it with another in-content unit can be a way to boost earnings: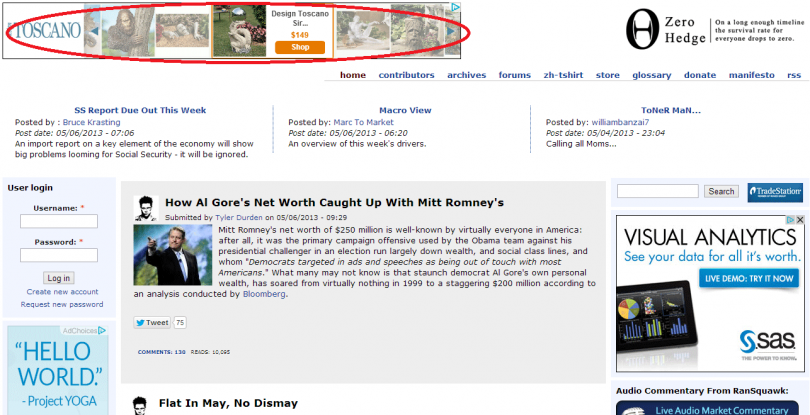 Experiment #7: Mix Up The Order
This final experiment is one that your visitors will never notice. Behind the scenes, there may be an opportunity to experiment with the order in which your ad units get first dibs on the best ads. Google will serve ads on a first-come, first-served basis, meaning that the ad unit that appears first within your HTML code will get filled first.
Your best performing ad unit should always appear first. If it's not immediately clear to you which unit is the top performer, experiment with the order in which your ad units appear in your site's code and keep track of the impact the placement has on CPM. The AdSense blog explains in a bit more detail, and gives step-by-step instructions for how to implement.
Bottom Line
The key to AdSense success is experimentation; the most efficient earners are always trying out new combinations to come up with a strategy that works best for them. Not all of the above tips will boost revenue for every site. Some of these will probably lower earnings for certain sites. But if one of every seven experiments you run uncovers a permanent optimization that can be made to your site, you'll see your AdSense earnings skyrocket in no time.
Have another experiment that led to an increase in earnings? Let us know in the comments below!