When it comes to improving the monetization of a website, one of the most valuable tools any entrepreneur possesses is a set of open eyes. There's generally no need to reinvent the wheel; among the countless sites out there are plenty of good ideas that can be easily implemented on your own property.
But you also shouldn't assume that the largest sites out there have Web monetization mastered, especially when it comes to display ads. If you feel like there's room for improvement in your display ad monetization, know that you're not alone. Many large publishers are missing out on significant revenue through sub-optimal display strategies. Below we highlight five major websites that could significantly improve monetization with a few easy tweaks.

1. Better Link Units on WSJ.com
In addition to standard banner ads, the Wall Street Journal's online property shows link units at the bottom of each article. When clicked, these ads take visitors to a landing page that shows a number of different ads: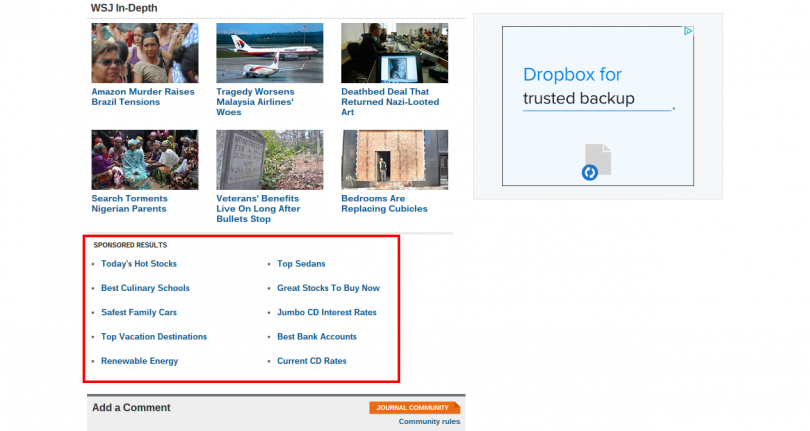 This type of ad unit is a great idea for generating some incremental revenue. The opportunity for improvement here is through a better partner that can offer a more effective implementation. The above widget is powered by ad network Chitika, which is used by a number of publishers but lacks the depth of advertisers and contextual targeting technologies of Google or Yahoo!
If we were running WSJ.com, we'd take note of what Media.net did for TheStreet.com, and try out this implementation:
Chitika is a decent ad network, but in our experience it can't match the fill rates, click rates, or effective RPMs of AdSense or Media.net.
2. Lower Leaderboard on BleacherReport.com
BleacherReport.com gets pretty creative with their display ad packages; the site regularly runs homepage takeovers, skins, and other custom implementations. But they could improve the performance of one of their "plain vanilla" ad units with a minor relocation.
The 728×90 leaderboard appears at the very top of the page, above the nav bar and article title. Though this seems like a prominent position, it's positioned too far toward the top. Most articles on BleacherReport don't start until well below the fold, in part because of the images that accompany each piece. That means that most visitors will immediately begin scrolling down–which puts the leaderboard out of view: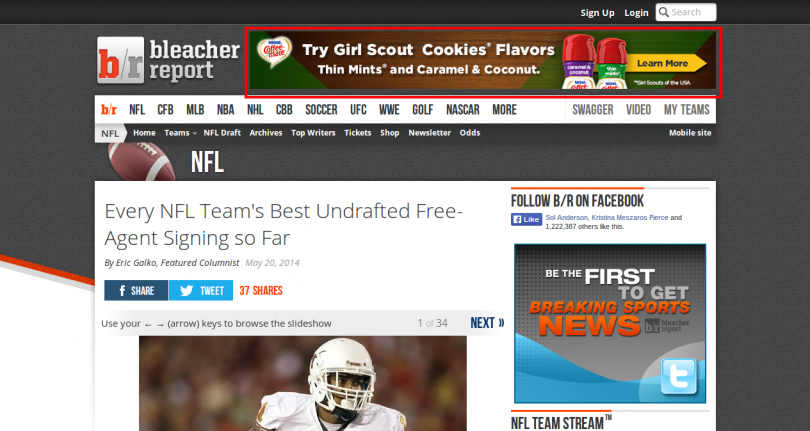 Moving the leaderboard down below the nav bar would allow it to stay in view longer, improving click rates and earnings.
If you're having a hard time visualizing this change, here's an example of a site that has it down: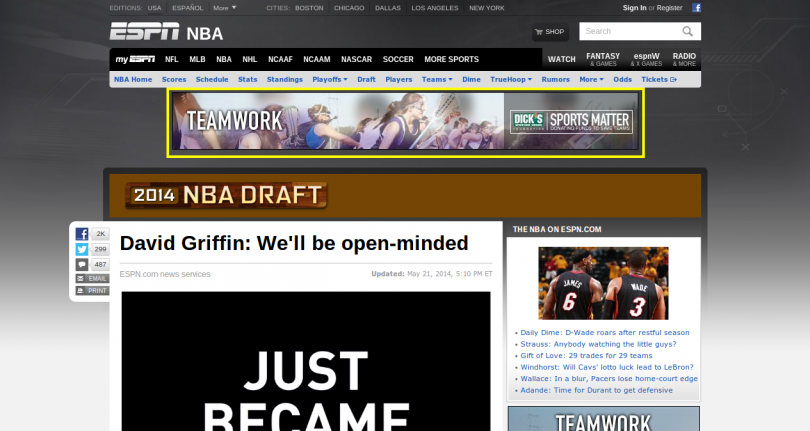 All else being equal, we'd expect the ESPN leaderboard to see click rates 20% to 50% higher than the exact same ad unit on BleacherReport.
3. Better Below-the-Fold Placements on ESPN.com
Though ESPN's leaderboard is positioned nicely, there is room for improvement further down the page. Here's what the real estate after the end of an article looks like: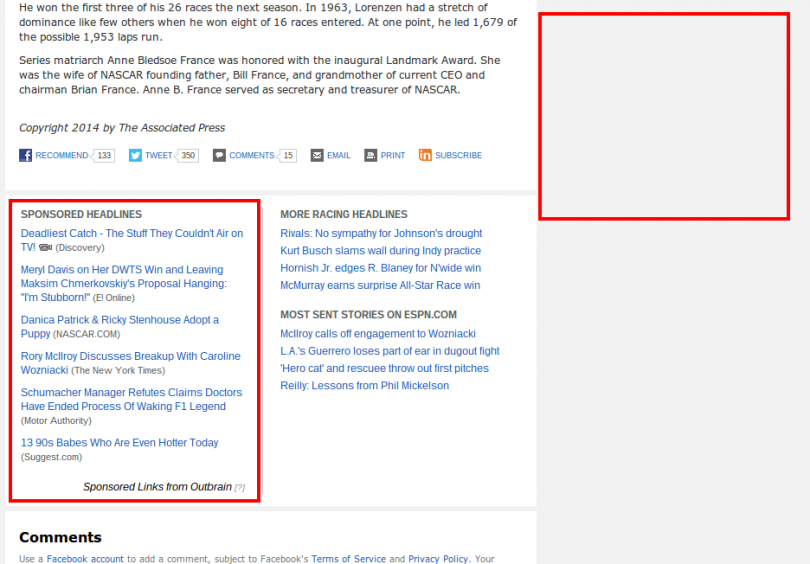 There are a couple of specific suggestions for improvement here:
Change the Sponsored Content section (which is powered by Outbrain) to show images next to the headlines. This would improve the click rates and earnings significantly. Here's an example of this in action: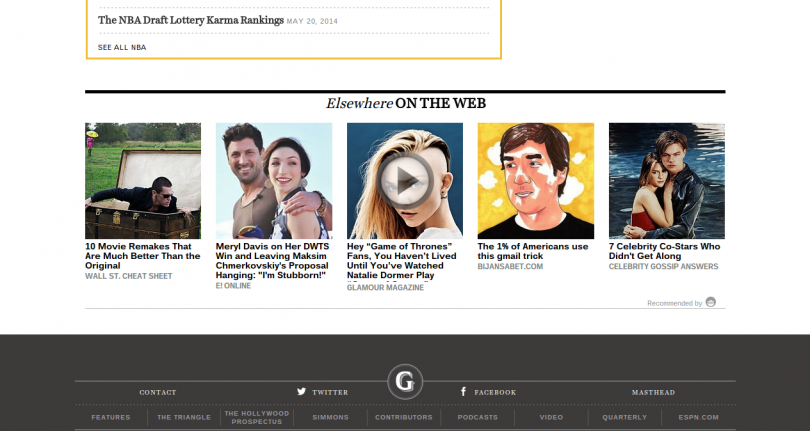 The sccreenshot above comes from Grantland.com, a site partially owned by ESPN. So they're already using this more effective sponsored content layout on some of their properties, but are sticking with a text-only format on their flagship.
Making this change could double click rates and earnings from this widget.
Make a "floating" ad unit that follows visitors down the page. In the screen shot above, we highlighted an area to the right of the page where an ad unit could follow visitors as they scroll, increasing its visibility and click rates. Here's a tutorial with more on this idea (as well as some examples).
4. Custom Search and Link Units on Rotten Tomatoes
Rotten Tomatoes relies primarily on ads for its revenue, but doesn't take advantage of all the options available to it. Specifically, a custom search implementation could be displaying Google ads when a search doesn't match a query exactly. Note that there are no ads within the search content on this page: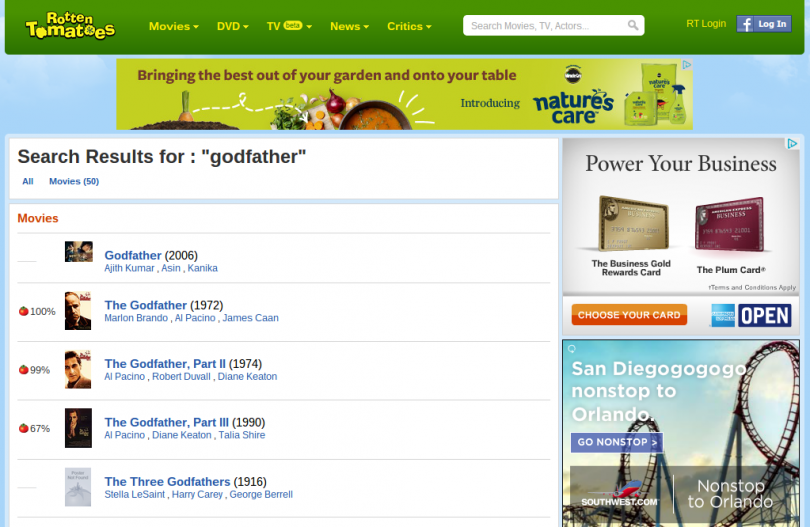 Below is an example of what an effective search results page can look like. In many cases, search results pages can deliver effective RPMs north of $10 (though traffic is relatively low).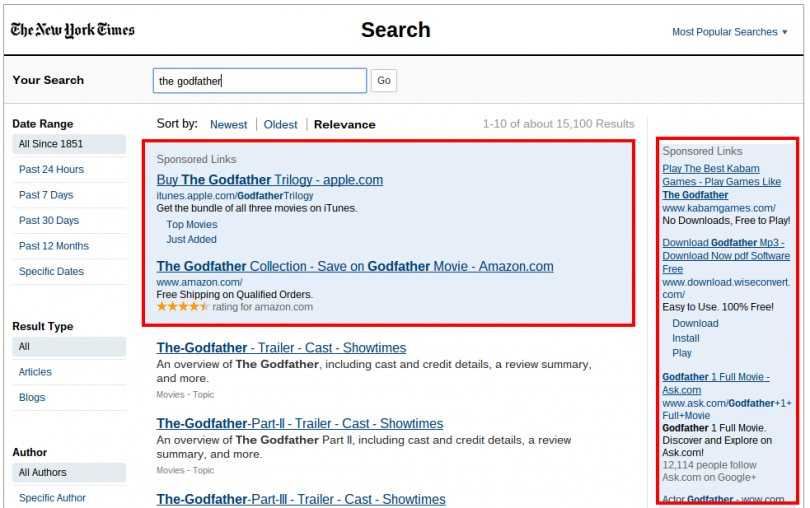 While they're at it, RottenTomatoes has a great opportunity to incorporate some link units into its massive database of movie-related information. Given the text-heavy nature of the pages, contextually targeted link units (e.g., those available through AdSense) could display relevant links that would receive fairly high click rates. (In other words, a lot of visitors would mistake the link units for links to other related pages on the site.)
The exact positioning could be tested, but the below image has a couple suggestions for where these ads could be inserted: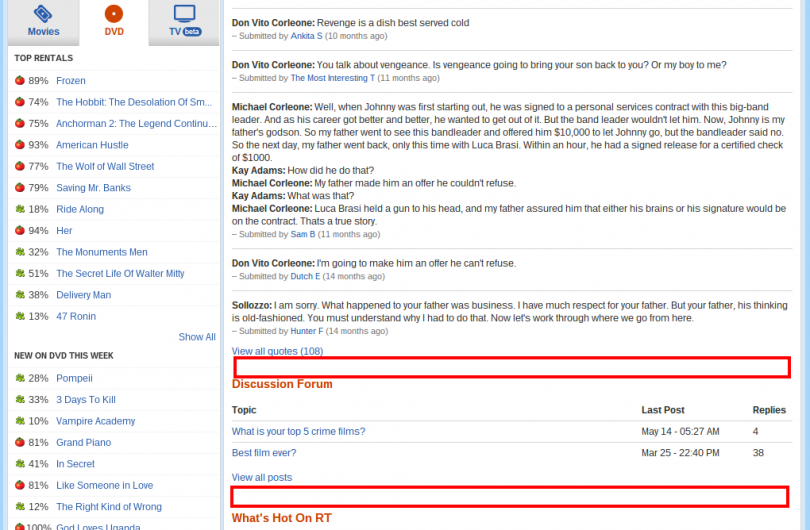 5. Replace 300×250 on People.com
The 300×250 rectangle is one of the most common ad units in existence; just about every advertiser who is active online has creative in this size. Most sites that monetize their traffic via display ads also include a 300×250 ad in their layout–but in some cases that could be a mistake.
The 300×600 large rectangle introduced by Google has become increasingly popular, and in many cases delivers an effective RPM that exceeds its smaller cousin.
People.com is one of the sites that could improve earnings from ad networks used to fill remnant inventory by replacing the existing 300×250 with a 300×600 rectangle: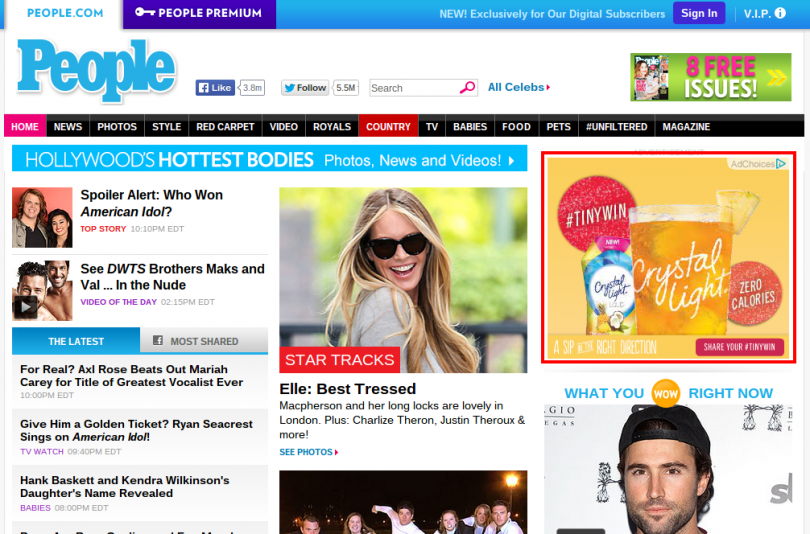 It's worth noting that it's not possible for sites to accommodate both sizes of rectangle with a single line of code. This will be the ideal solution for many site owners; you'll be able to serve up whichever ad size is deemed to deliver the highest CPM.
Bottom Line
Hopefully some of the real-life examples of monetization optimizations highlighted above will prompt some ideas for tweaks that can be made to your own site to improve overall earnings. The most important action is experimentation; different techniques will produce different results across different sites, but continuing to try new approaches to display ad monetization will deliver the best long-run results.