In 2014, link units remain rather rare. Most sites we come across, including those that are using Google AdSense as a primary means of display ad monetization, don't use this type of ad at all. Most of the webmasters and site owners reading this article probably don't know what a link unit is, and certainly haven't considering using them on their sites.
Link Units 101
Link units are text links that take visitors to a custom landing page filled with ads for a certain topic. Link units work by analyzing the content of your site, and coming up with relevant keywords. Unlike traditional ads, clicking on a link unit won't take you to an advertiser's site. Instead, you'll be directed to a landing page that is populated with a number of (hopefully relevant) ads from different advertisers. Here's the visual representation of the path taken:

(By the way, if you're enjoying this article, you may want to subscribe to our free newsletter; we'll send monetization tips straight to your inbox each day.)
Link units utilize a cost-per-click (CPC) pricing model, meaning that publishers get paid for each click that leads to an advertiser's page. In this case, that's actually the second click; there's no revenue generated by the first click that gets visitors to the landing page. So as a publisher, you're actually allowed to click on link units to see what ads are showing up, as long as you don't click on any of the ads on the "landing page". (If you don't believe us, here's the approval from Google to do so.)
Because of this implementation, link units can potentially generate significant revenue if visitors end up clicking on multiple ads from a single landing page. Moreover, some partners (specifically, Media.net) will partner with larger publishers to create a branded landing page that makes visitors feel as if they're navigating through the site (and not clicking out to a paid ad). Here's an example of the link unit landing page on Forbes.com: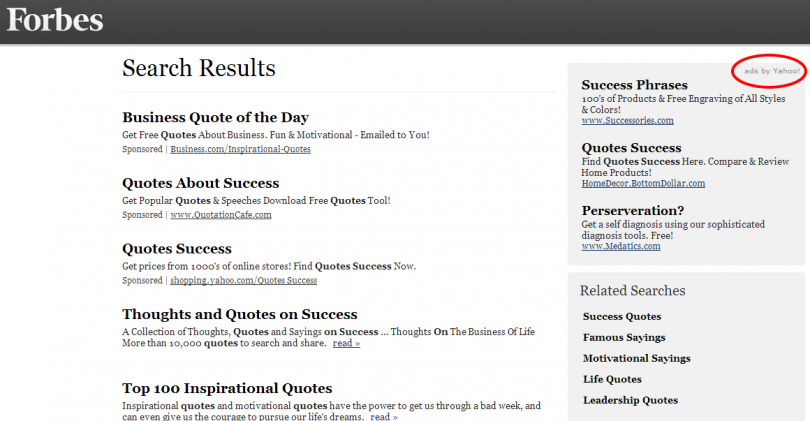 The appearance of link units is probably what scares off some publishers from implementing them. They can look a bit spammy, especially when implemented in a careless way on a site. But there are ways to integrate link units tastefully without turning off visitors–making them appear as an organic part of the site.
They can also look ineffective to those who have some experience monetizing via standard display ads. Link units are much smaller than the standard banner ads, and have no call to action; there's simply a hyperlinked word or phrase.
Why Link Units Work
There are some compelling arguments for adding link units to your monetization equation as well. Specifically:
Google allows only three display ad units; adding the three allowed link units doubles the number of ad placements on the page.
Link units can be easily integrated into content.
Link units generally won't cannibalize existing ad units.
Link units can potentially generate click rates and earnings that equal or even exceed traditional banner units.
In other words, for publishers who are relying exclusively on AdSense, it isn't outside the realm of possibility to double your earnings with the addition of a few link units to your site.
Sample Implementations
Rather than discuss the opportunity of link units further, we'll show some examples of sites that have these ad units in action. Here's an implementation on Labnol.org of a 468×15 link unit inserted within an article: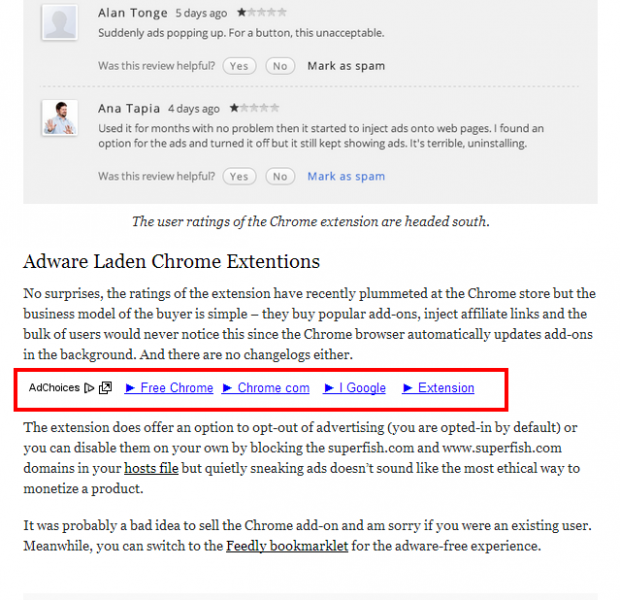 Below is another example of a link unit, this time above the nav bar of a site. This can work well because the nav bar is a high visibility area; visitors to a site commonly look to this section for guidance on where they should be clicking: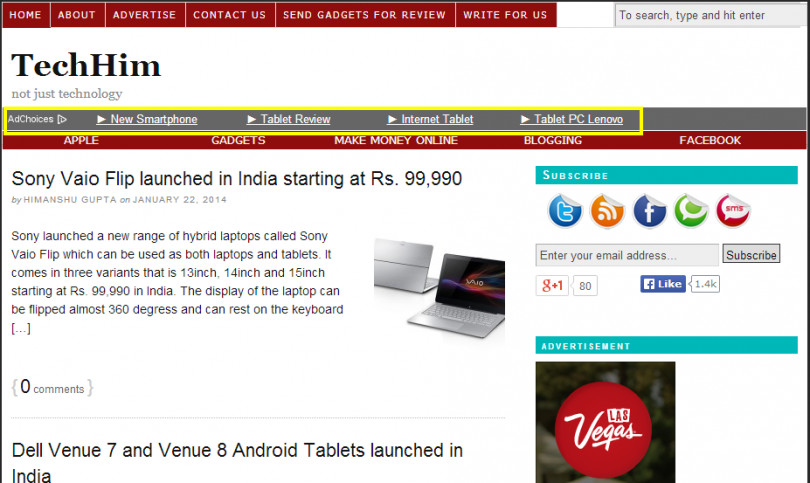 The example below is from TheStreet.com, and features link units below the conclusion of an article. This implementation (which is powered by Media.net and not AdSense) appears under a "See Also" heading that serves to draw attention to the section. Clicking on one of these links takes visitors to a custom page where they will be presented with both links to content from the site they're on as well as third-party ads. This implementation is similar to the Forbes example we showed above.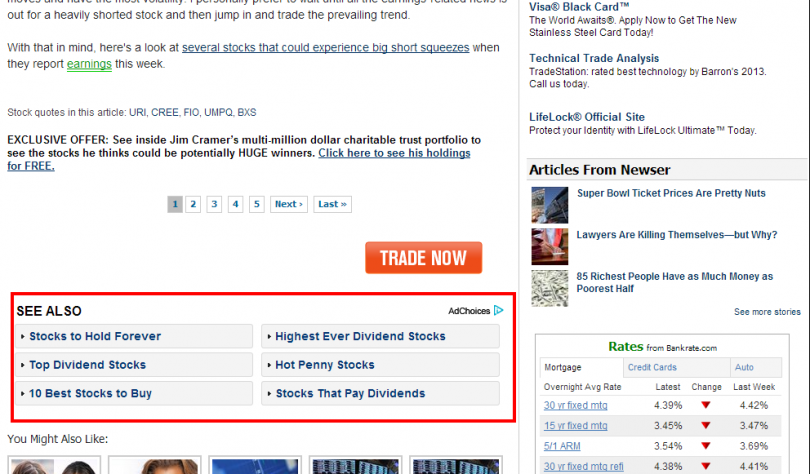 Here's another example of a link unit positioned well above the fold, this time between the nav bar and the beginning of an article on Mashable. Note how the "Social Media" header seems to point to the links, a directional cue to visitors and a feature that helps to integrate these links into the site (note also that the color has been tweaked to match the color of the site and not the traditional "link blue"):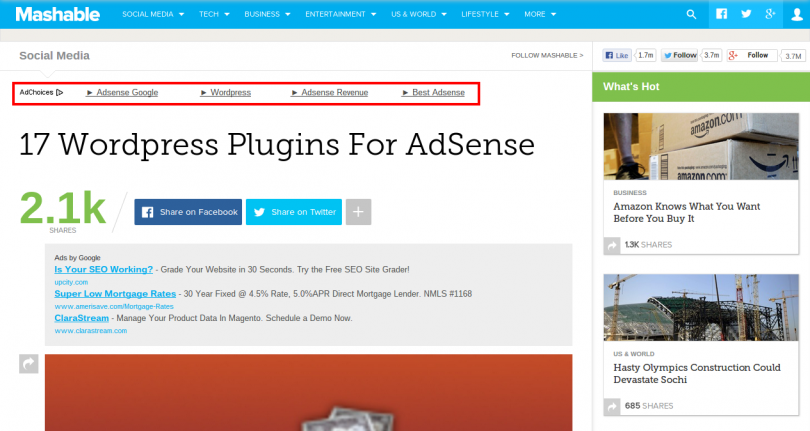 Finally, here's an example that is perhaps a bit less ideal but still interesting. This page has almost exclusively ads above the fold, which probably isn't a very good long-term strategy after Google has repeatedly rolled out changes designed to ding these types of sites. If they were to move some more content higher up on the page, however, the link unit should perform even better: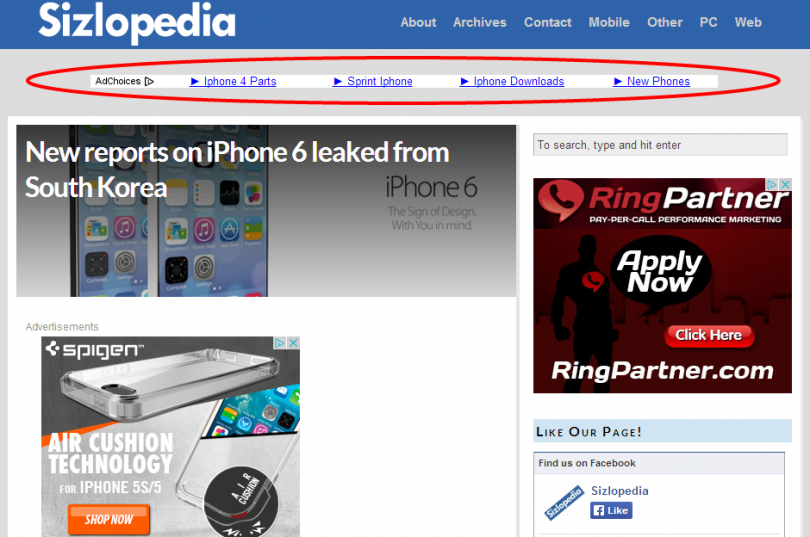 Who Offers Link Units?
A number of ad networks offer link unit products as part of their display advertising solution. As mentioned above, Google AdSense lets publishers include up to three link units per page and offers a variety of different sizes:
728×15
468×15
200×90
180×90
160×90
120×90
The horizontal link units (15 pixels tall) will generally be used most efficiently above or below text, while the vertical sizes (90 pixels tall) can fit in well in a left or right rail of a site.
Just as with text display ad units, AdSense lets partners experiment with different settings for link units (such as different colors for links).
Media.net also has a link unit product, though theirs is different from AdSense. Media.net offers link units within standard IAB sized units, such as a 300×250 rectangle or 728×90 leaderboard.
Chitika also offers link units, though in our experiments with that network the contextual targeting was pretty bad. (I.e., the text links showing up were not relevant topics).
Best Practices
If you're interested in trying out link units, we have a few suggestions that may help you get started. Inserting link units into content (as in the labnol.org example above) can result in much higher visibility and engagement. Link units also tend to perform well at the bottom of content, when visitors are open to going a new direction or finding further information on a topic.
While it may seem counter-intuitive, some publishers may see good results by placing link units near other standard display ads. For example, you may want to try putting a 200×90 link unit immediately below a 300×250 rectangle.
As with standard ad units, experimentation is the key to link unit success. With AdSense link units, experimentation is relatively easy given the compact size of the link units; it's much easier to move a 468×15 unit around your site than it is to reposition a larger 300×250 unit, for example.
Bottom Line
Link units are a great opportunity for publishers looking to add additional revenue streams to their sites. While they aren't visually impressive, these ads can be extremely powerful and lead to a significant increase in bottom line revenue from existing traffic.