Ad.Style is a native advertising network. Their system was developed using the latest and most effective ways of providing the leading, life-changing click fraud solution to assure and give clients the effective and highest quality traffic service in the market. They are a platform which offers the publisher an easier approach in making new ways for monetizing their websites. Read along and learn more about them as the MonetizePros' give you their complete and honest Ad.Style Review for publishers.
Ad.Style was founded in the year 2015. Although their main office is in Florida, the company's team which helps publishers and advertisers to meet goals, and help clients have a more aesthetically systemized approach towards getting better revenues is located in Israel.
Ad.Style displays and shows the content of each device internationally. It boosts and attracts the viewers to be more attached to the content and deliver the right ideas of what the clients want to show to their target customers.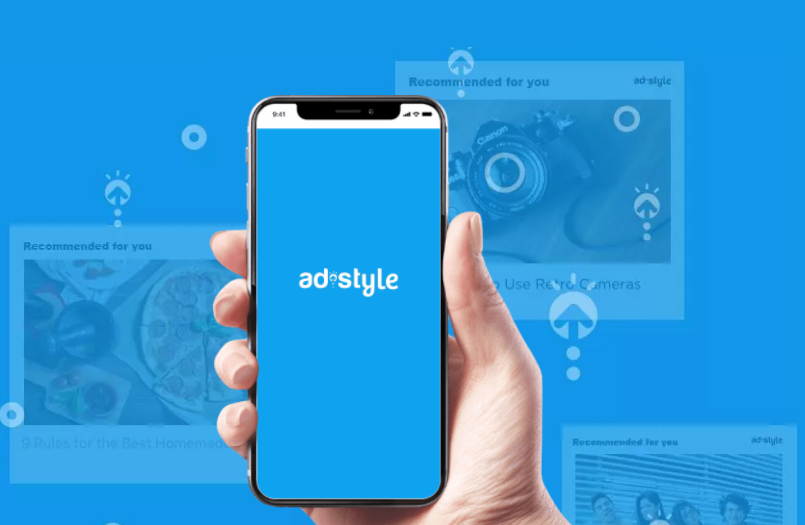 Ad.Style Review For Publishers
With the help of various ad campaigns, Ad.Style always want to make sure to find the exact and perfect fit between publisher's websites and advertisers needs and wants. There are more than fifty categories and four ratings to which the publisher can choose from regarding display ads. They can have a variety of choices from which they can adjust to which category or rating is more relevant to their contents.
In every publisher that Ad.Style handle each one of them works directly with a personal account manager who can be contacted via phone, Skype or in any media. This is one way to make sure that the publisher and one of the Ad.Style team members are always connected in times of difficulties, or changes. These account managers help the Publisher be ensured that they will be getting quality revenues.
Ad.Style also provide technical support in creating and providing the perfect widget, plug-ins, and installing it on the website if necessary.
The dashboard is really convenient and easy-to-use in creating the right widget and in tracking the performance in a very detail oriented and well mannered real-time report. As a publisher, it can help you track your views, clicks, CPC, CPR, revenues from the Ads displayed on your website and so much more.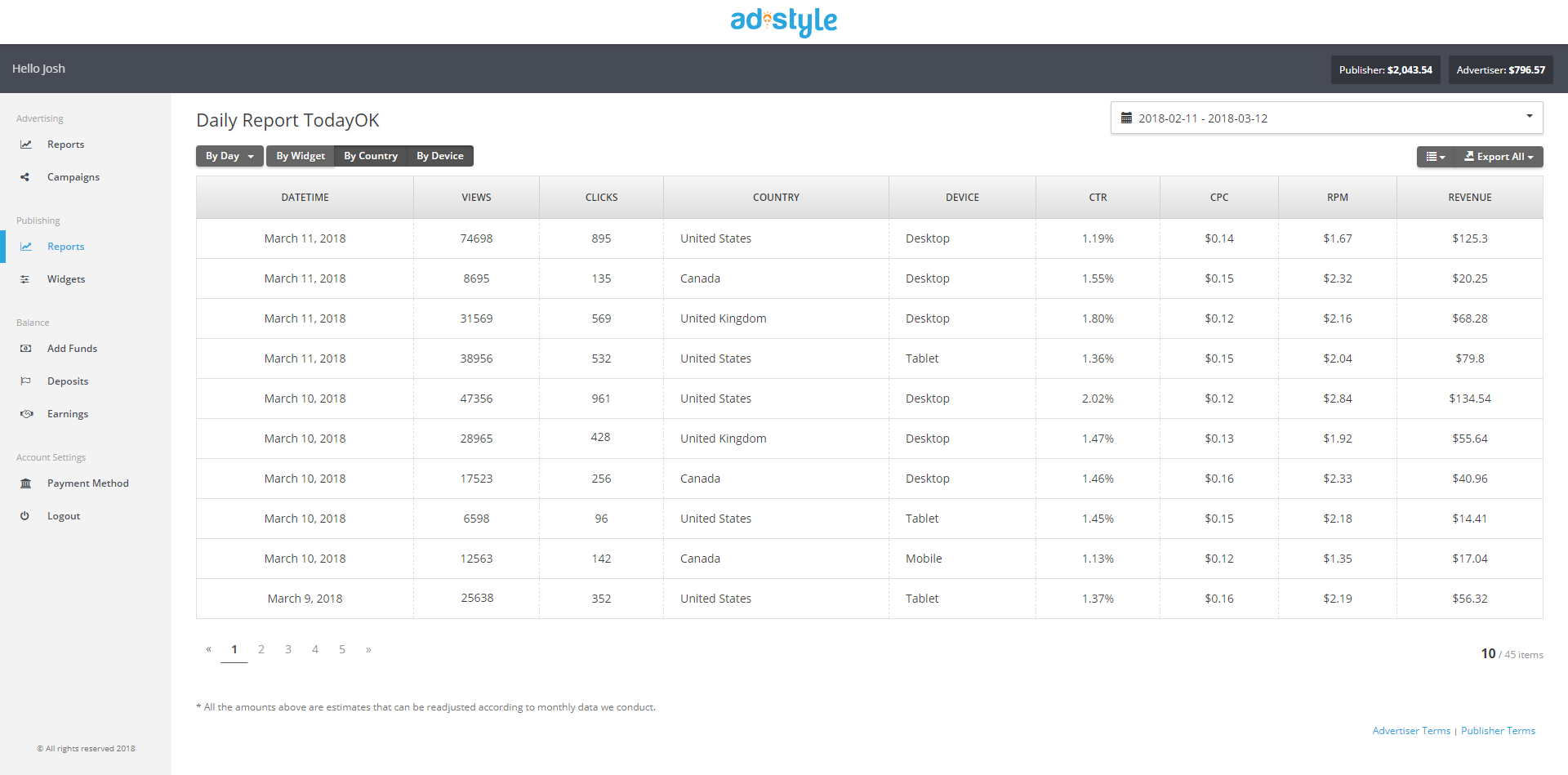 The dashboard contains all the necessary metrics and analytics that you will need to plan your next step and monitor how an ad is doing. It also shows you in which ads are making the most revenues. There are many ways you can utilize the dashboard to your advantage, one pro tip is to use the metrics in it to formulate what ads are making most so you can plan on what type of content you should publish next.
Like most Ad Networks, Ad.Style's focuses on different major aspects in providing the publisher a satisfactory service. One of the new goals of Ad.Style is to launch a new feature that will allow clients to receive a detailed reporting that no native company currently has. Another mission they have is to deliver the message that they are a high-paying network which has fantastic support and suited with a powerful dashboard.
As a publisher, you are going to get potentially great performing ad revenues. As long as you make engaging and good quality content you are bound to make a lot with Ad.Style. Unlike your affiliate networks, you will have to make a sale or referral to actually earn money. By partnering with ad networks such as Ad.Style you are going to earn everytime someone clicks on the ad. This means, less time worrying about marketing and more time to creat high quality posts to publish and earn from.
To ensure to their advertisers that their brand is safe, they have some restrictions that they do not allow any publisher to have.
Here is the list of restricted content that Ad.Style does not allow:
Pornographic content
Illegal content
 Violence
Discrimination
Hate Speech
Ad.Style always makes sure that the site is free from any violations. The team always review each site that their publishers are operating to ensure that their content has good quality.
Traffic monetization
Ad.Style is always eager to get the highest conversion rates for their advertisers. They also try their best to increase the publishers earning's by only displaying ads relevant to the traffic that is coming to a publisher's website. So, if you are publishing content about basketball, Ad.Style will only display native ads related to your niche.
Ad.Style system is developed using the latest technologies wherein they provide the leading click-protection and click verification process to make sure it's high-quality traffic.
Requirements
Ad.Style isn't very strict with their requirements. You will only need to present 6 months of traffic history and the organic flow of visitors. Afterward, all you will need to do is sign-up to be a partner publisher. All you will need to do is click the orange get started button on the home screen under publishers and sign-up.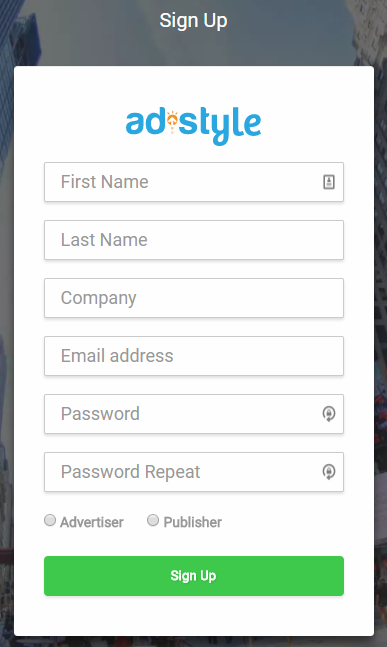 As soon as your website has been approved, each click will generate revenue.
Implementation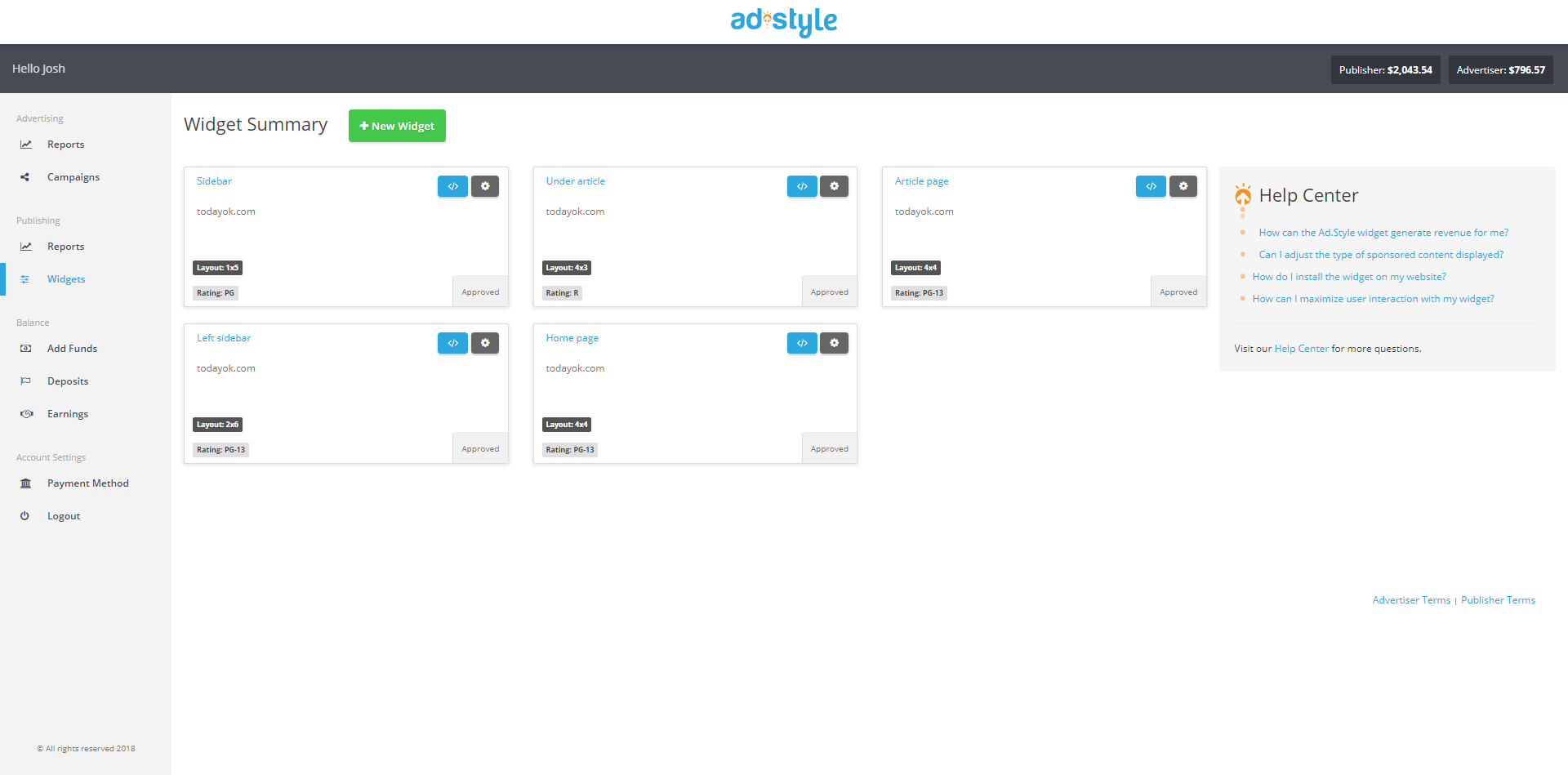 Installation is relatively easy since Ad.Style's implementation technology uses a Javascript. All you will need to do is add a line of code and poof you are done. If you are not a tech-savvy, you also have the option to have your JS attached by one of their members. You can contact customer support or your account manager for quick assistance. They promise that their JS will make their widgets highly responsive for desktop and mobile making them look more aesthetic which means more design value which will potentially increase chances for revenue.
After you have signed up, an Ad.Style team member will review your entire content and see if you have complied with their restrictions policy. They also care about the quality of the content you put in, so if you are putting up only spun posts then there is a chance that you might not get a membership.
Ad.Style has more than 50 categories to chose from. Aside from that it also includes the types of ratings and age restrictions. This is done so that the publishers can help choose which display ads will be most relevant to their content. However, if you are having a hard time trying to figure out which will work best for you, they have the account managers to help you pull through.
The ratings include:
Rated G
General Audiences and suitable for all ages.
Rated PR
This is for ads in which it is favorable to the public. May contain opinions on an image of a company or other organization or a famous person.
Rated PR-13
A rating for ads that might have strong language for ages 13+
Rated R
Age restriction for up to 18+
Payout Methods
Direct Deposit- The electronic transfer of a payment directly from the bank account of the payer to the recipient's bank account.
Wire Deposit- International clients. an electronic transfer of money. A traditional way of depositing from one bank or credit union to another.
Check- You will be sent a check to an address you specified
PayPal- Online payment
They pay net 30 which means that payment will arrive every 30 days after the end of every month. There is also a minimum of $10.00 before the publishers can withdraw their revenues.
Account Help and Support
Ad.Style has multiple ways to provide you account help and support. As we have already talked above, like any other new generation ad network each publisher is assigned to their own personal account manager which will provide assistance, pro-tips, references, and technical support. The main goal of each account manager is to help their assigned publisher make the most CTR and total ad revenues that their current traffic could possibly get them. Ad.Style promises that their account managers are professionals in their field to assist in targeting the right audience and assuring great performance and engagement.
Aside from the account managers, they also provide you customer support through the support form that they have on the main page. They do not show their email address and phone numbers on the page through which leave some potential publishers or advertiser to ask why. However, they do have immediate live-chat support on the dashboard. A  "schedule a call" option is also available on the contact form which gets you a relevant representative to call you out in a short period of time.
For publishers who would love to reach out to Ad.style via email, you can reach them through [email protected]
Recommendation

Alright, after learning about what Ad.Style is and what it does for publishers, let's have a quick recap.
Ad.Style provides native ads in a content widget.
Ad.Style claims to boost revenue and enhance user experience and increase the performance of all the content ad and with other networks.
Ad.Style is easy to install
You get your own account manager
24/7 Support
Net-30 payments
$10.00 minimum Cashout
Great Dashboard complete with all the metrics you will need
While there may be some disadvantages the overall recommendation is that the Ad.Style is commendable and good for all online publisher (individual, beginners, Professional or in the company of Publishers) who are open in adding new revenue streams to their sites and planning to reach their goals globally. It is great enough to be featured as a runner-up in our list of the top Adsensense alternatives.
So, if you are looking for a high-paying Ad Network which can offer you 24/7 customer support, great payout, your own account manager, and a dashboard filled with all the necessary metrics then Ad.Style is definitely one of the picks that we recommend.