Most sites are missing out on additional revenue as a result of sub-optimal display ad strategies. The good news is that there are a number of relatively easy changes that can be made to start earning more. Below are four ideas for ways to improve AdSense earnings, along with examples of these ideas in action on live sites.
Idea #1: Insert Ads Into Content
Most site designs clearly segment the digital real estate between content and ads. For example, sections of the header and right rail may be dedicated to hosting ads, while the primary sections of the site host content.
Inserting ads into the content of a site is an effective way to improve visibility and click rates. The Digital Inspiration blog has an aggressive implementation of this idea, inserting AdSense ads between paragraphs of articles: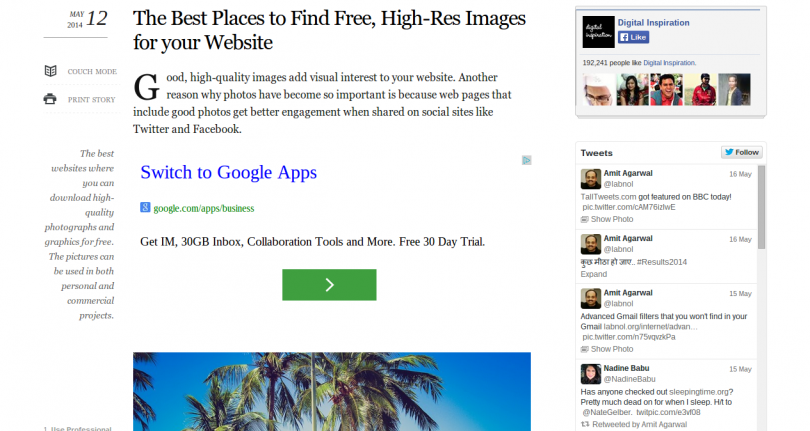 The ads on this page are easily identified as ads–they jump out from the surrounding content–but they are located in a place where they are almost certain to be seen by anyone reading this article.
If you use WordPress and you'd like to experiment with this type of display ad presentation, Google's Publisher Plug-In makes it pretty easy to insert ads into non-traditional locations (such as between paragraphs of an article).
(By the way, if you're enjoying this article, you may want to subscribe to our free newsletter; we'll send monetization tips straight to your inbox each day.)
Here's a screenshot from PerezHilton.com with a 468×60 banner ad appearing between articles on the homepage: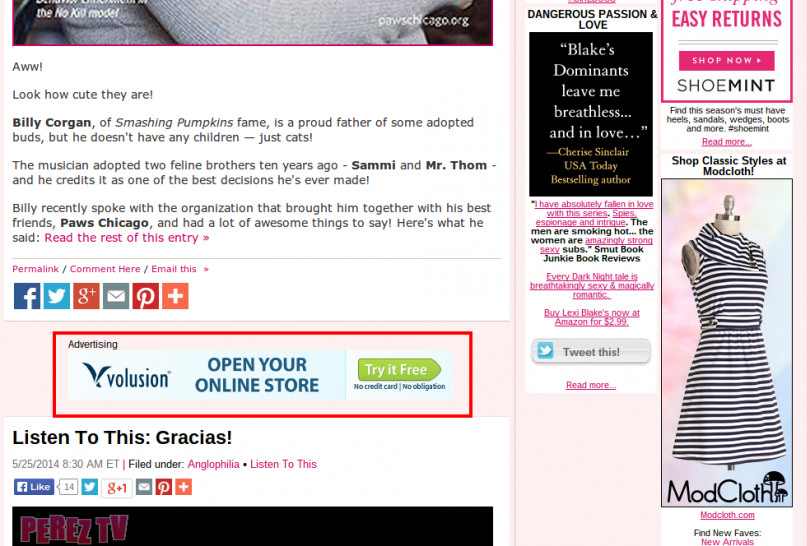 Idea #2: Beef Up BTF Monetization
Most sites focus monetization efforts on the highest earning ad units, which are generally positioned in the most prominent sections of the page. It's also worthwhile to focus on the non-premier sections of a site that are often overlooked. Let's take a look at a few examples of effective below-the-fold monetization techniques in action:
One of the most common and most effective below-the-fold ad formats gaining traction in recent months is a Featured Content widget that highlights featured articles from third party sites. Here's one of the better examples from Bloomberg Businessweek: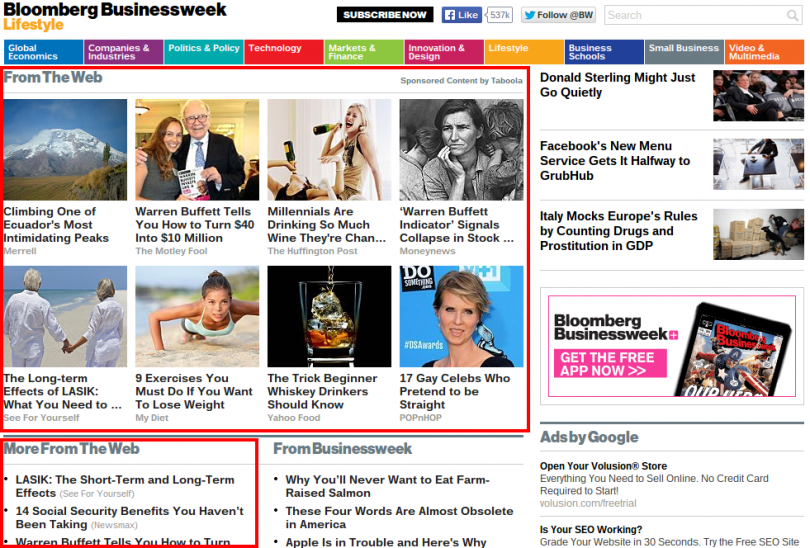 Below is another much smaller example of below-the-fold monetization on About.com. Instead of a large image-based ad unit, this one is much simpler: a link unit consisting of relevant keywords.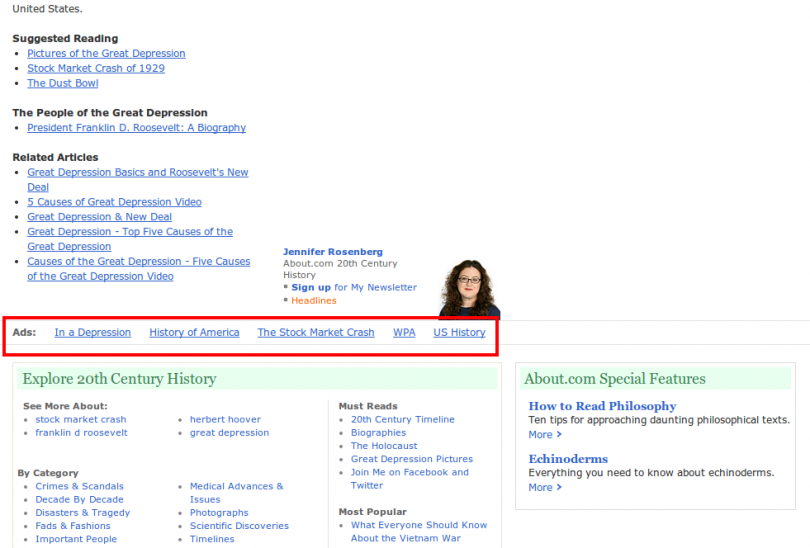 The styling of these links is what makes this implementation particularly effective: they look just like the links both above and below that lead to more pages within About.com.
This ad unit doesn't look like much, but it probably performs quite well.
Finally, standard display ads can be surprisingly effective in below-the-fold placements. Here's an example from Dictionary.com with a 300×250 rectangle at the very bottom of the page:
Though this ad unit won't be seen by most visitors to the site, but those who do scroll all the way to the bottom of a page may be more likely to click on contextually targeted ads.
Idea #3: Floating Ads
There are some creative ways to increase the amount of time visitors spend engaged with ads without increasing the number of ads on the page. Increasing the time that visitors have ads in front of them will increase the number of clicks and overall earnings.
Put another way, it's possible to set up display ads to follow visitors around on the site. (See our tutorial on this topic for more details.)
Below is an example of this in action on TwistedSifter.com; the video ad on the right remains in a fixed location as visitors scroll down and the content around it changes.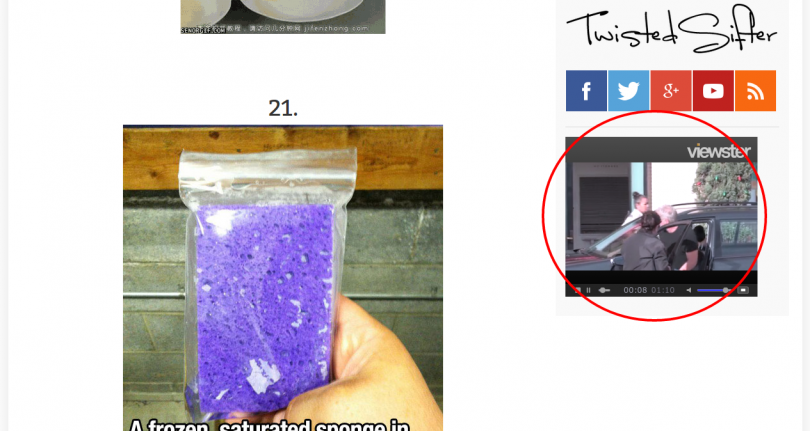 Gawker takes this approach a bit further, splitting their site into a static sidebar that remains in place and a primary section that allows visitors to scroll vertically: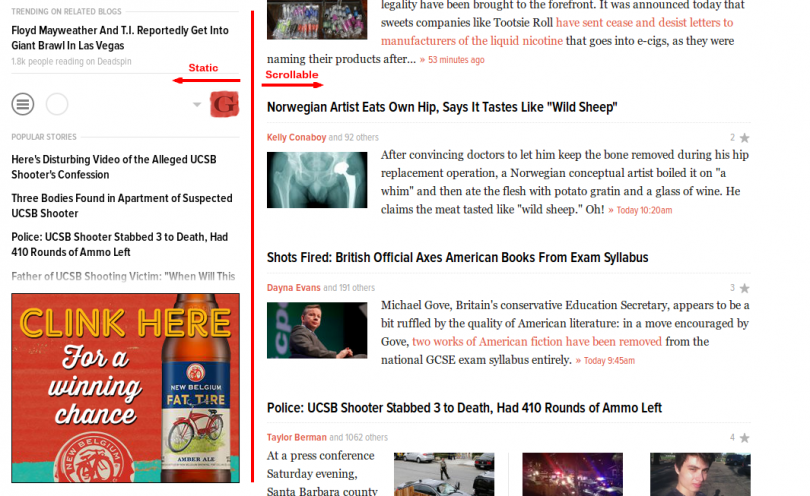 The static left rail remains in place as the right side scrolls, meaning that it is always in view of a visitor to the site. Note that this static left rail includes a 300×250 ad; this means that a display ad will be visible to anyone browsing the site at all times.
Idea #4: Blend Text Ads
Text ads can be styled to blend into the site's content.
Below is an example from About.com that's blended into an article. At first glance it isn't obvious that these are ads; they are effectively blended into the surrounding content and almost appear to be part of the article. These ads probably see click rates that are much higher than image-based ads such as the 300×250 McDonald's ad on the right side of the screen: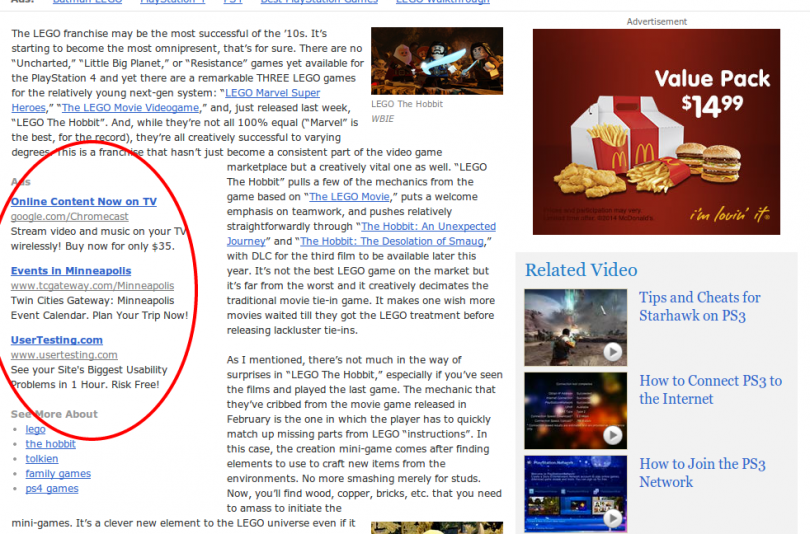 Below is another example from Businessweek. These AdSense ads have also been styled to look like the natural links on the site, with black text. Note how similar the ads look to the other non-advertisement links that also appear on the site: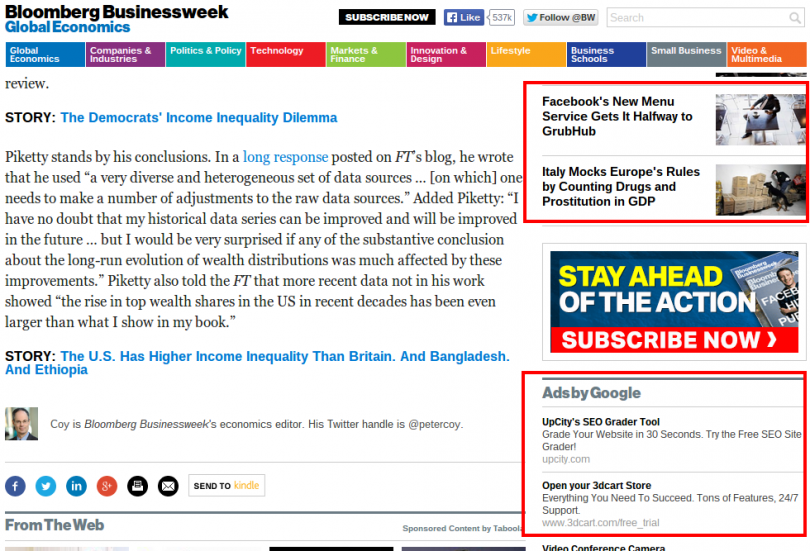 Bottom Line
If you monetize a site through display advertising, odds are that there is significant room for earnings improvement. The examples above are all relatively easy to implement and can make a meaningful impact on revenues generated from ads.