Average Mobile RPMs
iOS Banners
$0.20 – $2.00
iOS Interstitials
$3.00 – $5.00
Android Banners
$0.15 – $1.50
Android Interstitials
$2.00 – $4.00
General Trend
Down
Source: MonetizePros Aggregation
Please note that MonetizePros calculates all aggregated figures while making several assumptions, which are described in the Methodology section.
Review Information Last Updated on: Dec 12, 2019
This page aggregates publicly available information regarding mobile CPM rate averages and ranges.
Introduction
Mobile ads are a relatively new innovation, but are quickly becoming a key components of digital campaigns. As more people view sites and apps through a tablet or mobile phone, advertisers are embracing the opportunity to promote their products and services through a new medium.
Though the lines are beginning to blur, there remain some key distinctions between mobile ads and traditional online display ads. This includes the rates paid by advertisers, the effectiveness of campaigns, and the strategies used by publishers to maximize revenue.
Below are a few stats to summarize the impressive growth in this space:
Mobile ad revenue hit 69 Billion in 2018, which now accounts for more than 65% of all digital ad spend.
Mobile ad spending is expected to increase from about $9.6 billion in 2013 to $35.6 billion in 2017, when it will exceed spending on desktop ads for the first time.
In the UK, mobile advertising spending is expected to top £2 billion and exceed newspaper ad revenue in 2014.
Mobile Ads 101
Before diving in to the exact CPMs that can be expected from mobile ads, it's necessary to clarify exactly what mobile ads are.  An adsense course is a great place to start to learn fundamentals. There is no standard "mobile ad unit" but rather a number of different implementations that vary in size, impact, and complexity.
The simplest mobile ad unit can be thought of as a mobile version of a 728×90 leaderboard that is common online. It's a 320×50 bar that runs across the width of a smartphone screen: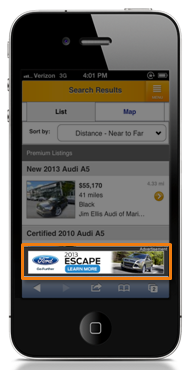 This ad units is the least intrusive; it only takes up a portion of the screen, and there is little or no animation involved. As such, it will generally be the cheapest type of ad unit for advertisers to buy and the least productive for developers to run.
Interstitial ad units are a higher impact implementation that takes up the entire screen. These are common in games, often appearing after a level is completed or a move is made. Here's an example from Pandora's advertising documents: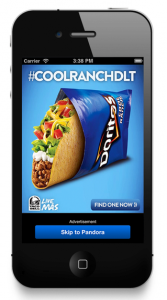 Interstitials will generally earn more than simple banner ads, because they are more effective at highlighting the message of the advertiser and driving engagement from app users.
Banners and interstitials cover most of the mobile ad universe, though not all of it. Video ads still make up a small portion of total spend, but should continue to grow in coming years.
To recap, below are the three primary ad types displayed through mobile devices in 2014, including banner ads, interstitials, and video ads: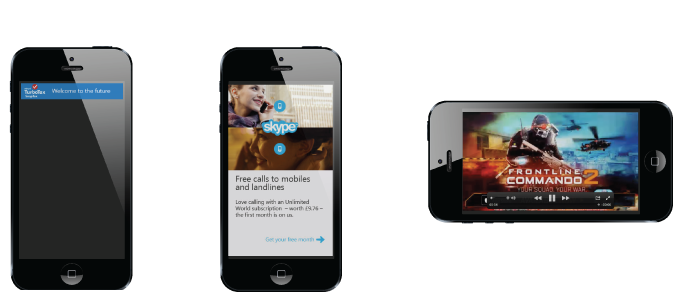 iOS vs. Android
All smartphones are not created equal, at least from the perspective of advertisers. In general, iOS users tend to be more affluent and have more discretionary spending budgets than Android users, which makes them more attractive to advertisers. Though the gap has closed a bit, iOS ads are still considerably more expensive; the current premium is about 30% over the price for ads on an Android device.
Given these segmentations between both ad type and device, comping up with a single estimate for a mobile CPM isn't really meaningful. A banner ad served on an Android device will command much less than an interstitial served on an iPhone, with a couple other points in between.
As such, the table above shows four separate ranges for the most common types of ads delivered on mobile devices in 2014.
Source #1: Fisku Study
Source: Fiksu Report, June 2013
Referenced Average CPM Rate: $1.46 (all mobile)
Used in MonetizePros Aggregation Calculations: Yes
According to this 2013 study, the average CPM for mobile devices is $1.46, compared to $3.50 for PC ads. 
Source #2: Amazon Ad Network Floor
Source: Amazon.com, February 2014
Referenced Average CPM Rate: $1.50 (applicable to "apps distributed through the Amazon Appstore and other Android stores such as Google Play")
Used in MonetizePros Aggregation Calculations: Yes
In February 2014, Amazon announced an interesting offer for mobile app developers in an attempt to gain traction at the Amazon Mobile Ad Network. Specifically, Amazon guaranteed a $1.50 CPM on banner ads for two months (March and April) of 2014.
Source #3: MoPub Mobile Insights
Referenced Average CPM Rate: $0.78 (banner ads) and $2.99 (interstitials)
Used in MonetizePros Aggregation Calculations: Yes
Ad serving platform MoPub publishes a quarterly report showing a number of trends in the mobile ad industry based on hard data from their marketplace. The full report is linked above; below is a table showing trends: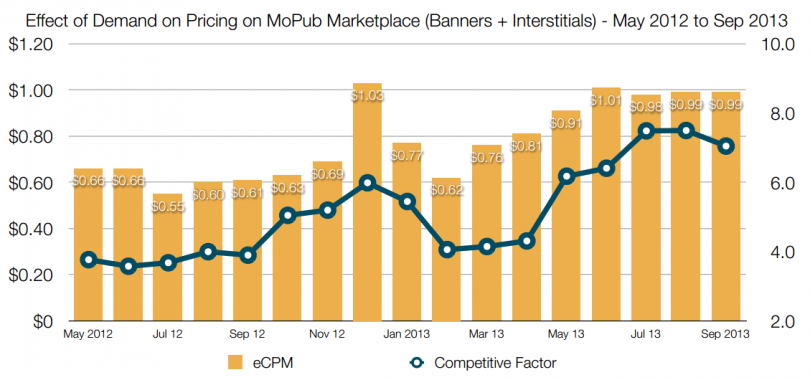 This report also indicated an eCPM for Android of $0.84 (banners and interstitials) compared to $1.13 for iOS in September 2013. That represents a 34% premium for iOS.
Source #4: AppFlood Blog
Source: AppFlood blog, April 2013
Referenced Average CPM Rate: $0.02 (banner ads) and $4.56 (app lists)
Used in MonetizePros Aggregation Calculations: No
AppFlood shared some performance information on their blog, revealing that mobile banner ads generate a CPM of only $0.02 even with a CTR above 0.50%.
The news isn't all bad though; app lists showed CPMs of more than $4.50. This implementation is a version of the interstitial example shown above, except that the content is a list of other apps available for download: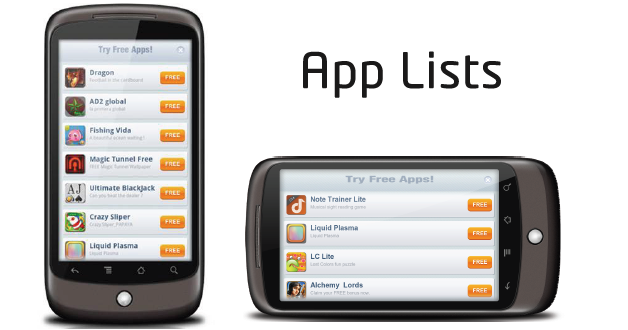 Because this data point is a bit dated and comes only from a one week period, we didn't include it in our average calculations.
Source #5: Droid-Blog Income Reports
Source: Droid-Blog, September 2013
Referenced Average CPM Rate: $1.70 (Android ads)
Used in MonetizePros Aggregation Calculations: Yes
Johannes Borchardt is a developer focusing on Android apps who publishes monthly income reports giving some transparency into his financial successes (or struggles).
For the month of September 2013 (the last time a report was released), he was earning an eCPM of $1.70 with a fill rate close to 99%:
Requests: 2,732,264
Impressions: 2,700,974
Fill Rate: 98.94%
Clicks: 95,954
CTR: 3.55%
eCPM: $1.70
House Ads: 104,351
Source #6: iPartyMobile Income Reports
Source: iPartyMobile, February 2014
Referenced Average CPM Rates: $1.00 (iAd banners), $3.00 to $10.00 (RevMob interstitials), $8.00 (AdColony video ads)
Used in MonetizePros Aggregation Calculations: Yes
This transparent report highlights a number of different ad networks and ad types, giving rough ranges for the CPMs being earned from all of them. Not surprisingly, interstitial and video ads generate revenue that is much higher than simple banners.
This post covers a few other ad networks not mentioned above, though the earnings potential of those seems to be limited.
Source #7: Turn Insight Reports
Referenced Average CPM Rates: $1.02 (all mobile)
Used in MonetizePros Aggregation Calculations: Yes
This research report shows a distribution of CPMs as well as the simple average mentioned above. Below is a chart from this October 2013 report showing that about 60% of mobile ad impressions are in the $0.10 to $1.00 CPM range.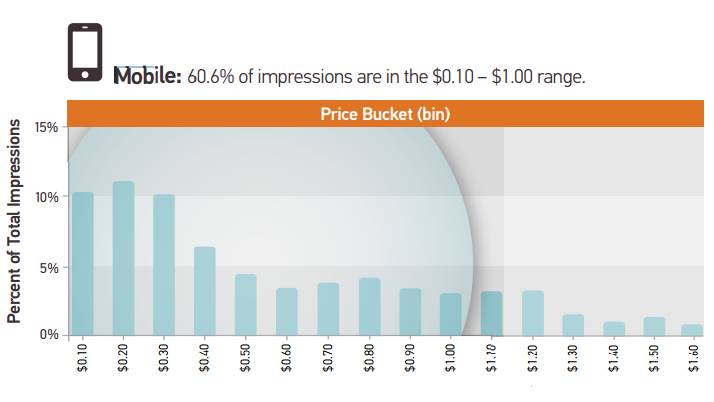 Source #8: Making Money With Android
Referenced Average CPM Rates: $1.95 (AdMob interstitials), $1.30 to $2.50 (AdMob banners), $4.00 (Chartboost interstitials)
Used in MonetizePros Aggregation Calculations: Yes
This forum thread includes input from several developers regarding the performance of their ads on different platforms and with different types of ad units.
Methodology
Since the sources above do not use a consistent methodology, date range, or system, please note that the MonetizePros aggregated values are calculated via an 'inexact science'. I.e., there is some napkin math here; we do however make an effort to be as transparent as possible, and thus our methodology notes are listed below.
The extremely low rates referenced in source #4 for banner ads were ignored, as they were deemed to represent the very low end of the range.
This CPM rate guide in particular requires us to utilize our collective expertise and mobile advertising experience. Because the choice of ad type (banner vs. interstitial) and platform (iOS vs. Android) has a significant impact on the revenue earned, drawing meaningful conclusions form the limited number of data points available is extremely challenging. As such, the rates for iPhone ads above were based on a consideration of the data points mentioned as well as our own experience.
We then computed the ranges for Android apps by applying a discount of 30% to the iPhone range. This discount was based on the data points presented above, our own experience, and additional research.
RELATED POSTS