With ThemeIsle, finding and implementing WordPress themes for your site doesn't have to be boring. From the moment you first visit this pirate-themed site, you can tell this is a company which likes to have fun. "Welcome to th' island 'o WordPress themes, me bucko!" reads the home page. From there, you can expect plenty of pirate-themed comedy on a site loaded with personality.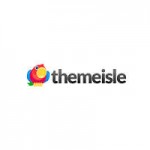 MonetizePros has a 10% off coupon for you to use at Themeisle. Simply click the link below and when you have decided on your chosen theme, simply enter the promo code 'monetizepros10' to claim your exclusive discount.
But behind the light atmosphere is a serious and professional collection of WordPress themes. Pirates (which is ThemeIsle speak for "clients") have access to thousands of different themes. Finding what you're looking for is easy, too. Themes are organized into the following categories: Blog, Business, Free, Magazine, Music, Portfolio and Responsive.
They also offer a variety of useful plug-ins. Some popular plug-ins include their "Revive Old Post Pro Add-on," "WP Product Review PRO" and "WPPR Compression Table." These plug-ins are easy to implement — no advanced technical knowledge is required.
Want to sail the seven seas with ThemeIsle? Their affiliate program offers a 55% commission on all sales. Plus, their expert affiliate management team is available by phone, email, Skype and Twitter.
ThemeIsle Coupon
For just a limited time we're offered this exciting new ThemeIsle Coupon. You can get the coupon right now by simply clicking the link above and signing up for the service. The discount will be automatically applied.
You can use the coupon to check our ThemeIsle with no risk. If you're not satisfied with the service, they offer a "Pirate's Treasure" Money-Back Guarantee.  Not only do you get your money-back if you're not satisfied, you're also still allowed to keep the themes you bought. You even still get access to their premium support services.
Our ThemeIsle Review
WordPress is a popular, easy and effective way to create a website for your business. The problem is that this popularity has led to a lot of similar looking sites across the internet. There are two ways you can make your site stand out. You can either learn to create custom themes in WordPress or you can buy pre-made themes made by professionals.
ThemeIsle is a great example of why buying themes is often a great idea. There's really no substitute for a professionally designed theme. And despite the somewhat silly tone of their website, ThemeIsle is a company of true pros.
The themes were clearly organized and very well done. There are themes designed for specific professionals such as lawyers, doctors, architects and more. There are also plenty of themes with more of a hip, artistic look. These are perfect for music sites, blogs and anything which needs to look current and popular.
Another factor we consider when selecting a theme creator (aside from lots of pirate talk) is customer support. Purchasing a theme and installing it on your website is usually pretty easy, even if you don't have a ton of computer experience. ThemeIsle provides plenty of information on how to install their themes.
If you do have a problem, either during installation or after, ThemeIsle will be there to help you. They really pride themselves on their customer service. For review purposes, we talked to a very helpful team member on the phone. He was friendly and informed. He patiently explained how to install both a theme and a plug-in we'd purchased. We were a bit disappointed that he didn't speak like a pirate – but he was still a big help.
Overall, the themes were great. They were well designed and worked without a problem. The selection was large and varied. No matter what type of site you need a theme for ThemeIsle will have something to suit you. The prices were low and the money-back guarantee is one of the most generous we've ever seen. Frankly, this is the only place we've heard of which will refund your money but let you keep your theme.
There's a lot to like about ThemeIsle. We've been impressed with them. They're a great combination of artistic design, technical proficiency and helpful customer service.
Notable ThemeIsle Products and Services
ThemeIsle offers themes, plug-ins and an affiliate program. Themes can be installed in about five minutes. If you're looking for just one theme for your site, you can pick one up for around $50 to $60.
If you own (or design) a lot of sites, there's another option you should consider. For just $99, you get unlimited access to their entire collection of themes. This also includes Priority Support.
ThemeIsle has three levels of support. Level One is forum support. Their forums are active and a good source for finding quick answers to almost any common problem. Level Two support also includes access to the forums but adds email support as well. Finally, Level Three – or Priority Support – adds custom support. This can be custom code or whatever else you need to get your site up and running fast.
If you're running a site with the intention of making money, ThemeIsle is a great choice. This is because every one of their themes has been tested across their own network of money-making sites. Themes are only put out for sale after they've been proven to produce top results.
So don't let all the pirate talk fool you. This is a serious company with a lot of technical knowledge about how to increase traffic to your site. Whether you're designing one site for yourself or many sites for multiple clients, you'll find well-designed, revenue-boosting themes and plug-ins. Their affiliate program is also very strong.
But don't just take our word for it. By clicking the button you can receive your free coupon today. You can have a new theme installed in about five minutes. With this coupon, there's also no risk. ThemeIsle's "Pirate's Treasure" Money-Back Guarantee ensures you'll never pay for a theme or plug-in you don't like. With ThemeIsle, it's good to be a pirate!
Other Coupons and Promo Codes