Headquartered in Trevose, Pennsylvania, the company has a development office in St. Petersburg, Russia and over 100 full-time employees. Its specialty is keyword research, business, intelligence, and online competitor analysis software. The company offers an important and useful tool. It helps understand competition and the general market. Data can be used to develop advertising strategies. With this, the subscription-based tool can help your company determine the right direction to go in.
SEMrush is also responsible for the SEOquake plug-in. The software is designed to let users create their own parameters the program can display when users need them. Subscription based plans are available for digital agencies, corporations, and those looking for customized services. Free subscriptions are available as well, supporting 10 requests per day and 10 results per report. Monthly and annual subscriptions can be ordered with our coupon code, each featuring automatic billing.
The company collects data by analyzing the top 20 Google and Bing U.S. search results. It currently maintains 100 million keywords and 71 million domains in its database. Each keyword is featured in snapshots of the respective Search Engine Results Page. Using its Live Update algorithm, SEMrush can constantly refresh data on keyword popularity, which can change on a daily, weekly, or monthly basis. There are a total of 26 databases in operation.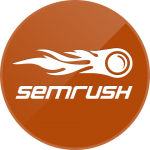 Click the link below to receive your SEMrush FREE 30-day trial worth $69.95. For ease of use the coupon will already be applied for you at the checkout. All you need to do it enter your information and the 1 month trial begins.
SEMrush Coupon
Our SEMrush coupon is now ready to use and save you money. You can now obtain keyword and search marketing insights at a much lower price, but the impacts to your business might be even more substantial in the near future. The SEMrush coupon can be obtained now by clicking the appropriate button on this page, then you can click on the coupon that appears when the SEMrush homepage loads. Once the signup process begins, the coupon deal should be automatically applied to the price of the plan you choose. Finalize your subscription to the service and the deal will automatically save you money.
Our SEMrush Review
SEMrush offers an intuitive dashboard that lets you see keyword ranks for any site. It also shows projected organic traffic as well. With these, you can identify true online competitors and gain a better understanding of their online marketing initiatives. Views of what keywords you and your competitors rank for are valuable. These help you find marketing opportunities and track how your optimization strategies are going.
Perks also include a phrase match tool. This helps you find the most relevant keywords, which may increase the visibility of your site and drive more traffic. The convenience is seen as soon as you get started, because no software has to be downloaded. Start any SEO campaign from anywhere. All the analytical data in the entry level tier are current; there is no historical data which could be useful. Reports are insightful, but cannot be branded or translated to PDF exports.
Notable SEMrush Products and Services
Plans
Pro plans start at $69.95 per month, unless you opt in for our SEMrush coupon. This starting tier provides 10,000 results per report and 3,000 reports per day. It supports five projects with 500 keywords to track and 100,000 pages to crawl. Up to five scheduled PDF reports are supported.
The Guru plan, claimed by the company as the best choice, is listed at $149.95 per month. It includes 30,000 results per report and 5,000 reports per day. Allotting up to 50 projects, it can track 1,500 keywords and crawl 300,000 pages. Up to 20 schedule PDF reports are enabled along with branding and historical data.
The Business plan is the top tier service. Up to four users have access to 50,000 results per report each and 10,000 results per day for each report. In an unlimited number of projects, it can track up to 6,000 keywords and crawl 1,200,000 pages. The 50 PDF reports per user include branded reports, historical data, product listing ads, and multi-user engagement.
Analytics Reports
SEMrush discounts afford you access to analytics that include organic research. Here you can see competitors' best keywords and observe domain position changes. Searched terms are grouped based on the domain's position within Google and Bing. Keyword value can be gauged against various Web performance indicators. A competing site's landing page can be viewed as well, so you can better evaluate content that works.
Analytics also include research into competitors' ad strategies. You can analyze competing ad copy, keywords, and localize your own campaigns. Also, you'll get insight into display advertising, backlinks, video advertising, product listing ads, and keywords for SEO and PPC campaigns. These include phrase matches, long-tail keywords, and other related keywords.
Tools
Different SEMrush tools, available once you pick our coupon code, let you assess keyword difficulty. This lets you find those with less competition in an instant. You can also compare domains side-by-side with common and unique keywords. Data are instantly visualized so you can quickly analyze the information. Charts are available for comparison as well. There's also a social media tool to track your social campaigns, research competitors, and visualize all relative data.
Projects
Position tracking lets you track any domain/keyword, from anywhere, and discover local competitors. Keywords can also be grouped using tags. Users can even target different devices that specific audiences and competitors may be using. Also, you can conduct a site audit. Using an SEO analysis tool, you can check the health of your website. SEO issues can be prioritized and you can track the entire optimization process.
Report Builder
The My Reports report builder can instantly integrate multiple sources of data and you can even add logos and explanatory texts within the report. Free registration is required in order to create a report.
Knowledge
Instantly get the user manual, FAQ, video tutorials, and glossary from the site's knowledgebase. You can also request custom reports, view SEMrush's keyword ranks, and access its API from here too. Industry webinars that are schedule or recorded are available on the company's website. A personal live demo of the platform can be requested by filling out an online form.
Language
The SEMrush platform is supported in English, German, French, Italian, Portuguese, and Russian.
Other Coupons and Promo Codes