RingCentral has been in a leader in providing companies with state-of-the-art cloud communications solutions since 2003. Based in the heart of California's fabled Silicon Valley in the city of Belmont, RingCentral's integration services has been a key component in helping over 300,000 customers make a smooth transition into this most important 21st Century technology.
RingCentral's integration services connect phone, PC, and internet to create a seamless network that will keep your business team connected, no matter where your members are. They do this by carefully guiding their clients through the cloud communication process, simplifying things in a way that eliminates the technological-based confusion that may otherwise occur. Their representatives help determine information essential to cloud-based efficiency, from determining the number of users that will need access to the system to connecting employees' personal phones to the system.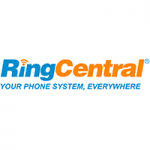 Follow the link below to sign up for your RingCentral 30-Day FREE trial. This inbound call management trial is worth $19.99 and will give you the chance to try out the 'ProPlus' package risk-free.
RingCentral Coupon & Promo Code
Do you want to see what RingCentral can do for the growth of your business? All you have to do to enjoy the product follow the link below and sign up for a RingCentral 30-Day free trial.
Once you enter the RingCentral coupon code after following the link, you'll be able to check out RingCentral's "ProPlus" package – a $19.99 value – at no cost to you. The discount code comes with no strings attached. There is no risk for you to give it a whirl. However, you will not want to drag your feet on this special offer, either. The coupon code is only available for a brief time. So don't delay – click on the code today!
Our RingCentral Review
The hallmark of RingCentral's list of plans is that they are designed to meet you at your level of business. They do not require you to reach out of your comfort level in order to fully integrate their services into your line of work.
They are able to do this by keeping things simple. Every aspect of RingCentral's product base are created with the user in mind, from familiar feeling, easy-to-use web interfaces to a logical network that you can manage without having to tie up valuable IT resources. This is particularly good news to hear if you are running a business where a mass quantity of lines need to be purchased. The ease in which you can handle these lines and their associated apps is rather remarkable considering the complexity involved.
RingCentral also excels in providing you with a wealth of tools for those times that you get stuck on something in particular. The company website is home to a learning center that contains a wealth of tutorials loaded with key information on the ins and outs of any cloud-integration system, from basic elements like user setting setup to more complex things like setting up HD video meetings. The page is also home to several articles that can fill you in on RingCentral's latest offerings as well as articles related to making your system run as efficiently as possible. The traditional customer service side of things is also something that RingCentral does rather well. You can reach their well-trained customer service team via telephone, or you can get involved with one of their reps immediately via live chat.
The company's intuitive website will also allow you to see some of the products or services they have to offer via online demos. A quick sign-up onto the site will give you access to see the ins and outs of the various offered tools and service in action – a nice feature that takes the guesswork out of things when it's time for your business and your cloud-based needs to grow.
Notable RingCentral Products and Services
Plans
RingCentral's plans all feature the basic building blocks that you'll need to connect your business' team members together. These building blocks include elements like call management and phone system administration, mobile apps for smartphones across the board, unlimited calling and conferencing, and full integration with Microsoft Office and Outlook.  Higher plans incorporate other features such as HD voice, integration to smaller services such as Salesforce and Desk.com, and voicemail-to-text services.
The three plans that RingCentral offers are priced on a sliding scale that fluctuates depending on how many users are on the service. The standard plan is the lowest priced plan, as it ranges from $24.99 to $49.99 a month per user. This service comes with 1,000 toll-free minutes per month and conferencing for up to 4 people per meeting.  The premium package is the mid-range service and offers 2,500 toll-free minutes per month and conferencing for up to 25 people per meeting. It carries a price tag range from $34.99 to $54.99 a month per user and is the plan that the site deems the best value.  The top-tier plan offered by RingCentral is the Enterprise plan. Checking in at a price range from $44.99 to $69.99 per month per user, this particular tier offers 10,000 toll-free minutes per month and conferencing for up to 50 people per meeting.
Phone System Features
RingCentral allows for a fully customizable phone integration system that enables you to create a cloud-based business phone solution on your own terms.  Some of these services are designed to provide you with a touch of brand recognition, such as phone number selection and hold music selection. Others are significantly more complex and are designed to give you and your team members more freedom. For example, RingCentral's mobile-enabled phone system integrates your cloud-based phone system onto your employees' personal smartphones without forcing the workers to divulge their personal line.
Cloud PBX
RingCentral's cloud-based phone services eliminate the need for old PBX hardware. The service enables users to enjoy all of the important elements of a business phone system like auto receptionists, hold music selection, and dial-by-name directories. Because it is based in the cloud, customers won't have to worry about shelling out money on PBX software in order to execute these elements.
Internet Fax
This service eliminates the need to have a separate number for your fax services. Plus, your team will be able to send and receive faxed from different sources, complete with enhanced logs and updates.