If you're looking for an affordable and secure proxy server, Proxy Hub is the right place. The provider is renowned in the world of proxy servers so it's a good choice if you're looking to make use of a coupon code. Servers are located throughout Europe and the USA. The company has been around for a long time. It also has no restrictions on bandwidth. We have found it to be as fast as it is reliable with quality service to top it off.
Not only do you have a choice of private proxies. There is also probably the best online security you'll find. High speed service gives you the best in performance. If you need an intermediary server that takes multiple requests, it should be able to handle the bandwidth and volume. A proxy server can monitor data traffic, filter content, log data, cache requests and content, manage access control and security, and much more.
Proxies have an important purpose on the Web. Proxy Hub offers the resources needed to get the most out of them. With social media support and great customer service, the company manages each service based on usage. It is highly conscious of users' budgets. Affordable prices can now be complimented by our unique discount code.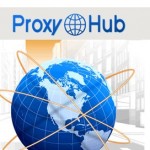 Sign up to Proxy Hub today and you will receive 15% recurring discount on all packages. Follow the link below and enter 'MONETIZEPROS' at the checkout to receive your exclusive discount.
Proxy Hub Coupon & Promo Codes
The Proxy Hub coupon code is now available when you sign up. You can receive a 15% recurring discount on all of the company's packages by clicking the link below and entering 'MONETIZEPROS' during checkout. Your exclusive discount will then be applied and you'll save on a full featured proxy server and related services and support. This discount code offers more than a simple one-off savings. You'll be able to save on additional services in the future so this is an opportunity not to miss.
Our Proxy Hub Review
Proxy Hub is noted for its security, ease of use, and speed. All servers are of high quality. A standout feature is the availability of proxies for social media marketing. You'll find suitable support for platforms such as Facebook, Twitter, Pinterest, YouTube, Instagram, and others. These packages are available to purchase from directly from the company. With these, you can build strong marketing and SEO campaigns and support a substantial amount of Web traffic from prospects and customers. Each proxy supports up to 100 threads.
Customer support is efficient. Call Me!, Chat with Me, Add me to Skype, View my Profile, and Send Me a File options are featured right on the homepage. These afford fast access to the support team of highly trained and experienced technicians. Each is ready to assist with any issue and give you the help you need to optimize your proxy's performance.
As a customer, you also have flexible payment options. Secure methods include PayPal and Payza. You can also use Monyebookers or simply your credit card. The features of its packages are clearly laid out on the website. You therefore know exactly what you get with each of its semi dedicated or dedicated packages.
In addition, all proxies are High Anonymous. They can be used from up to two locations under the same username. Every month new proxies are available and the company can even bind an IP for authentication purposes.
Notable Proxy Hub Products and Services
With Proxy Hub, there are two main types of services. These are:
Dedicated Private Proxies: Limited to use by just one client, these are available in packages from 10 to 100 proxies. Starting at $20 per month, you get unlimited bandwidth, no usage restrictions, dead proxy replacement, and email and live support. The same features are found with the 20-, 30-, 40-, 50-, and 100-private proxy plans. It normally costs $185 a month for the top-level plan, but you'll save greatly with our discount code.
Normal pricing for packages includes $40 for 20 private proxies, $55 for 30 servers, $75 for 40 proxies, and $90 per month for 50 proxy servers.
Semi-Dedicated Private Proxies: Servers are shared with a maximum of three clients, according to the company. Plans start at $10 per month for 10 private proxies and top out at $90 per month for 100 proxies. You also get the same unlimited bandwidth and use, dead proxy replacement, and email/live support with each and every plan.
For $20 per month, you get 20 private proxies. Packages also include 30 servers for $28 per month, 40 proxies for $37, and 50 private servers for $47 per month.
Features
The company provides new IP's each month, giving you more flexibility and options than with other providers. Proxy packages can also be customized, supporting social media, SEO, and even private Web surfing. With these packages you also have access to a variety of SEO tools. They support the most popular social media platforms, craigslist, and many other online systems. Social pages will run smoothly without crashing and the appropriate scripts will be there when accessed. Plus, the anonymity and security are top notch. All transactions are safe and secure as well.
Support Center
A support ticket system is used, letting you track the progress of requests and responses. Each customer's support requests are kept in a history, managed by Proxy Hub's archives. New tickets can be opened on the website, while submitted tickets can be updated by logging in. Ticket status can be checked by going to the appropriate link.
SEO Support
Tools such as Scrapebox, Ultimate Daemon, BMD, SenukeXcr, and others are supported.
Non-Sequential IP
It's much more difficult to trace IP addresses. Unauthorized parties can do this to spy on users or block services.
Security
Not only are its services secure, but Proxy Hub also prohibits spamming, hacking, phishing, fraud, and other illegal activities on its servers.
Refunds
A 3-day money back guarantee is available for first orders. Support will also help you find a solution if the chosen proxy does not work to your advantage.
Take advantage of Proxy Hub's high-performance, secure proxy servers with our recurring discount coupon code. Get started by clicking the link below.