Established in 1997, GoDaddy obtained its present namesake in 1999 and has more than 13 million customers. It has the world's largest domain marketplace and is a leader in website building, hosting, and security services. These are geared primarily towards small business customers and their growth and success.
Safe to say, GoDaddy is a large company. Headquartered in Arizona, it employs over 4,000 people and presently manages over 60 million domain names. Products are offered in 37 countries. The company is therefore positioned to serve a market of over 28 million small businesses in the United States and 200 million self-employed people elsewhere in the world. In total, it hosts over five million websites making GoDaddy the largest Web hosting provider anywhere.
The company was a 2015 Stevie Awards winner for Sales & Customer Service in the Gold and Bronze categories. It has won many best workplace awards and was ranked as one of the top companies for women technologists in 2015, by the Anita Borg Institute. GoDaddy cloud-based products lead the way for small businesses, individuals, and Web design professionals.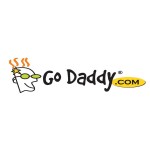 Follow the link below to receive $.99 .Com Domains from GoDaddy! -but hurry because this is a limited time offer and only one per customer!
GoDaddy Coupon & Domain Renewal Coupon
We are offering an unbeatable GoDaddy coupon code. If you follow the link above, you'll receive $0.99 .Com Domains with this limited time offer. It's only one per customer. Now's a better time than ever to set up a domain at the most affordable price out there. At a very low cost, our GoDaddy coupon code will let you get established on the Web and bring in online business. Just follow the link and the code and discount will be automatically applied to the plan you select during the signup process. Very simple – but hurry because this limited-time offer doesn't last long!
Our GoDaddy Review
GoDaddy's Web hosting service is among the most well-known. Responsive, award-winning customer support is available 24/7 while integrated Microsoft products, especially with email, are notable features. Customers have access to Microsoft Office 365 products and One-Drive for Business, allowing for affordable and convenient cloud storage. Plan holders also get free updates to any upgrade of Microsoft Office. In addition, Office Desktop can be installed on up to five PCs or Macs, and also on five iPads or Windows tablets.
Telephone and live Web chat support are provided. We've heard many accounts of responses that can be measured in seconds. Representatives are quick to answer questions and provide links to Web resources that can help customers achieve their goals or fix their problems. The company guarantees 99.9% uptime. There's also an Outlook web application included with each plan plus top-notch data security and spam filtering.
Notable GoDaddy Products or Services
Hosting
Web Hosting: GoDaddy's basic web-hosting plans include Economy, Deluxe, and Ultimate plans. You get one website to start with the entry plan along with 100 email addresses, 100GB of storage, and unlimited bandwidth. The Ultimate plan is suited for high-traffic sites and you get unlimited websites, storage, and bandwidth. It comes with 1,000 email addresses and a one-year SSL certificate. With all plans, you keep a free domain as long as you stay with GoDaddy. There are also over 200 free applications to install, plus 24/7 security monitoring and DDoS protection.
WordPress Hosting: Thousands of themes and plugins are available at no extra cost. It also includes a one-click migration tool, security updates, and various tutorial and training videos. Starting with one website, 10GB of storage, and support for 25,000 monthly visitors, plans include Basic, Deluxe, Ultimate, and Developer. Save with our coupon code on any plan, including the top level with five websites, 50GB of storage, and support for 800,000 visitors per month.
Dedicated IP: GoDaddy provides a unique IP address for businesses for just $5.99 per month. This dedicated hosting plan enables access to websites even during domain propagation, according to the company. While it doesn't include email, this plan offers complete access to the support community and affords direct access to website files. You also don't have to worry about the activity of other domains on the same IP address.
Premium DNS: Includes unlimited domains, advanced reporting and log tracking, and an online dashboard. For a low monthly price, you also get templates, built-in error checking, and 24/7 access to expert help. The plan offers a secondary DNS so that website stay up even during power outages or routing problems.
Servers: GoDaddy offers Virtual Private Servers, Cloud Servers, and Dedicated Servers. There are five plan levels for each with separate offerings for Windows and Linux. You can select servers with up to 8GB of RAM, 240GB of storage, and 8TB of bandwidth.
Website Building
The Website Builder includes simple tools for adding social media links, forms, slideshows, and many other site components. Items can be easily dragged around in the templates so you can customize even standard formats if you want. Although it's an extra dollar per month, the builder enables you to do many things, even install apps for Yelp, PayPal, and more.
Email
Email Essentials gives you 5GB of email storage plus 2GB of secure online storage you can use to keep documents and files on. For 10x more storage, invest in the Online Essentials plan that includes 1TB of online storage, or Business premium that adds a complete Office suite and Office mobile apps.
E-commerce
A flexible software solution for e-commerce storefronts, Quick Shopping Cart, is provided at a starting price of $9.99 per month. Website elements can be dragged and dropped to make your store page appear however you want. The shopping cart includes 1GB of disk space, fraud management tools, and integration with QuickBooks.
Security
The SiteLock service is used and gives you a site verification certificate. There's also spam and malware monitoring plus app scanning. This service can also scan up to 500 pages of a site to find vulnerabilities, remove malware, etc.
Domains
GoDaddy supports domain name search, even in bulk, and now offers domain extensions. It also allows for domain transfer while there are also domain auction features. Even more reasons to use our discount code below and get started.