Have you ever dreamed of creating your own marketplace like Amazon, Ebay, or Etsy but do not know how? Some of the highest earning e-commerce companies in the world are marketplaces and offer a scalability that is second to none.
What everyone might not know is that many of these marketplaces do not sell any products of their own. They have registered vendors who sell their goods through their platforms and take a percentage of the revenue they sell. A lot of work goes into setting up these marketplaces as vendors need to be able to upload products, and consumers need to be able to buy and review their purchases.
Instead of spending hundreds of thousands of dollars and years creating a system that can scale, there are many different marketplaces themes and websites that can allow you to set up your own business almost instantly. However, there are many different options to choose from that include WordPress, Joomla, or even custom solutions.
What is multi-vendor eCommerce
So what exactly is multi-vendor eCommerce? Essentially it's making an eCommerce store which allows other vendors to sell on the same portal as you, the Admin. In return, you provide them with a dashboard, tools and essential add-on which can help them with their transactions.
When a consumer visits your multi-vendor site they are able to select any item from "Vendor A" and also from "Vendor B" while having it all processed from exactly the same cart from your website. So how do we know which revenue goes to which vendor? Well, the system and algorithm behind a multi-vendor shopping cart system automatically split all payments made behind the screen from the two vendors who just sold products.
This whole environment of people purchasing and selling from one portal aids consumers to find a wide array of products and diverse prices. At the same time, you, the multi-vendor eCommerce owner gets to enjoy commissions. In the physical world, it's kind of like malls, allowing tenants to rent out a stall in their establishment for a fixed fee or a percentage of their net revenues.

Top 5 multi-vendor eCommerce platforms
Started in 2005, CS-Cart is part of the Simtech conglomerate, and it's been known as a solid solution for those who want to sell on a self-hosted platform. In the span of just 13 years the company has already sold over 35,000 copies of their software through 170 countries.
CS-Cart Multi-Vendor isn't like your casual SaaS solutions companies wherein you have to pay for a monthly subscription. You only need to pay the one-time fee however pricing does get tricky. You will need to pay for upgrades and customer service.
With CS-Cart Multi-Vendor all of your vendors are treated to an admin dashboard filled with metrics, statistics, and multi-functional tools.  Not to mention, the vendor admin area allows vendor-specific shipping methods, payout recording, and powerful product display tools.
What we like most about it
Support for over 70 payment options
Support for eight carriers
Each carrier has dozens of shipping options
Highly customizable
Sleek drag and drop editor
Intuitive admin dashboard
Reliable metrics and statistics
Design tools
Self-hosted
Integrations with email marketing tools
Bundling features
Abandoned cart functionality
Promos and discounts
On-sale listings
Best Seller listings
Product ratings and reviews
What we liked least about it
Tricky pricing
Paid customer support
What we think about it – 4.5 out of 5
From the multiple options of platforms that are available, we have selected CS-Cart Multi-Vendor as our top pick. This is because it is one of the most powerful ways to create your own multi-vendor store. You are given complete control of your content creation and maintenance procedures. You are also given the freedom to host your own site on your server of choice. This way, your security is ensured from possible breaches and you are given plenty of freedom.
Yes, the pricing might get tricky and you need to pay for customer support which most likely will lead to you spending more than you actually planned to pay for a downloadable platform which you are hosting yourself. Costs can stay a tad lower as long as you're not paying for constant updates or customer support. If you can manage to pull it off, you get an amazing multi-vendor creation platform at a fair price with heaps of built-in add-ons.
From their humble beginnings, Shopify has been known now as one of the most successful and productive eCommerce platforms around. With the help of a plug-in you can turn your eCommerce store into a fully pledged multi-vendor platform.
What we like most about it
Best in class dashboard
Best in class tools
Reports and Metrics
Additional plugins available
Integration and comparability
What we liked least about it
You need to subscribe to Shopify
Exclusive hosting
You pay monthly for SEO
What we think about it – 4.5 out of 5
If you are already a Shopify subscriber (which in there is a high change you are) or if you would like to use the best eCommerce platform around to channel your multi-vendor website then this is definitely for you. However, it can get pricey as there is a monthly payment for SEO if you want to avail that service. But, if you have deep pockets to spend for your developmental stage then this is the top pick for you.
If you want to learn about how to make money with Shopify, go ahead and read our guide over here.
Unlike most other marketplace SaaS platforms that offer a templated solution for all purposes, Arcadier allows users to choose from a bunch of options- from buying and selling goods or booking services to renting spaces and items and several other business models.
What we like most about it
Self-Service On-Boarding
Items Management System
Transaction Reports
Hosting
Order Management System
Customer Account Management
What we liked least about it
Their paid packages are not available as of now. You can get either the basic package or enterprise package.
No drop-shipping default feature
No facebook store
No Data feeds
No Cart saver
What we think about it – 4 out of 5
Besides these, they also offer several unique features like multi-lingual capabilities, private marketplaces, and social logins. I particularly love the ability to edit JS code (which opens the possibility of additional customization and the ability to add our own payment service providers).
They've also got a Freemium plan where the pricing plan scales up with the number of transactions on the store!
Yo!Kart is one of the lesser known multi-vendor platforms, but it pulls its weight as a viable competitor. The intuitive interface is fully customizable, and it provides easy navigation for vendors and admins alike. Yo!Kart has a nice vendor profile area where people can upload products, modify listings and change pricing. All changes are first sent to you, the moderator, before anything is published on the site.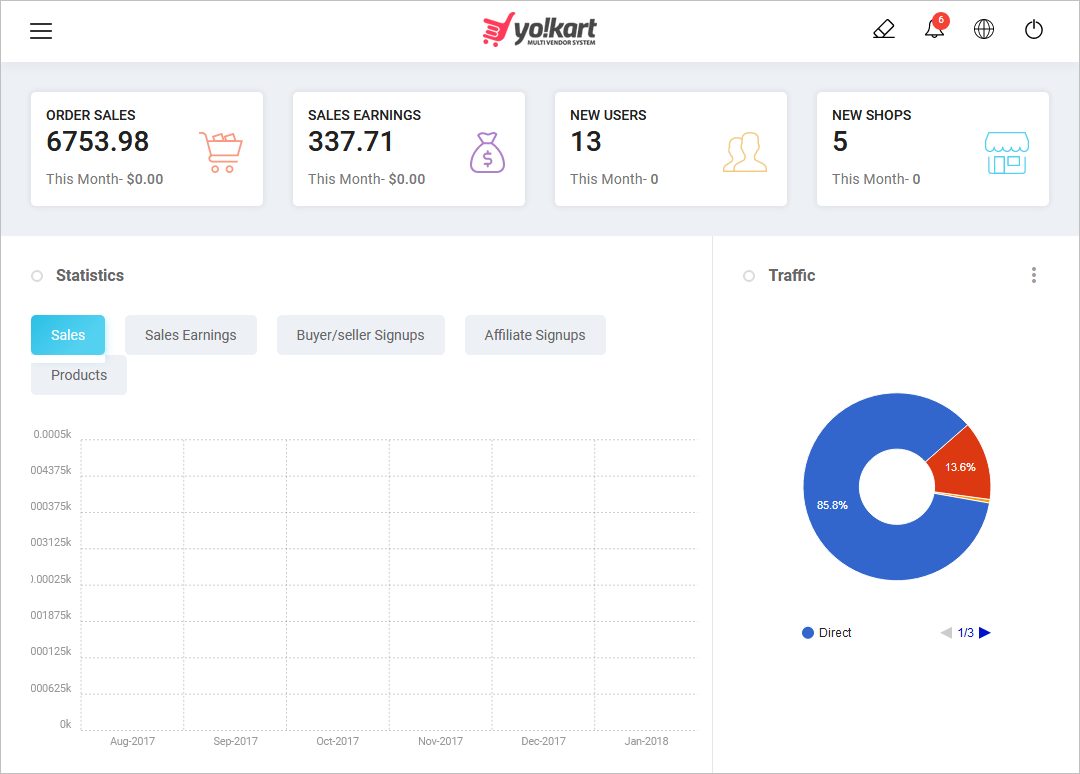 What we like most about it
An intuitive interface
A highly secure system
Multiple stores for those vendors
Real-time shipping cost calculator
All orders are split and consolidated for shopping carts with products from multiple vendors
Most SEO is completely automated
Divide customer into groups based on buying behavior
Relatively cheap pricing
What we liked least about it
Design lapses
Limited templates
Tricky pricing
Not open source
You pay Monthly for SEO
What we think about it – 4 out of 5
An interesting feature is where the buyers are not shown the vendor details while shopping. I figure this might have something to do with preventing any unfair treatment of certain vendors. Anonymity could possibly serve some vendors well. Similar to most other options in this article, the Yo!Kart system lets customers place orders from multiple vendors in the shopping cart.
Sharetribe is intriguing because the system is built solely to help people create marketplace (multi-vendor) websites. They don't mess around with standard eCommerce sites, so you can rest easy knowing they focus on this one area.
The initial starter package lets you have up to 300 members, and if you pay for the highest package you can manage up to 100,000 members. What's cool is that you don't have to stick to the normal sales strategy. Rather, Sharetribe allows rentals, services and more. The setup only takes a few minutes, and the global payments are good for accepting just about any credit card or online payment system like PayPal.
What we like most about it
Customer Accounts
Email Marketing
Order Management
SEO Management
Very easy to set up
What we liked least about it
Functionality upgrades are not very fast
Expensive pricing
Lack of functions
Pricing is driven by number of users rather than by number of transactions
Lack of API's
Lack of custom themes
Limited customization
What we think about it – 4 out of 5
Users create listings and manage their own profiles, with features for including photos, pricing, location and product information. The white label design is nice for attracting vendors, since they can upload their own logos, and the messaging and order management system is perfect for vendors to keep in contact with customers.
If you are looking for a fast way to set-up a multi-vendor platform then Sharretribe is for you, but if you are looking for something long term we suggest you consider our other choices.
X-Cart is a licensed shopping cart that lets you sell products securely from your own server. Since its launch in 2001, X-Cart has grown to support over 35,000 stores in 111 countries.
What we like most about it
Both hosted and self-install versions available
30-day free trial
Refunds
Free plan
Extensive features
Highly customizable
Intuitive UI
Scalable
What we liked least about it
The upgrade fee is expensive
Requires manual coding and setup
Confusing pricing packages
Developer skills required
Annual upgrade fee
Expensive customer support
What we think about it – 3.5 out of 5
X-Cart can be used both as a ready out-of-the-box shopping cart or as a powerful basis for a customized web shop with whatever modifications of design or functionality. X-Cart loves customization, yet remains easy to upgrade.
Conclusion
To sum it all up, to anyone trying to create an eBay like marketplace, we recommend CS-Cart Multi-Vendor. This platform can provide you with support for over 70 payment options and eight carriers each with their own shipping options. They have an easy to use drag n drop editor filled with templates that you can choose from. And, the metrics from within the dashboard, once you have launched the site, has all the tools you and your vendor could possibly need.
Want to make even more sales from your Shopify store? Then you should start using the Shopify App Marketplace for conversion boosting strategies from thousands of third party developers.  
As amazing as Shopify is for eCommerce, these apps are designed to help improve one aspect of your store and make them even better. A few features include pricing automation, inventory control,  shipping calculators, accounting system, inbound marketing, customer care, and so much more.
10 Best Shopify Apps For Dropshipping 
1. Dropshipping With Oberlo
Link: https://apps.shopify.com/oberlo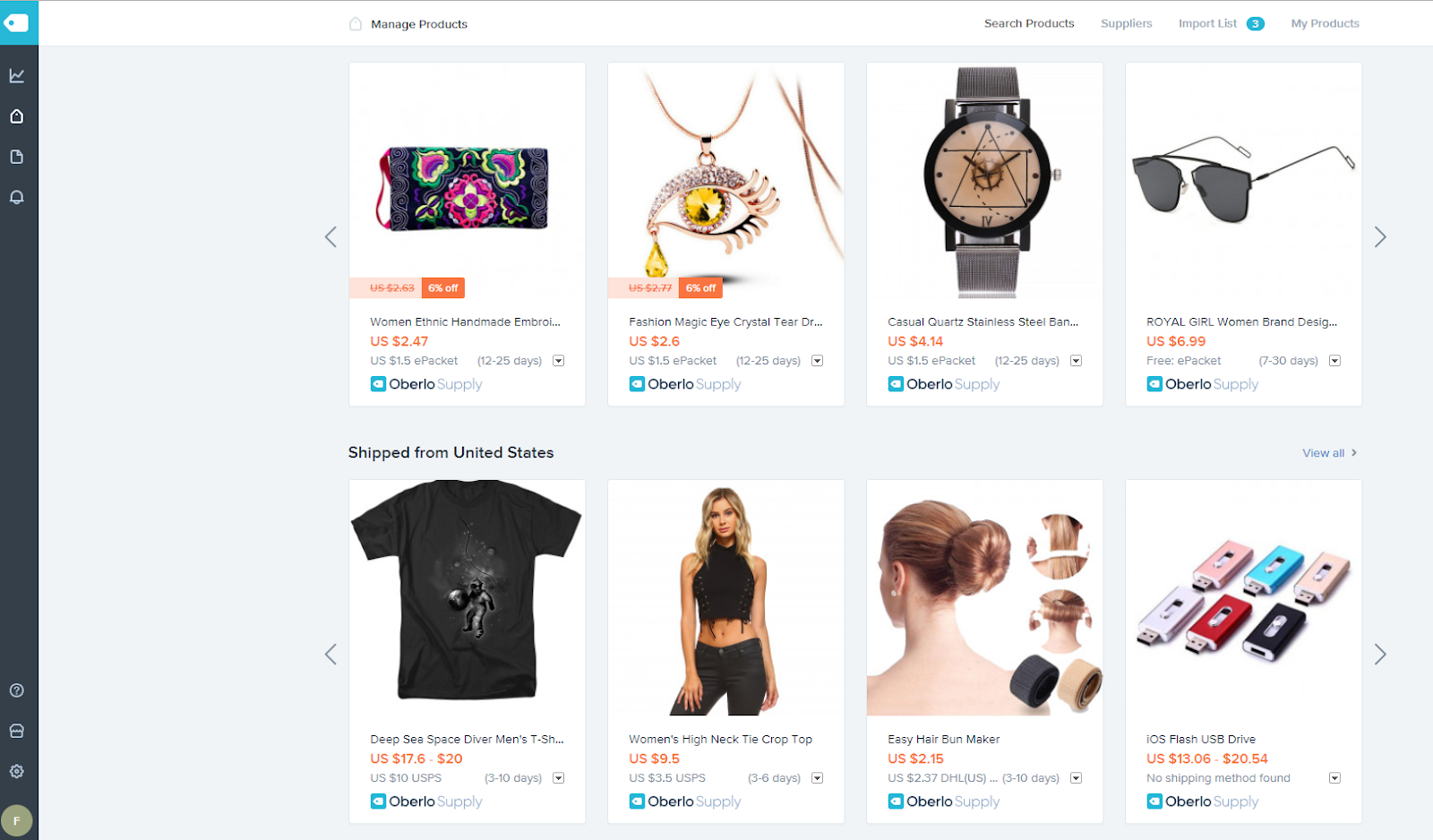 Have you wanted to create a store, but do not know what you want to sell? 
Oberlo solves all of this and allows you to automatically import products (Images & Full Product Descriptions) directly into your store from AliExpress so you can start selling. Then when you actually make a sale, you just click "order product" and everything else is done by Oberlo. The review and rating system for suppliers helps reduce scams and find the best supplier.  
With a 5 star review from thousands of happy users, Oberlo is one of the most used apps among dropshippers. It was purchased by Shopify, and is continually improving. It is free for first 50 orders / month to get your business started. After that, it is $29 for up to 500 products/month and $79 for unlimited sales and more features. They do everything they can for you to succeed.   
2. MailChimp
Link: https://apps.shopify.com/mailchimp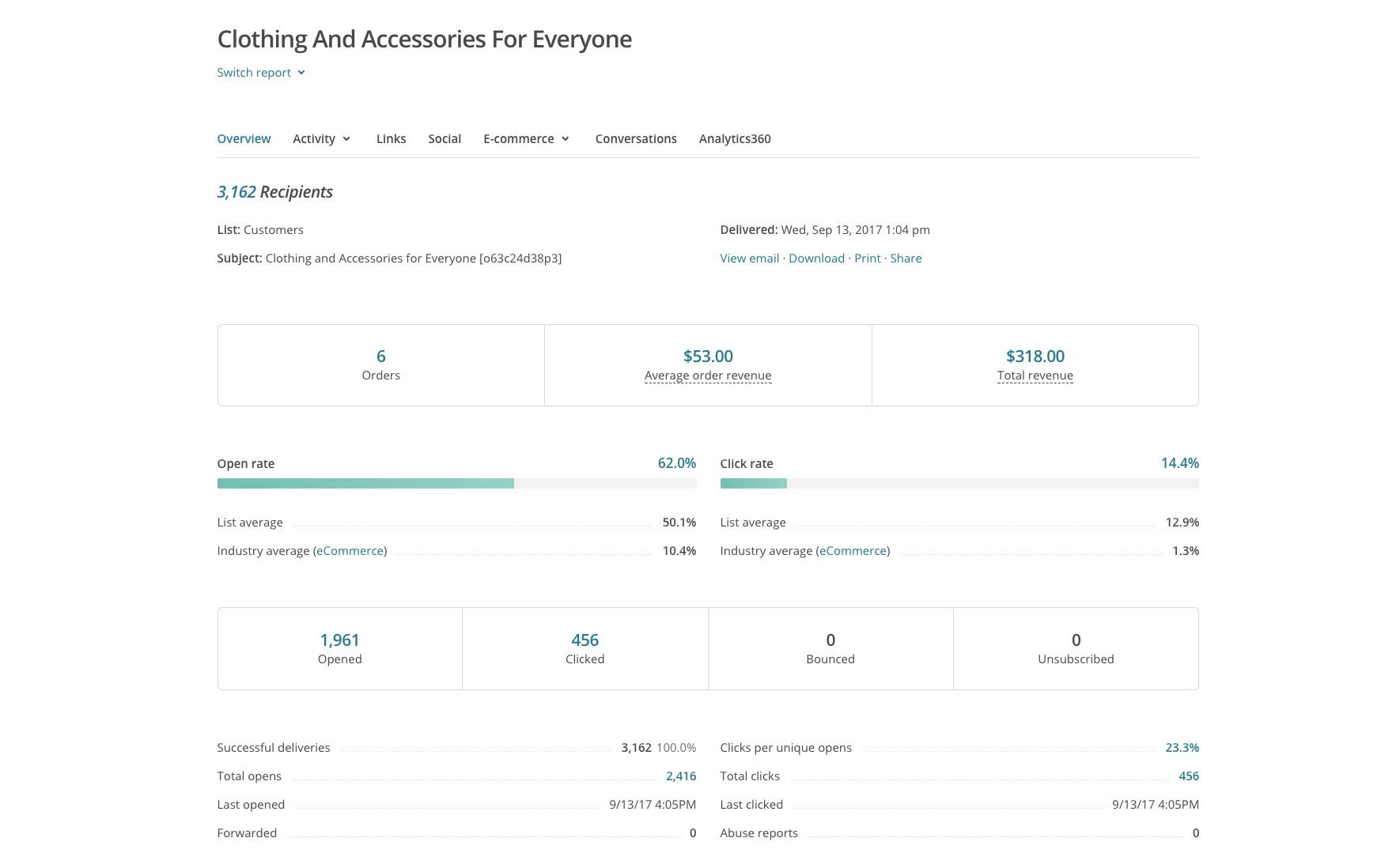 For all new stores, I recommend using MailChimp as your email marketing service, because it is free for up to 2,000 subscribers and 12,000 emails. They are one of the leaders in this space and allow you to connect your Shopify store for free and automatically adds the customer to Mailchimp.   
With this, you can create powerful automated features, ad campaigns for personalized marketing, and track customers on payment history.  Their Mailchimp Prices are very affordable and I have never had an issue with email deliver ability for staying out of Junk Filters.
3. Custom Cat
Link: https://apps.shopify.com/customcat-fulfillment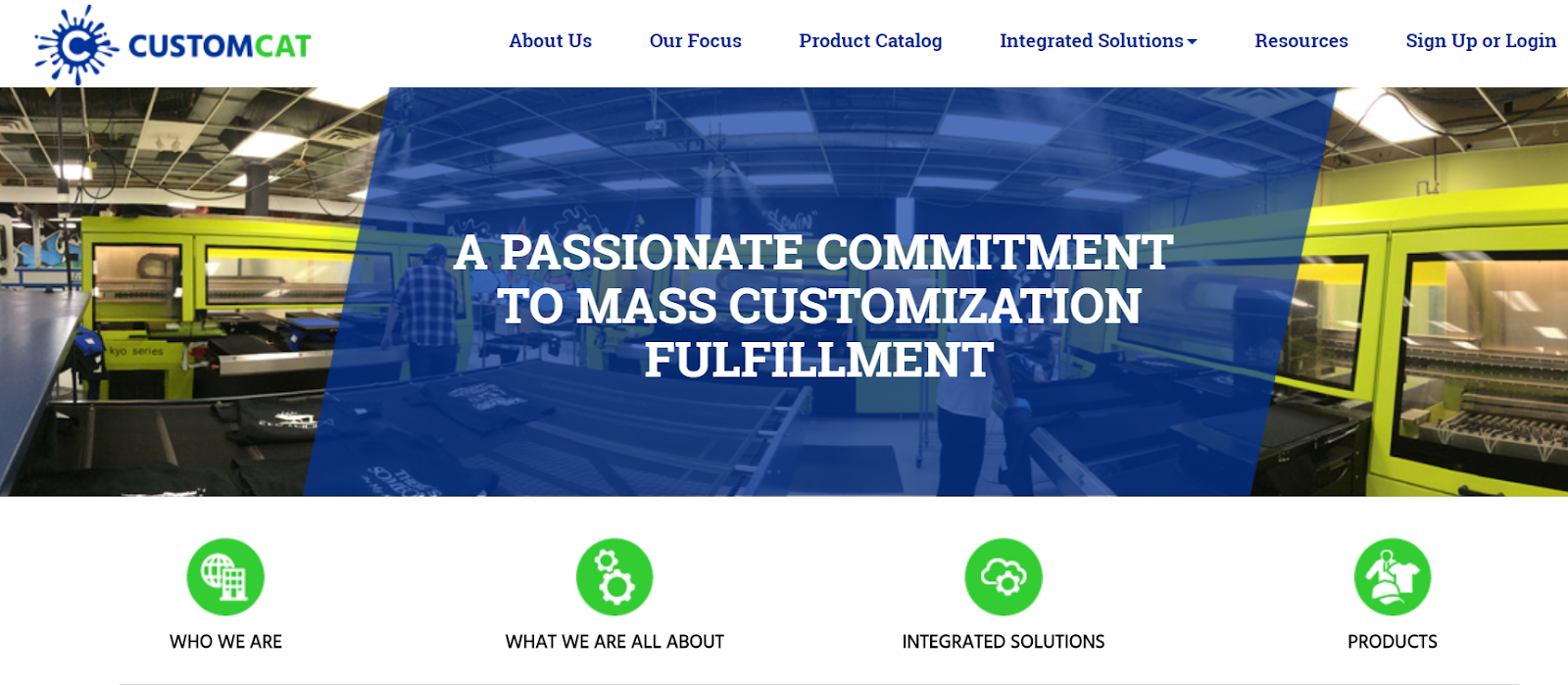 Custom Cat provides the best on demands fulfillment and design for all my merchandise and custom apparel. It is a USA Based business that provides fast production, shipping, with very competitive products.
Shipping for drop shippers costs $4.99 in US + $1.50 per additional item; international shipping is $7.50 + $5.95 per additional item. See above for their current 2018 pricing and link to full 550+ product catalog. Some examples of pricing are Unisex T-Shirt – $6.00, 11 oz Mug – $3.50, 15 oz Mug – $4.00, Pullover Hoodie – $18.50, Crewneck Sweatshirt – $12.95, Embroidered Flat Bill Snapback Hat – $13.64, Embroidered Baseball Cap – $11.22.
4. Quick Announcement Bar By Hextom
Link: https://apps.shopify.com/quick-announcement-bar-always-keep-your-customers-informed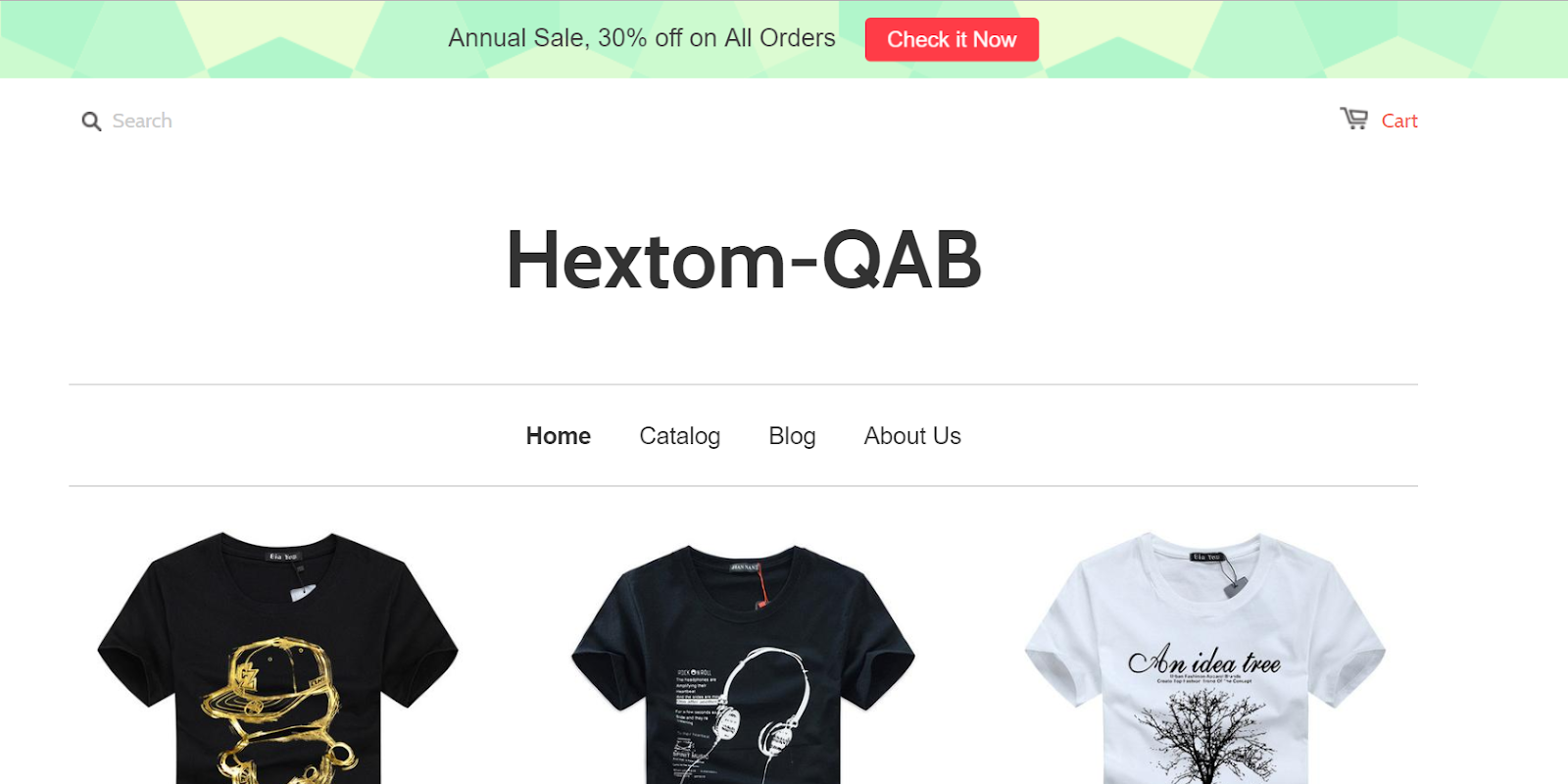 One of the most important thing that any Shopify Dropshipping store must have is the quick announcement bar. One of the top rates for Shopify Apps, and highest converting features. This pop-up does a lot more than just inform a customer about your business updated, it also has advanced targetting such as geo-targeting, source targeting, and page targeting. I use it for different campaigns especially when using Facebook traffic and customize it especially for the custom audience and list.
5. Sales Popup By MakeProSimp
Link: https://apps.shopify.com/sales-pop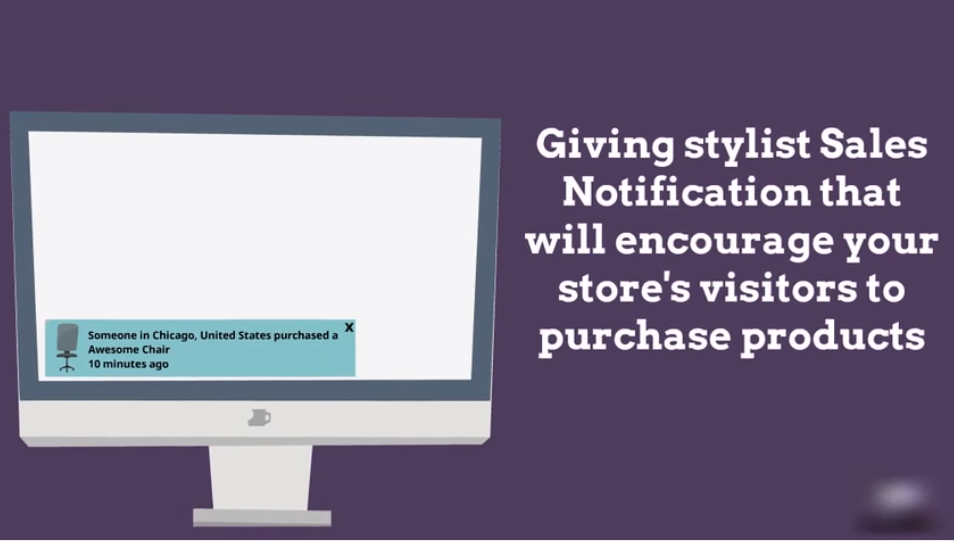 Increase your conversion rates with social proof! The Sales Notification by MakeProSimp is a newer sales notification (But Completely Free) and awesome. The pop-ups build trust with your consumers by encouraging them to buy your product. There are highly customizable for hiding or displaying products and works on all mobile devices. Super easy to set up and actual had really good support.   
6. Shopify Messenger
Link: https://apps.shopify.com/messenger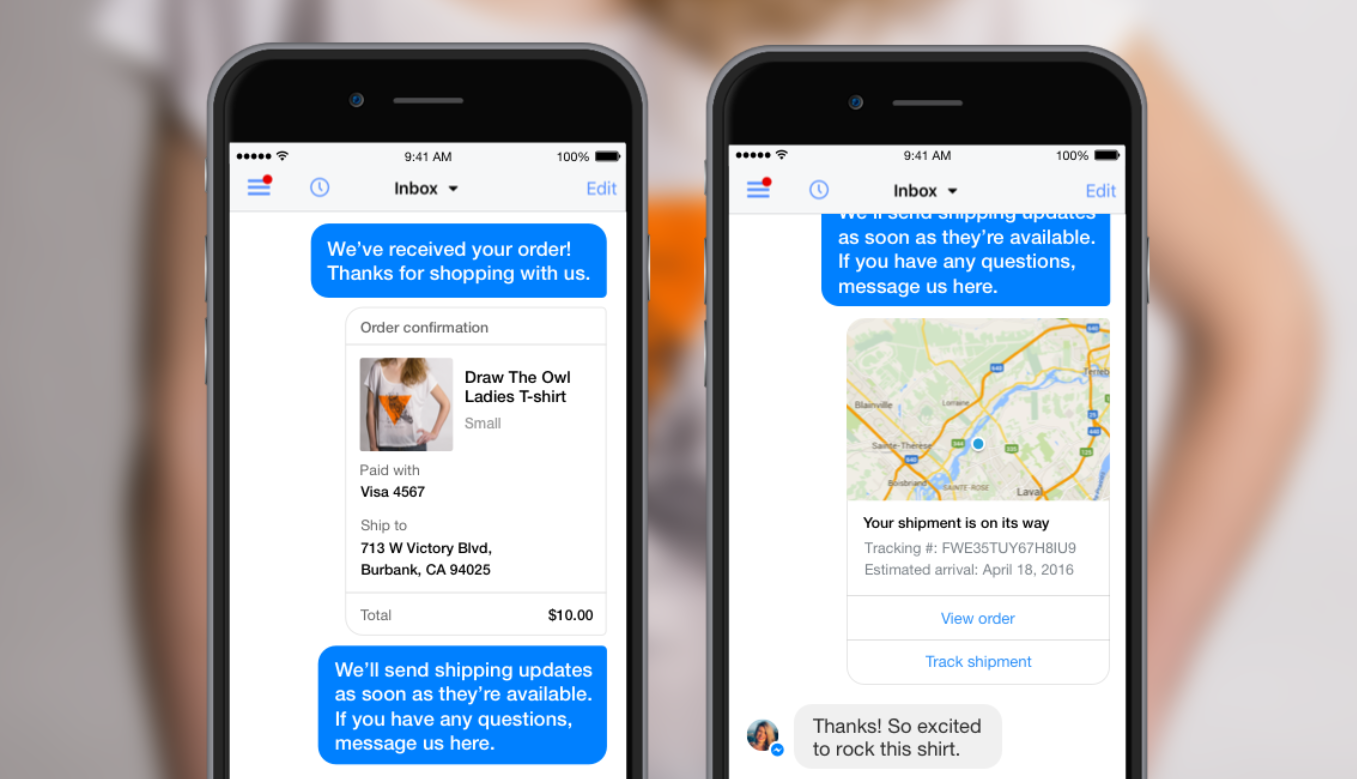 Who really uses emails nowadays anyways? The Messenger App created by Shopify provides a fast and easy way for customers to buy products from your store.  You can chat in real time and customers love having all confirmation and shipping details all sent in one place. Not all customers are ready (just yet) to do this through their Facebook, but it is growing and my conversion speaks for themselves.  
7. Instafeed 
Link: https://apps.shopify.com/instafeed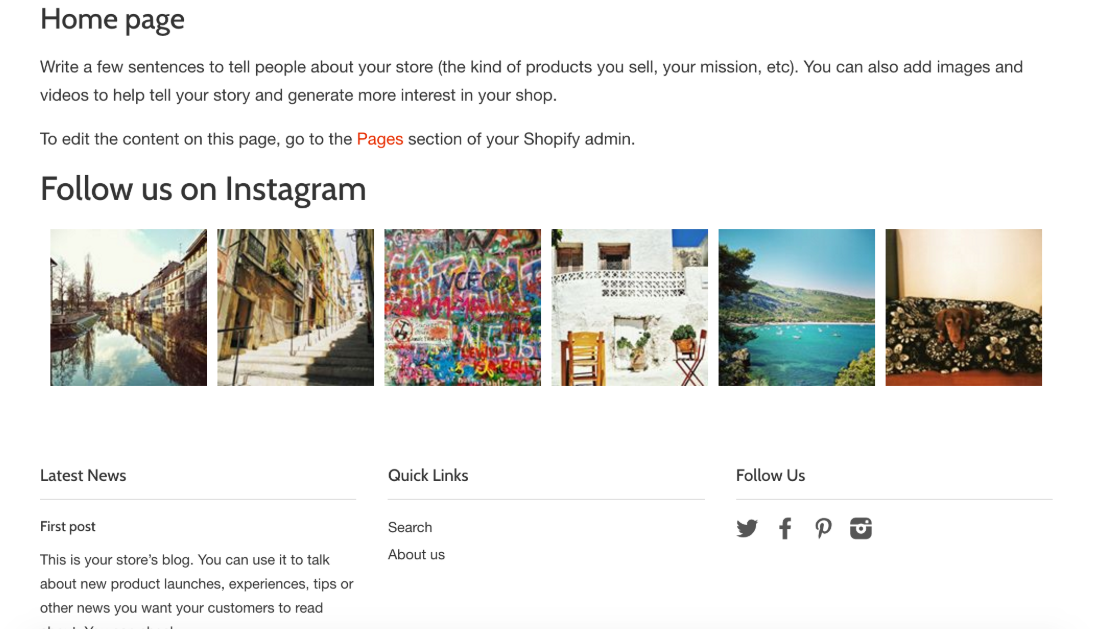 The Instafeed app easily adds your Instagram pics to your Shopify Store attracting many new followers. This adds social proof and shows that there is more to this brand than just a store.
8. Quickbooks Shopify App
Link: https://apps.shopify.com/quickbooks-online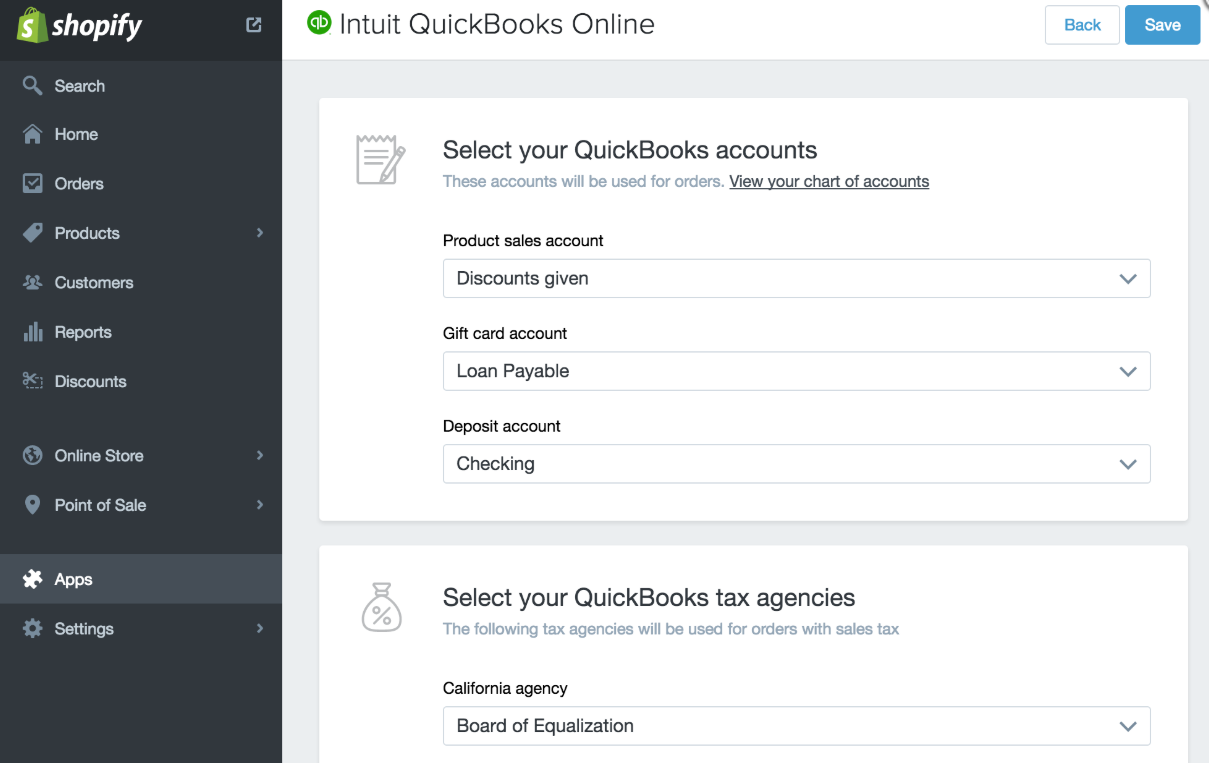 It is not the cheapest accounting system, but I personally use the Quickbooks Shopify App and their online accounting system.  You can automatically export orders from Shopify, sync inventory levels, and keeps track of all your payouts and fees. The money I save from not having to hire an accountant far outways the monthly costs.
The first 30 days are free to try, and you have to have both the Shopify App and Quickbooks Online subscriptions that cost about $75 / month. If your budget is tight, Xero is a similar system and plans start at only $9.00 per month.
Link: https://apps.shopify.com/xero
9. Spin-a-sale 
Link: https://apps.shopify.com/spin-a-sale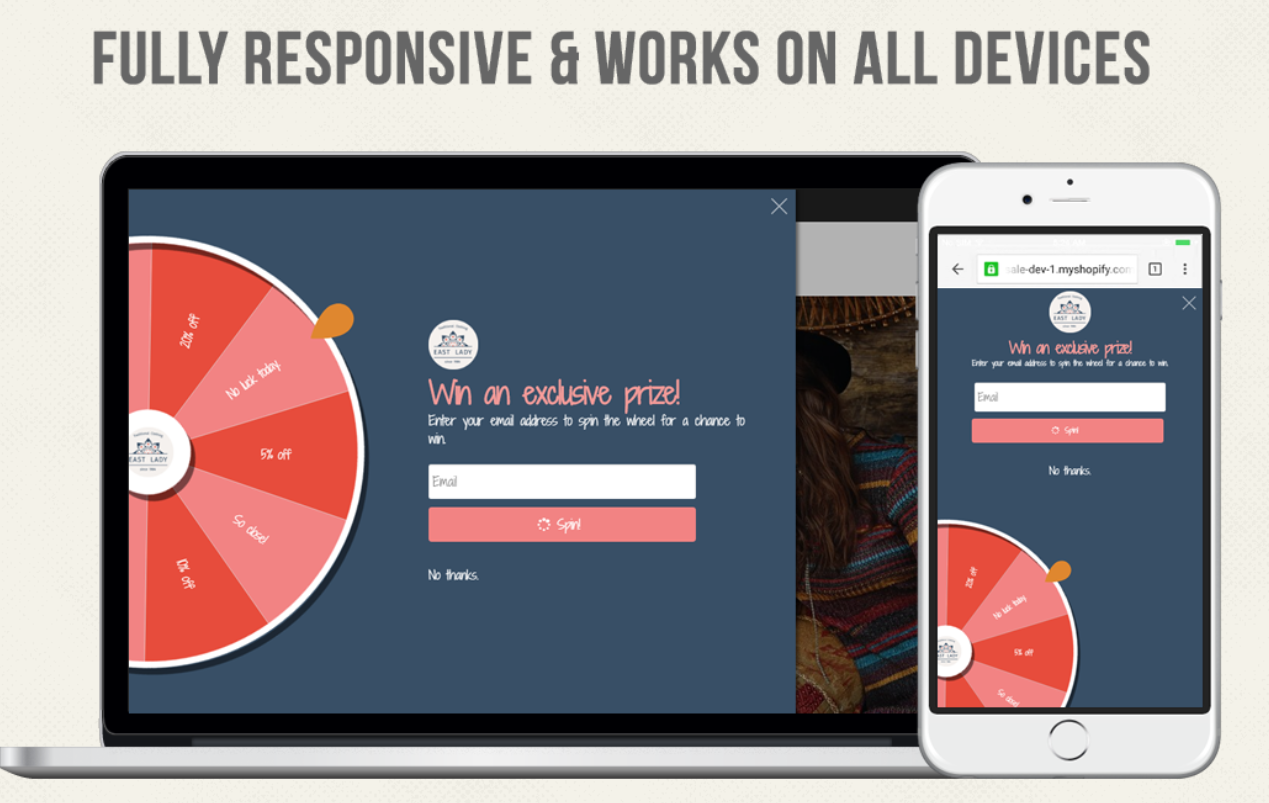 The spin-a-sale is pretty legendary in the Shopify community, and highly engages users for email subscribers. They have been working hard on the load speed, but customers love to spin the wheel for discounts. It will allow you to quickly grow your list and has done crazy things with my conversions.
It gives you full control over the customization and built with automation in mind. You can set it for delayed timing, when someone is exciting, and give automatic unique codes. It has a 10-day free trial so when your site is up and making sales.
10. Referral Candy
Link: https://apps.shopify.com/referralcandy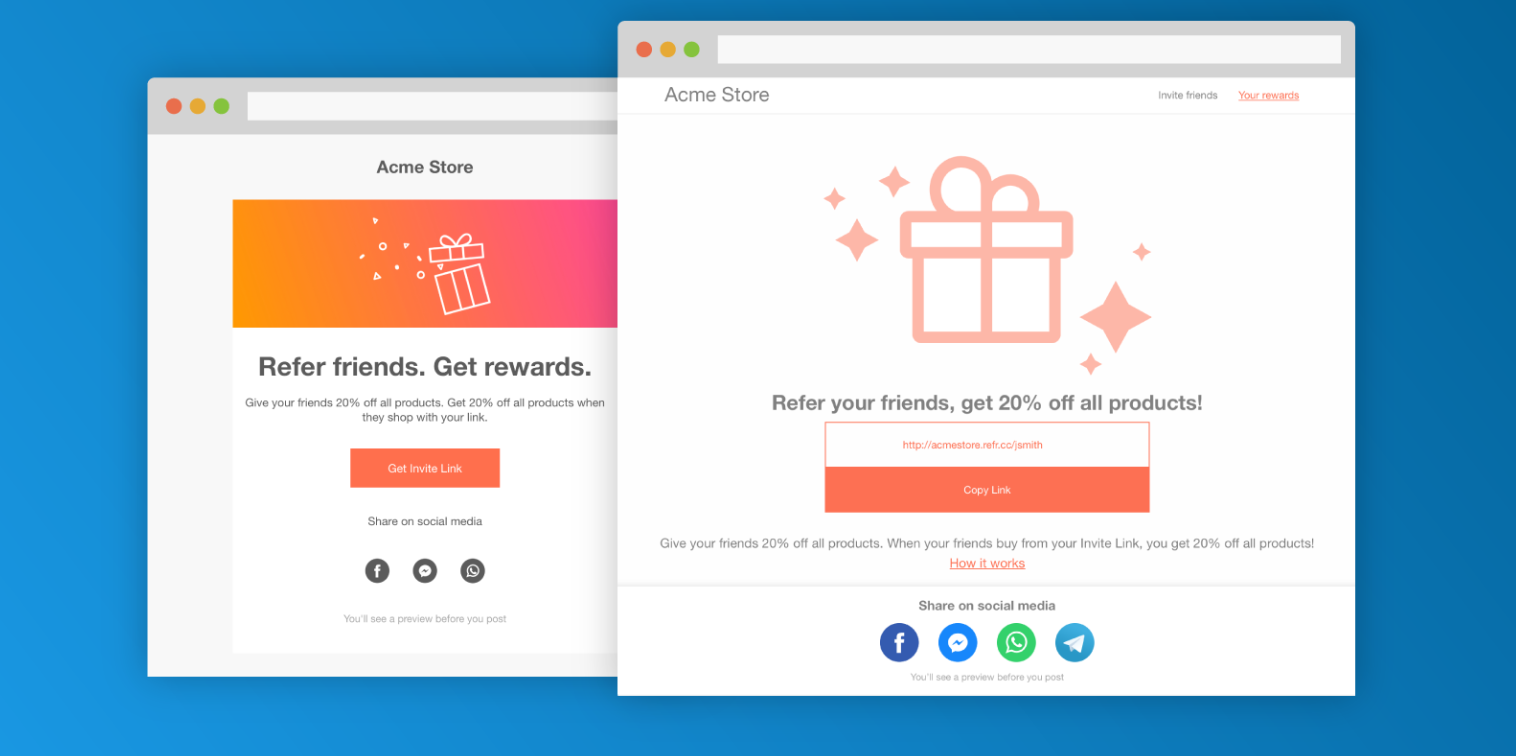 After showing you ways to make more sales, our last dropshipping app on the list is referral candy. Because why would you not want your happy customers out there making sales for you?  It is one of the more expensive apps recommended today at $49/ month but has a 30 Day Free Trial.
You get to design and choose your own referral program exactly the way you want. This may mean Cash or Coupons or create it however you like. The additional metrics and dashboard feature let you optimize the campaigns based on your real metrics.   
Related Articles on Shopify and Ecommerce
Whether you're new to online sales and marketing, or just need to increase your website funnel conversions or Shopify sales, this article will help. Optimizing conversions for Shopify or sites that sell can be very challenging, especially when all the other sites around you seem to be selling like crazy and you're not.  What you will learn here can help boost your conversions and sales online. Here are 5 Conversion Rate Optimization tips to increase online sales.
Let's say you are this creative person with all these amazing ideas and you want to share it with the world but you know nothing about coding and all that techy stuff. Or, let's say you are this entrepreneur who has been dreaming of making it big by selling your unique products through the internet and hopefully make a small fortune from it but you lack the actual technical skills to start your own website. Unless it's still 1982 then it would be impossible for you to make your own web blog or web store without knowledge of coding. Lucky for you, it happens to be the digital age. So, let's go ahead and dig deep into how Wix can help you set up a professional website in just a few minutes, even for a tech novice. Here is MonetizePros' Wix ADI Review.
For any website that sells a product or service–whether it be a physical good or an email newsletter–there are two primary ways to increase transaction volume. One is to increase traffic, getting more potential customers into your sales funnel. The other is to increase the conversion rate on your checkout page, getting more revenue and more customers from your existing traffic base. If you don't have a website yet, see our homepage to learn how to create a blog.
There are a number of ways to increase your conversion rate, including adding testimonials to the site, tweaking price points and coupon codes, and even changing the color of the checkout button. Another opportunity to increase conversions involves putting a "trust badge" on a checkout page, with the goal of convincing potential customers that the process is safe and secure. As online fraud rises, it's important for customers to feel secure. Statistics highlighting the rise of online fraud as a problem to e-commerce sites include:Continue reading
Hate it or love it we all need money. Money is what lets us buy our basic necessities. It's what you need to live in the coziest houses and drive the sweetest rides. In the digital age, a lot of people have relied on using the internet to make money. There are plenty of ways you can make serious cash, however, these days one of the most popular methods is by starting an Amazon FBA business. Especially those who have done proper Amazon product research. Online entrepreneurs have gone crazy about it due to the countless number of success stories we hear about making a fortune through Amazon.
Even if starting an Amazon FBA business has plenty of positive feedback there are a lot of people who are avoiding it in fears of failing. They think that the market has been saturated and the competition is too much. They believe that all the older sellers who started way before them have already monopolized Amazon. I have talked to people who have admitted their fears and frustrations of an FBA business. In these days I know that it's really hard to even think that you can run a profitable Amazon business. I admit that it I've had my fair share of struggles in trying to run an Amazon business. However, if you hustle hard enough and rise above all the obstacles that come your way, you can conquer anything. All you need is dedication, a hustler's mentality, and great product researching skills. Continue reading
The ecommerce business has been growing at an astounding rate of 23 percent year-over-year, it's only natural for entrepreneurs and small businesses to turn their attention to the online world.
In the early days of the internet, launching an online store was a time consuming, expensive, and downright stressful task.
Today, however, access to a variety of tools and applications has made this a simple process.
This is where Oberlo has made a name for itself.
In short, Oberlo is an online marketplace that connects merchants and suppliers. So, if you want to sell online, you can use Oberlo to search for and find the best products. It's as simple as that. But Oberlo goes way beyond a "marketplace". With Oberlo, you can pretty much automate your entire store and use it to scale your operation to boost your revenue tremendously.
Oberlo is a Dropshipping Leader
In the early days of Oberlo, the company was primarily a dropshipping tool. This gave online storeowners the ability to find and sell thousands upon thousands of items, all without ever touching the product.
While Oberlo is still a major player in the dropshipping space, it has shifted its focus to become more of a marketplace for finding and selling products.
Let's examine some of its more advanced dropshipping features:
Easily Add and Ship Products
Your job is simple: add products to your store, generate traffic to your website, and make sales.
Once a sale is made, it only takes a couple clicks to place the order with your supplier. From there, the supplier ships the product directly to the consumer, meaning you never have to concern yourself with any aspect of inventory management or shipping.
Real Time Inventory and Price Updates
Inventory management can be a huge headache for online storeowners. Oberlo has set out to change this with its advanced dropshipping business model.
In addition to the ability to easily add products to your store, Oberlo provides real time inventory and price updates.
With this technology powering your store, you never have to worry about selling a product above your retail price or one that is out of stock.
 Shipment Tracking
Just because you rely on a dropshipping business model doesn't mean you can overlook the importance of customer service.
Shipment tracking is extremely important in today's day and age. Customers want their items now, not later. You need to know where your orders are at all times, as this allows you to provide your customers with the best possible experience.
Oberlo may not be the only provider in this space, but it's definitely one of the best thanks in large part to its long list of dropshipping features.
Features for Boosting Sales
Setting up an attractive online store with high quality products that are priced to sell is only half the battle. You also need to devote resources to your sales and marketing strategy. Oberlo has you covered. Here are some of the many things it can do for you:
Edit product images, titles, descriptions, and more. Once you import a product, you can make changes to ensure that it fits in with the rest of your store while also attracting your target audience.
Track your sales. It can be great fun to find products, add them to your store, and create a beautiful experience for your visitors. Even so, none of this matters if you aren't making sales. Oberlo allows you to easily track your earnings through a powerful sales dashboard. Note: you can track expenses as well.
Connect existing products. Do you have your own products to sell? Are you also sourcing products from local suppliers? Oberlo allows you to connect products you're already selling, displaying them side-by-side with those that you import for dropshipping.
Create multiple user accounts. There's a good chance that you aren't the only person managing your online store. Even if this isn't the case today, it could change in the future. You have the option to create as many user accounts as necessary.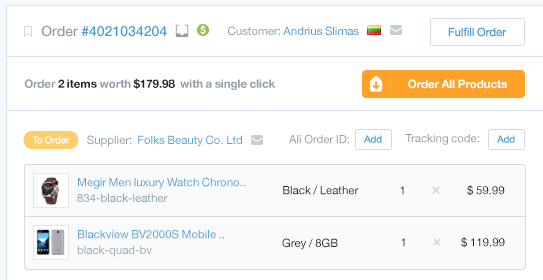 Oberlo realizes that there is more to an online store than offering a large selection of high quality products. This is why there are so many sales tools for users to implement.
Conclusion
Just the same as the ecommerce industry as a whole, Oberlo has grown and adapted with each passing year.
Since its founding in September 2015, merchants have sold more than 85 million products with the help of Oberlo. In fact, the company has had so much success in a short period of time that it was acquired in May 2017 by Shopify for $15 million.
When you combine Oberlo's feature list with the ability to access a large selection of products, you have a tool that has helped thousands of entrepreneurs achieve great success in the ecommerce space.
Since the beginning of 2017, it's been all about e-commerce. More and more marketers choose to try their hand at this, and a decent part of them succeed.
However, don't be fooled. e-commerce might be simple, but it's not easy. While it stems from (or runs parallel to) the regular CPA marketing, it requires a different kind of effort and investment.
In essence, e-commerce is synonymous to drop shipping – delivering products from the manufacturer to the customer, without having to physically deal with stock. In its most popular form, marketers build their own webstores using Shopify and then ship products directly from AliExpress.
Yet there is much more variety to it and the opportunities are endless. There are local producers who know nothing about marketing and would love to have their products sold and marketed online. There are friends who make things that could potentially be interesting for a larger audience. Literally, any product that you can sell via your own store with a price markup is an e-commerce opportunity. Finally, there are e-commerce offers provided by CPA networks – these are easier to promote, as you don't even need a web store of your own.
Getting into the "Real" Business
The reason why so many marketers are toying with the idea of e-commerce is that it offers much, MUCH more control over the process. You will no longer depend on advertisers' whims and negotiate for payout bumps. With e-commerce, you decide what to sell and how big a margin you can set for it (up to thousands of dollars sometimes).
E-commerce is gold for those who want a taste of the "real white-hat business". Additional efforts are usually necessary to advertise regular CPA offers on Facebook. A completely different story with e-commerce – it's as white hat as it gets.
Scaling is a viable possibility with e-commerce, too – vertical (by increasing investment) as well as horizontal (by selling new products through the same or a different store).
Finally, you could sell the business one day, for literally thousands of dollars.
The cons? Well, it is a more "real" business. There's customer service to think about, shipping delays to deal with, quality complaints and chargebacks to process, and storage for the goods to be provided.
Starting Out
Generally, there are three steps to take when starting in e-commerce:
Choosing the products
Creating a store and importing products
Setting up promotion channels
Product Selection
The first stage – product selection – is an important one, as it can potentially save thousands in testing. One of the popular techniques is to target people rather than goods. Think of the audience first and choose the products to sell to them afterwards.
In line with this strategy, it's better to choose a niche store over a general one. Selling everything to everyone hardly ever works and is tough to handle in terms of targeting. It can be useful, however, if you want to test hundreds of products in a short time.
When choosing the niche, ask yourself the following questions:
Is the target audience passionate? Do they have a pressing problem to be solved with your product? Do they have a sufficient purchasing power?
Is the niche evergreen or temporary? Temporary niches can be used for learning and testing (with caution), but the real profit is always in the evergreen area.
Is it safe to promote the products from this niche on Facebook? For now, the social media giant is an undisputed leader in promoting e-commerce offers. It's also extremely (and often unreasonably) picky with is ads. Which means it wouldn't be smart to limit your advertising ability by choosing a questionable product.
Does the niche offer horizontal scaling opportunities? In other words, are there related or similar products you could add to your range with time that would be interesting for your target audience?
Can you target many geos with it? Will customers from other countries be interested in what you are selling?
If the answer to all of the questions above is Yes, you have found a goldmine.
Alternatively (borrowing the best practice of the CPA marketing), you can research best-selling products on other Shopify stores. It will give you a pretty good idea of what sells, but increase the competition accordingly.
Once the niche is clear, define the products you will be selling. A perfect product is easy to find and ship, doesn't weigh too much (to simplify shipping and storage), is trendy or consumable (to support demand), doesn't cost too much (to target impulse buyers) and can potentially become a foundation for building a brand.
Creating a Store
The most popular platform for creating online stores is Shopify, and rightly so. It offers simplicity, diversity and virtually unlimited customization options for your store – all for a modest monthly price. Creating a store includes installing the must-have apps:
An app to import products from AliExpress (if that's where you are drop shipping from). Oberlo is probably the most popular and convenient of them.
A mailer app. Having customers on your store has an added benefit of getting their email addresses. Provided you have selected a consumable product, you can offer a replacement or a related product through emails. You'll also want to target abandoned cart users. Abandonment Protector and MailChimp are used most frequently for such purposes.
Choose a theme and a logo for your store. Don't go for anything overly sophisticated – the highest profit is made where things are kept simple.
Importing products in your store with Oberlo is VERY easy, but you will have to keep a few things in mind. Even if you are not planning on doing any SEO for your store just yet, it's worth to spend time on titles, descriptions and other SEO-related elements. Rewrite the descriptions of products (they are often not that user friendly), touch up the images and do all the other cosmetic changes. Don't skip on the copywriting part. Customers want to be told a story before they buy. They also want to feel safe, so add links to social media profiles for your store.
A great place for inspiration is reviews of similar products on other e-commerce websites. You might discover new angles and appeal to unexpected desires of your customers.
When choosing the margin for your products, don't forget to factor in all the costs – shipping, your Shopify subscription, advertising budget, etc. $50 – $200 markup is reasonable, but if your experience proves that a much higher markup is acceptable, don't hesitate to use it.
Additional tips for your store:
Use several payment options – at least a PayPal and a credit card processor
Repeat the time of shipping several times in different places. Drop shipping from China takes weeks, unless you have a storage of your own, and your customers need to realize that to avoid chargebacks. To get even fewer complaints about delivery times, set an email sequence with updates on the order status.
Split-test after you started getting traffic. Test everything you would split-test on a landing page – images, CTAs, headlines, copy, security badges, count-down timers, pretty prices, etc.
Getting traffic
When the store is set up and ready to take traffic, head to Facebook.
Technically, several traffic sources work for e-commerce, including native, YouTube, and search, but Facebook dominates the playground. With its targeting and delivery possibilities, sky is your limit in reaching more potential customers.
When setting-up ads for your store, bear the following things in mind:
Focus on one product in every ad, which is why a one-image ad is better than a carousel ad
Tell the story with your ads. E-commerce is just the niche to sell the sizzle, not the steak
Test different options – free delivery, just-pay-shipping with an upsell, links to articles and presell pages instead of direct-linking, links to lead capture pages with a subsequent email sequence
Allow at least $3K – $4K budget for testing and don't give up if you see no results from the start. Some niches are over-saturated already, and direct ordering from AliExpress gets more popular, which naturally decreases your target audience. In fact, some successful marketers choose to go through 3 different products to test a day! It might take time to find good products to sell, but once you do, the potential profits are significant.
Useful links:
This is a guest post by Andy Margison, founder and director ZZap Ltd.
Building and running a successful e-commerce website is harder than you might think. E-commerce websites involve a whole host of factors that all need to addressed. It's often a perception that an e-commerce website 'runs itself' operating on little costs. The reality is e-commerce websites start with an investment of 3k to 30k (depending on your requirements) then they have ongoing expenses to deal with. However if done right, an e-commerce website can become invaluable to a business. In the years that I have built my e-commerce website (www.zzaponline.com) I have learnt a few key mistakes that should be avoided at all costs.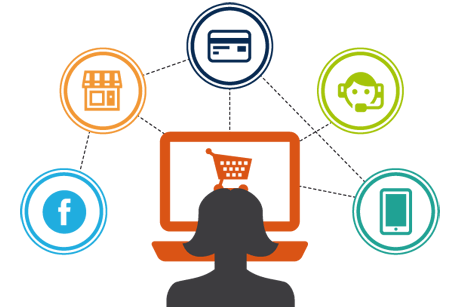 Mistake #1: Not working out the profitability of your website
Ultimately an e-commerce website serves one function, to make a profit. It's astonishing how many people lose sight of the end goal. Your website may look fantastic and work beautifully but if you're barely breaking even then what's the point?
To work out the potential profitability of an e-commerce website you need to estimate the cost and revenue. There are a number of ongoing costs to consider in addition to the initial capital investment, see below. Marketing expenses such as pay per click (PPC) advertising and search engine optimisation (SEO) will be your main ongoing expense. It is rare that no marketing expenses are needed.
– PPC advertising e.g. Google adwords or remarketing
– SEO
– Website hosting
– Merchant account
– Web development maintenance
Next you need to estimate your sales. To do this you need to pull on all the information you have available and research extensively. Factors to consider are as follows:
– If possible, use your sales figures from platforms such as Amazon and eBay.
– Monitor the traffic to your competitors websites. I recommend using SEMrush or urlspy. Be sure to take into account their PPC budget and their natural rankings.
– Research typical conversion rates in your sector then apply this to your estimated traffic.
– Look at the accounts of your competitors e.g. https://beta.companieshouse.gov.uk. However take into account there revenue may not be coming from just their e-commerce website.
– Research how large your market is. The larger the market, the more potential for sales.
– Research how often your products need to be bought i.e. one off purchases like machinery will have less sales than perishable goods like food.
– Research if your goods are luxury items or necessities. Luxury good will often have less sales than necessities.
Use all this information to make a sales forecast then deduct your website costs as well as your normal product costs and see if you are still making a worthwhile profit. It's also worth adding a margin for error because as we all know, most things don't go to plan!
A typical a profit calculation for a small business is shown below. In this case, I would advise the business against building an e-commerce website. The business would need to increase revenue to make a worthwhile profit. This could be done through increasing their product range and cutting products costs where possible.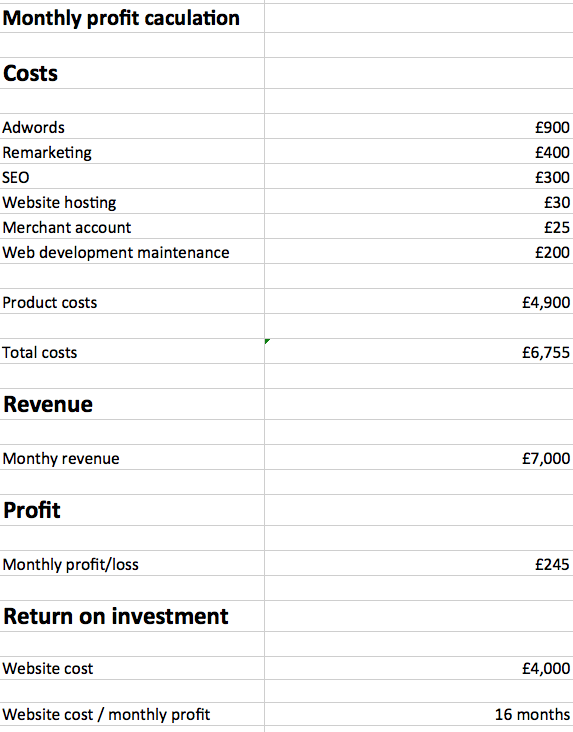 Mistake #2: Not understanding the competition
The online market place allows consumers to compare businesses extremely easily. Your competitor is literally only a few clicks away. Therefore it has to be an absolute priority to be better than the competition. Firstly you need to understand each and every competitor, inside out. Here are just a few aspects you should be taking note of:
– What products do they sell and how large is their product range?
– Are their prices low or high? What market are they appealing to?
– Do they use product videos?
– How is their website designed?
– Do they have reviews on their website? Are they verified?
– What are their product images like?
– Are they easily contactable?
– Do they have clear and well written support pages?
Once you understand the competition you need to be looking for weaknesses which you can capitalise on. For example they may have a great product range but their website maybe poorly designed. The design of a website can lose a business thousands of pounds by not instilling confidence in the customer.
Product videos, helpful support pages and good website design can all help you sell more. However, eventually your main competitors are likely to update their website to be on par with the rest of the marketplace. Therefore it becomes a constant battle to stay ahead, hence I put 'web development maintenance' as an ongoing cost. In my experience the game changers are Unique Selling Points (USPs) that can't be easily copied or are patent protected. For example if your product is faster, stronger, better quality, etc, and it can't be replicated by your competition, you have the potential to dominate your sector.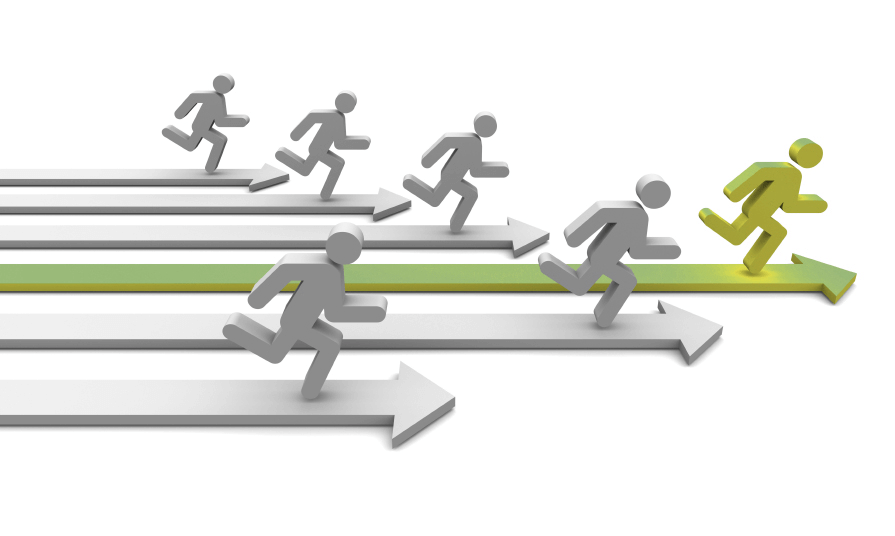 Mistake #3: Over-trusting your web developer
If you're like most of us, you don't understand how websites work. This means you have to trust your web developer. However all web developers have a different way of working. Developers tend to stick to their preferred method rather than using the most efficient and cost effect method. The fact that you don't know how it works bodes well for the developer since you can't question anything.
In the past, I have had a website created only to find that it has been built on a bespoke platform that only that developer can work on. The result was, I was stuck with my existing developer which has obvious disadvantages. With more initial research I would have found that an open-source platform such as WordPress would have allowed more flexibility. Extensive research can save a lot of time and money in the future. When you're researching you should avoid calling up other developers since they will always be bias to their way of working, instead look on forums and blogs that give impartial advice.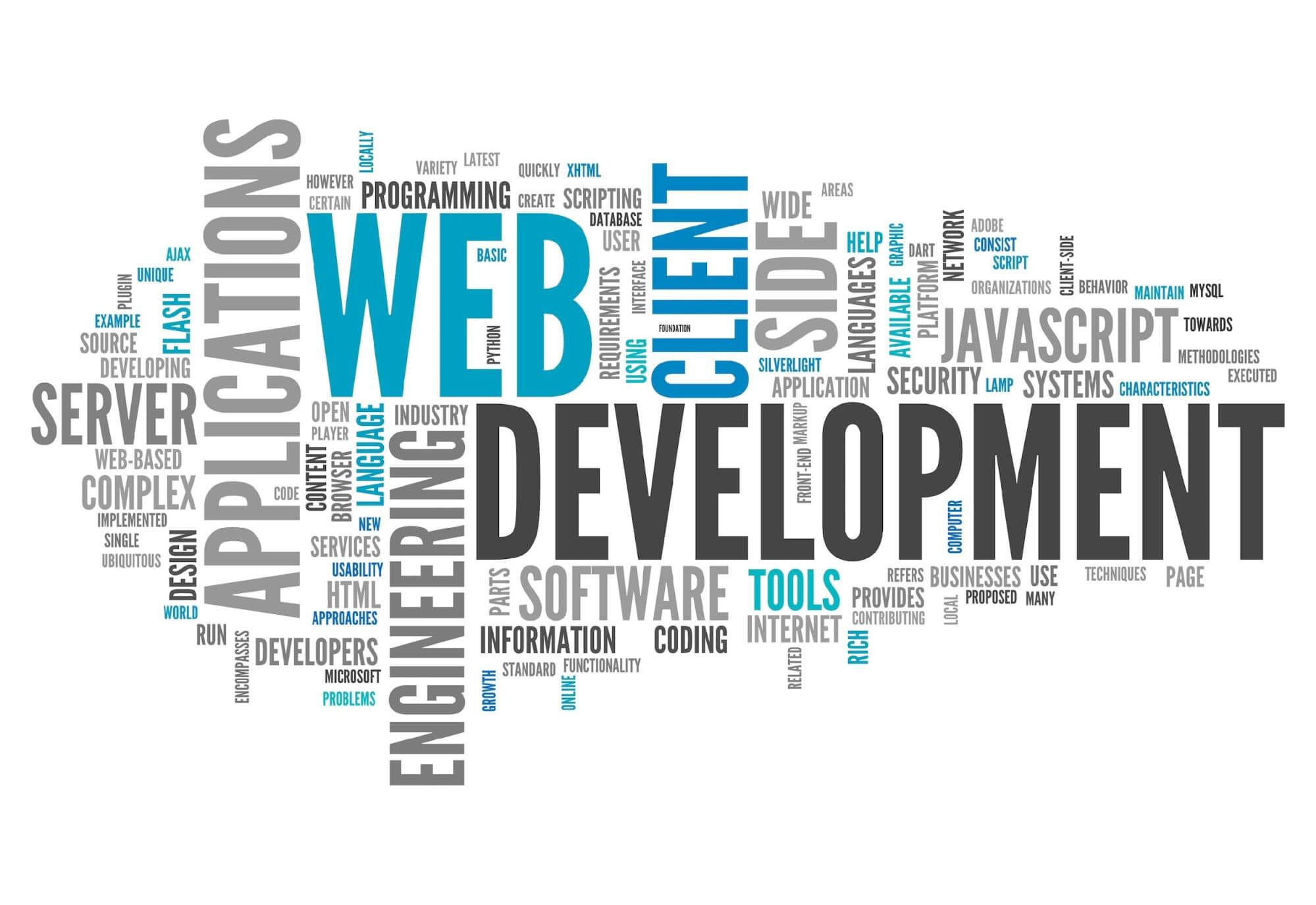 Last word
E-commerce websites can be hard work and there is no guarantee they will bring in a return on your investment. The internet is full of businesses that dominate their sector simply because they have mastered their craft. A new e-commerce website is a risky venture. I find that to win this game you need to have an all-in approach. You have to always aim for the top and keep pushing no matter what. There are always new products, new videos, new designs and it's your job to keep on top of it all. It can take years to create a highly profitable and reputable e-commerce website. However if you're able to do it, the sky is the limit. For more information on e-commerce websites, why not take a look at my article "Why you need an e-commerce website and what it takes to build one".
Author bio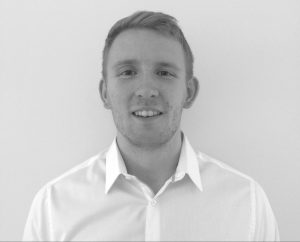 I am the founder and director of ZZap Ltd (www.zzaponline.com). From an early age, I have had a burning passion to run my own business. At the age of 9 I started my first car washing business, at 11 my own gardening business and at 14 I sold confectionary from my school locker. I have always loved entrepreneurism. I believe work ethic is the foundation to being successful. If you truly want something bad enough you can achieve it.
The Internet has drastically changed our economic landscape. With just a website and a product or service, you can now access a worldwide market. Of course, you still need tools to help things run efficiently but – that's where eCommerce platforms come in.  They are an essential part of running any online store.  In this article, we will take a look at and review PinnacleCart, one of the more popular eCommerce platforms on the web.
Overview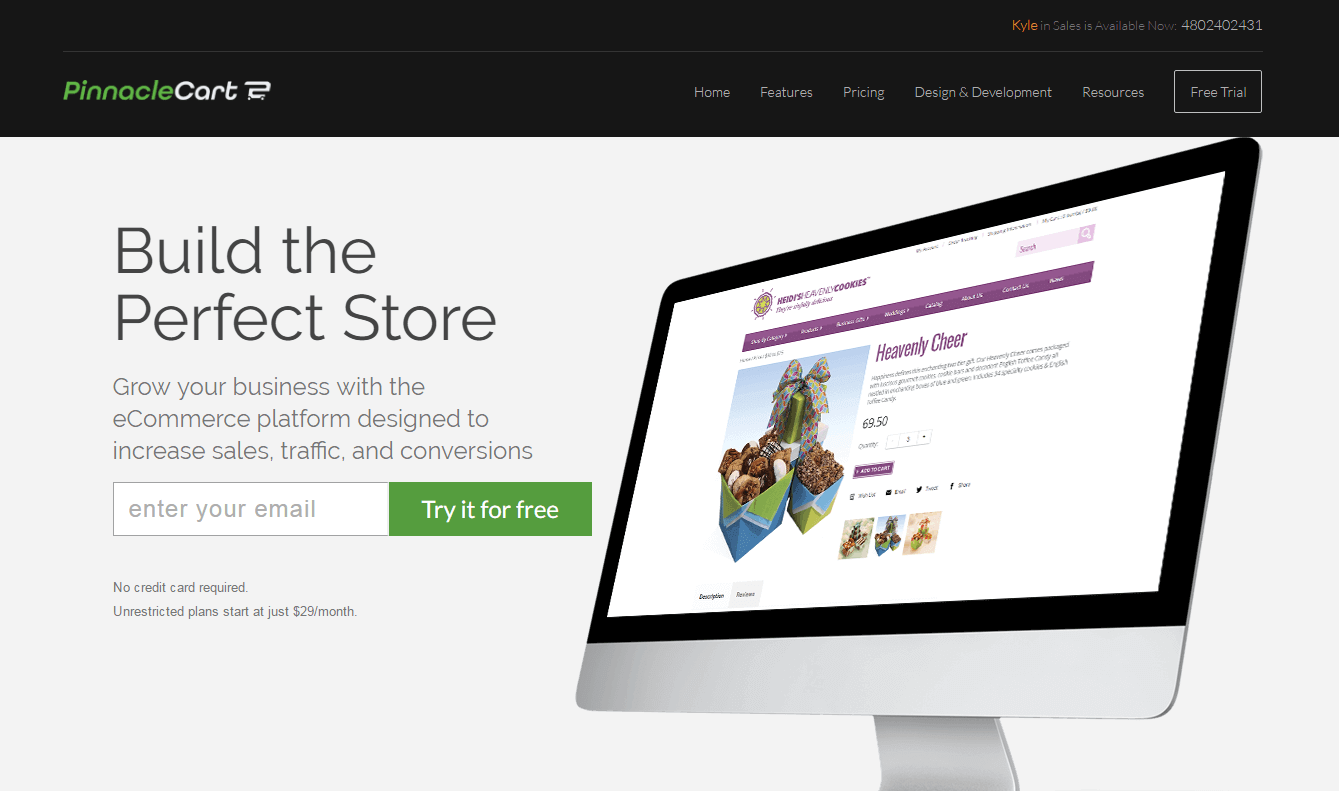 There are a lot of eCommerce platforms to choose from and most of them are created by programmers. Programmers can be brilliant, no doubt about that, but the thing with programmers building eCommerce platforms is that they can be too focused on the technical aspects of the engine. As a result, everyday online entrepreneurs may have a bit of difficulty using the platform. They may get frustrated trying to decipher how to do a seemingly simple task.
This is an area in which PinnacleCart is making its name. It's an eCommerce platform that's primarily designed and specifically intended for entrepreneurs. This means that online merchants who have little to no technical skills will be able to promote and sell their products effortlessly, with the help of the platform.
With PinnacleCart, a user will be able to quickly edit and add products. The platform also allows easy website customization, the creation of promotions, and order management. Keep in mind that PinnacleCart is a SaaS or Software as a Service platform. A SaaS platform means that there is no need for you to deal with site security and hosting. You simply pay a monthly fee to PinnacleCart, and fixing software-related issues is included in the service.
SaaS services have varying bells and whistles, but you'd be pleased to know that PinnacleCart has above average SaaS technology when compared to other similar services. In fact, PinnacleCart is used by A&E, Mike and Ike, UFC, Discovery Channel, The Onion, and many more.
Pricing
There is one thing to note about PinnacleCart. They do not offer refunds when you purchase a plan. Fortunately, they do offer a 14-day free trial, and it doesn't even require a credit card. So, make use of the trial period before you lock into a plan.
The flexibility of plan options are another great thing about PinnacleCart. With PinnacleCart's pricing plans, you can start with the cheapest and then work your way up the pricing plan as your business grows and could use more features. It's really that simple. PinnacleCart's pricing plans are largely based on the amount of storage and traffic bandwidth.
If you are just starting out, take a look at their Start Up or Small Biz hosted shopping cart options.  It doesn't make sense to order an expensive plan, as most of the features will only go to waste.  If you're a more experienced eMerchant, however, the Entrepreneur or Enterprise level options will be the way to go.  
As of the moment, PinnacleCart offers 4 hosted solutions. Most online merchants will find a plan that's a right fit for them. However, super high-volume sellers may need a plan outside PinnacleCart's standard hosted solutions.
All of the plans feature PCI/PA-DSS compliance, free migration, email support, unlimited phone support, daily backups, and unlimited products. Also, cancellation fees and transaction fees are non-existent with PinnacleCart.
PinnacleCart's cheapest plan starts at $29.95 per month, while the most expensive one is at $149.95 per month.
PinnacleCart also offers other services such as SEO audits, marketing services, custom design, consultation, training packages, migration support, and premium security certificates for additional fees.
For high-volume sellers, PinnacleCart provides a different solution known as Virtual Private Server Solutions. For such plan, the pricing could be anywhere from $149 to $349 per month.
Notable Features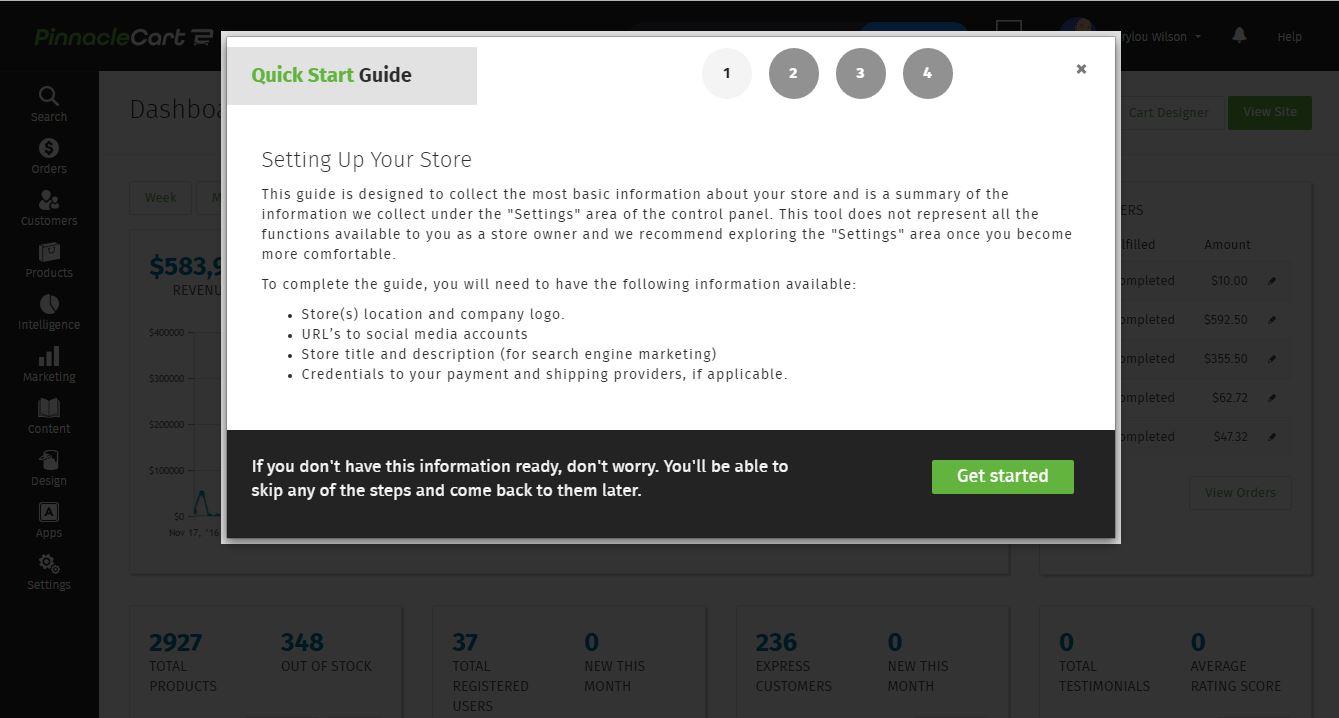 Since PinnacleCart is a SaaS-based technology, you can expect the same benefits that you get from a cloud-based software. This means that the information you have will be made available on all of your devices. You will also have the option to sync your other cloud-based devices effortlessly. There is no need to worry about platform updates as they are already automatic.
When it comes to system requirements, all you need is internet access and a computer. It's highly recommended that you only use an up-to-date browser to minimize issues as you interact with the PinnacleCart platform.
As recommended, start with the 14-day free trial. You can quickly set it up in just a couple of minutes. Once you have already created an account, you will be directed to your admin panel. You will also receive an email from PinnacleCart which will include your account details and other useful links to help you get started.
If you are completely new to PinnacleCart, there is a link to a setup tutorial included in the email. The tutorial is a 20-minute video and it's actually very helpful. Even if you have dealt with other eCommerce platforms before, you may still need to check out the video as PinnacleCart has an entirely different look and feel compared to other platforms.
PinnacleCart Admin Control Panel: 4 out of 5 Stars
The first time you visit the admin panel you will be greeted with a screen overlay to help you navigate through the site. The most important things that you need to set up are found under 'Settings'. It's where you can change your shipping information, tax information, and other critical business information.
PinnacleCart extensively markets their services as user-friendly and they do deliver on such promise. Adding or editing products is now a breeze. What's more, adding attributes to your products can be done as many times as you want. Adding categories is also easy and unlimited. You can easily add meta descriptions, customize product URLs, and add multiple images of a product.
The core platform of PinnacleCart is really powerful. Despite that, you still have the option of adding additional add-ons. PinnacleCart features an App Center, and from there you can choose from different add-ons. Add-on installation is easy and automatic, and it will just need a few clicks. This article will discuss this area further below.
PinnacleCart Tech Implementation: 4 out of 5 Stars
From the admin panel, you will be able to edit the design of your website. If you know a bit of coding, then you will find the HTML/CSS editors very helpful. For users that are not accustomed to coding, then there's a visual editing and design tool that you can make use of. With this tool, you start by choosing a theme. After that, you can further customize your website by changing the images, colors, texts, boxes, and adding buttons.
For those who know coding, the theme editor looks completely different to other platforms. Hence, you will need a bit of time to get accustomed to the interface. So, yes, the coding editor will have a bit of a learning curve.
PinnacleCart allows you to access 30 fully-customizable templates. All of the templates are already mobile responsive, which is crucial these days as most of today's internet traffic is done with a mobile device.
If you want a completely unique website look, PinnacleCart offers premium design services. You can expect to pay between $2,100 and $5,200 for a premium template.
Add-ons
PinnacleCart's choices of add-ons are not extensive, when compared to other eCommerce platforms. On the upside, the core platform comes with extensive features already which means you don't have to install any add-ons.
Under 'Apps', there are 27 add-ons. Some of the most important ones are:
Avalara – an automatic tax calculator

Endicia – generates shipping labels and helps in shipping solutions like tracking packages

MailChimp – for email marketing

Exactor – another automated tax calculator

Doba – a drop shipping app which allows you to access different products at wholesale prices

Quickbooks – a popular accounting software

Shopzilla – shopping search engine

Shipwire – order fulfillment and warehousing service
PinnacleCart also allows easy integration of other online marketplaces. If you have products on eBay, Yahoo, Amazon, and other major online stores, you will be able to integrate them on PinnacleCart.
PinnacleCart Payment Rating: 4 out of 5 Stars
If you are reading this article, then there is a good chance that you are thinking of starting an online business. Or perhaps, you already have an online business and you want to transfer to PinnacleCart. When choosing an eCommerce platform, one aspect that you should never skip researching is the payment processor. After all, if your platform can't accept a certain payment medium, your customers will never be able to pay.
With payment processors, the more payment gateways they allow, the better. As for PinnacleCart, you will be able to integrate over 30 payment gateways. While this number is not excessively high, it's perfectly acceptable.
Some of the popular payment gateways you can integrate with PinnacleCart include:
Keep in mind that PinnacleCart has a preferred payment gateway, which is FirstData.
PinnacleCart Customer Support: 3.5 out of 5 Stars
PinnacleCart offers a number of channels for customer support. You can contact them via chat, web ticket, email or phone. They also have an active information outreach which you can access through Twitter, Facebook, YouTube, user forum, video tutorial, blog and knowledge base.
Keep in mind that PinnacleCart's phone support has limited hours. The phone support is available from 6 A.M. to 5 P.M. on weekdays only. Not to worry, they have other support channels available. Here's the schedule for PinnacleCart's standard support hours:
Phone: Mon – Fri (6AM – 5PM MST)
Live Chat: Mon – Fri (6AM –  12AM MST) / Sun (3PM- 12AM MST)
Email: 24 hours / 7 days a week
Emergency Support*: 24 hours / 7 days a week
* Emergency support requests will only be addressed if a store is no longer operational and customers are unable to transact.
Security
All stores under PinnacleCart are 100% Payment Card Industry (PCI) level one compliant. They are also certified with PA-DSS.
The default storing of credit card information is done through an OPEN SSL encryption. SSL certificates are available, but they are not free. If you want this feature, you can start with shared SSL, which costs around $15.
Pros
Easy-to-use

Good support

Easy marketing features

Easy integrations
Cons
Slight learning curve

Limited language availabilities

No content delivery system or CDN
Key Features
Admin Panel
Restricted permissions and access

Unlimited administrator accounts
Product Merchandising
Marketing and Promotions
Checkout
Shipping tracking

Autoresponder email

Guest checkout

One-page checkout
Payment
Receive offline offers

Accept multiple payment gateways

Real-time shipping quotes

Automatic tax calculation

Enable recurring billing
Product Management
Analytics and SEO

Variety of reporting tools

Extensive SEO tools

Google Integration (e.g. Google Adwords, Google Analytics)
PinnacleCart Overall Rating: 4 out of 5 Stars
PinnacleCart's main goal is to offer an eCommerce platform that is very easy to use, even if you are a complete beginner. In this area, PinnacleCart has fully delivered on its promise. No wonder it's one of the most popular eCommerce platforms for beginners. There are a lot of experienced and high volume online sellers that are using PinnacleCart, thanks to its Virtual Private Server Solutions.
If there's one aspect about PinnacleCart that's worth thinking over, then it's phone customer support. As mentioned before, phone support has limited hours. If you operate your business in a different time zone, make sure that you are well-aware of the phone support hours. Otherwise, you might have problems and you won't be able to talk to a customer support – a very frustrating scenario.
On the upside, PinnacleCart is very stable and that means you will rarely have any problems with your website crashing down. PinnacleCart is one of the best eCommerce platforms out there. The core engine is powerful enough that you rarely need additional add-ons to run an efficient online business. Plus, it's easily one of the easiest eCommerce platforms to use, once you are accustomed to the interface. Furthermore, they offer a free 14-day trial. It's a risk-free way of test driving the platform.
Somewhere along the line, we started to believe that being successful means being insanely busy all the time. True entrepreneurs sleep when they're dead. In the meantime, they have deals to cut and hundreds of employees to micromanage all day.
Not me, though. I think that sounds awful.
In my opinion, it's actually the opposite. Instead of big responsibilities and big teams, it's about streamlining and optimizing. Are you being efficient with the employees you have? Is your business systematized and automated enough so that you can take a step back every once in awhile and enjoy the other parts of your life?
Whether you want to focus on your health, family, hobbies, or even starting another business, you shouldn't have to battle your work to earn some ever-elusive "me time." When you focus on being efficient, you'll find that your whole life – not just your business – will improve.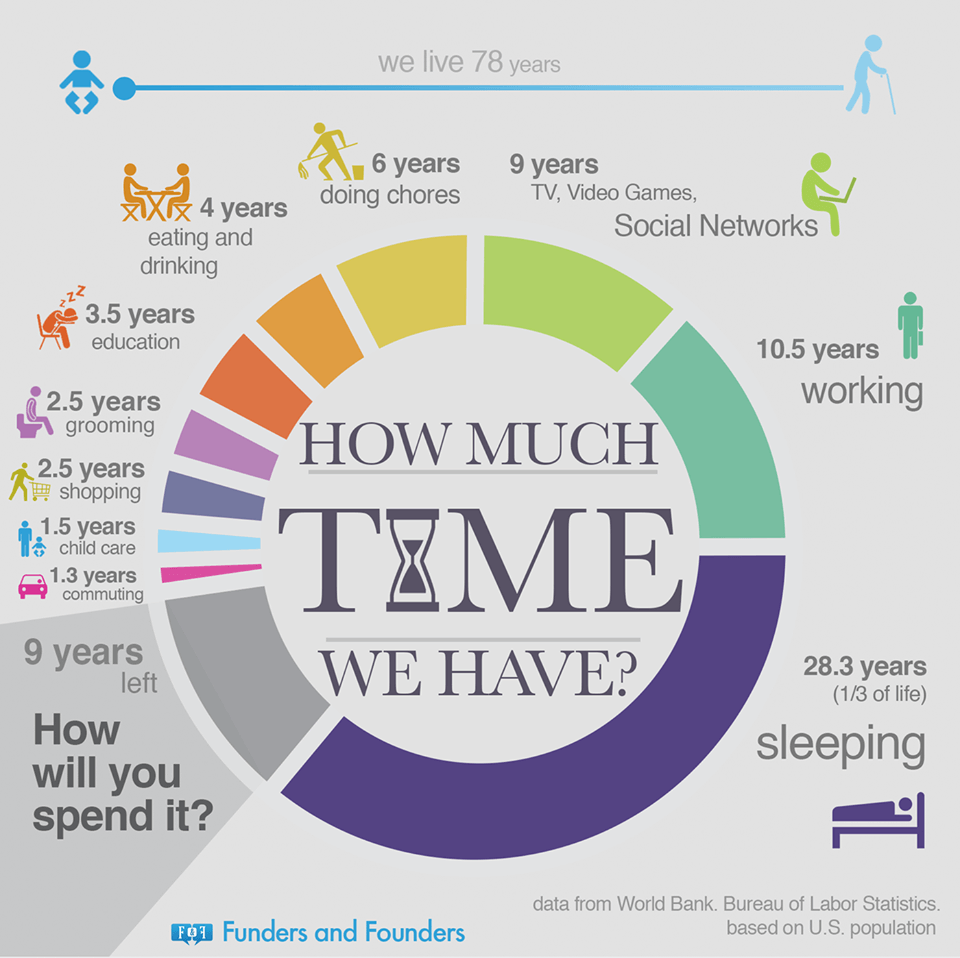 Image via Funders and Founders
Who I Am and What I Do
Before I dive into my business strategy, I'll give you some background on my story. I first joined the e-commerce game back when I was working in finance on Wall Street. My parents owned a failing vacuum store in New York, so I started selling their inventory on Amazon to help salvage the business.
Then in 2009, my Wall Street job became an official casualty of the stock market crash. Things were going well on Amazon, but I wasn't satisfied with the time and overhead spent on reselling products. So I started Crucial Vacuum and manufactured my own parts in China, giving me the ability to go direct-to-consumer.
Crucial Vacuum grew much faster than I had ever planned, which encouraged me to expand my offerings outside of just vacuum parts. So I diversified and created Think Crucial. Today, the Crucial brand has more than 18,000 skus.
Business is booming. Amazon lists me in the top 250 sellers in addition to more than 15 other channels I sell on.
In the midst of all this growth, things got chaotic. I learned the hard (and expensive) way that there was no such thing as an all-in-one software to unify all the dizzying moving parts of a multichannel e-commerce business.
So I made Skubana, and it changed everything.
Third Party Logistics, aka Third Party Lifesavers      
Crucial Vacuum experienced some pretty massive growth in a short period of time. I started by unloading pallets on the street in front of my Upper West Side apartment. Before I knew it, I had a 3,000 square foot warehouse in New Jersey with 17 employees I was managing myself. I was even on the floor with them picking and packing orders for shipment.
But my warehouse was a complete jungle. It was so unorganized. I didn't even have barcodes or skus on my bin locations. I found myself in a vortex of cardboard boxes and vacuum filters, unable to see the bigger picture of my brand and how I fit into it.
When I found my third party logistics (3PL) company, it was a real eye-opener. I was forced to grow up – to organize and truly understand what went on beneath the daily grind. I was able to focus on my core competencies, which, turns out, is definitely not picking and packing.
By outsourcing the shipping stuff to the shipping experts, I could focus on what I'm meant to do: building a quality brand and expanding its footprint.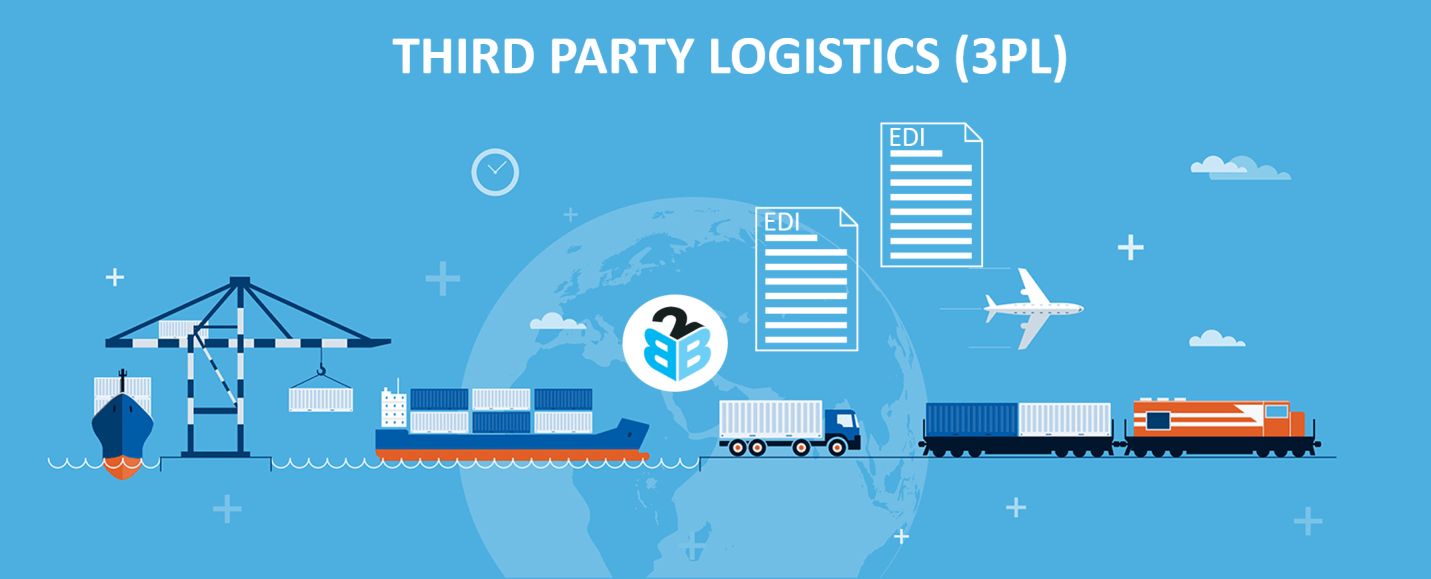 Image via B2BGateway
It's All About the Software
So my first critical step was 3PL to outsource my warehouse management. Next was my tech stack. I can't stress enough how integral this is every single day to my success.
Your technology will be what sets you apart from your competition, and what allows you to automate your brand to hit peak efficiency and profits.
When I really dove into my systems and processes, it was downright painful. There are so many moving parts for a multi-channel, multi-marketplace seller like myself. I had a scattered handful of people who not-so-smoothly managed my inventory, shipping and drop shipping, purchase orders, finances… the list goes on.
I signed up for handfuls of entry-level softwares that promised to help me with all the moving parts, but I kept finding that there was just no engine under the hood. I found myself using five of six softwares at a time, and still needed spreadsheets to fill in the gaps. And that didn't even fix the inventory latency problems between all the different selling channels.
Breaking the Mold with Skubana
Once I saw the blaring need for next generation e-commerce software, I found a brilliant enterprise developer, DJ Kunovac, to be co-founder and we got to work on building Skubana.
The goal was simple: redefine multichannel selling in the 21st century with a solution that offers order management, inventory, ERP, shipping, and business intelligence all in one place.
That's not so much to ask, right?
We initially just built Skubana for Crucial, but we started offering it to other business owners when we knew we were on to something groundbreaking. Today, it's trusted by top sellers as the most technologically advanced operations platform in e-commerce, and it's fine-tuned exclusively to accelerate growth for high-volume merchants.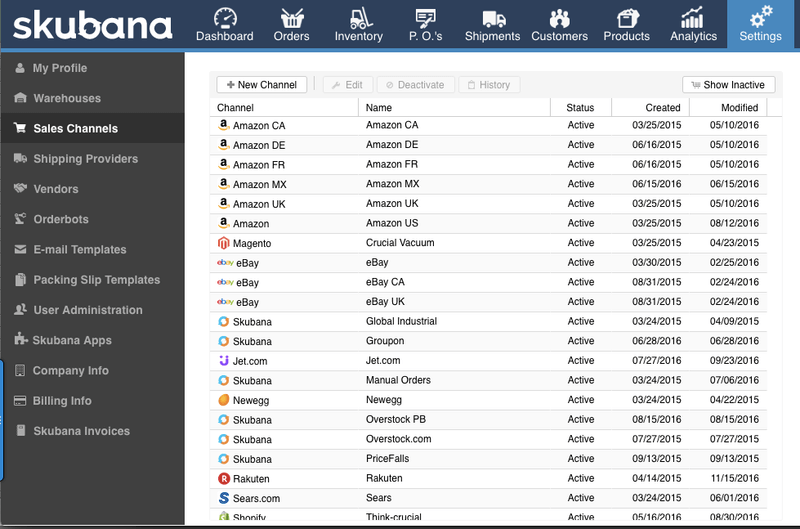 Image via Skubana
Outside of this golden software, I use a combination of tools to perfect my automation grind. These include Gmail, Trello, Evernote, and Slack for project management and minimizing the flood of emails, notifications, and task delegation. Your combo will be unique to your brand, but give an honest shot at exploring and testing some diversified platforms before you settle.
Outsourcing to Trim the Fat
I'm a firm believer in outsourcing. Outsourcing warehouse management to my 3PL was a godsend, but I knew I could do better. I found a virtual assistant freelancer in the Philippines who has transformed my day-to-day with her hustle, drive, tech savvy, and dedication to our company. Simply put, she handles all the routine stuff that I can't justify finding the time for.
I have a whole team of freelancers who help both Crucial and Skubana stay on track. My Crucial employee on payroll helps with higher-value activities like Amazon listing optimization, sourcing, purchasing, and some inventory tasks. But when it comes to less strategic, lower-value tasks like customer support, data mining, and understanding competitive intelligence, my overseas freelancers run the show.
Sharing My Story
I think another key to Crucial's success has been grassroots marketing efforts. I'm always willing to share the trials and tribulations that got me to where I am in hopes that I can help others. You could say I'm an open book.
To be true to this metaphor, I even wrote a book.
Cheaper, Easier, Direct is a dissection of how I run Crucial. It covers everything from my discovery process for manufacturing new products to marketing the brand itself. There are so many tired industries that are just waiting for entrepreneurs to disrupt them, and the book aims to be a sort of game plan for people who want to carve their own niche.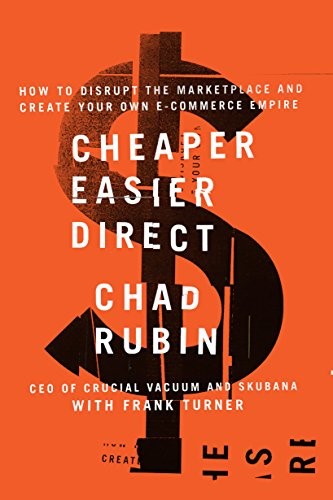 Image via Amazon
I also love speaking engagements, conventions, and all the networking opportunities I can get my hands on to help spread the word. I'll be speaking at PROSPER Show 2017, the e-comm convention for Amazon sellers. Meet me in Vegas in March and we can chat over a coffee!
Keeping Everyone Happy and Efficient
Just because your business is automated doesn't mean that the work is done. It takes some honing and optimizing overtime to make sure you're still performing at your best. Just as the landscape of business constantly evolves, so too should your systems and processes.
Make sure you're regularly asking yourself and your team questions like:
What are our biggest accomplishments?

What are our challenges?

Have we hit any walls?

Where are we spending the most time?

What would I like to be spending less time on?

How can we make life even easier?
Approach your schedule (and your employees' schedule) with the goal of adding two extra hours to the day. You'd be surprised how easy it can be when you think outside the sku.
Final Thoughts
All in all, if I had to offer one word of advice, it would be to focus on making the biggest impact with the little time you have. Learn how to say no. Find someone else to handle the things you don't like or you just aren't good at. This goes for every single person on your team, from employees to freelancers to your spouse. When you're maximizing output for each role, you're maximizing your company at its foundation.
In a truly streamlined business, each person's work is explicitly based on their core competencies, whether that's packing boxes or developing high-level operational strategies.
This is a guest post by the Skubana team. Skubana is an all-in-one ERP system and operations platform designed for high volume sellers to run and automate their business. By unifying point solutions in one place, sellers can now diagnose what used to take weeks in seconds. It integrates with most e-commerce marketplaces, 3PLs, and warehouses, provides profitability and multi-channel inventory management, and compiles all of your marketplaces on a single convenient dashboard. Reach them at [email protected] with any questions, or sign up for a 14-day free trial.