Monetize Pros prides itself on keeping publishers updated with the latest tools of content monetization. After all, a handful of ad platforms can genuinely help publishers do what they enjoy most—focus on quality content creation—by taking on the onus of effective content monetization with their sophisticated tech. As revenue is critical to maintain business health and sustain operations, not to mention how it helps pay off bills, we know that all publishers are keen to maximize their possibilities from it. And this is what we're going to talk about today, especially in context of an ad platform that can add significant value to your blog earnings.
But first, some introductory remarks on Media.net to help us understand the platform better. As the world's second largest contextual advertising business, and among the top 5 largest AdtTech organizations by market cap, Media.net leads innovations with a range of monetization products for digital publishers. We've reviewed them before, and if you're looking for a good alternative to Google Adsense, you should know that Media.net has consistently topped  our recommended  list of Adsense Alternatives.
So, let's jump into how Media.net can be most efficiently used to ensure that your blog earning potential is maximized:
Give your ads time. Patience pays, literally!
As a dedicated web publisher, we know that you are keen to realize the success of your blog as soon as possible with a solid income. The flood of successful web monetization case studies online probably serves to only increase your impatience and anxiety levels further. But here's the thing! Although Media.net can help you earn a sustainable passive income, it doesn't happen overnight. Let's get behind the algorithms to show you how this takes place over time.
Media.net ads take some time to optimize to your site. Once your site has been approved by them, your content is analyzed precisely per page to eventually display keywords relevant to the context of your webpage. By contextually analyzing a decent sample size of your content, Media.net's algorithms decide on the top keywords that can get you maximum clicks and revenue for the web traffic you generate, allowing relevant ads to be selected and placed. So, do remember to give time for a decent sample size to develop before Media.net can assess the earning potential of your website.
Boost your ad revenue with personalized manager support.
One of the major plus points of signing up with Media.net is access to a dedicated Account Manager. No matter the size of your online business, you will be assigned an Account Manager who is just an email or a call away from resolving all your queries. An experienced ad specialist not only proactively responds to all queries and requests, but also suggests ways in which you can enhance your web monetization potential further. This is especially useful to those bloggers who are new to online advertising. Besides, who couldn't use some well-meaning and well-timed support, maybe even covering ideas you may have thought of but may have forgotten to implement in the midst of a busy work phase?
 Contrast this with the difficulties of navigating through Google AdSense with no personalized support, and no one to address and respond to your unique queries. It's anybody's guess which platform fares better if support and service is what you're looking for.
Maximize exposure by setting up all three ad units
Media.net recommends that you place up to three ad tags per page, as any more than this will not just wreck your user experience but could also result in diminishing returns. The display to search (D2S) ad format, an advanced monetization method, is implemented by Media.net for best results and better revenue. D2S monetizes your display placements with inventory bought by advertisers on CPC.  This ensures clear user intent and therefore finer targeting, whereas in CPM, advertisers are not sure if the user even noticed the ad in the first place! This is also why advertisers are likely to pay more for clicks based on user intent than mere impressions – which means D2S translates to more revenue for you.
Media.net's contextual ad capabilities are also complemented by unique native ad design. This ensures that the form and appearance of ads is in sync with that of the website, offering a seamless and engaging experience to readers. Ads no longer appear intrusive, but are engagement-driven, often even welcome.  Media.net ads can be easily integrated in your website, without altering the existing layout, as they blend in with the published content. With a single ad tag, ads of different sizes and types can be created. Media.net also recommends certain popular ad sizes (for instance, 336×280, 300×250, 728×90, 600×250, 160×600) and common placements (below the article ad units, in-content ad units, sidebar ads, and so on) to help publishers make the most of monetization opportunities.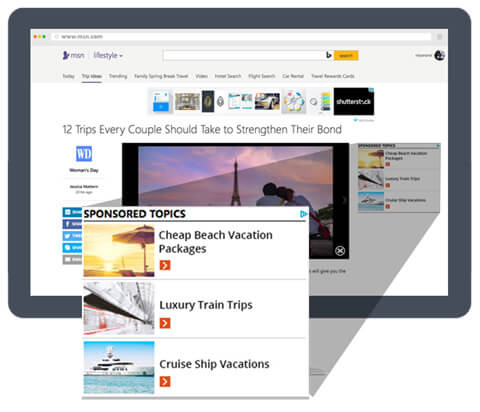 Media.net 300×250 Ad Unit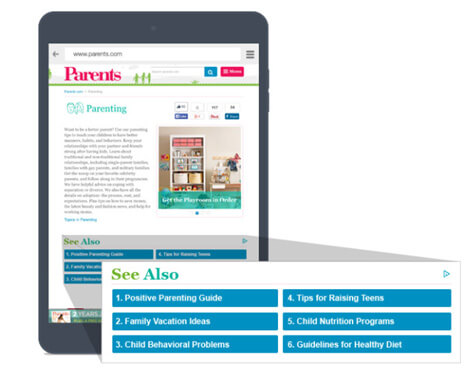 Media.net In-Content Ad Unit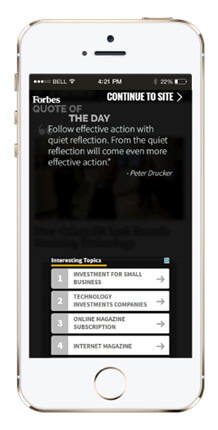 Media.net Mobile ads
Tap multiple demand sources and get maximum returns! 
Media.net exclusively powers the Yahoo! Bing Network Contextual Ads Program. This is one of the world's largest pool of advertisers, offering up to $6bn worth of search demand value search. So no matter how specialized or generic your content may be, as a web publisher you can be assured that your ad spaces will generate sufficient demand from amongst multiple advertisers. Moreover, keyword targeted advertising ensures that only the highest-paying and most suitable advertisers within a competitive marketplace will be vying to display their ads on your site. Apart from Yahoo! Bing, Media.net also partner with all the other major demand partners to offer publishers access to the best advertisers.
To begin monetizing your site with Media.net, you can sign up here.