You'd like to have your very own webpage because you want to establish your personal brand.
That's a great idea, of course.
You also felt like sending your possible clients to your social media profiles just isn't enough, considering how distracting these platforms can be and there's nothing special about them that would differentiate your from your competitors.
You're absolutely right, again.
At this point, you'd have realized that the only route left for you to take is to create your personal blog. While the principle behind having one is certainly solid, what's keeping you from developing your personal blog is the fact that it takes countless hours watching tutorials on YouTube about how the website builder programs work.
#TheStruggleIsReal
If you've just about had it with trying to figure out the functions and features of website builders, I urge you to consider another alternative — a remarkable one, I might add.
Instead of settling for something mediocre like your social media profiles, or racking your brains out trying to figure the functions and features of website builders, why not use WiseIntro instead?
What is WiseIntro?
WiseIntro is a platform that allows you to create your stunning personal webpage in a matter of seconds.
Yep. You read it right — seconds.
The platform is so easy to use, it's clutter free, it has boatloads of apps, and customization features as well (among other things).
Think about About.me but on steroids. In some ways, that's what WiseIntro is.
Let me show you some of the featured webpages in WiseIntro's homepage.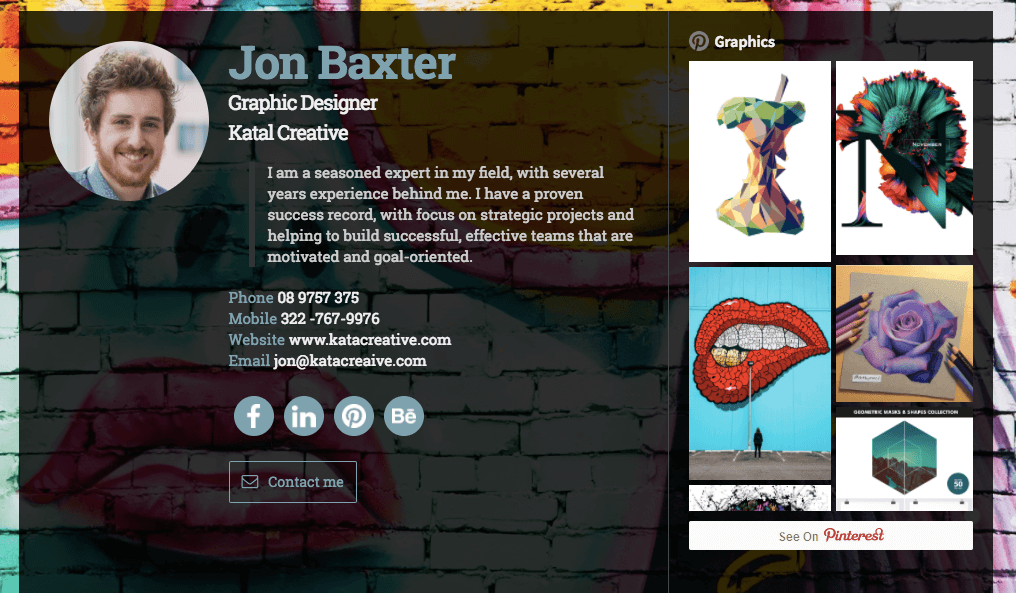 (Source: https://wiseintro.co/jonbaxter)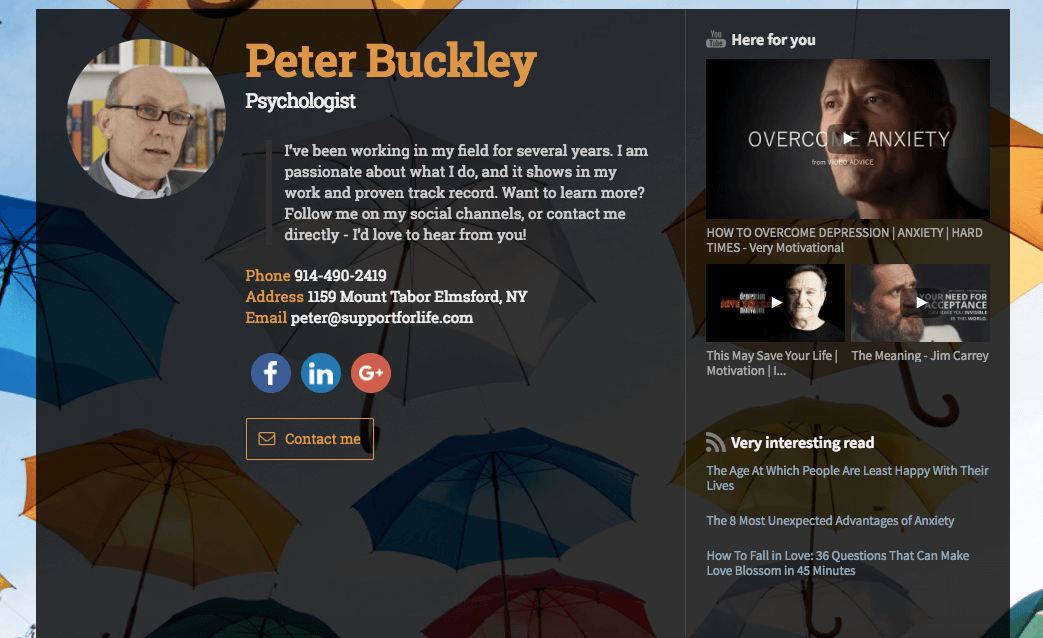 (Source: https://wiseintro.co/peterbuckley)
How you can benefit from the tool.
While there are several ways you can use the tool for growing your business, these are some of the best ways that you can leverage it.
1. Look more professional without doing TONS of heavy lifting.
When you have a personal webpage, not only will you be able to set yourself apart from the majority of your competitors, but you'll also look more professional in the eyes of your prospective clients.
Of course, since it will only take you seconds to build your WiseIntro page (or minutes, depending on how many features you want to integrate), you can say goodbye to the frustration of having to learn truckloads of website builder features.
2. Capture leads.
The platform has a "Contact Me" button where your web traffic can enter their name, email address, telephone number, and their message.
This function is extremely handy since it keeps your prospective clients from going anywhere else to reach out to you. With just a click of a button, they can start sending your their message.
3. Increase your social network reach.
With WiseIntro's easy-to-find — let alone captivating — social sharing buttons, your prospective clients can share your webpage in a matter of seconds.
If you're looking to grow your connections or your network online, then you need to add as many of your social media profiles on your WiseIntro account.
4. Make it easy for your prospect customers to contact you.
In addition to WiseIntro's "Contact Me" feature, they also have fields where you can enter your telephone number, your mobile number, and your email address.
If your prospect customer wants to reach out to you directly, then they'd have all the information they need in your WiseIntro page.
Considering how cutthroat the competition is on the Internet, it pays to give your prospective customers several options to reach out to you should they feel — even if just a tiny bit — that you're a perfect fit for their needs.
If finding your contact info becomes a struggle for them, your prospects won't think twice about clicking away to find someone else to deal with.
5. Showcase your portfolio.
Since the platform allows you to add your photos and your videos, showcasing your previous works to your prospective clients is going to be a walk in the park.
As you can probably imagine, having the ability to showcase your portfolio with your clients is a make-or-break element when it comes to them awarding their business to you, or them considering you for the job.
This feature alone can cast the vision to your prospect clients' minds how you are more than capable of doing the job, since they'd be able to see the quality of your work first hand.
6. It allows you to accept payments.
This one's pretty nifty.
One of the apps integratable to WiseIntro is Paypal — one of the most popular worldwide online payment system.
After doing work for your client, they can send you their payments simply by clicking the Paypal button that you've integrated into your WiseIntro account. No need for unnecessary back and forth what-is-your-Paypal email. They'll just click the Paypal button in your WiseIntro webpage and they're pretty much good to go.
7. Make it dead-easy for your customers to find you.
Another app that you can integrate into your WiseIntro page is Google Maps.
If your target audience is the people living in your local area, then this app will do you wonders.
Considering how accurate and helpful Google Maps is when it comes to giving directions, your prospective customers will be able to find your store or your office in a breeze.
What's under the hood?
I've come up with several screenshots to give you a better feel of what it's like to use the platform.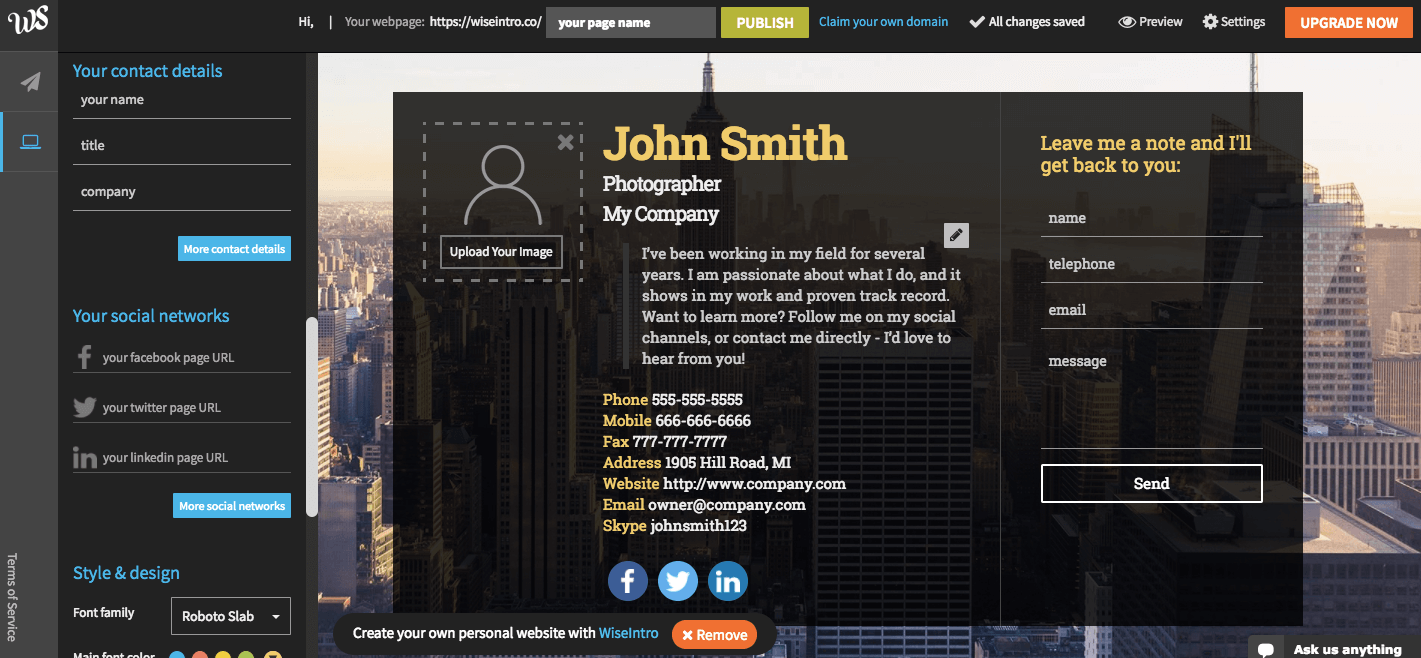 (The web editor.)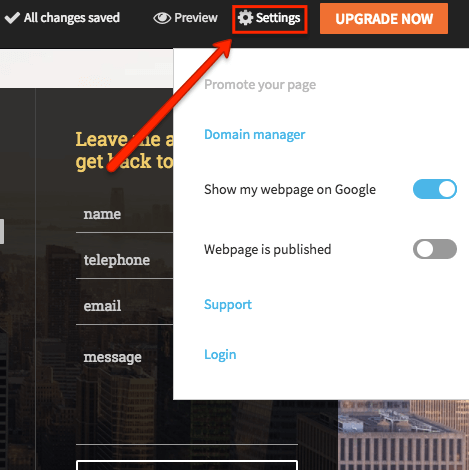 (The Settings tab.)

(The background and author's bio fields. The video backgrounds are for Pro subscribers only.)

(The profile photo and integratable apps field.)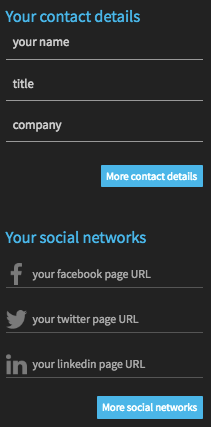 (The contact details and social network fields.)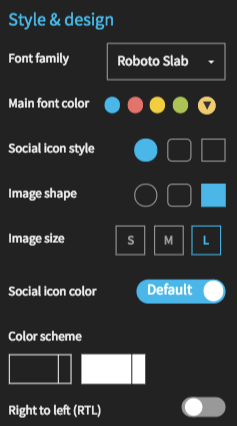 (The style and design field. For Pro subscribers only.)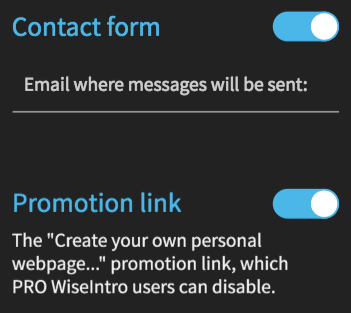 (The contact form and promotion link fields. For Pro subscribers only.)
Cons
If I were to mention something that I wish weren't there when using  WiseIntro, it'd be their promotional link at the bottom of their webpages.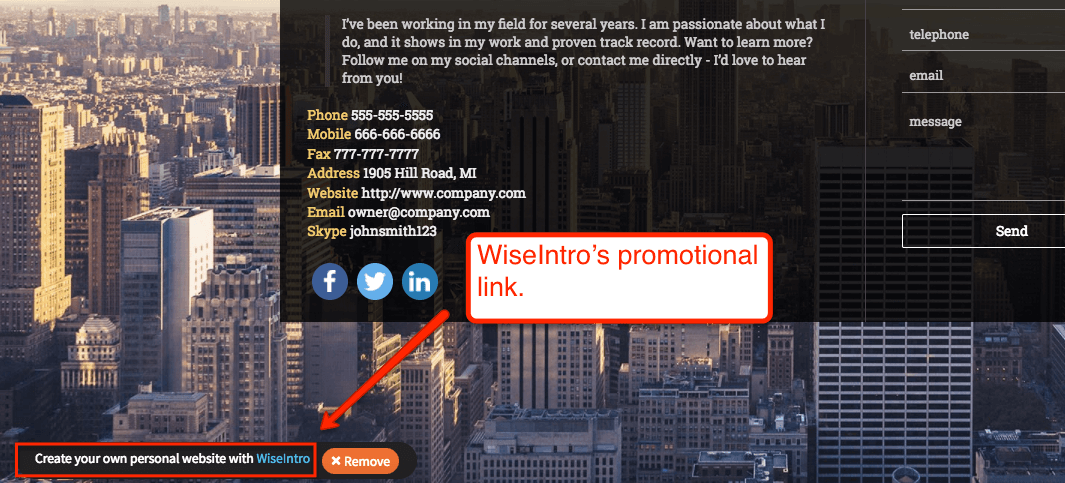 However, considering how powerful and remarkable the platform is even for the free users, I'd say that the promotional link is something that the users can overlook.
What's more, once you learn how affordable WiseIntro is, you'll probably sign up for the Pro account without even blinking.
Pricing
$7 per month (billed annually). That's how affordable it is.
What's next?
What are your thoughts about WiseIntro? Do you think this is going to be a great addition to your list of internet marketing arsenal to grow your career or your business?

Please share your thoughts in the comments section below. Cheers!