Vertoz gives MonetizePros readers an additional bonus of 15% or $50 (whichever is higher) on all your accumulated earnings of 3 months from the initial sign-up. The maximum value that can be availed is $1000.
Click here to claim the deal.
Introduction to Vertoz
Ad networks are able to generate revenue by connecting your audience to advertisements they will likely be interested in. An effective ad network needs to be accurate and precise – but also flexible. The network needs to constantly identify, evaluate and target changing audiences.
Vertoz believes these qualities should apply to the relationship between ad networks and publishers, too. Their "ingenious plex" formula accelerates large digital media by using both customer data and RTB-enabled technology. This unique system promises advanced monetizing solutions tailored for each client.
Founded in 2012, Vertoz was created by brothers Ashish and Hiren Shah. Today, the brothers and their team of experienced Account Specialists and AdOps professionals create custom revenue generating solutions for clients around the world. Vertoz has its offices in New York, San Francisco, London, Dubai and Mumbai.
We took an in-depth look into the services offered by Vertoz. As a publisher, is Vertoz an effective way to monetize? Check out our complete Vertoz review below:
Vertoz overall rating: 4.5 out of 5
What We Like: Personalized attention from a company dedicated to understanding individual publisher needs. Highly knowledgeable and dedicated staff. Vertoz comes across as a global company, hence they are easily accessible for all the clients, irrespective of the location.
What We Don't Like: High degree of user customization does get a bit technical at times. There is a learning curve regarding the self-serve platform.
Reviews written by MonetizePros.com almost always land on the first position in Google.
Get a review written by us to help you convert more publishers.


Vertoz Support & Contact Information
Address: 132 W, 31st Street, New York 10001, USA
Phone Number: +1 (646) 895 6969
Support Email: [email protected]
Publisher Requirements
Publisher Terms: http://www.vertoz.com/master-service-agreement
Traffic Minimum: None
Publisher Language Requirement: None
Publisher Prohibited Content: Websites which reference illicit practices or practices designed to shock human dignity; pornographic content including content with minors; promotion of crimes against people or places; sites which apologize for war crimes and crimes against humanity; content which promotes discrimination, hate or violence towards a person or towards a group of persons.
Advertising & Offers
Advertising Types: Publishers can use all common formats including Display, Mobile and Video
Offer Types: CPM, Display, Innovative Rich Media Ads, Apps, Widgets
Verticals: All
Network Size: 5000+ Publishers
Tech Implementation
Vertoz Tech Implementation Rating: 4 out of 5
Creating an Ad Unit: Website must first be submitted and approved by Vertoz. Ad creation is then done via the Vertoz Dashboard. Support is always available via a contact form on the Vertoz site or by getting in touch with your assigned Account Specialist through phone call, email or Skype.
Display Ad Unit Sizes Available: IAB standard banners include 300×250, 300×600, 336×280, 468×60, 120×600, 160×600, 728×90 and other standard IAB sizes for desktop & 300×50, 320×50, 300×250, 468×60 and the standard IAB sizes for mobile are pre-roll, mid-roll, post-roll and outstream for video.
Implementation Technology: HTML, JavaScript, prebid.js
Mobile Ad Units Available: Yes
Publisher Reporting & Admin Control Panel
Vertoz Publisher Reporting & Admin Control Panel Rating: 4 out of 5
Control Panel: The dashboard is intuitive with a clean design. You can manage your account, ads and transfer finances easily. In order to fully maximize your revenues, you'll need to learn all of the options available from the dashboard. The ad specialist will be working on your account on a daily basis to optimize the placements for the best performance.
Reporting: The reporting section of the Vertoz Dashboard is easy to use. The default display is set to show you the revenues and impressions for the current month. A custom date range can also be selected to view the reports of any dates desired. You are able to segment your reports by site or by individual ad unit. Reported metrics include ad impressions, eCPM, and estimated revenue.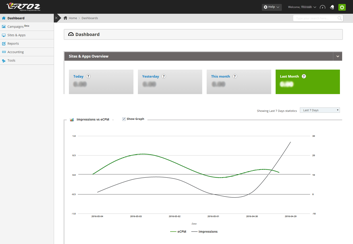 Control Panel URL: https://console.vertoz.com/
Positive reviews like this one can help your ad network gain more trust with publishers.
Speak to us about writing a review for your ad network


Vertoz Payments
Publishers are paid on a Net 45 term through either PayPal or a Wire Transfer. PayPal payment threshold is $100. Wire transfers have a threshold of $1,000. Pay-outs occur quickly. Because this is a U.S.-based company, transfers are much simpler for U.S. residents because the payment doesn't cross borders.
Vertoz Payment Rating: 5 out of 5
Publisher's Share of Revenue: Variable
Payment Methods Available: PayPal, Wire Transfer, Payzeey
Country: U.S. (New York)
Contact Info: [email protected]
Account Help
Vertoz Account Help: 4 out of 5
Personal Account Manager: Yes
Support Contact: http://www.vertoz.com/contact-us
Knowledge Base URL: http://kb.vertoz.com/
---
FAQ's
What are the Vertoz publisher requirements?
Vertoz does not have any minimum publisher requirements but does require that their publishers abide by their terms and conditions and do not publish prohibited content.
What are the Vertoz ad types for Publishers?
Vertoz offers publishers ad types including display advertising, mobile advertising, native advertising, digital OOH, rich media and video.
What are the Vertoz payment methods?
Vertoz offers 3 payment methods including Paypal, Payzeey, and wire transfer on a Net45 terms. For example, for earning in January, you will receive the payment on March 15.
What is the Vertoz minimum payment threshold?
The minimum payment threshold for paypal is $100 and for wire transfers is $1000.
---
Editorial Vertoz Review
There are two ways for publishers to increase revenue: with AdSense or without. Google's AdSense has an undeniable hold on most of the market. But the service terms of AdSense prohibit publishers from using an additional ad network. So publishers have to look at their options carefully and decide what platform will bring in the most revenue.
Increasingly, publishers are choosing other ad networks over AdSense. Vertoz may be a relatively new ad network, but the company is also very popular and they're growing fast. Many publishers are turning to Vertoz in an attempt to escape features of AdSense. Let's take a deeper look at what many publishers don't like about AdSense, and how effective Vertoz is in comparison.
The first issue is service bans. AdSense bans publishers all the time. While the majority of those bans are for clear violations of the service terms, a not-insignificant minority of those bans are made in error. This is mainly due to the high degree of automation involved in the AdSense banning process. Nor do they really offer customer support to get it fixed up.
Vertoz is small enough for a more personal touch. Plus, their terms of service clearly explain what type of content is and isn't acceptable. Your site has to be approved by Vertoz initially, so you'll be fine as long as you don't significantly change your content later (by adding in anything ban-worthy). For the vast majority of publishers, bans – accidental or otherwise – are a non-issue. On this issue, we give the clear edge to Vertoz.
Vertoz's terms of service are easy to navigate. Publishers must not have previously hosted objectionable content such as pornography, hacking, spam, gambling and the usual topics mainstream ad networks wish to avoid. Also, the sites must be complete. No "under construction" sites allowed.
Another major type of site Vertoz avoids are any sites which are created solely for the purposes of advertising. Instead, sites need to provide useful, legitimate content for viewers. All sites need to be top-level domains.
After approval, you obviously don't want to switch your content up drastically. But assuming you're like most publishers, and you're not going to suddenly add pornography or gambling to your existing site, you'll probably never deal with a content-related ban.
There are some issues you'll need to watch out for, however. Vertoz limits publishers to no more than five ad units per page. As a publisher, you're also prohibited from clicking on your own ads. Vertoz also prohibits you from encouraging others to click on your own ads.
The bottom line is that with legitimate website practices and some common sense, publishers should have no problem staying within Vertoz's terms of service. Unlike AdSense, however, there's virtually no risk of accidental banning with Vertoz.
While avoiding accidental bans is important, they're not terribly common. Most publishers are more concerned with a larger issue: revenue. AdSense clearly makes most publishers a lot of money. No matter what industry you're in, they will have you covered.
Generally speaking, revenue generated by Vertoz will be pretty similar to revenue generated by AdSense, which is extremely rare for ad networks. Vertoz gives publishers a larger percentage of ad revenue generated. Transferring money into your account is also easier than with say AdSense.
Payments are delivered promptly via PayPal or wire transfer. The minimum amount for a PayPal transfer is $100. Wire transfers require $1000 minimum for transfer and publishers are paid on a Net-45 basis.
Generating revenue for publishers is one of Vertoz's strengths. They've created one of the largest digital advertising networks in the world. Revenue models are mainly CPC and CPM.
The heart of their system is the unique "ingenious plex." This accelerates large digital media trails with a combination of proprietary customer data and RTB-enabled technology. This helps you spot trends quickly and react to changing audience demands more effectively.
From the base in New York, founders (and brothers) Ashish and Hiren Shah created Vertoz in 2012 and have been developing contacts ever since. Aside from advertising partners, they also partner with top fraud detection companies. This helps reduce losses and potential damage to publisher reputation.
With Vertoz, publishers and advertisers are able to achieve better planning, more accurate targeting and a larger revenue. Your specific product or service will be placed into targeted verticals. This means the ads displayed on your website will be interesting to the visitors on your site. The more engaging the ads are, the more click-throughs which will occur. Targeted ads are the secret to increased revenue for both publishers and advertisers.
Recent Awards
MOBEXX 2019
DIGIXX 2019
Brands Of India Awards '19
ABP News
DIGIXX 2018
Vertoz is able to offer precision targeting due to their Real-Time Bidding technology. Both direct advertisers and advertisers from top exchanges are made to compete for impressions on publisher websites. The auction format yields competitive results and maximizes a site's revenue.
They work with the biggest demand partners in online advertising. The Vertoz team has a presence on all major ad exchanges. They manage a worldwide network with hundreds of advertising-related organizations.
But their top priority is always publisher satisfaction. Publishers are given a lot of tools to optimize their results. First, Vertoz's algorithm automatically helps find the best connection between publisher and advertiser. Publishers can also optimize their site manually using the dashboard.
Vertoz provides a variety of real-time information including user behavior, user intent and traffic patterns. By using the manual tools provided as well as Vertoz's own algorithm, only the most relevant ad campaigns will run on your ad zones.
Many publishers discover higher fill rates with Vertoz than AdSense. Vertoz's premium ads have higher eCPM for your inventory.
As a publisher, you'll run your account from the dashboard. There is a bit of a learning curve, but overall the dashboard is easy to navigate and use. Publishers of all verticals can create and pull ad tags of various IAB sizes, manage advertising campaigns and more.
All information is available to be analyzed in real-time. You can view earnings by:
Vertoz remains committed to giving publishers whatever tools they need in order to have total control over their ad campaign, include real-time statistics.
All traffic through verticals and geographies is monetized in order to earn the absolute best ROI possible. Premium traffic quality, precision targeting, real-time tracking and detailed analytics all combine to drive revenue no matter what product or service your brand provides.
Vertoz is publisher-focused. Their friendly, expert team will personally work with each publisher to determine the best course of action in order to maximize the amount of revenue generated. They'll help you determine ad size, placement and more. Their multi-platform approach ensures you'll have a variety of creative ad formats. At the same time, the Vertoz teams helps ensure every Publisher uses the best type of format for their specific situation.
There's a lot to like about Vertoz. From the founders on down, their entire team is committed to customer service. Too often, publishers accept a cookie-cutter approach to advertising. But not all publishers are the same. In order to maximize your advertising revenue, you'll need to target the right audience. Identifying and reaching that audience can be a challenge, however.
Fortunately, Vertoz makes connecting with your ideal audience easy. Their dashboard allows for real-time tracking and analysis. The multi-platform allows for a variety of different ad types. The ads on your site will stand out from the crowd because they're be the size, style and format your audience is interested in.
Vertoz offers a transparent, open platform where impressions are directly sold to RTB and network demand sources. As a publisher, you have a versatile, flexible platform. Of course, you don't need to know every detail about ad networking in order to be successful. The Vertoz staff is available to help create custom solutions.
This worldwide reach of Vertoz, along with their reliable payout system, is a big draw for a lot of publishers. No matter what vertical your business fits into, Vertoz is a unique, dependable platform which is worth a closer look.