If you are a blogger, monetization is very important. I myself own a blog and used several ad networks and Google Adsense to earn revenue from it. As a publisher partnered with ad networks, some have given me less revenue in spite of my hard work. This is why we need to be always selective with our partners. However this time we won't be reviewing an ad network, we will tackle an ad operation partner. Please read on to continue with Monetizepros' full Mediavine review for publishers.
Being a successful blogger truly does take a village, and there are many people behind-the-scenes who help make burlap+blue happen, from designers and developers to SEO gurus, to fellow bloggers who are always there to encourage and support. A trustworthy and reliable ad management platform is an integral part of that team.
Introduction to Mediavine
Mediavine is a full-service ad management company for content creators. By installing a single script that optimizes all placements on an influencer's website, Mediavine's ad technology is future proof and ready to grow with any site. Mediavine works directly with the ad exchanges and advertisers to get top dollar for its ad inventory, resulting in faster load times, more traffic and improved user experiences.
Mediavine has also been an Internet publisher since 2004. Mediavine owns and operates The Hollywood Gossip, TV Fanatic and Food Fanatic, and is a Google Certified Publishing Partner.
With the mediavine, you can see everything as transparent. No hidden game. You can see everything just on the dashboard itself. You can also shorten your sidebar by getting the optimized revenue from it. The green light shows that your ads are performing the best and the yellow lights indicate that they should do a little work for better.
With the mediavine advanced reporting system, you can see which ads are performing the best and turn on or off depending on them even on your dashboard. You can see your ad unit impressions, fill rate, CPM, ad viewability and revenue earned from that specific ad. They are very quick to respond and user-friendly too.
Mediavine does not offer the affiliate program to get promote their business. They simply want to enlarge their business growth and shows integrity for the publishers who use their ad services. They offer you the loyalty bonus program. They will provide you with 1% of your previous year earnings as the bonus for being in partnership with the media vine ad network. For 2 years it expands 2% and this might goes on increasing depending on the relationship with them.
Mediavine Review for Publishers
Without any further treacle let us go and move forward to go ahead and proceed with the full Mediavine review for publishers.
What we like most about MediaVine
Great page RPM increases for publishers from any country, customized ad optimization, dedicated ad optimization teams, customized and transparent reports, responsive support, innovative ad optimization technology, flexible pricing structure and WordPress control panel plugins.
What we liked least about MediaVine:
Reporting isn't automated yet and high minimum traffic levels to join. Also, you can't run any other ad network or monetization protocol with Mediavine.
Another thing we did not like is the net65 payments. If you would like to find another ad operations partner that pays faster, you might want to read our Ad Network Review Directory.
Publisher Requirements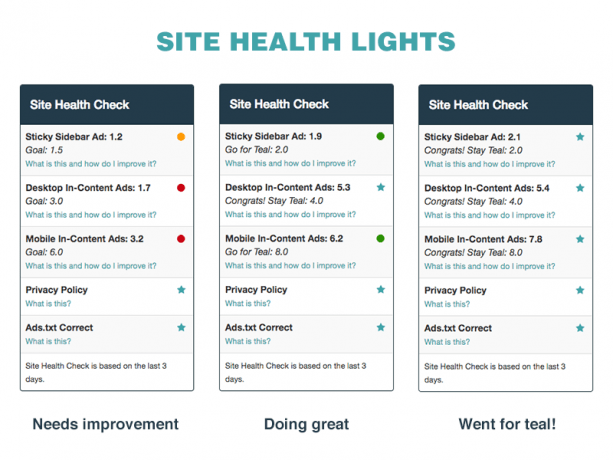 If you are able to get accepted to this ad network (25,000 monthly sessions at a minimum), and do not mind having a bit more ads on your site than you likely do now, make the switch to Mediavine today. Exclusivity is not a scary word, and the payment terms of net 65 are not the worst in the world (although Adsense users may find a bit of a gap in pay during the switch). But for the revenue jump, an annual bonus of revenue share, and SEO benefits of switching, I ask myself every day why we didn't switch sooner.
Also, you need to be informed that they have requirements that you need to comply with called site health. You will need to get a green light in order to make sure that Mediavine will run well with your website.
Publisher terms: https://www.mediavine.com/cmp-terms-of-service/
Traffic minimum: 25k page views per month
Publisher language requirement: None
Prohibited content: For AdX, must 100% adhere to Google terms and conditions. For premium publisher and mediavine Demand, must adhere to the terms and conditions of each ad network implemented within the publisher's ad inventory.
Payment Methods: Paypal, Domestic ACH, International ACH, U.S wire transfer, International wire transfer, Paper check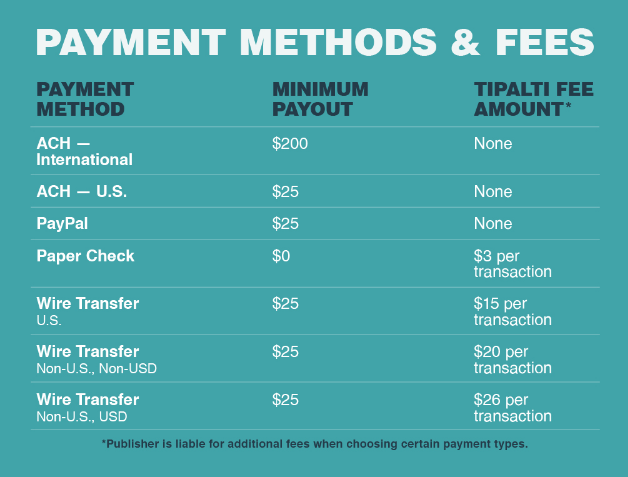 Revenue share
Mediavine is super transparent, there will be a note in your dashboard to let you know about revenue share. And will it be automatically adjusted for a single day's earning, based on the previous 30 days ad impression
Your based revenue share as the publisher is 75% and 25% is for Meidavine. Unless if you meet these criteria, you can get a higher revenue share. 
your site produces 5 million ad impressions over the previous 30 days, you can get 80%

your site produces 10 million ad impressions over the previous 30 days, you can get 82.5%

your site produces 15 million ad impressions over the previous 30 days, you can get 85%
Loyalty Program
MediaVine improves its policy to rewards the publishers that have been loyal over the time by giving them the reward through the loyalty program. 
By this program, your bonus will be added to your revenue share each day based on the rate you've accrued over time
The bonus amount based depends on how long have you been using MediaVine as your partner. The longer you have been a partner with MediaVine, the bigger you get bonuses. You can check the bonus amount you can get here.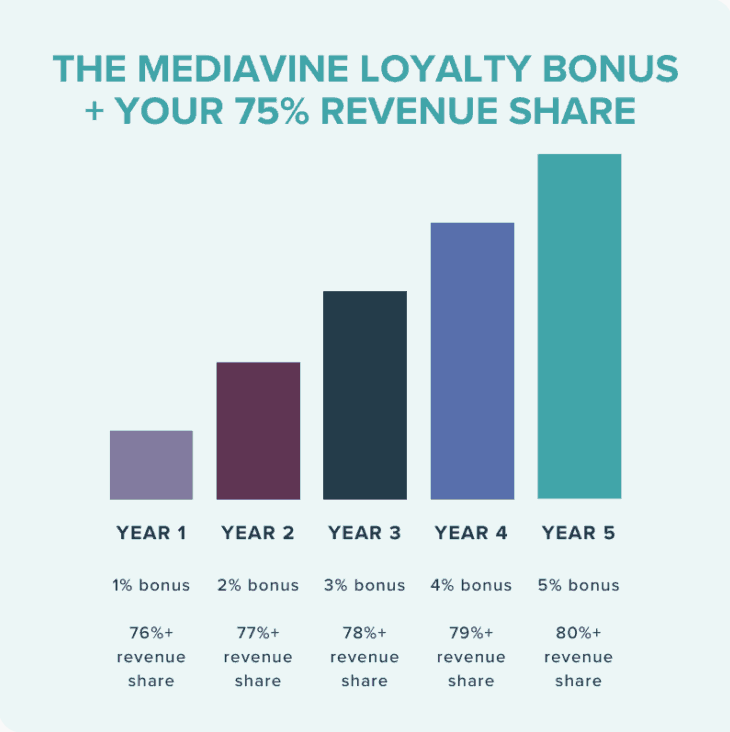 Company Stats
Homepage: mediavine.com
Program founded: 2004
Employee count: 51-100 team members
Ownership: Private
Offer types: CPM, CPC, CPA
Verticals: All types

Contact and Support Information
Support Contact: [email protected]
Contact Number: 888-705-1246
Twitter: https://twitter.com/mediavine
Facebook: https://www.facebook.com/mediavinepublishernetwork/
Google Plus: https://plus.google.com/+Mediavine
Instagram: https://www.instagram.com/mediavine/
Address:  160 W. Camino Real #504
Boca Raton, FL 33432
Onboarding Rating: 4 out of 5
Our very first day with Mediavine our sitewide pageview CPM ($ per one thousand page views, sometimes defined as RPM elsewhere) site-wide was $3.25 and $3.50 on our two sites respectively. I'm going to let it sink in for a second that out of the gate, horribly un-optimized, and without any extra work on our part we were earning a little bit more than we were with our Amazon and Adsense waterfall.

Over the course of the next week, we optimized our site a bit to meet Mediavine's ad targets, including cleaning up our sidebar, ensuring the in-body ads appear on every single post, and lengthening some short but popular posts to ensure more ads get displayed. (Think of it the same way you would if you are trying to optimize keywords for SEO).

Between that and the network optimizing for bidders, we were able to increase our CPM earnings to over $10 on our two sites. In real terms, on about 6,000 daily page views we went from earning $19.50 to earning roughly $60.00!
Reporting Interface Rating: 4 out of 5
With Mediavine, everything is super transparent. You can see everything in their fancy-pants dashboard that is updated daily. They even have this little red light green light site health system that tells you how specific ad placements are performing. If you need to shorten your sidebar for better ad revenue, you'll see a yellow or red light. If your ads are performing how they expect, you get the green light.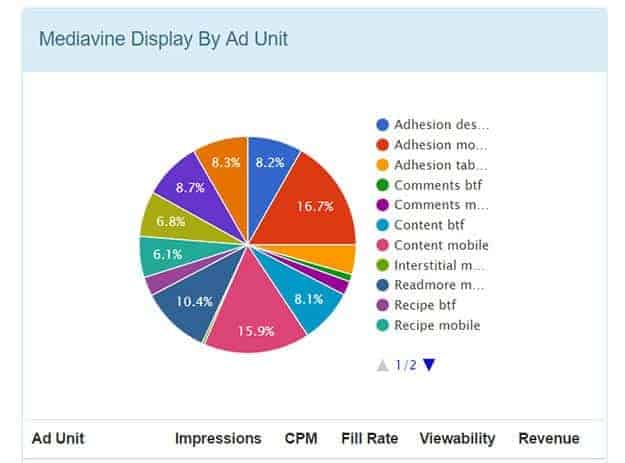 Their advanced reporting lets you see a breakdown of income by each specific ad so that you can make your own decisions and turn ads on and off as you please right from your dashboard. Below that pie chart, you'll see the breakdown of each ad, the number of impressions, CPM, fill rate, viewability, and the revenue earned from that specific ad.
MediaVine video player:
Previously MediaVine offered 3 video options. but now, they've unified them into one MediaVine  video player. For further information about new update MediaVine video player, you can check the detals on MediaVide player unification
Payment Rating: 2 out of 5
Among the most common questions that might get asked along is, how will I get paid and when am I getting paid, is why we pay publishers on a NET 65 basis. Waiting 65 days from the end of each month (e.g. January revenue will be paid April 5) to receive that month's revenue is less than ideal, but according to Mediavine themselves, it's essential to our business and for your protection.
Mediavine pays all publishers via PayPal Mass Payments. PayPal payments are covered under a completely separate section of the tax code. Mediavine works with over a dozen ad partners who bid on your inventory. All of these partners must pay Mediavine, and many do so on a similar timetable (NET 60 or NET 90), assuming they do so at all.
Support Rating: 4 out of 5
Mediavine's response time is lightening-fast. When I have a problem or a question, I don't have to login, find an elusive contact form, and pray someone gets back to me within a week. With Mediavine, I have email addresses that are connected to actual human beings, and I've never waited more than a few hours for a response.
Performance Rating: 4 out of 5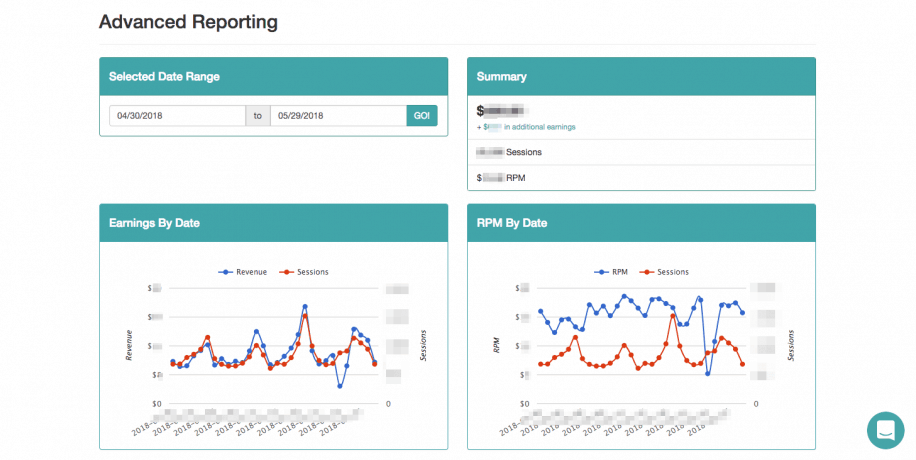 They test all ads on their own sites first. One of the things I really love about Mediavine is they seem to really care about their publishers and want them to succeed. When a new ad option comes out, they always test on their own blogs first (some of their sites include The Hollywood Gossip and Food Fanatic) and, after testing, come to their publishers with what they've learned about how the ad performs and what we can expect if we add the ad to our own sites.
As a publisher, the fact that they'll take a possible hit to their own sites' revenues to see how an ad performs before introducing it to the group is one of the things I am most grateful for about Mediavine.
They value transparency. When something works, they'll tell us. When something doesn't, they'll let us know that, too. They keep their publishers fully in the loop with why decisions were made and how it could possibly affect us. If they make a mistake, they'll own up to it and fix it, not pass the blame like I've seen so many other networks do.
Pros of using Mediavine:
User-friendly dashboard with multiple opportunities for expanding the business.
When using the mediavine you do not think of multiple income streams.
No need to worry about different advertising networks, just think about the content to be placed on the blog.
They maintain a good relationship with the bloggers to reach to right audience.
They not also optimize the ad revenue but also increases the load time of the website.
It controls the SEO.
It promotes efficiency and develops a relationship with other publishers.
Cons of using Mediavine:
They will show more than 5 ads on a single page which disturbs the attention of the readers and also for mobile-specific users it does the same.
The mediavine ads are not better for the blog posts with less than 500 words.
To be effective your blog posts should be more than 1000 words then only the mediavine ads would generate a flat revenue share.
If the bloggers use too many images which are very big in size then your website load increases. So use proper images which suits your blog theme while using the mediavine ad network.

Overall rating: 3.5 out of 5
---
FAQ's
What are the MediaVine publisher requirements?
MediaVine requires that publishers have a minimum 25k page views per month to apply. All publishers must adhere to Google publisher terms and conditions. To be accepted, you must send analytics reports to verify that you meet traffic requirements.
What is the MediaVine revenue share?
MediaVine's monetization method works on a revenue sharing model. Unlike other ad networks, MediaVine is transparent about their 75/25% revenue share split. For each additional year you are with MediaVine their loyalty program will reward you with an additional 1% rev share up to a cap of 5%. For websites with more than 5 million page views, the revenu share is 80%. With over 10 million, 82.5% and with over 15 million, 85% rev share.
What are the MediaVine payment methods?
MediaVine offers one of the longest terms for publishers with NET 65 terms. For earnings in January, you will receive payment on April 5 for example. You can choose Paypal, ACH, wire transfers or paper check. The minimum payment threshold varies per method and some methods incur transaction fees.
What is the MediaVine minimum payment threshold?
For most payment methods including wire transfer, ACH and paypal the minimum account payment balance is $25. International ACH require a minimum $200. Paypal and ACH do not have any fees, whereas wire transfers and checks do incur transactions fees.
---
Conclusion
This is great for those who value load times because only ads that are called up are loaded, and if your site is anything like ours, your speed will go up drastically. In fact, immediately after making the change our pages per visit went up a fair bit too, and I can only imagine it is because of readers not being turned off by our slower site performance.
Mediavine is able to get us better deals, because we're grouped together under one umbrella, and that's a lot of sites to impress Pottery Barn* with, you know what I'm saying? I've always trusted that process because they've always been upfront and honest with me about every single thing they wanted to try and laid out the good, bad, and ugly before we got too far into things. I hear from my fellow publishers that they're exactly the same with them.
More money is great. More pageviews and a happier audience are even better. Getting rewarded for having longer skyscraper posts is the best! Running ads on your site can help offset the cost of all of that. Overall, Mediavine is good if you can wait for 60+ days to get paid. If you are looking for fast revenue to get into your pockets you might want to check alternatives from our directory of ad network reviews for potential ad networks or ad operations partners that you might fancy.
Enter your text here...
RELATED POSTS