Affiliate marketing has had it's ups and downs through the years since it was started. In the old days, you have to cope with having to keep up with a number of affiliate programs from many vendors which have their own requirements, terms, and conditions. These days we have affiliate networks to make things easier for publishers and affiliates to keep track of everything from one dashboard. Today we are going to be doing a LeadNetwork review for publishers dedicated in helping our readers in getting introduced to the mentioned affiliate program.
With the help of Affiliate networks, publishers can monitor their earnings, view statistics, monitor traffic, and more. One of the highest earning niches where you can make good revenues from is the financial affiliate programs vertical. Among the cream of the crop, you will find LeadNetwork.
LeadNetwork is arguably one of the highest paying pay per lead affiliate network that you can potentially sign-up for. They have one of the best financial offers that you can ever find. As a publisher, it is where you can connect with potential buyers in real time and generate some serious cash.
Introduction to LeadNetwork

LeadNetwork is led by Anton Ignatenko. He oversees everything as the CEO of the company. He and his team of dedicated professionals work day in and day out to ensure that their publisher partners get all the help they can possibly get to attain maximum conversions. They don't just take affiliates under their wing and let them sell their product, they actually partner with their publishers and affiliates. As LeadNetwork would put it, "the success of publishers is key to our success."
In a nutshell, LeadNetwork is an affiliate program which mainly tackles with personal and payday loans. You can become an affiliate to all their programs and you will be able to make money as long as you are able to complete a lead.
Although they have other types of affiliate programs available let us focus on their payday and personal loans. As a publisher partner and affiliate, your objective is to refer people looking for those type of loans. After which lenders who have partnered with LeadNetwork will bid on the potential leads. Once the process is done you will then receive your commission. Basically just like how pay per lead affiliate network works.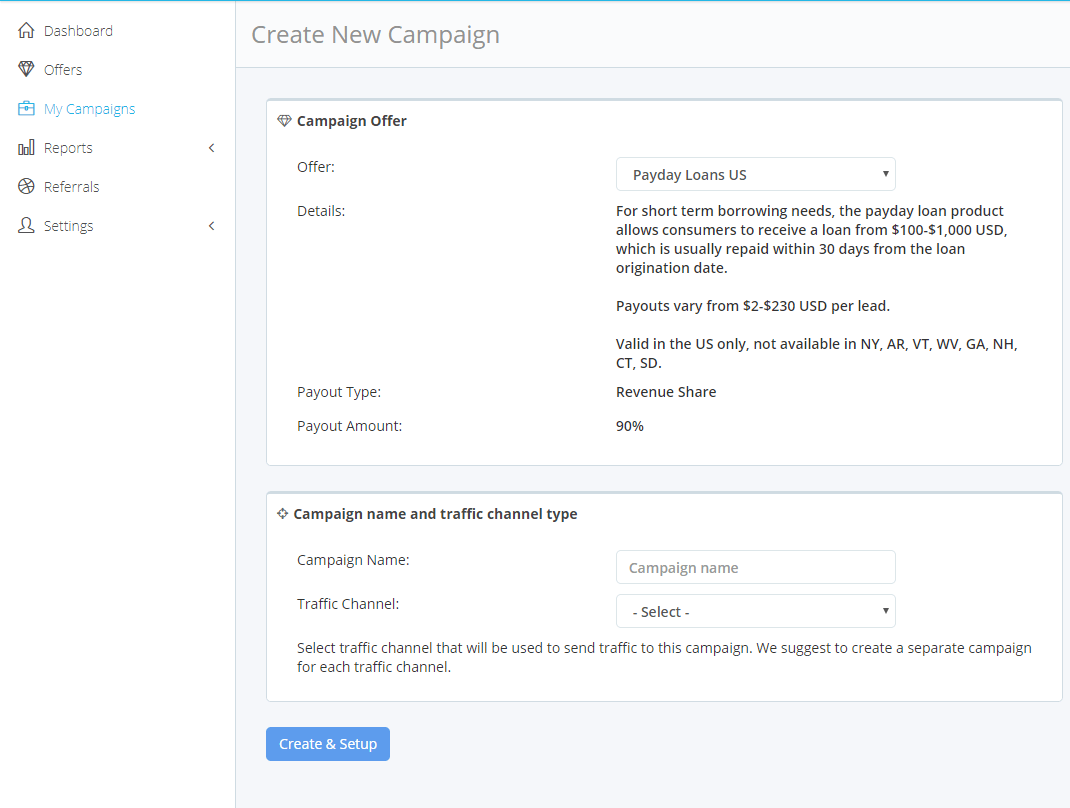 What makes LeadNetwork different from the other networks out there? First of all, they claim that competitors don't even come close to being able to match their features and speed through their leading edge of online marketplace exchange technology. Second, they offer the most generous revenue shares ever. Another thing to consider is their dedicated partnership with their publishers. Each affiliate or publisher partner is assigned his own account manager who will assist you in getting leads and running their software.
LeadNetwork is one of the biggest finance affiliate networks. They also offer the highest revenues shares you could possibly find throughout the internet. You will be amazed by the 90% commission on revenue shares that you could potentially get for successful conversions. Their referral program isn't too shabby as well with up to 3% referral commission from earnings of the affiliates who were successfully referred by you.
Affiliate marketing is nothing new. The industry makes more than a million dollars daily. If you have been in this field for a long time you already know that the pay per lead niche has some issues under federal and state levels. LeadNetwork has already thought ahead of that as they have created a compliance-first platform. This means that LeadNetwork screens their publisher partners and affiliates specifically on how the publisher plans to generate leads for them. Publishers and affiliates who do not make the screening are either rejected or asked to try again after revising their marketing plan.
LeadNetwork is known for taking care of their publishers. They provide excellent 24/7 support for all your queries. They also have resources that you can use such as email templates, banner ads, social media marketing material, and plenty more. LeadNetwork believes that a strong partnership between their publishers will lead to success to both parties. This is why an account manager is assigned to each affiliate. The account manager works together with the publishers to craft new ideas to generate leads and help market their product. However, if you are the type of affiliate who relies on co-registration methods then you should look the other way as LeadNetwork prohibits it.
LeadNetwork Review
Let us now dive-in deeper about LeadNetwork. Here is MonetizePros complete LeadNetwork review for publishers.
What we like most about LeadNetwork:
Revshare up to 100%

Leads with bad credit history are still considered for approval

Full tech support, they provide their affiliates with servers for email marketing, a variety of landing pages, forms, and content.

High approval rate

Dedicated affiliate manager that will work with you 24/7

Net 7 payments

Payments for declined leads

Unique database of lenders

High lead percentage

Multiple payment options
What we liked least about LeadNetwork:
Affiliates need to be approved first

Co-registration is prohibited

Minimum payout of $100
Publisher Requirements:
Traffic Minimum: None
Language Requirement: None
Prohibitions: call center traffic, co-registration
Company Stats:
Location: Lead Network LLC, a Puerto Rico Limited Liability Company
Serving: International
Categories: Ad Network, Finance, Payday loans, Personal loans
Year Founded: 2016
Company Type: Private company
Company Size: 20-50 Employees
Operating Status: Active
Contact and Support Information:
Email: [email protected]
Website: https://leadnetwork.com/
Contact Page: https://leadnetwork.com/Contact-Us
Facebook: View on Facebook
Twitter: View on Twitter
LinkedIn: View on LinkedIn
Advertisers and Offers:
Offer Types: CPL
Verticals: Finance
Network Size: Unkown
Tech Implementation Rating: 5 out of 5
LeadNetwork's marketplace exchange technology was created to simplify and streamline the process for affiliates in the finance vertical. Instead of complicating things by signing-up to a huge number of affiliate programs, each with multiple vendors with their own requirements and terms of service, LeadNetwork implements their system by pipelining everything into one dashboard.
As for how affiliate programs work, LeadNetwork runs by the conventional affiliate methodology. Affiliates will generate the leads then data is sent through the landing page, through placing the LeadNetwork javascript form on their website or by directly posting collected information from another form into the LeadNetwork site.In summary, they utilize advanced proprietary lead optimization software that has provided publishers and affiliates with high payouts per lead.
Reporting Interface Rating: 4 out of 5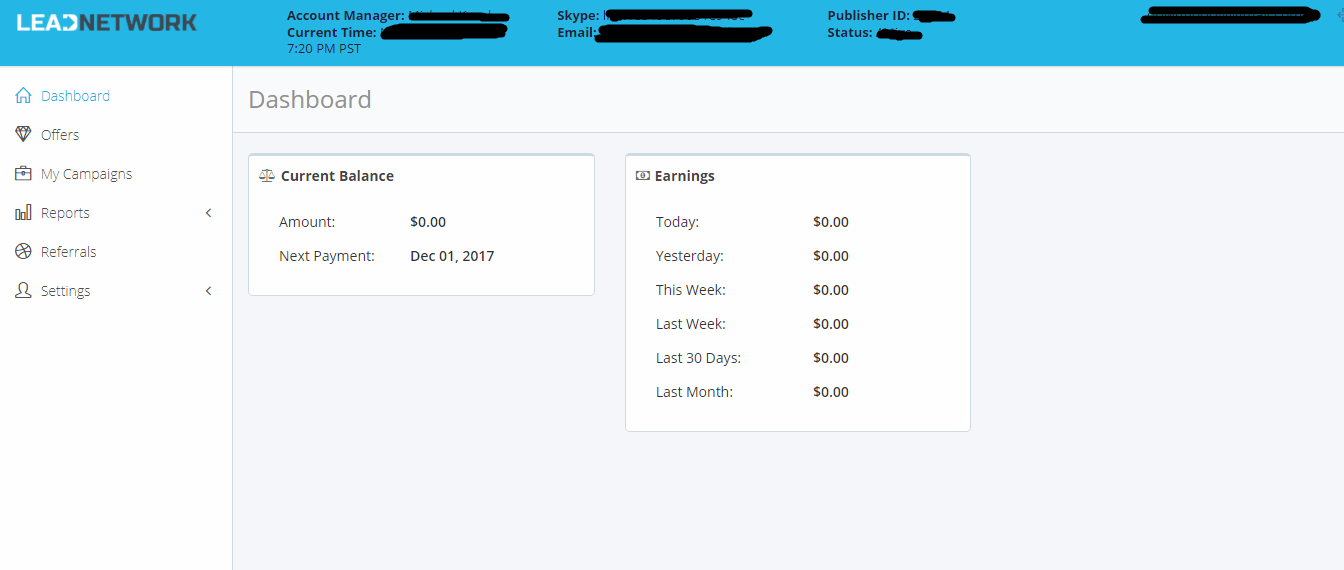 When you log-into your account you are directed to your dashboard which shows the current balance, the next payment schedule, and your earnings along with weekly and monthly summaries. The overall appearance looks clean and optimistic, it's easy to read and has most the info that you will need for a quick overview of your account.
Digging deeper, their actual reporting and analytics provide affiliates with all the data they will need to plan for the next moves. You can see your daily report, subid reports, and payment history.
Within the daily report, you can see all that is happening on that particular day. You can choose to filter out which specific campaigns you would like to view, and you can also view reports for all the campaigns at once. Affiliate can also sort out the date range and view statistics such as the date, clicks, sold leads, leads, and earnings. In the subid reports tab, you can view stats which you can use to figure out what is working for you and what is not. The payment history tab provides you with all your transactions and payments made.
Payment Rating: 4 out of 5

LeadNetwork gives you commissions on a pay per lead basis. You earn each time lead or referral is completed after lenders bid on the leads. Your commission rates vary based on the volume of the lead, and quality of the lead that you have referred. You can get from $2.00 to $230. However, most of the time leads fall somewhere around the middle of that range.
There is also another way to earn. Affiliates can also refer fellow affiliates and in return, you can earn 3% referral commission from the revenues that they make.
LeadNetwork offers Net1 payment which means you can withdraw and transact your earnings on a daily basis. However, there is a minimum payout of $100 for you to be able your withdraw your earned commission. You can withdraw from multiple payment options.
These are through:
PayPal

Check

Direct Deposit

Wire Domestic

Wire International

Webmoney
Account Help Rating: 5 out of 5
LeadNetwork has a great reputation when it comes to providing account help. Publishers and affiliates who have successfully been approved by LeadNetwork are given vast resources which they can use to generate leads. Affiliates are provided with landing pages, banners, email templates, social media marketing materials, and even the extent of actually providing content.
In addition to that, each affiliate is provided their own personal account manager who is assigned to help the affiliate in multiple ways to generate leads. This includes giving advice, providing support, and help with troubleshooting.
If ever you manage to bump on roadblocks, LeadNetwork has provides 24/7 support manned by experts who are ready to help you out with whatever query or problems that you might bump in to. You can also ask your personal account manager for help.
Performance Rating: 5 out of 5
LeadNetwork highly values their marketplace exchange technology. Their system runs smoothly and has been highly recognized as one of the best in the class by critics and veteran affiliates. It was developed by highly skilled coders and designed by experts in the finance vertical.
Performance wise, LeadNetwork's system runs fast, smooth and equipped with an easy to use interface. Publishers are equipped with multiple marketing tools and their partnered lenders have been screened intensively. With all this in mind, publishers are given the potential of good conversions. Yes, their system and overall affiliate program are great but at the end of the day, the total revenues and income you get will still get based on your actual skills as an affiliate.
Pros of using LeadNetwork
High percentage of repeat sales

Very solid lead percentage

Solid roster of partnered lenders

Maximum cost-per-lead up to $230 for just one lead

Dedicated account manager for each affiliate

High revenue shares of up to 100%

Many payment options to choose from

Lifelong commission for all rebills

Evolving and modernized promotional tools

Net1 payments
Cons of using LeadNetwork
Lead Network has a screening process before publishers are approved as affiliates.

If you are an affiliate who loves using co-registration, guest postings, email blasts from other companies then you better look the other way as LeadNetwork discourages it.

Minimum payout is sort of high, $100 to be exact.
Overall Rating: 4.5 out of 5


---
FAQ's
What are the LeadNetwork publisher requirements?
LeadNetwork does not have any traffic requirements to apply as a publisher, however each publishers must be manually approved to ensure it complies with the law and is not misleading to customers.
What is the LeadNetwork average CPL?
Leadnetwork offers publishers affiliate CPL offers in the payday loans niche, each conversion will payout at a range of between $2 to $230. Most of the time the lead CPL falls somewhere in the middle of that range.
What are the LeadNetwork payment methods?
LeadNetwork offers it's publishers a NET 7 payment terms after the end of each billing period, provided that the balance has met the minimum payment threshold. Payment methods options available include PayPal, check, direct deposit, wire transfers, and webmoney.
What is the LeadNetwork minimum payment threshold?
The minimum payment balance for LeadNetwork is $100.
---
Editor's Conclusion
The demand for online financial services is growing. Millions of people are constantly looking for quick financial solutions daily. The potential market and leads that you can get are solid. Truth be told that the niche and the finance vertical in general might be under scrutiny at times. Yes, it is also a little hard to get into but once you manage to pull it off you are going to get showered with your well-deserved compensation. Financial vertical affiliate networks are known for providing high compensation and revenue shares to their affiliates. Among those affiliate networks, LeadNetwork literally "leads" when it comes to high revenues shares and conversions.
If you are the type of publisher who loves to earn huge amounts in one successful lead conversion then LeadNetwork is for you. Their "generous" revenues shares are simply jaw-dropping. Imagine getting up to $230 just for one lead?
Aside from being a high paying affiliate program, LeadNetwork will provide you with the tools and resources you would need to run successful campaigns which actually convert. They also have good support and provide one of the most responsive account managers in the industry.
If you are a payday and personal loans affiliate, a publisher or someone who is looking to partner with an affiliate program which performs like a well-oiled machine, run by professionals, and dishes out money like an ATM then you should definitely consider signing-up for LeadNetwork.