For publishers and bloggers hoping to monetize their traffic primarily through display advertising, the layout of a website becomes a very important strategic decision. In addition to deciding which ad units to use, you'll need to figure out where each should be positioned in order to maximize revenue without annoying visitors or detracting from the site experience.
Below we profile several actual sites with simple and effective ad layouts. We focus on layouts that use the most common ad units (728×90 leaderboard, 300×250 medium rectangle, 160×600 skyscraper, and a 300×600 large rectangle) and relatively simple structures that can be easily replicated.
For sites with a right rail, this implementation can work well. In addition to a 728×90 leaderboard and a large 300×600 rectangle above the fold, there is a less common inclusion of a 160×600 skyscraper by the comments. It might seem unusual to have an ad unit that far down the page, but it makes sense if you consider that the comments section is likely to receive quite a bit of attention (and therefore clicks) from visitors. For sites that receive a high volume of comments on articles, this layout may be worth considering.


In addition to the 300×250 rectangles in the right rail, this site also includes real estate devoted to buttons at the top of the page. If your site will feature multiple sponsors interested in getting a high number of impressions (discount brokerages generally fall into this category), then this layout may work well in that it accommodates both buttons and more standard ad units.
Note that Yahoo! also incorporates the "Sponsored Articles" section where they provide outbound links to other sites (and are compensated each time one of these links is clicked).


This layout features an above-the-fold 728×90 leaderboard and a 300×250 rectangle (which can be expanded to a 300×600 when requested). Also included is a section of outbound links that generate revenue each time they're clicked, a creative way to give a boost to overall RPM.


This site shows off another simple yet effective two-ad layout. Note that the leaderboard is a bit lower on the page, meaning it will still be visible after the initial scroll upon page load. The 300×250 rectangle could easily become a 300×600 if there's demand for a larger unit. There's plenty of room for additional ad units (300×250 or 300×600) in the right rail as well.

This site features two primary standard ad units, including a 728×90 leaderboard and the 300×600 large rectangle in the right rail. Also included are multiple sections of text ads within the article and an additional set of link units at the top of the page. Though they don't take up much real estate, we wouldn't be surprised if the text ads are the primary drivers of revenue on this page.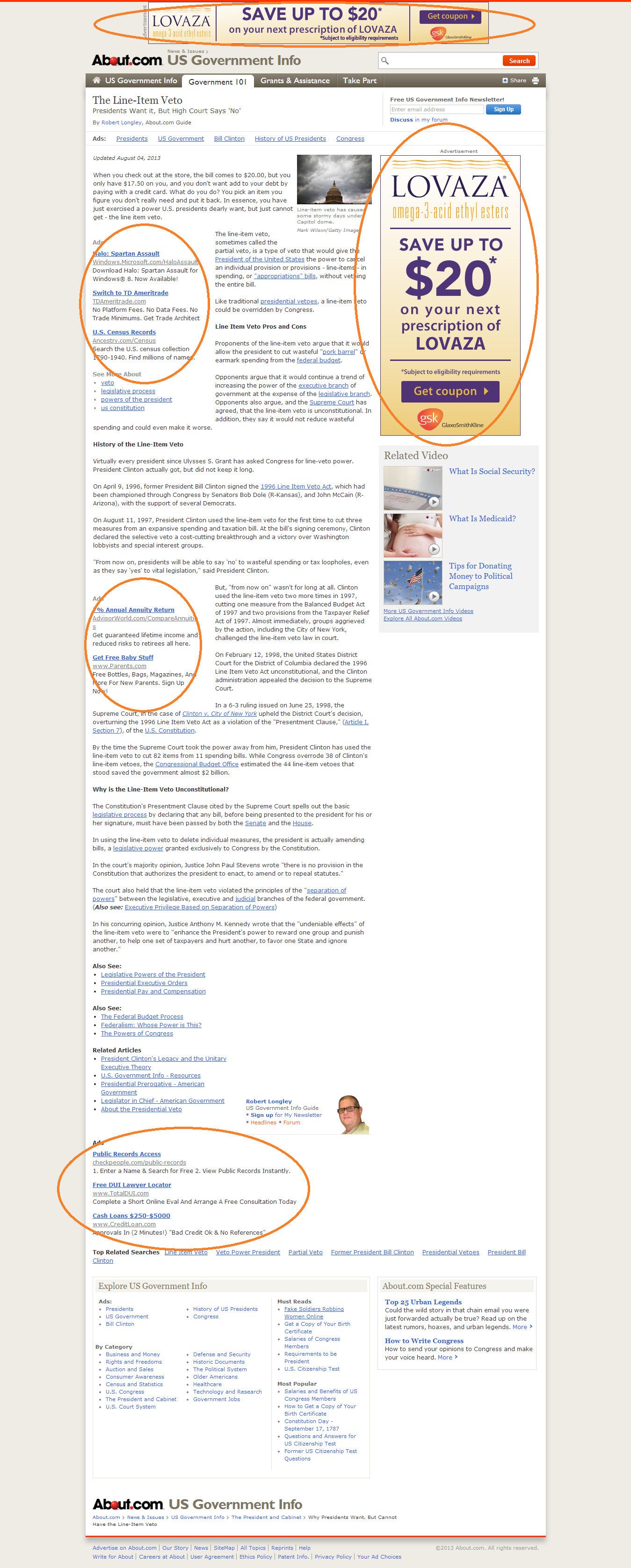 This popular political blog is moving from the New York Times, but still features a clean, simple ad layout. In addition to the 728×90 leaderboard at the top of the page and two medium rectangles in the right rail, there's a section for text ads as well. We'd suggest expanding the top rectangle to 300×600, especially considering all the extra space.

This fantasy sports site manages to fit three IAB standard ad units above the fold, including a 728×90 leaderboard, a 300×250 rectangle, and a 160×600 skyscraper. If you want to have these three ad units as available inventory, this layout maximizes ad real estate without completely overwhelming the site content.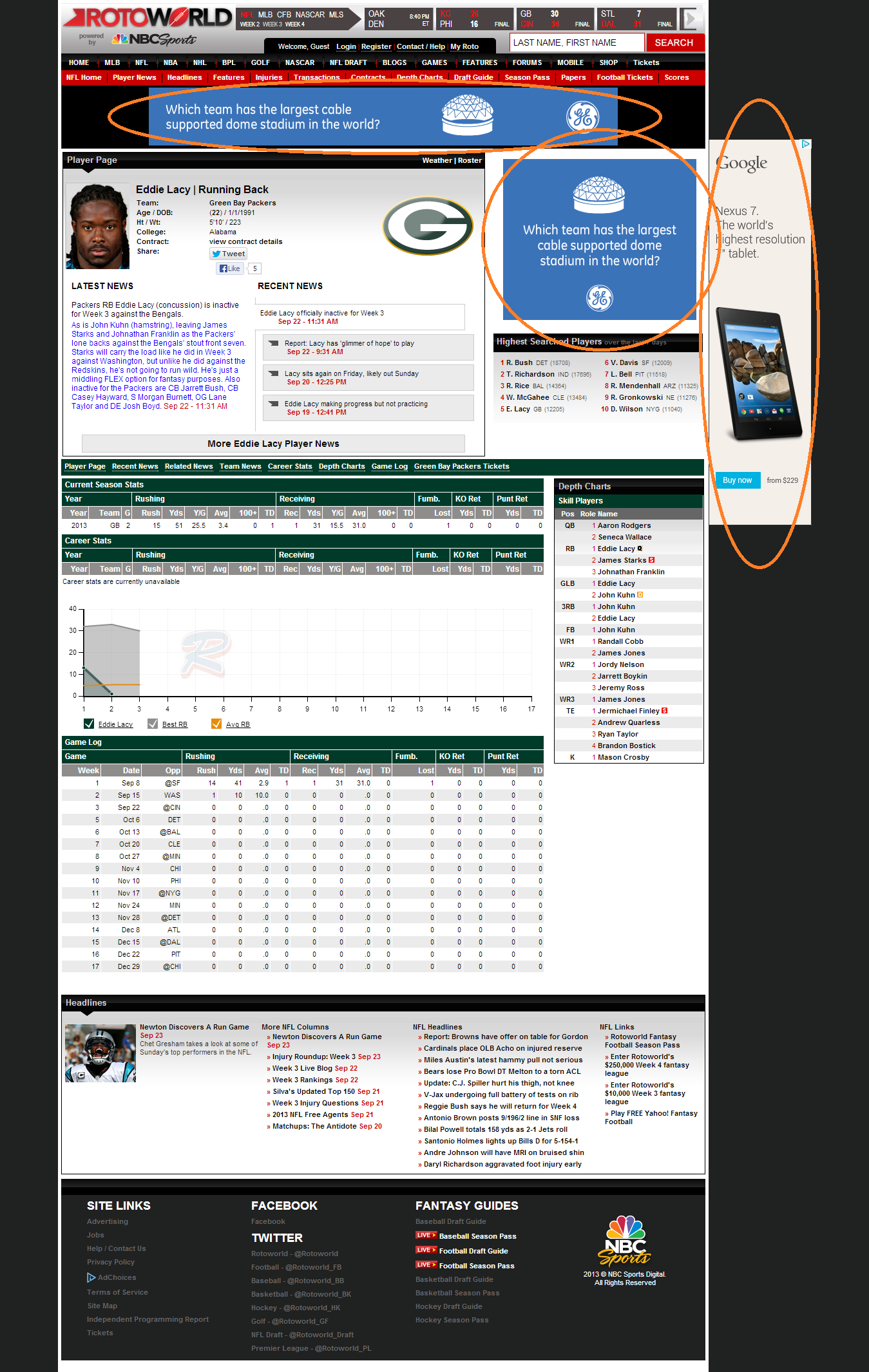 This site aggressively monetizes via display ad inventory, showing more than a half dozen ads on each article page. In addition to a button and leaderboard above-the-fold, there are multiple large and medium rectangles lower on the page, as well as a "Special Advertising Section" that features buttons and links. In total, this page has three 300×250 rectangles and an additional 300×600 large rectangle.


ReelSEO
This online marketing blog has a clean layout that utilizes the right rail to both display ads and promote its social presence. In addition to a leaderboard and medium rectangle above the fold, there's a larger 300×600 unit lower down the page (we might try swapping the placement of the rectangles to put the larger unit above the fold) and another banner ad within the content. (We're guessing the CTR on that ad unit is pretty impressive.)


This layout works well for long-form articles; there are 300×250 rectangles spaced throughout the page in the right rail, including a final ad that scrolls down the page with the user. There's also a 728×90 leaderboard at the top of the page, though performance in that unit might struggle since it's so high up.


This site offers a great example of a banner ad layout that doesn't include a 728×90 leaderboard at the top of the page. Instead, this site relies on 160×600 skyscrapers in the right rail and 300×250 rectangles that appear within the content.


Bottom Line
When setting up a website that will be monetized through display ads, the positioning of the ad units is an important one. There's no need to re-invent the wheel; instead, spend some time browsing other sites in your niche and take note of which layouts look clean, professional, and include multiple ad units without creating a bad user experience or overwhelming the page.